Emma Webb is an indie, folk, pop singer/songwriter living in Bristol, UK. Known for her distinctive style of acoustic pop, Webb has been influenced by an array of music and genres, and is particularly passionate about 90s artists such as Alanis Morissette, The Corrs, The Beautiful South and Natalie Imbruglia, whilst also being lyrically influenced by songwriters such as Paul Simon, Carole King and Joni Mitchell.

Her latest single "90s Playlist" captures Webb's fond memory of a road trip alongside her nearest and dearest, all whilst singing her favourite 90's music together. The song truly embodies her feelings of gratitude for her close friendships, with Webb sharing, "We blasted out 90s music all the way and harmonised the hell out of The Spice Girls!!" Throughout the track are waves of stunning, angelic harmonies giving a subtle musical tribute to that day. The minimalist track is rich in feeling and is wonderfully mesmerising to engulf in the imagery presented by the lyrics.

"90s Playlist" emits soft symbols and drums which carry a steady, calm feeling throughout while also adding a wash of subtle power that induces the emotion felt in the meaning. The vulnerable lyrics are an open book of raw, visual storytelling, giving insight into her precious, personal moments and memories. Webb confides, "My music is all about unconditional love, self love, and discovering what's really important in life. It's very honest and all my songs are specifically about something or someone in my life." The folk singer-songwriter has a familiar, gentle, sweet tone, filling the song up with her delightful words, warm vocals and fluttering, delicate guitar.

Webb has worked as a vocal and music teacher since leaving University in 2013 with a BA Hons in Music, where she trained in Classical music and Musical Theatre. The songwriter has sung live at BBC Radio Two on The Michael Ball Show, performed at BBC Proms in the Park, Hyde Park 2018 and 2019, as well as having performed as part of a choir with Susan Boyle and Michael Ball on Britain's Got Talent. With "90s Playlist" currently available worldwide, Emma Webb is starting the year off with a bang!
Interview with Emma Webb
Question: How would you describe your music?

Emma Webb: A Folk Pop Acoustic vibe, with honest lyrics and lots of acoustic guitar!


Question: Can you tell us about your upcoming EP Best Friend?

Emma Webb: It's an EP with my songs Best Friend, Maybrick Rd and 90s Playlist. All the songs revolve around unconditional love and friendship, so it felt right to put them together in an EP. I'm really proud of these songs and hope you love them!


Question: What inspired your latest single 90s Playlist?

Emma Webb: It revolves around two friends and my relationship with one of them through the years. The main memory that I sing about in the chorus is our road trip when we went on holiday, and we listened to 90s music all the way, singing out and laughing and just having a fab time together! I really cherish my friends and felt inspired to write about them!


Question: Is there a particular message you hope listeners take from your music?

Emma Webb: I hope it'll remind them to cherish their friends and family and evokes amazing memories for them about their circle of people. Unconditional love can often be taken for granted, so if my music helps one person to reach out to a friend or to their family, then that'd be amazing.


Question: Do you prefer performing live or recording?

Emma Webb: Oooh! Good question! I enjoy recording but coming from a live performance background there is nothing quite like performing live! I miss the adrenaline of live performing and the connection with the audience, we should be getting back to it in the UK this summer though!!


Question: Which is your favourite song to perform live and why?

Emma Webb: Best Friend is really fun to sing and play, I love going for it with my vocals in the chorus especially! That'll be great fun to sing live soon!


Question: Tell us about your performance on Britain's Got Talent?

Emma Webb: That was with my work as a Choir Leader for a company called Rock Choir. Some of our choir members around the UK recorded a single with Susan Boyle and Michael Ball and as I was part of the creative process behind it, I got to come and sing with the choir members on Britains Got Talent when Susan Boyle and Michael Ball performed it at the 2019 final!


Question: Which music/artists are you currently listening to?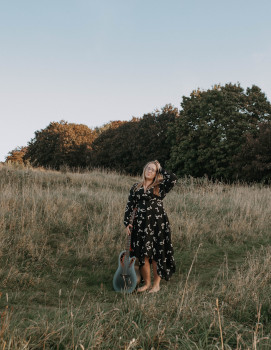 Emma Webb: I love listening to all kinds of music! I actually have a playlist on Spotify (you can find it on my Emma Webb artist profile) called 'My Classics' and it has over 100 of my all time favourite songs. I've been listening to it non stop. There's classic songwriters on it like Paul Simon, Carole King, Joni Mitchell and then 90s artists such as Natalie Imbruglia and Alanis Morissette all the way to current artists like Sigrid, Ed Sheeran, Taylor Swift and Missy Higgins; I love it all!


Question: What or who was your inspiration to go into the music industry?

Emma Webb: I've always been in music, I started singing, guitar and piano lessons at the age of 7, and went on to study Music at University, and I've been a professional musician for almost a decade now, so it all just fell into place. I think I've always just been inspired by passionate people and all the individuals that taught me/that I've worked with have shaped my love of music and have lead me to this moment right now.


Question: If you could collaborate with another artist, who would it be?

Emma Webb: It would be amazing to record a song with Paul Simon! Or even Alanis Morissette! To be honest, I'd happily collaborate with anyone, I can throw a harmony on whatever they'd like haha!


Question: Was there a moment you contemplated throwing in the towel?

Emma Webb: Sure, on occasion. As a professional musician there's been times when things have felt hard and money has been tight, but overall I've been extremely lucky and I haven't really contemplated changing my profession much at all. It's not really something I can throw away though, it's very much a part of who I am.


Question: What has been your favourite part of becoming a music artist?

Emma Webb: As an original artist, it's still a work in progress so I'll tell you when I know!! Haha, I guess so far learning about the marketing side of things has been totally fascinating! But I know my favourite part is yet to come, which is when I can get performing my original stuff live again!!


Question: What's a typical day like?

Emma Webb: At the moment, with the build up to the EP etc… and the fact we are in lockdown in the UK, it's been a lot of admin and social media-ing and meetings and generally keeping my anxieties at bay, so I read lots of books which really helps to keep me calm. Plus, running my choirs and teaching singing over Zoom; that's a fun challenge haha!


Question: What's next, for you?

Emma Webb: After the EP I will be releasing another (really special) single at the end of March, and more singles every month, with the hope of gigging in the summer! In the slightly more distant future, the skies the limit!!


Question: Can you share your socials? (links please)

Emma Webb: Keep in the loop by following me on my socials @thisisemmawebb and follow me on Spotify or buy my music via iTunes!


Interview by Gwen van Montfort


Photo Credit to Madison Brooke