Emily Marie Palmer is best known for her roles in American Crime Story: Coven, as 'Betsy' (the long lost love of legendary Karate Kid villain, John Kreese) in the Netflix hit series Cobrai Kai, 'Sister Isabella' on PBS' Civil War Drama Mercy Street, produced by Ridley Scott and as 'Lisa' in the feature film Grand Isle, starring Nicolas Cage and Kelsey Grammar. She'll be seen playing opposite Sam Worthington as his daughter in The Last Son (releasing December 10th). The character, Megan, is the daughter of the films protagonist, Isaac LeMay (Worthington), who is a murderous outlaw cursed by a terrible prophecy. The film stars Machine Gun Kelly, Thomas Jane and Heather Graham.

The young actress began her studies in the craft in 2010 and graduated from high school at just 15 years old. She would later attended George Wythe University in Utah as well as study with Philippe Gaulier at his international theatrical training school near Paris, France. She left her collegiate studies to pursue acting full time. Not content to sit back and wait on opportunities for meaningful storytelling to come to her, Emily writes and produces her own content. She wrote and starred in a WWII-era French and German language short film, LES CONFINÉS (2019), which Omeleto Drama called "an intimate historical drama that examines the darkest reaches of Hitler's insidious totalitarian ideology, the twisted psychology of domestic abuse and the power of female solidarity."

Palmer is the youngest of five children and is an avid reader with a particular love for classic literature and autobiographies. Her favorite books include War and Peace, Crime and Punishment, Till We Have Faces, The Little Prince, And There Was Light, and Man's Search for Meaning. When Emily is not acting, you can find her doing one of her many hobbies, such as figure skating, Irish step dancing, and juggling. She is also a gifted singer, guitarist and songwriter, with a gentle, lyrical sound. Her first single "Holy Magic" was released in April 2020. She is also an avid supporter of Amnesty International, which is an organization that aims to end abuses of human rights in over 150 countries.


Interview with Emily Marie Palmer
Question: Can you tell us about your role in The Last Son?

Emily Marie Palmer: The Last Son follows Isaac LeMay (played by Sam Worthington) " an outlaw who is convinced that evil runs in his bloodline " on a quest to track down and kill his children. He shows up at the home of my character, Megan, suspecting that she may be one of his "cursed" offspring.

When the story of the film takes place, she is coming of age in a violent and unforgiving world. She has grown up very isolated, and her family's daily struggle to survive in the harsh frontier has made her strong, but there is a profound freshness about her, and a childlike curiosity for the world beyond her isolated fields and forests.


Question: What or who inspired your love of acting?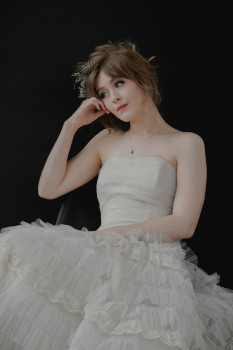 Emily Marie Palmer: I've been so fascinated with life, and people, and stories for as long as I can remember. I was constantly playing make-believe as a child, and as soon as I learned to read and write I was devouring books and writing my own stories. My mother's roots are in Appalachia, and so I was very blessed to grow up hearing her sing these beautiful, rich, old folk songs as lullabies…and I just loved them so much. They made such a deep impression on me. So, I think I've always been naturally drawn to art, and to storytelling in various mediums. Growing up, I did theatre for many years, but I never felt quite "big enough" for it. When I acted on-camera for the first time, it felt so natural " like a sort of homecoming.

(A fun side note is that my love for folk songs was able to be woven into my character in The Last Son, and throughout the film she sings and hums several of my favorite melodies.)


Question: What moment in your career stands out the most?

Emily Marie Palmer: Hmm. I closed my eyes and tried to clear my head to see what memory would come to me, and "stand out the most". Of course, there were many flashes of memorable and wonderful moments on various projects " Cobra Kai, Mercy Street, Just Beyond, The Last Son…

But one of the moments that always stays with me is actually one of the simplest ones. I was shooting an episode of a TV series in New Orleans, and it was the first thing I had booked in quite a while. It felt so wonderful to get to work and create again after so much unrelenting rejection. I sighed and said to my boyfriend (now husband), "I wish there could be more of this. I wish that this could be my life." And, with so much kindness and certainty, he took my hand in his and said, "I promise you there will be more of this."

It was so simple, but I've clung to that promise in hard times, and " I'm thrilled to say " that there has indeed been much, much more "of this". I've never worked more than in the years since then. :)


Question: What's your favourite part of your job?

Emily Marie Palmer: When I'm playing a role or working on a project that I feel truly connected to, it's the most wonderful, exhilarating thing in the world to me. I feel so deeply alive, and so humbled, to get to use my voice and my body to tell stories in this way. It is an immense privilege. I think of all of the brilliant and talented women (humans in general) who have come before me, whose voices were silenced and whose stories we will never be able to hear. I carry the thought of them with me and try to hold them in my heart throughout every project I do.


Question: If you could work with any other actor or director, who would it be?

Emily Marie Palmer: Oh, how I would love to work with Marion Cotillard. I can't begin to express how wonderful I think she is, in every way. What a beautiful being. Just the thought of working with her almost makes me tear up " her work has meant so much to me.

I'd also be over the moon to work with Jennifer Kent " her film, The Nightingale, astounds me. The first time I saw it, I sat silent " open-mouthed with tears streaming down my cheeks " through the entire ending credits. The love and dedication and depth of research that went into its creation are just incredible to me.

Ah! And Brit Marling. What an artist. It would be an honor to step into any world she creates.


Question: What advice do you have for aspiring or actors?

Emily Marie Palmer: There are so many paths to the same destination. Mine has been extremely unique, and yours will be too. It can be helpful to draw inspiration from the careers of other artists you admire, but don't fall into the trap of comparing yourself to them (or your timeline to theirs).

There's a beautiful poem by Nayyirah Waheed:
"you
see your face.
you
see a flaw.
how. if you are the only one who has this face.
" the beauty construct"

I really feel that these powerful words apply not just to our faces and bodies, but to the journeys we make through life. Growth and success in this industry (usually) takes a long time. You're doing better than you think. :)


Question: What's a typical day like?

Emily Marie Palmer: Oh my… they vary greatly! Even my days off tend to ebb and flow with the seasons " in the Spring and Summer, you might find me gardening, playing guitar and writing songs on my porch, or taking a walk in my cute little town. Come Fall and Winter, I'll probably be cozied up with a book, or working on one of my screenplays.


Question: What's next for you?

Emily Marie Palmer: I'm wrapping up the end of this year with the release of The Last Son " and also using these few weeks over the holidays " when the industry tends to quiet down a little " to finish a script I'm working on right now that I'm terribly excited about.

I'm not sure what lies ahead, but I have a very good feeling about 2022… :)


Interview by Gwen van Montfort