Set in 1930s depression-era London
Cast: Colin Firth, Meryl Streep, Julie Walters, Ben Whishaw, Emily Blunt, Emily Mortimer, Dick Van Dyke, Lin-Manuel Miranda, Pixie Davies, Nathanael Saleh, Joel Dawson, Angela Landsbury
Director: Rob Marshall
Genre: Musical

Synopsis: Set in Depression-era London (when the books were originally written), Michael Banks (Ben Whishaw), now a grown man with a family of his own, has taken a temporary job with Fidelity Fiduciary Bank in London, the same financial institution that employed his father and grandfather before him. He lives with his three children, Annabel (Pixie Davies), John (Nathanael Saleh) and Georgie (Joel Dawson) at 17 Cherry Tree Lane, but times are tough. The city is in the midst of "The Great Slump" so money is tight and the accompanying stress, unavoidable. On top of that, the family is struggling to cope with the recent death of Michael's wife, and the house is rundown and in a constant state of chaos, despite the efforts of their inefficient yet well-meaning housekeeper, Ellen (Julie Walters). Sister Jane (Emily Mortimer) helps out when she can, but she has inherited her mother's enthusiasm for good causes and campaigns for workers' rights, which keeps her busy. With the harsh reality of the times and the burden of their loss weighing heavily on the family, the children find themselves taking on adult responsibilities, growing up much too fast. As a result, childlike joy and wonder are missing in their lives.

As Michael's relationship with his children continues to deteriorate, the bank's suspiciously congenial and seemingly altruistic Mr. Wilkins (Colin Firth) begins foreclosure proceedings on the Banks' home, sending the already frazzled Michael into a further tailspin. Fortunately, the wind begins to change, and Mary Poppins (Emily Blunt), the practically-perfect nanny whose unique magical skills can turn any ordinary task into a fantastic adventure, enters their lives once again, having not aged a single day. She teams up with an old friend, Jack (Lin-Manuel Miranda), a charming and eternally optimistic lamplighter, and together they take the Banks' children on a series of whimsical adventures and introduce them to colorful characters like Mary's eccentric cousin, Topsy (Meryl Streep), bringing life, love and laughter back into their home.

Mary Poppins Returns
Release Date: January 1st, 2019
About The Production
Everything is Possible…Even the Impossible

Walt Disney Studios has worked with the filmmakers in the past, having collaborated on "Pirates of the Caribbean: On Stranger Tides" in 2011 (with Rob Marshall as director and John DeLuca as executive producer) and in 2014 on "Into the Woods" (with Marshall as director and DeLuca, Marshall and Marc Platt as producers). Looking to re-team on another project, the studio suggested a sequel to one of its most treasured titles, "Mary Poppins," based on the wealth of material found in PL Travers' seven additional books. The 1964 classic is a personal favorite of all three filmmakers, and it soon became clear that Marshall should direct.

"'Mary Poppins' was the first film I saw as a child and it opened up my mind to movies and to the love of musicals, adventure and fantasy in film," says the Oscar® nominated and Emmy® and DGA Award winning Marshall. "I was truly humbled and honored to be asked by Disney to bring PL Travers' further adventures to the screen. It has always been my dream to conceive an original musical specifically for film, and this was my chance to create an homage to the classic movie musicals of my youth."

A stage director and choreographer who has also directed and choreographed the successful screen adaptations of "Chicago," "Nine" and "Into the Woods," Marshall knows how to construct a musical. Citing "Singin' in the Rain," "Meet Me in St. Louis" and "Cabaret" as some of his favorite film musicals, he understands both the world of film and the world of Broadway musicals in a unique and personal way.

"There is a classic nature to the telling of 'Mary Poppins.' It requires the essence of classical musical filmmaking but at the same time needs to be contemporary and feel very alive and very in the moment," says Oscar®-nominated producer Marc Platt ("La La Land," "Wicked"). "Rob is a master at mixing all of that up. He's meticulous in his approach and goes for the gold every time...he doesn't settle. He finds the magic in every frame, in every scene, in every musical number."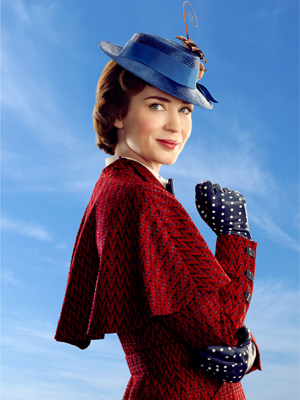 Platt continues, "More importantly, Rob brings actors to life. He brings their performance to life because he gives his actors confidence and creates an environment in which they're able to do their best work."

Author PL Travers first introduced the no-nonsense nanny to the world in 1934 with her children's book "Mary Poppins," and over the next 50 years wrote seven more books featuring a myriad of magical adventures with the enigmatic governess ("Mary Poppins Comes Back," "Mary Poppins Opens the Door," "Mary Poppins in the Park," among others). Travers' books are written more as a series of vignettes as opposed to having one ongoing narrative, and "Mary Poppins Returns" is drawn from the wealth of material in these additional books.

"It was obvious there were many more stories to be told," Marshall confirms, "and once we read all the books we realized we could find a different way in. Most importantly, by emphasizing Travers' recurring theme that as we become adults, we become disillusioned and cynical and forget how to look at life through a child's eyes."

Two-time Academy Award® nominee David Magee ("Life of Pi," "Finding Neverland") came on board to draft the screenplay, creating a completely new narrative set 24 years after the first film which revolves around Michael and Jane, the children from "Mary Poppins," as adults. "The film itself is about moving out of a very difficult situation and finding joy and wonder in a dark time, and Mary Poppins is the key to that," says Marshall.

He continues, "We tried to keep the essence of Travers' work by embracing the classic nature and beauty of the books and continuing the legacy of the beautiful worlds she created, while re-imagining it in a completely new way with an original story and original score. At the same time, we made the story as accessible as possible to audiences today so all families can relate to it."

GRAMMY® and Tony Award®-winner Marc Shaiman ("Hairspray," "South Park") and Tony winner and three-time Emmy nominee Scott Wittman ("Hairspray," "Smash"), who are fans of the unforgettable music from the first film written by Robert Sherman and Richard Sherman, were thrilled to join the team. Drawing inspiration from the legendary songwriters, they crafted a beautiful new score and nine original songs.

"Marc and Scott are uniquely suited to this project and deliver tuneful songs with brilliant wordplay and profound lyrics," says Golden Globe® nominated producer John DeLuca ("Into the Woods," "Chicago"). "They came up with eccentric fun songs and moving ballads...you feel like you are in the world of Mary Poppins, yet it feels new and fresh at the same time."

DeLuca continues, "The script is an integral part of any musical, and Marc and Scott were great collaborators, working closely with David Magee and us so that the script feeds the songs and the songs feed the script. It's incredibly difficult to find just the right balance, but they are such pros because they've done it so many times and are just brilliant at it."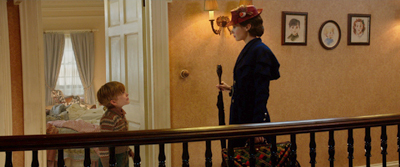 Finding the right actress to embody the iconic title character was crucial to getting the film off the ground. The filmmakers wanted an actress who would make the iconic role of Mary Poppins her own, and they had one person in mind: Emily Blunt.

The actress, whose credits include "A Quiet Place" and "The Girl on the Train" among numerous others, worked with Marshall, DeLuca and Platt on "Into the Woods" and was flattered to be considered for the role. "I did feel a certain amount of trepidation because the character from the first film is sort of seared into people's memory," says Blunt. "How do you make it your own? Will people accept me? So I really dove into the books to find my own version of her."

She continues, "Rob Marshall pitched the character to me in a really exciting way, with Mary Poppins having this enigmatic master plan and being vain and stylish but funny as well. I envisioned her having a slightly sharper edge but also remembered the comforting feeling I got from her as a child. Plus, I love that she can just magically fly in and make everything right and then not take any credit for what she has done, which was exciting to me."

"Emily created her own version of the character in a very unique and special way, which focused more on the Mary Poppins from the books," says Marshall. "Emily is funny, warm, accessible and deeply-feeling"a brilliant actress who can really sing and dance. What an amazing combination!"

A new character in "Mary Poppins Returns" is Jack, a charming and upbeat lamplighter and one of Mary's old cohorts played by the equally charming and upbeat Lin-Manuel Miranda. "One of the most exciting things for us was casting Lin-Manuel," says Marshall. "He brings such an exciting, contemporary world to the film. Everyone knows he's a brilliant composer and writer, but he's also a great actor and a wonderful singer and dancer with a pure spirit that is very rare to find."

Best known for his multi-hyphenate roles on stage ("Hamilton," "In the Heights"), the Pulitzer Prize, Tony Award® and GRAMMY®-winning actor was thrilled to be able to create a role on screen, and after reading the script knew the project had the potential to be something truly special. "There's something very magical about this character," says Miranda. "Jack takes care of the lights in London, turning them on in the evenings and off in the mornings, so he brings light to London, but he also goes on these incredible adventures with Mary Poppins and brings light to all those around him, especially children."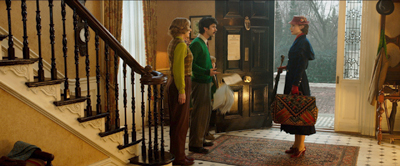 Co-starring in the film are: Ben Whishaw ("Spectre," "The Danish Girl"), Emily Mortimer ("Hugo," "The Newsroom"), Julie Walters ("Mamma Mia," the "Harry Potter" films), Colin Firth ("The King's Speech," "Kingsman: The Secret Service") and Meryl Streep ("The Post," "Into the Woods").

The production was also honored to welcome several Disney legends into the fold: the illustrious Angela Lansbury ("Beauty and the Beast," "Murder She Wrote") who plays the magical Balloon Lady, a treasured character from the PL Travers books; and the ageless Dick Van Dyke ("Chitty, Chitty Bang Bang," "Diagnosis Murder") who plays Mr. Dawes Jr., the retired chairman of the bank now run by Firth's character.

The level of craftsmanship on "Mary Poppins Returns" is truly extraordinary, much of it at the hands of award-winning artisans Marshall has collaborated with in the past. They include: Oscar® winner Dion Beebe, ACS, ASC ("Memoirs of a Geisha," "Into the Woods") as director of photography; two-time Oscar® winner John Myhre ("Chicago," "Memoirs of a Geisha") as production designer; Emmy® nominated Wyatt Smith, ACE ("Tony Bennett: An American Classic") as editor; three-time Academy Award® winner Sandy Powell ("The Young Victoria," "Shakespeare in Love," "The Aviator") as costume designer; and Oscar® winner Peter Swords King ("The Lord of the Rings: The Return of the King," "Star Wars: The Last Jedi") as make-up and hair designer.

In addition, some of the top animators from Pixar and Walt Disney Animation"many who came out of retirement just to be involved"created the animation/live action sequence. The decision by Marshall and his team was to employ the hand drawn techniques of classic Disney films. "We were all incredibly excited to bring this unique art form back to life," says Marshall. "Having every single frame hand drawn by great Disney/Pixar artists has been a once in a lifetime thrill for all of us."

A Love Letter to London

Principal photography on "Mary Poppins Returns" took place from February to June, 2017 at Shepperton Studios and on location at some of the city's most iconic landmarks, including: St. Paul's Cathedral, Buckingham Palace, the Tower of London, Cowley St., Queen Anne's Gate, the Royal Exchange, Cornhill and King Charles Street.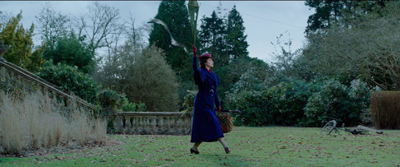 The London locations, many of which required detailed set dressing to obscure any modern fixtures or changes to the building's original design, were carefully lit and shot so as to best showcase the city's true beauty. "We wanted to open up the film and shoot on these locations in London to give the audience a true feel for the city," says producer John DeLuca. "We even began to think of these locations as their own characters."

"I think of the film as a love letter to London," says Emily Blunt. "I'm from London and I love that it captures the city so beautifully."

The exterior locations helped the filmmakers to better differentiate between the worlds of reality and fantasy in the story. "We wanted to portray the real world of London of the 1930s in order to contrast it with the unique fantasy world created by Mary Poppins," explains director Rob Marshall.

Production designer John Myhre did extensive research to ensure the London that audiences see on screen is authentic to the London from the 1930s, but at the same time showed an enormous amount of creativity and imagination when designing the numerous different environments constructed on soundstages. "John's mind took us to places you could never have imagined," says DeLuca.

Eight soundstages at Shepperton were used to build and house sets including those for Cherry Tree Lane, Topsy's Fix-It Shop, the tower of Big Ben and the interiors of the Banks' home. The Cherry Tree Lane set on H Stage at Shepperton was the largest, taking 18 weeks to complete.

The abandoned park set built on A Stage used to shoot portions of the film's biggest song and dance number, "Trip a Little Light Fantastic," took 26 weeks to complete. It featured five levels, a fountain, a bridge, a greenhouse and multiple stunt ramps.

"This number is a real homage to large scale musical production numbers of the golden age," says Blunt. "It's basically me (Mary Poppins) and the children getting lost in the fog and the leeries (a slang term for lamplighters) light our way home, which is such a wonderful metaphor. But then, of course, in the midst of the walk home, there's a big dance number!"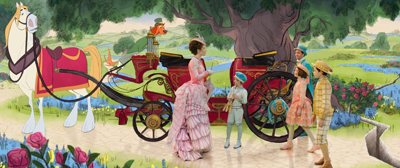 Nowhere to Go But Up

More than 80 years ago, author PL Travers created a world where magical things could happen in ordinary life, and for director Rob Marshall, right now is the perfect time to have audiences enter that world again. "This is clearly a delicate time for the world," he says. "People feel unsure and vulnerable so it's important to have something that can lift us out of our day-to-day existence and remind us that there is still magic and wonder in the world."

An all new original film musical, "Mary Poppins Returns" evokes the magic and spirit of the first film while providing new delightful music and high-flying adventures to make for a thoroughly enchanting film-going experience.

"The fun, the magic, the optimism, the hope and the innocence that Mary Poppins brings are the same things we're looking for in our lives today," says producer Marc Platt. "We want to be uplifted and transported and entertained. We want to be moved. We want to laugh and we want to cry. And 'Mary Poppins Returns' delivers all that."

But the film is not just for children…In the words of Walt Disney himself, it is "for the child in all of us."
Mary Poppins Returns
Release Date: January 1st, 2019