Based on the Beloved Book
Cast: Jai Courtney, Geoffrey Rush, Morgana Davies, Erik Thomson, Finn Little
Director: Shawn Seet
Genre: Drama, Family
Rated: PG
Running Time: 99 minutes

Synopsis: Michael Kingley (Geoffrey Rush), a world-weary retired businessman, travels to Adelaide to vote as a director of the company he founded on the leasing of vast farming lands in the Pilbara region to a mining company.

His son-in-law Malcolm Downer (Erik Thomson) is confident the board will approve the lease without a hitch as they're all, it would seem, on the same page. However, Michael starts to see things he at first can't explain, and the vote is delayed a day when a storm unleashes its fury, wrecking the company's boardroom.

Malcolm travels to Sydney on urgent overnight business, leaving Michael to collect his troubled granddaughter Maddy (Morgana Davies) and spend time with her at the Downer's sprawling house, overlooking a private beach.

Maddy is angered by the pending decision and its environmental impact and directs her fury towards her father. To prevent Maddy travelling down a path similar to one he took years before, Michael tells his granddaughter the formative story of his youth, when as 'Storm Boy' (Finn Little), he lived a lonely existence with his father Hideaway Tom (Jai Courtney) on a small shack between the isolated Ninety Mile Beach and the Coorong in South Australia.

Hideaway Tom retreated here after experiencing personal tragedy, to protect his son from a harsh and unforgiving world. The Coorong has a bird breeding ground and a hunting area and one day, after befriending an Aboriginal man, Fingerbone Bill (Trevor Jamieson), Storm Boy rescues three pelican chicks whose mother has been killed by hunters.

Storm Boy fiercely dedicates himself to rearing the weak and vulnerable animals, naming them Mr Proud, Mr Ponder, and " the smallest and most vulnerable " Mr Percival. The pelicans grow and Storm Boy reluctantly returns them to their breeding ground, so they can live wild, amongst their own kind. However, Mr Percival soon returns and the extraordinary bond between the two will change Storm Boy's life forever.

A pending vote to turn the hunting ground into a bird sanctuary brings danger into their secluded world and when sudden tragedy strikes again, young Michael is pushed into the outside world and forced to slowly leave his identity as 'Storm Boy' behind.

As day comes and Michael Kingley completes his story, the reconnection with his past brings him back to life and decisions will be made that impact not just his own future and that of his family, but the future of the precious world around him.

Storm Boy
Release Date: January 17th, 2019


About The Production
A New Telling Of A Classic Tale

Colin Thiele's novella Storm Boy, which tells the story of a young boy and his extraordinary friendship with an orphaned pelican on South Australia's remote Coorong National Park, has enchanted and moved Australians for over half a century. Sydney based producer Matthew Street (Tomorrow, When The War Began, The Bank Job, W, The Messenger) had studied the book in primary school, as many Australian school children still do, a memory that drew him in 2013 to take notice of a new stage adaptation.

"The Barking Gecko Theatre Company from Western Australia was staging the play in partnership with the Sydney Theatre Company," recalls Street. "I tried to book tickets for myself and my 11-year-old son, but it was sold out. I returned to the Ambience Entertainment office and told my producing partner Michael Boughen."

Boughen (Tomorrow, When The War Began, The Loved Ones, Killer Elite) continues: "I said to Matthew, 'I didn't know it was a play' and he said, 'Yes, and the season is fully booked out'. That started us thinking about the Storm Boy phenomenon. We started to explore the possibilities, spoke to the publishers and within about a month we'd secured the film adaptation rights."

Street and Boughen had both seen the 1976 film adaptation and strongly recalled the emotional connection they had with it.

"I was probably the age of Storm Boy at the time, maybe a little younger," says Street, "and the film was dealing with life issues that were relatable to me, as a kid, but to adults as well."

The producers recognised that the themes of Thiele's 1963 book are just as relevant, and in some ways more so, today.

"The themes are universal," says Boughen. "The story deals with friendship, with love, with family, loss and hope. It also deals with ecological issues. It's not overplayed, but there is a message in it that we need to look after what we hold dear, for ourselves and for future generations."

From the outset, the producers wanted to ensure that the new film would have at its centre the spirit of what makes people want to read Thiele's book more than 50 years after its first publication.

However, Storm Boy would not be a remake of the 1976 film. As such, Boughen and Street decided to remain true to Thiele's original setting; the late 1950s. Additionally, Storm Boy's tale would be set within a contemporary framework, an additional layer that would give the story and its lessons a new resonance and relevance. This new storyline would imagine Storm Boy as a grandfather and extend the exploration of issues around land and the conservation of the environment.

Screenwriter Justin Monjo (The Secret Daughter, Spear) was brought in to work on the adaptation, a process that would continue through the next several years.

"Our Storm Boy is a complex story in many ways," says Michael Boughen. "We spent the next three years writing the script, physically engaging with it, working out the nuances, understanding the journey of each character."

With an early draft script in hand, the producers began looking at possible directors, wanting to find someone who was passionate about the story and who would be able to draw out the delicate emotional nuances required of the performances and the storytelling.

Shawn Seet (Two Fists One Heart; Deep Water; The Code) came up early in discussions because of his body of work and his ability to work with actors to create complex performances.

"From the day I met Shawn, my thoughts and Matthew Street's thoughts never changed; he was the right person," recalls Boughen. "The film charts a difficult emotional journey, which would feature a child in the lead, as well as animals, but Shawn understands performers and what they need. He was someone whom we knew could blend all the complex elements together and maintain the focus of the story. From day one, we shared the same vision and never strayed from that vision."

The producers were particularly taken with Seet's deep and long-standing connection with the story. "When Michael Boughen asked me to come into the office and told me what the project was, it hit me like lightning," says Seet.

"I was born in Australia but grew up in Malaysia and came back when I was 12 to live with my mother's family. My uncle educated me by taking me to see Australian films and one of the first he took me to was Storm Boy. It was the era of the film renaissance in Australia, and there was a great optimism and pride in local films. I still have the film poster at home, so when Michael told me he wanted to make this film, I felt it was meant to be."

On reading the book again, as well as the draft screenplay, Seet was struck by the ways in which the story allows for a very intimate and individual experience.

"A lot of what resonated for me was the simplicity of their life, the respect for nature and the father and son story," says Seet. "Moving back to a simpler life are issues and themes that resonate now. We are in a hurly burly world of phones and computers and I think there's a great desire in people to return to a greater harmony with nature. That's something I really wanted to capture in this telling of the story."

Sitting alongside Storm Boy and his father Hideaway Tom is the character of Fingerbone Bill, a Ngarrindjeri man. The participation and involvement of the Ngarrindjeri would be vital, as the film is set on their land, and represents their heritage and culture. The pelican (Nori) is a totem of the Ngarrindjeri.

"The film touches on land rights issues and that's incredibly relevant today, when I think we've still got a long way to go in terms of our relationship with Indigenous people," says Seet. "We wanted to make the Indigenous aspects in the film absolutely accurate. It's a sacred place to the Ngarrindjeri and the story has come out of that. To tell a story about unconditional love and living in harmony with the land and with nature could not be told without their help."

Street continues: "It was very important to us to connect with the Ngarrindjeri people and for them to be actively involved and grant permission for us to film on the Coorong. I think they knew that we would be very respectful to their ways and beliefs."

"The Ngarrindjeri people assisted us, consulted with us on script, on language and on custom," adds Boughen. "We wove all of that in to create a more fully formed and truthful story, beyond what was already a great script by Justin Monjo."

In Thiele's book and in the 1959 narrative in Storm Boy, the environmental issue explored concerns whether a Coorong bird nesting area will continue to be designated as a hunting ground, or transformed into a conservation sanctuary. In the film's contemporary narrative, the film touches on the issue of mining and its impact on the environment.

Producer Matthew Street says: "It's about finding a balance, a balance between human society and not over-exploiting nature and natural resources. That's what was explored, I think, in Thiele's work, and hopefully we've done that justice in our telling of the story."

To portray Michael Kingley " Storm Boy as an adult " in the present day scenes, Shawn Seet and the producers had one person in mind: Academy Award® winner Geoffrey Rush (Shine, The King's Speech, Pirates Of The Caribbean). They approached the actor during development, in order to allow Rush to be involved in the process of refining the script.

Producer Michael Boughen says: "We were extremely lucky that Geoffrey Rush connected with the project. Geoffrey would bring gravitas to the film and to the role, but for him, as it was for us, the script had to explore the story in a way that was really worth the retelling."

Rush, who also came onto the film as an Executive Producer, says: "I got involved because Shawn Seet, Michael Boughen, Matthew Street and Justin Monjo explained to me the nature of the reinvention of the story for a contemporary audience, of trying to find a door that we could open from 2017 to look back on the story that Colin Thiele set in the 1950s. I hadn't done an Australian film for a couple of years, and sometimes roles come up that you think, 'Wow, this sounds fantastic'."

Geoffrey Rush had never seen the 1976 film, as he was studying in Paris when it was released and chose not to watch the film once he was on board.

"I looked at the trailer of the 1976 film because I wanted to see how it played," recalls Rush, "and then I read the short story, after reading the screenplay. Colin Thiele awakens your imagination. It's very interesting to look at how minimalist it is. I think it's only 50 pages of writing and it's a fable, so the idea for the film of Storm Boy in his late 60s telling his granddaughter what his experiences were as he was moving from childhood into adulthood; him telling it as a fable is wonderful because it connects as personal memory rather than 'and then I did this, and then I did that'."

The key was to craft a script in which the transitions between the two periods were handled with deftness and purpose.

"It had to have a poetic ease to it, so that no one thinks they're going to watch a film about somebody narrating it," says Rush. "Justin Monjo very skilfully echoed the simplicity of the childhood story into the contemporary story, taking some of Thiele's very sensitive language and incorporating that into the screenplay. It was so visual to read. There were heart stopping moments; it's thrilling storytelling, and very emotive to see a young child being awakened into such a love of the natural world."

The producers and director Seet wanted to shoot the film in South Australia, which would require support from the South Australian Government through the South Australian Film Corporation, as well as from Screen Australia.

"Both organisations were incredibly supportive, both financially and in our early days of working through the difficulties of financing a film," says Michael Boughen. "Financing a film is no easy feat, and particularly one that we wanted to make with an international cast and international appeal. Audiences outside Australia generally don't know Storm Boy as a book or a story, so the international appeal is the relationship between a boy and his best friend; a theme that we believe will resonate with audiences around the world."

The producers were proud of the way the film was developed, produced, and the messages it will convey to Australian and international audiences, which remain true to the spirit of Thiele's story. "If Colin Thiele was alive today," says Matthew Street, "I hope he would give the film his blessing."

Michael Boughen adds: "A wonderful script was the starting point, then having Shawn on board, then Geoffrey, and the rest of the incredible cast and crew. There wasn't a day that I didn't enjoy filming, in watching scenes come together. I'm incredibly excited and very, very proud of what we achieved."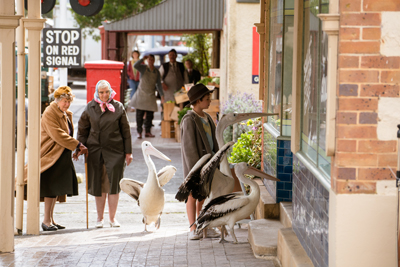 Cast And Characters

For producer Michael Boughen: "The cast contributed on every level. Geoffrey Rush, Jai Courtney, Finn Little, Trevor Jamieson and Morgana Davies all gave so much. It was an ensemble cast that that knitted together brilliantly."

Storm Boy – portrayed by Finn Little
Storm Boy is a loner by necessity " his father Hideaway Tom has moved him to the remote Coorong, where they live a type of self-imposed exile. He's at a crucial stage of his life, on the cusp between being a boy and approaching adolescence. When Storm Boy meets Fingerbone Bill and takes charge of three orphaned pelicans, he begins to connect deeply with himself and with his environment.

His experiences with the pelicans, particularly Mr Percival, will teach Storm Boy not just about the quality of love and true friendship, but hard truths about nature and an unforgiving side of how the world works.

The challenge for the director and producers in casting the role was finding a boy who could create the subtle performance that the story and script called for and who could forge onscreen a profound connection with the pelicans, whose wingspans would be larger than him. The young actor would also need to be confident in the water and convey a sense of someone who lived in a natural, isolated, environment.

Producer Matthew Street says: "With the emergence of self-casting, thousands of young boys across Australia sent in casting reels, that were culled down by Ann Robinson and Hannah Charlton at Mullinars. With a few boys from that initial batch, we could feel the connectivity to the story and real emotion off their read."

"We got to a short list of about 50 or 60 boys," continues Matthew Street, "and from that culled it down to about 20 boys who we sent out for another taped audition."

One boy, Finn Little, a champion swimmer in his home state of Queensland, was particularly strong in the second audition, and Shawn Seet and the two producers flew to Brisbane and met with him, to conduct a final in-person audition.

"I read opposite Finn," says Boughen. "It was quite an experience to feel his engagement and understanding of the character. Our animal co-ordinators, Zelie and Craig Bullen and pelican trainer, Paul Mander, were all located on the Gold Coast, so we drove down there with Finn and his mother, so that he could meet some pelicans and interact with them, which he did in a wonderful way. We walked away and said 'we'll offer him the job'. We didn't have a moment's hesitation."

Finn Little himself says: "We arrived home and five minutes later got a call from my agent who told us that I'd got the role! Mum was over the moon and I did a little dance in the lounge room. Everyone was so happy."

Shawn Seet calls Little: "an absolute discovery. I can't imagine how we would have made the film without him. He is Storm Boy. He's one of the most sensitive, open actors that I've ever worked with, young or old, completely in touch with his emotions. He's vitally robust and energetic, but has a very sensitive, almost fragile demeanour. It's a weird contradiction. He feels like a boy who could be running around the Coorong, climbing the sand hills, but at the same time he wears his heart on his sleeve and you feel his inner grief and sadness."

"When people see his performance I have no doubt they'll be stunned at the emotional range of a boy who turned 11 during the shoot, who had only done a few commercials and short films," adds Michael Boughen. "He's an incredibly quick learner. He knew his marks, his cues and never forgot a line. He's an extraordinary performer. He gets inside the character."

Finn Little loved the experience of the shoot in the Coorong and of being part of the production.

"There were seals and sand and because I'm a water baby, when we were doing water scenes like teaching the pelicans to fish, I put my whole body under and got brain freeze, but it was great fun. I was so happy to be part of Storm Boy. I wanted to give all my energy and enjoyed every little bit of it. I'm the luckiest boy in Australia to have this role. Geoffrey Rush, who plays Storm Boy as an older man, only has one onscreen moment with Little, but saw the budding actor's screen tests.

"He's brilliant," says Rush. "It's a role that required a huge emotional range and sensitivity. We are longing to get to know and invest in Storm Boy as audience members, and actors playing the characters around him, and even Finn's rough screen test, with him just in a bare room with lines being read off-screen; he and the camera belong together."

Hideaway Tom " portrayed by Jai Courtney
Hideaway Tom is a protective father to Storm Boy, driven by personal tragedy to live a pared back life in a humble, weather-beaten shack.

Jai Courtney (Suicide Squad, Insurgent, Divergent), who portrays him, feels that Hideaway Tom is in touch with his emotions but in a very specific way. "Tom is a damaged individual," says Courtney. "He's running from the cruelty of the world, sheltering Storm Boy from it. He's not interested in the judgement or acceptance of others; what's important to him is his responsibility to his son. As Storm Boy gets older, I think he sees a really important avenue through which to guide his son and impart some hard truths. That is his brand of love."

The producers and Seet went through a short list of men who they thought could create the role and Jai Courtney was always on the top of that list.

Shawn Seet says: "We were a little apprehensive at one point because Jai's younger than the role we originally wrote, but he's got such great inner maturity. Also, a lot of people had kids quite young in the 1950s, so part of Hideaway Tom's story became that he's a man learning to be a father as well."

Boughen and Street spoke to Courtney's management, sent him the script, and within two weeks the actor had said yes to the part.

"We were so thrilled to have him," says Boughen. "He is Hideaway Tom " his stature, his bearing, everything about him. His performance is fantastic; subliminal and really connected. He and Finn felt like father and son on set. Jai helped Finn, they had a real connection, and that connection comes across on screen."

Courtney saw the chance to work with children and animals, as well as to play a father, as interesting and challenging new territory.

"I was invested from the outset," says the actor, "Justin Monjo had written a wonderful adaptation, I was excited to work with Shawn Seet and the character really drew me in. It was interesting to think about my paternal influences and drives. I don't have kids, but it opened up what that might be like, how you instinctively nurture someone and pass on experience."

Director Shawn Seet sees Courtney as the quintessential, robust leading man, but at the same time as an actor who creates a lot with a physically contained acting style. "Jai was able to convey great emotion and inner dialogue with very few words," recalls the director. "My sense is that in 1959, in this part of the world, people didn't talk to each other a great deal. They just 'were', so a lot of the film happens in between the dialogue, and Jai was amazing in creating those moments."

For Finn Little, working with Jai Courtney "was such a privilege. I'd seen some of his movies like Divergent and Insurgent, so when I found out I was working with him, I was very excited. Our two characters are not close in a way, there's not a lot of hugging, because he doesn't want love me too much otherwise he might lose me. Working with him off-screen though, he's such a nice guy and he taught me a lot about acting."

Fingerbone Bill – portrayed by Trevor Jamieson
Fingerbone Bill lives alone at a campsite not far from Hideaway Tom's shack. At first Storm Boy is cautious of the stranger, who he's seen before at the water's edge, but they meet and a bond begins to form. The two are quickly thrust together to rescue the orphaned pelican chicks and with Storm Boy, Hideaway Tom and Mr Percival, Fingerbone Bill completes the quartet at the centre of the 1959 narrative.

Fingerbone Bill was the first of his people to live outside of a traditional context, as a drover. Like Hideaway Tom, what he saw and experienced in the world beyond the Coorong has sent him back to a place in which he only needs to commune with nature, and very occasionally with other human beings.

The character is described as 'old' Fingerbone Bill in Thiele's book and as opposed to the young man that David Gulpilil was when cast in the 1976 film, the producers and director wished to cast somewhere between the two.

Trevor Jamieson had portrayed Fingerbone Bill in the Barking Gecko Theatre Company and Sydney Theatre Company stage play that that Matthew Street had missed seeing in 2013. Being cast in the new film would complete a circular connection with the story that meant a great deal to the 42 year-old actor.

"I loved Colin Thiele's book as a kid," explains Jamieson, "as well as the 1976 film. He wrote characters who people universally could connect with; a pelican, a boy, a blackfella, and Hideaway Tom. As a kid, I always wanted to be this character. I'd played Fingerbone Bill on stage, which was wonderful, but now to play him in front of camera too, it's another childhood dream come true."

Director Shawn Seet says: "Trevor Jamieson is such a beautiful, warm, generous man. I wanted Fingerbone Bill to be a real person and living in 1959 I think he would have seen some ugly things. Trevor was able to show that Fingerbone Bill had seen those things but that it hadn't inhibited him. He is a warm, generous and forgiving human being and his relationship with Storm Boy was matched off screen as well as on screen. Trevor and Finn got along like a house on fire, and that really shows."

For Trevor Jamieson, Fingerbone Bill is looking after nature and passing down his knowledge to Storm Boy and it was important to parallel this with Finn Little. "Fingerbone shares his knowledge to young Storm Boy," says the actor, "and being a blackfella myself, it's information I share with people who are deserving of it, like I did with Finn."

A highly respected Ngarrindjeri elder, Uncle Moogy Sumner, was Jamieson's advisor on Storm Boy, teaching him various aspects of Ngarrindjeri cultural practice.

"If I'm in another country, it's like walking into someone's lounge room," explains Jamieson. "We have a way of asking permission; 'Am I allowed to sit here?' I will sit in their lounge room respectfully and they will tell me what it's like in the room. They'll show me the pictures on the mantelpiece and I will take that all in, with respect. That's what we do."

"I had great support from Uncle Moogy. He showed me how to do the pelican dance, how to apply body paint the way that the Ngarrindjeri people do. You have to get it right. I'm representing the Ngarrindjeri. We want to make sure that you're pointed out on the map. This is the story, and where it comes from " your country. The dance dialogue Fingerbone gives to Storm Boy is to say, 'This is the land. I'm here to look after it. And I'm here to teach you how to look after yourself, nature and the bird'."

Of the character, Geoffrey Rush says: "Colin Thiele brought this very centred, very open guy into the story. Storm Boy was written before white Australia recognised the Indigenous population in the Census in 1967. Thiele forged a very sensitive and thoughtful approach, distilling this story down to a young boy meeting an Aboriginal elder. What's their friendship like? Fingerbone Bill instils a love for the power of the earth in this young boy's imagination."

Trevor Jamieson was conscious of the iconic performance that David Gulpilil gave in the 1976 film, but took fierce ownership of the role.

"David Gulpilil is a national treasure," says Jamieson. "He's an amazing actor, and I was asked a question a long time ago, 'What's it like now filling in David Gulpilil's shoes?' I turned around and said, 'Well you shouldn't have put it that way, but guess what, I'm Fingerbone now. I want to give truth to Colin Thiele's story."

Jamieson and Gulpilil first worked together on Rabbit Proof Fence and had worked together since, but Jamieson was particularly moved when Gulpilil made a special cameo appearance in Storm Boy, playing Fingerbone Bill's father.

"The first time I had to do a scene with David Gulpilil, I was really excited," recalls Jamieson. "I didn't have to say anything; he did it all, made me look good. When I got to work with him on Storm Boy, it was a very special experience. The way he demands the lens of the camera is amazing " he creates magic on film."

Michael Kingley – portrayed by Geoffrey Rush
Michael Kingley, a year shy of 70, is one of four directors of King Pastoral Holdings. He returns from what he calls his 'walkabout' " ticking global destinations off his bucket list " and travels to Adelaide to vote in an important board decision to lease Pilbara land to a mining company.

Michael's son-in-law Malcolm Downer thinks the decision will be a fait accompli. With his granddaughter Maddy in an agitated state over the pending decision and its environmental impact, Michael relates to her the story of Mr Percival and his own youthful incarnation as Storm Boy. Through the process of telling the story, Michael experiences a connection to himself and the world around him that he hasn't felt since leaving the Coorong to be 'properly educated'.

"You get the feeling that Michael Kingley has had a slightly disconnected life, that he found himself on a path that he regrets ever taking," says Geoffrey Rush, who portrays Kingley. "Digging into his memories, as a way of finding a mentoring connection with his stroppy granddaughter, helps him come to an understanding of 'how do you find your way into a meaningful adult life, that can be passed on from generation to generation?'" Having Rush involved early in the process allowed the character to be finely honed on the page and to create an intimacy between actor and character.

Producer Michael Boughen says: "One of the beautiful things was that we were able to sit with Geoffrey and work with him on Michael Kingley. He's a tricky character to portray, but we were delighted the way it knitted together through that process."

For the director and producers, it was important to have somebody of Rush's calibre play Kingley because the film doesn't portray the middle part of this man's life, yet the audience need to feel the impact of those years on his personality.

"Geoffrey was able to fill in that period," says director Seet. "You know that he's lived a life, because Geoffrey thought about and brought everything that had happened to Michael Kingley into the 2017 story. Geoffrey can do so much with a raised eyebrow, an inflection of a word. He's just wonderful to work with. The attention to detail…he imbues every moment with such richness."

Young Finn Little would have one poignant moment onscreen with Rush, but felt immediately at ease on meeting the renowned actor.

"I'm a big fan of Pirates Of The Caribbean and The Book Thief, so meeting Geoffrey Rush was crazy. He walked into the room and said 'Hi my name's Geoffrey, you must be Master Finn'. My dad had said 'When you meet him, call him Mr Rush', but I was so shocked that I just said 'Hi Geoffrey'. Geoffrey didn't want me to feel nervous around him, and why would I be nervous around him, he's such a nice guy."

Madeline ('Maddy') – portrayed by Morgana Davies
When we first meet Michael Kingley's 16 year-old grandaughter Maddy, she's a young woman filled with outrage, directed at her father Malcolm, who is engineering the mining lease of the Pilbara farming land.

A fervent impulse to protect the natural landscape runs through her veins; her grandfather, as Storm Boy, fought the hunters; in this generation, Maddy fights her father.

Maddy, like Storm Boy, has also experienced profound personal loss, and the layers of grief under the surface of her aggression confront Michael. The character wasn't in Thiele's original novella, but this parallel relationship in the present day narrative triggers the need for Michael to tell the story of Storm Boy to Maddy, to heal and to give forward direction to them both.

Finding a young actress who could convey the anger, attitude and had a natural performance style, was the challenge for the director and producers.

Producer Michael Boughen explains: "Maddy is a female Storm Boy, in a way. She's of his bloodline. She's a teenage girl finding her way in life, getting towards the end of schooling, she's feisty and the actress who we found to play her, Morgana Davies, is all of that. Morgana has a real presence on camera, yet she doesn't demand the camera look at her. You're simply drawn to her. She engaged beautifully with Geoffrey Rush, and I think she will impress audiences with the subtlety of her performance."

Morgana Davies has been acting since she was seven, including with Charlotte Gainsbourg in the French-Australian production The Tree, the Tasmanian-set The Hunter and recently in Season 2 of the Starz TV series The Girlfriend Experience.

Davies describes Maddy as: "'Angsty'. She's angry and rebellious and stubborn, but she's also incredibly smart. I could relate to her aggression " I don't know if that's a good thing or not " but almost every action in this snippet of her life that we're seeing in the film is motivated by anger."

"Maddy and Michael are both headstrong and sure of what they're doing," she continues, "but they jump to conclusions. Storm Boy let a grudge against his father take over his life and she's letting the aggression towards her father dominate. Michael is trying to guide her away from that."

The young actress was drawn to the role partly because of the resonance of Maddy's experience with most if not all teenagers.

"Every teenager is finding their footing, disagreeing with things that are going on around them but feeling that they can't change anything," Davies explains. "People my own age will be able to see themselves in Maddy. As a person my age, seeing yourself on screen is so important."

Director Shawn Seet says: "Morgana brought her own unique energy. She's very feisty; it's not anger but she wants to fix the world and what she represents, I feel, is hope. She is the next generation who is going to save us from ourselves and when I see young women like that I feel very hopeful."

The young actress' primary scene partner was Geoffrey Rush, who was impressed by Davies' skills and presence, saying: "Morgana Davies is one of those people… she's only fifteen and I know she's been in films since she was seven, but she's just naturally, effortlessly gifted, with a kind of truth and reality."

The Pelicans

For the filmmakers, there were two aspects of the pelicans in Storm Boy that were of paramount importance: to create the majority of the pelican performances in camera with real birds, and to establish a tangible connection between these real pelicans and the actor playing Storm Boy.

To achieve this vision, the producers knew they would need to start some months before pre-production and before production financing; taking the risk to bring on animal trainers, and to find, raise and train the pelicans.

The first step for Boughen and Street was to hire the highly experienced Zelie Bullen from Animals All Around as the film's Animal Supervisor. Bullen knew how few Pelican trainers there are globally, but fortuitously Paul Mander, a bird trainer working on Queensland's Gold Coast, took on the challenge.

Pelicans have a long life span but a high mortality rate of around 30% in the wild, partly from predators such as foxes. Five birds were found and reared, some of them rescues. The training process went relatively quickly due to the birds' intelligence.

"The behaviours are trained with food rewards, so it's positive reinforcement," explains Paul Mander. "Every time they do a desired behaviour, we give them a fish. Pelicans have very good memory retention, so what they learn carries over into the next day." Bullen sees the common key to training any animal is to understand how the animal thinks and feels.

"Animal trainers need to know a certain amount of theory, but they need to be compassionate and understanding," says Bullen, "they need to comply with whatever is in the animal's boundaries as a species, as well as their individual boundaries, and try to make the animal understand what it is we're trying to achieve."

It was crucial that Finn Little become part of the pelican group, and so he first met the birds when they were just six weeks old.

"Each week, Finn would come and do bonding sessions with the pelicans," explains Mander, "spend time with them, socialise with them, so that they would associate him as being friendly and part of the group. The birds formed a strong affinity with Finn and vice-versa."

Working out how the five birds would portray the three characters Mr Proud, Mr Ponder and Mr Percival was similar to casting any role.

"We let them develop their character and let me tell you, pelicans all have very, very strong and distinct characters," says director Shawn Seet. "Through that we were able to decide which pelican would be Mr Percival, which would be Mr Ponder, which would be Mr Proud. They also developed very distinct tricks. Some were good at hide and seek, some were good at flying, so we were able to pick and choose who did what."

One male bird, Salty was adept at working up close with Finn and so he primarily represents Mr Percival on screen.

Cast and crew were surprised every day by the birds and their improvisations. Specific actions had been built into the script, but the filmmakers developed what they called the 'flexible thinking' principle; that they would be open to what the birds did. This philosophy would carry through other aspects of the production.

"We had to adapt the script to their performances, but their performances were amazing," says Boughen. "We were only imagining what we might get on the page, but these are personalities, these are characters and they brought so much more to it. People will I'm sure assume we used CGI pelicans and we did in a very few limited specific moments, but basically everything you see was real and it was spectacular." Shawn Seet continues: "When we filmed the scene in which Fingerbone Bill talks to Storm Boy about the pelican being his totem, the pelicans were not really interested in the discussion and every time we went to shoot it they would wander off. It was a beautiful sunset and we thought 'what are we going to do?' Someone said 'just go into the dance that he then does, forget about the dialogue' and as soon as Trevor started dancing, it was like the pelicans had read the script. They turned and looked at him and wandered over and stood in a row and watched him. It was magic."

The pelicans grew more and more comfortable with the crew. When brought to set, Salty would run along and brush up against the crew one by one, as if saying hello to each. Nothing restrained the birds on set, so at unexpected moments they would fly away. They would either return fairly quickly unprompted or Paul Mander would use a red bucket as a visual encouragement.

"The red bucket was a very strong visual sign that they were going to get more than one fish," explains Mander. "Pelicans are very visual creatures, so, even from a long distance, the bucket was a really strong draw card to bring them back."

Of his experience with his feathered co-stars, Finn Little says: "They were so amazing. I could hold them on my lap and pat them. Paul Mander and Zelie and Craig Bullen, Zelie's husband, were all so amazing with the pelicans. The birds sometimes went a little bit crazy, but Paul would pick them up in his arms and say 'behave' and give them little kisses and then they were all good again. It's like you can talk to them."

Jai Courtney adds: "I'd ridden a horse in a film before, but I'd done very little work with animals. 'The bird squad', the trainers, did an incredible job working with them. They're really beautiful, and you got what you were given, but sometimes that meant that you captured magic. I'll never forget working with them."

Of their future after Storm Boy, producer Michael Boughen says: "They're now homed in wonderful places, Mr Percival is in the Adelaide Zoo, where they'll live out their lives in great enjoyment. They haven't had to survive the rigours of nature, which can be pretty brutal."

Zelie Bullen sees that: "What came out on screen is sensational and beautiful, and a great credit to both the animal training but also to the professionalism of the actors." Paul Mander learned a great deal by being able to raise pelicans for the first time, observing and learning from them 24 hours a day. He describes it as "a pleasure and an amazing experience, one that I'll never forget," and hopes the film may motivate audiences to connect with the animals beyond the cinema.

"The strong characters that the pelicans are in the film may encourage people to find out more about them and get involved with trying to save them conservation-wise," says Mander. "Who's to say that pelicans in the future won't need our help? Storm Boy promotes them as a species, which is such a wonderful thing."

The Shoot

In November 2016, Michael Boughen contacted South Australian based Location Manager Mark Evans to begin conversations about Storm Boy, and the need to conduct extensive site surveys once the film was financed.

From March 2017, once the film was in pre-production, Evans travelled up and down the Coorong, as far north as Goolwa and as far south as Robe and Beachport, exploring every facet of the Coorong National Park and adjacent areas, to enable the hero locations to be selected.

Before setting out, Evans spoke with Seet by phone and by Skype, to understand what the director was seeing in his mind, and to understand how he wanted to highlight the region. On one of the first surveys, the film's Production Designer, Melinda Doring and Evans journeyed together, looking and discussing.

"It took a long time to get the geography to work for the film, but we found the main location at Godfreys Landing, then tweaked the story to fit that location," explains Evans. "Once we decided on our area, it dawned on me that we had to get every single thing across to the peninsula, which is only accessible by boat. The Coorong is also tidal, so getting the sets and infrastructure across, and then a crew of at least 80 people over there every day, would take a lot of organising."

The Coorong National Park is administered by the Ngarrindjeri Regional Authority and the Department of Environment and Water and Natural Resources, and permission to film in the National Park would need to be granted by both bodies.

"We needed to do a site survey with representatives of the Ngarrindjeri people to make sure that we were aware of all aspects of heritage in the area " burial sites, Aboriginal middens, and any other sacred sites," explains Evans. "After a detailed survey, and explaining to them how we were going to build Hideaway Tom's shack without causing damage to the dunes, our access was approved."

Filming in the Coorong took place in July 2017, commencing with a Ngarrindjeri Welcome to Country ceremony for the cast and crew.

"The crew were incredibly respectful of the fact that we'd been invited to their country and allowed to film this story on their land," says producer Matthew Street. "The crew were made aware of sensitivities around burial grounds and sacred sites, and the fact that we had to be very careful of the fauna and vegetation."

Cast and crew kept to designated paths and Evans and his team ensured that the sites would be returned in their original states.

"We absolutely did our best to make our footprint as small as possible," says Shawn Seet. "We wanted to be totally respectful to the land, not just because we should but because that philosophy then imbued the film with a respect. In everything we did, we did it with respect for the land, the animals and the people and I think that ends up on the screen." Filming in the region also required collaboration with the Coorong Council and the Alexandrina Council.

"Both councils were very supportive," says Evans, "because they saw that the film would highlight the pristine nature of the Coorong, and the infrastructure around the Coorong. Places like Goolwa and Port Elliot saw it as a way for them to draw more people. To highlight the area, to the best of our ability, they were very much behind."

To showcase this incredible place, as well as the characters, Shawn Seet and Director of Photography Bruce Young decided to partly shoot with an 18mm lens " a very short lens.

"Bruce and I wanted a shooting style that would showcase the landscape but also allow us to get close enough to the characters to forge a real emotional connection with them," explains Seet. "What the 18mm lens enabled us to do was to capture extreme close ups on Storm Boy or the pelicans, but still see the whole landscape, so that the characters were always figures within the landscape."

Seet and Young also used drones to shoot some scenes, particularly as it gave a crucial bird's eye point of view.

"We were shooting in the actual location in the Coorong, we weren't fudging it on some other beach," says Seet, "so we could get up high with the drones and look all the way down Ninety Mile Beach, the actual beach the story is set on, and see everything in relationship. It was accurate and fantastic."

Because the filmmakers wanted to shoot in the coldest, wettest part of the year, in keeping with the script and desired aesthetics, difficult conditions arose for the crew. As Evans had known from the outset, crew had to be ferried in " a twenty minute undertaking.

Production Designer Melinda Doring says: "There were complications for the construction and scenic teams having to work in difficult weather conditions. It was hard, but very worthwhile. The location that we chose was so unique, with so much natural beauty, incredibly cinematic qualities. A lot of other locations we could have chosen would not have given us those important aspects."

"Every morning we'd get on a boat, and we'd get there just on dawn and it was like going through an airlock," recalls Shawn Seet. "We would travel into that world. At the end of the day, we'd ride back, with the birds flying over and the most spectacular sunsets I've seen."

"It didn't care about us filming there, which is one of the things I wanted to get across, that nature doesn't care about humans. The storm will come when it comes, the wind will come up when it comes, and you have to live with that. In keeping with our philosophy of flexible thinking, if the sun was shining we'd shoot scenes that needed sun, if it wasn't we'd hop over to a scene that needed to be stormy. It was tricky, but it was full of character."

The film had its challenges, but something very special was created by a connected team, from South Australia and interstate, who shared a passion for and connection to the story. Producer Michael Boughen, South Australian by birth, lived his first 23 years in the state, but hadn't been to the Coorong until securing the adaptation rights to Storm Boy.

"I was stunned by the beauty of the place, the grandeur and the majesty of it," he says. "We were making 'Storm Boy' - it was always the plan to shoot in the period that would present storm sequences ready-made for us, with wind, rain and beautiful impressive skies and we got it, often all in one day, but we coped. It looks magnificent. I'm very proud of the performances, I'm very proud of the film. We had a wonderful crew who were very engaged with it from day one. There wasn't a single person that didn't believe in what we were doing."

Trevor Jamieson sensed something very unique about the Coorong, as well as the whole state.

"There's an underlying friction which is a good fiction. There are certain rules that you have to go with in the Coorong, but also a freedom. You go along with what nature throws at you, don't go against it. It's some beautiful country. There's something about South Australia, every time I visit, I have this feeling of being looked after."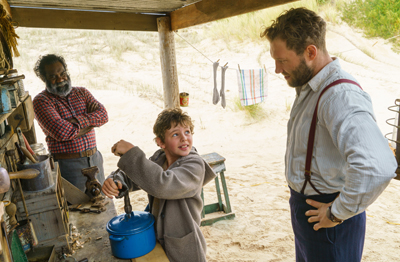 Design

Production Designer Melinda Doring was first contacted about Storm Boy in May 2017 and shortly thereafter, Shawn Seet was discussing the colour palette he envisaged for the film with Doring and Costume Designer Louise Mccarthy.

Tonally, the film would be dominated by muted secondary colours and limited primary colours.

"I felt that was very appropriate for 1959, but we even narrowed it down more than that," says Seet. "I wanted it to have muted greens and blues, colours of nature, so that nothing stood out too much in the landscape except the colour red; a red blanket, a red dress, Fingerbone Bill's red shirt; so, using that colour to punctuate certain moments."

Storm Boy has a predominance of exterior scenes, but the primary production design element that Doring would need to tackle was Hideaway Tom's shack. Doring considered all the little details about 'the back story' of the shack, conceiving that Hideaway Tom would have found an existing shack and added onto it.

"In the Coorong, there are shacks that went back at least to the 1920s, so Hideaway Tom might have added the bathroom and Storm Boy's sleeping area," says Doring.

"Part of the attraction for me was getting into the character detail and thinking about where everything has come from. I work very closely with a set decorator and a props master to do that; to nut all the little things. Hideaway Tom and Storm Boy don't have a lot of money, they're isolated, so what Storm Boy has in his room are bits of driftwood, shells he's collected on the beach, little toys that he's got from cereal packets. They would have had to have been very practical and reuse materials."

The structure was partially built in a studio in Adelaide, then dismantled, moved to the Coorong and constructed in situ, then dismantled and rebuilt in studio again for night scenes. The structure was aged twice " rust applied to the corrugated iron and the weatherboards aged " to match its states in 1959 and in 2017.

One unusual consideration for Doring in designing set pieces was 'pelican accessibility' " whether there was enough room for the birds to move in Hideaway Tom's shack, and whether there was sufficient landing and take-off room on certain props.

"We had to make two different versions of the lookout post; one a bit lower so the pelican could land on it and take-off," recalls Doring. "A lot of the props we had to create early in pre-production and transport them to Zelie so the animal trainers could rehearse with them, to see if they could do all the scripted action. With Louise McCarthy, the costume designer, there were discussions about items the pelicans had to interact with " a hat, a blanket, a little red ball. There were a lot of pelican discussions."

Of the work of Doring and her team, Shawn Seet says: "Melinda Doring is a genius. Her attention to detail is second to none. Everything was there for a reason. Elements were designed with the fact that we needed to shoot in them in mind, but at the same time they were designed so that they were appropriate for the characters living there. Why would they have built a bedroom there? Why would they have installed that shelf there? While an audience may not consciously think those questions, the elements just feel right." For the actors, this attention to detail helped them to imagine that the character really lived in the space.

"It's amazing when a period set is handled with such delicacy and a fine hand," says Jai Courtney, "because it makes transporting yourself so much easier. If you believe where you are, then it informs the work and helps the audience move into that space as well." Of Fingerbone Bill's shack, Trevor Jamieson says: "The shack defined the character I was trying to portray. It's something that I pictured in my mind, and they captured everything about it. The team of people who put every nail and piece of wood and tin together; there was a lot of love, and blood, sweat and tears that went into it."

The town of Port Elliot would be used to represent Goolwa in 1959, which had itself become too large and modernised in 2017.

"Goolwa town in 1959 was the chance to actually see the period," says Doring. "We created a fish and chip shop in someone's front lounge room, painted a Rosella bird on the front of the general store, old signage outside the pub, so, we totally transformed the town."

The discussions that Seet had with the Costume and Hair & Makeup teams were initially that their work should be true to the period without being a period showcase. Importantly, the characters needed to feel like they inhabited the wild landscape.

"It's windswept, there's salt in the air, they're out in the sun and the cold so we gave them slight windburn," says Seet. "They feel like they've been battling the elements and while I think it's quite a romantic film, I didn't want to underplay the harshness of the lifestyle."

Seet wanted some costuming to reference 1959, but also the 1940s and 1930s, as people, especially fishermen on the Coorong, don't throw all their clothes out when a new decade turns over. All the knits were made for the film, as much as possible using older yarns. The scarf that Storm Boy wraps Mr Percival in was knitted by Seet himself.

Louise McCarthy's aim, "and it's a difficult one for costume designers especially when you're doing period, was to keep it simple. There are so many beautiful textures, patterns and colours that belong to the era, but I had to be quite restrained in which ones to choose."

Additionally, Seet and McCarthy were conscious that the 1959 costumes were being 'recalled' by the grown-up Storm Boy. "That's a different lens to the objective lens you'd normally use tell a story," says McCarthy, "so, the simplicity we went for was a reflection of that notion that a grown man is remembering images of his childhood."

It made sense that Storm Boy would never wear shoes, because of the sand and would never wear trousers because of his constant interaction with the water. McCarthy dressed Finn Little in shorts, shoeless, but needing to be warm, he wore a duffle coat with many patch pockets for Storm Boy to place shells and other beach treasures in.

"The idea of him wearing things inappropriately I also really liked," adds McCarthy. "He doesn't have anyone to say 'that's a pyjama shirt, why are you wearing a pyjama shirt for day wear?' so I came up with a few basic elements that any child would have, but put them in unexpected places."

As with Storm Boy, Fingerbone Bill never wore shoes. The costume department prepared work boots for the character, but Trevor Jamieson, making a clear decision for his character, never put them on.

For Hideaway Tom's costume, McCarthy used a lot of hand knits, with one based on a poignant, particular reference. "That knit was based on 1940s British knitted sailor's jumpers. They would use particular patterns so that if the sailors were drowned, a particular pattern would belong to a particular village and they'd be able to identify him."

As for the costume department, the task for Hair & Makeup Designer Tracy Phillpot was to observe simplicity, even for the town scenes.

"In the town, I got to show off the 1950s, but we were doing a country setting, I wasn't doing Vogue 1950s," says Phillpot. "I also mixed a bit of 1940s in there, because not everybody in the 1950s would have been creating 1950s styles in a country town." For Phillpot: "the body art required for Fingerbone Bill was terrifying, as I knew how important it was to get right. Uncle Moogy Sumner came in and showed us what was correct and what wasn't. He was wonderful and patient."

For both teams, working in an environment that was a natural foe to their usual way of working presented many challenges. "Makeup and sand don't mix," states Phillpot, "and wind is the enemy of continuity, so, it was quite hard as far as my job was concerned."

"There was no running back to the wardrobe bus for little pieces that we'd forgotten," adds McCarthy. "We only had three main cast with limited changes, but because it was such a big landscape film the camera needed see all the way around the shack, so we worked out of a little pop-up tent. The sky could change in half an hour. It was really hard work. We were constantly tracking through terrain, carrying costumes, breaking down equipment, but it was fabulous and very, very, rewarding. It was an absolute joy to create these characters."

In closing, Shawn Seet feels that: "Storm Boy had its own energy. The pelican's energy, the energy of young Finn, of Geoffrey, Jai, Trevor and Morgana… all those elements came together in order to make this film the way it should be made. I needed to be a much more responsive and reactive director rather than an autocratic director and I feel like that has achieved something. It gave this film its own life."

Working With Shawn Seet

Storm Boy cast members describe working with the director. Geoffrey Rush: "Shawn was fantastic. He really embraced the scale of the two timeframes and tried to find the most interesting ways of telling the parallel stories in counterpoint to each other. The old adage of working with animals and children " that wasn't a problem for him at all."

Finn Little: "When I first met Shawn, I was a bit nervous, because I really wanted this role, but when I got the role our connection grew a lot. Shawn Seet is a very good director; he really thinks about what he wants and he really helped us all to make this film succeed."

Morgana Davies: "Shawn's not like any director I'd ever worked with before. He's very understated and incredibly helpful. I felt very comfortable around him which made it a lot easier to ask him questions, and to perform well. He encourages a back and forth process. We discussed options of how to play scenes and he'd ask me which approach do I think the character related to more. He'd give me his opinion but also ask mine, it was very collaborative directing style, which was amazing."

Actors On Working With Each Other

Jai Courtney on Finn Little: "At the ripe old age of 11, Finn loves what he does and has enormous respect for the work. He brought an amazing truth and sensitivity, and really understood the impact of the story on his character and how that helped shape and evolve Storm Boy. He has an unabashed love for life. It was amazing to have this ball of life running around on set, he fed the set with that energy every day."

Trevor Jamieson on Finn Little: "When I first met him, I think Shawn Seet wanted to see how we would connect with each other and straight away it was like we knew each other. He's so giving, that bloke, young Finn Little. It could have been any other kid playing the role, but there's something about him. There's a certain magic, a sensation of great love, of generosity, and people will see that on camera."

Finn Little on Trevor Jamieson: "Working with Trevor Jamieson was such a privilege, he's an amazing man. Storm Boy, when he first meets Fingerbone Bill, is a little nervous, but then the connection they build it's lovely. Trevor and I found a really good connection. It didn't really take long at all. He taught me so much about Aboriginal culture and things like how to recognise the tracks of emus and dingoes."

Geoffrey Rush on Jai Courtney: "Jai grabbed that notion of an emotionally contained and subdued man of that era with a real reverberation that's not vocalised. He speaks in very short, blunt, noncommittal, sentences, but you do get a feeling that there's survival and a fantastic love that he has for his child, living in the middle of nowhere."

Jai Courtney on Geoffrey Rush: "I never thought I'd be playing his dad in something, but, the wonders of film make these things possible. We don't spend a lot of time on screen together given the way the film works, but you feel privileged being in a film with him. You could watch Geoffrey Rush eat an apple on stage and it would be captivating."

Morgana Davies on Geoffrey Rush: "Working with Geoffrey Rush was incredible. When I first met him, I was nervous, I was stumbling over my words, but he tried to make me more comfortable, helping me along. He's incredibly down to earth and funny. I learnt so much from him. We bonded over movies that we both like, and that connection off camera was awesome because it really helped with the bond that we have on camera."

Storm Boy
Release Date: January 17th, 2019