Enimagtic Surrealists Dream Dali Have Announced Their New Single Little Lights
Enimagtic surrealists Dream Dali have announced their new single Little Lights, a reverberous, tumbling trip into darkwave. To accompany the track, the group, comprising of three mysterious musicians whose collective experience has seen them gracing hallowed stages at Coachella, Primavera, SXSW and more, have also announced a spectacular video, constructed from dada footage by the group and synced perfectly to the music as a harmonious sound and surreal visual experience.

Little Lights feels simultaneously nostaligic, nodding to The Cure and The Doors, while also undeniably modern, evoking a darker version of Tame Impala and King Gizzard & the Lizard Wizard. Hypnotic, trance-like and moody, Little Lights is driving, soaked with defined vocal melodies and a dark, melancholic feel, as lead vocalist Aldous Emerson explains, "Little Lights comes from a personal experience in dealing with a challenging and dark time with a relationship. Lots of allegedly supernatural things were happening that caused a lot of issues with anxiety and trauma, but I always had hope. The Little Lights are the hope."

The clip for Little Lights pays homage to the groups' namesake Salvador Dali, with its use of found Dadaist clips to reflect the eerie, supernatural vibe of the song. The flashing lights and spooky, strange, out-of-context footage work seamlessly with the music and complement the mood perfectly, as Aldous says, "The dada footage seemed to work well with the song's theme and Dream Dali's aesthetic. We like how surrealism explores subconscious thought and deep emotions that can sometimes seem dark, but when looking into them can actually cause healing, especially with the expression of art and music. We gather and create a lot of the black and white surrealist art and visuals that you can see at our shows. We have synchronized footage and lights to try to create an atmosphere and feeling."

Dream Dali is Aldous Emerson (lead vocals and guitar), Rene Huxley (key bass and keys) and William Hobbes (drums).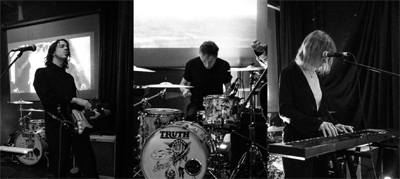 Interview with Aldous Emerson
Question: How would you describe your music?

Aldous Emerson: Energetic, dark wave with trancey beats, cyclic bass melodies, synth infused, reverbed guitars with floaty vocals! I'd like to think it would be the music you would hear if you went searching for your power animal in the Joshua Tree desert and found a cave to talk to it


Question: What inspired the track Little Lights?

Aldous Emerson: I got inspired thinking from a show I saw at Coachella. I pictured us playing there and this is the song that came from that vision. I imagined lights flickering in time and surreal visuals, which is what we have live now. Lyrically it is drawn from my experience with a girl who claimed to be haunted by dark entities and would be taken over by them. I spent years with her as she went through this different states. I found it took a lot from me and caused PTSD and anxiety, but I had hope for love. In the end we parted but I learnt about hope and the little lights are the hope.


Question: Can you tell us about filming the accompanying video?

Aldous Emerson: The "Little Lights" video is a composite of Dada and surrealist footage that I am drawn to for Dream Dali. I find surrealism goes with the aesthetic and there is something about this photographic black and white footage that is a little off centre that I like. The video shows a man challenged with the other side and it felt very fitting for the content and feeling of "Little Lights"


Question: How was the BIGSOUND show?

Aldous Emerson: BIGSOUND was great! We were able to play our live visual show with synced surrealist footage and lights. I like to create a full experience that compliments our music. The shows I've always enjoyed are an experience that is a form of escapism that takes you away from your life and transports you into a unique world.


Question: Do you prefer performing live or recording?

Aldous Emerson: I like both equally. They both have their different preferences. Recording is great as it's the creation of something from nothing, and being on that ride is addictive and one of my favorite things. It connects me to a flow state and escapism that is much like a meditation and at the end of it you have a song to share. Playing music live allows you to connect and energise live to people and there is something amazing about this to me. It feels like a train when a band comes together and you create a live happening.


Question: Which is your favourite song to perform live and why?

Aldous Emerson: I have different songs each time that are my favorite. Some can really hit on something you are feeling that day or that week and serve as a tension release for your soul. After you feel lighter and healed. I think music is very powerful in healing and externalizing deep emotions so you feel better. The last show at BIGSOUND I really connected with "Little Lights" as I felt connected to its ideas of hope, but the show before I connected to "Hurt Me", after recently parting ways with someone who I opened my heart up to.


Question: What is the story behind the band name?

Aldous Emerson: We wanted to have something that would represent us correctly and immediately give someone who didn't know our music a little idea of what we may be like. As I am very influenced by surrealism I felt Dali was the most obvious name to connect with, being such a recognised artist of the movement, and then we need to add something and I liked the idea of it being like a saying, telling Dali to dream or create; "Dream, dali".


Question: How did the band come together?

Aldous Emerson: We all met at the Joshua Tree in the Californian desert. We have parents that moved away from successful lives of the cities to create a new lifestyle. They are pretty spiritual and we came together in this community. We moved back to our birth place of Australia to share our experiences.


Question: What motivates you most when writing music?

Aldous Emerson: A few things motivate me. One is that I don't feel right if I haven't created something. I feel dead inside so it is almost necessary and as important as eating and sleeping to my soul to create. Also I love the feeling of losing myself in music. When I create I try to lose the ego and be a conduit. I try to let the song create itself and see where it takes me.


Question: Which music/artists are you currently listening to?

Aldous Emerson: I am listening to a lot of The Cure and some European electronic music from some experimental artists.


Question: What or who was your inspiration to go into the music industry?

Aldous Emerson: It wasn't a choice. I feel I was born from music and it's never been a thought to try something else. It's a blessing and a curse to know all you want to do is music. If you are doing it you feel blessed but if you are doing an activity or job that isn't it, you can be very depressed.


Question: If you could collaborate with another artist, who would it be?

Aldous Emerson: I'm not really that interested in collaborating with other recording artists but I would love to meet Trent Resnor and see how he would be to create with as he has a truly unique sound. Otherwise I am more interested in collaborating with visual artists, as we did with Silvia Grav for our twisted video of our single "Hurt Me". She gave it a unique angle without any thoughts on our end, and came up with something that was amazing. I encourage people to see what she did with our music video "Hurt Me"


Question: Can you share your socials?

Aldous Emerson: http://www.dreamdali.com
YouTube.com
@dreamdalimusic/
Facebook.com/DreamDali/
Soundcloud.com/dreamdali
@dreamdalimusic


Interview by Brooke Hunter