Bigger, Brighter and Louder Celebrations
Cast: Benedict Cumberbatch, Angela Lansbury, Kenan Thompson, Rashida Jones, Pharrell Williams, Cameron Seely
Director: Yarrow Cheney, Peter Candeland
Genre: Animation, Comedy
Rated: G
Running Time: 90 minutes

Synopsis: For their eighth fully animated feature, Illumination and Universal Pictures present Dr. Seuss' The Grinch, a new adaptation of the beloved book by Theodor Geisel (aka Dr. Seuss) that became a holiday classic. The Grinch tells the story of a cynical grump who goes on a mission to steal Christmas, only to have his heart changed by a young girl's generous holiday spirit. Funny, inspiring and visually stunning, The Grinch tells a universal story about the redemptive power of kindness and the true spirit of Christmas.

Academy Award® nominee Benedict Cumberbatch lends his voice to the Grinch, who lives on Mt. Crumpet with only his loyal dog, Max, for company. Isolated inside a cave he has rigged with inventions and contraptions to meet his day-to-day needs, the Grinch only sees his neighbors when he must venture into Whoville for groceries.

But each year at Christmas the Whos disrupt his solitude with their increasingly bigger, brighter and louder celebrations. So when the Whos " including the Grinch's ever-cheerful neighbor Bricklebaum (Kenan Thompson) " declare they are going to make Christmas three times bigger this year, the Grinch realises there is only one way for him to gain some peace and quiet: he must steal Christmas. To do so, he decides he will pose as Santa Claus on Christmas Eve, even going so far as to trap a lackadaisical reindeer named Fred to pull his sleigh.

Meanwhile, down in Whoville, Cindy-Lou Who (The Greatest Showman's Cameron Seely)"a young girl overflowing with holiday cheer"plots with her gang of friends to trap Santa Claus as he makes his Christmas Eve rounds so that she can ask him for help for her overworked single mother, Donna Who (Rashida Jones). As Christmas approaches, however, Cindy-Lou's altruistic plan threatens to collide with the Grinch's more nefarious one. Will joy and optimism win out over grumpiness and cynicism?

Dr. Seuss' The Grinch
Release Date: November 29th, 2018


About The Production
In Search of the Grinch

No one, it's fair to say, was better equipped to adapt The Grinch into a 3D animated film than Illumination CEO Chris Meledandri. Not only had he successfully adapted two other Seuss books into feature films – 2008's Horton Hears a Who! and 2012's The Lorax – but his company, Illumination, has dominated the world of animation for more than a decade with sweet and subversive characters and unexpected stories, including The Secret Life of Pets, Sing, and most notably Gru and his Minions in the Despicable Me franchise, which has grossed more than $3.7 billion worldwide.

Meledandri can trace his attraction to delightfully flawed characters back to the Grinch. "From a very early age I found myself attracted to characters that had a wicked side to them, especially characters that you enjoyed watching be wicked, but I also like seeing their redemption," Meledandri says. "In a lot of Illumination films, there's definitely a recurring theme of characters who have a real edge or a bite to them. So How The Grinch Stole Christmas! was formative for me. I grew up in a household where Dr. Seuss books were plentiful."

But it was the famed CBS TV special " which first began airing in 1966 and was directed by Chuck Jones, starring the voice of Boris Karloff " that had the biggest impact on Meledandri. "That Chuck Jones special was one of the clear signs each year that Christmas was coming," he says. "It became a Christmas tradition in my household."

Meledandri later extended that tradition to his own family when he became a parent. "Stories like The Grinch, you share them with your child, but you actually enjoy them yourself because of that subversive side, that rebellious side. It never grows old. There's something about that humor that I find satisfying, no matter how many times I've read it before, no matter how many times I've seen the character."

The decision to make The Grinch into a feature film seemed an organic one, both for Meledandri and for Geisel's widow, Audrey. "Audrey Geisel has been the executive producer not only on The Grinch but on the prior two films that we made," Meledandri says. "The decision to adapt The Grinch was made in concert with Audrey. We talked about all the other possibilities, and felt like this was the best story, and the best time, for our third collaboration."

So when it came to adapt Geisel's 69-page book – essentially a one-act play – into a three-act structure for a feature-length film, Meledandri, along with his fellow producer Janet Healy and their creative team, decided to delve deeper into character " and into the character of the Grinch in particular " while also remaining loyal to the narrative and emotional intent of the book.

"When we set out to expand Grinch, we made it an absolute mandate for ourselves that we respected what we believe is the core intention of the work," he says. "We bring classic elements within the work to life in ways that we hope are fresh, but above all we tried to put ourselves into Theodor Geisel's mind, and we tried to look for the storytelling that's between the pages."

At the emotional center of that intention was a question they decided to explore: How did the Grinch become the way he his? "That became very organic, to our minds," Meledandri says. "At the core of this story is a character who was emotionally wounded as a child. He has placed himself on a quest to eliminate the joy of others because he himself has been left out of feeling that joy. And while that's not a part of the original text, it was, to my mind, an underlying intention of Theodor Geisel's. The manifestation of that emotional pain is a character who has gone into seclusion, who has given up on the society around him. And it takes the most innocent and optimistic character imaginable " in this case, Cindy-Lou Who " to reengage him to life, to an openness to connecting with other characters, to believing in good."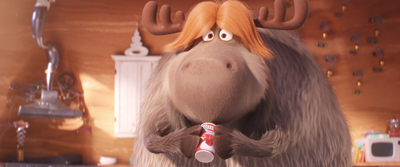 So they began an earnest psychological journey into the potential causes for how a character would become self-isolating and resistant – or hostile – to the joy of others. "The most important thing was to identify the emotional injury," Meledandri says. "Most of us carry around emotional suffering from our childhood, and often, that suffering lead to coping mechanisms."

"Now, our coping mechanisms may not be as extreme as putting ourselves into exile to protect ourselves from being hurt again, but growth means being able to eventually transcend those coping mechanisms so that you can open yourself up to all of the expansive experiences that life has to offer, one of which, at its core, is connecting with others. That's the trajectory of the Grinch, and what we discovered in the telling of the story: We find him as a child, convey an emotional wound, watch him react to that, connect that reaction to who we meet as an adult, and give the audience an understanding of how he got that way. It makes the Grinch relatable.

We have a depth of insight into why he is that way. And it opens up an opportunity for us to heal him through the course of the story."

Just as important, however, was that the other characters in the film know nothing of the Grinch's past. Because this is a story of forgiveness and redemption, the Whos need to ultimately forgive the Grinch not because they understand his emotional pain, but for a much more generous reason.

"They forgive him, basically, because he asks for it," Meledandri says. "They don't have to have a deep explanation of how he became this to feel like he's earned their forgiveness."

The result, Meledandri says, is a film with a message that touches the heart and resonates long after people leave the theater. "As I've watched the film as we've been making it, I really love this hopeful feeling that the movie leaves you with. And getting to this place means that the character has transcended many of the things that have held him back: this desire to protect himself from feeling hurt, from being rejected. He actually wrecks this wall of meanness that he's erected."

Central to Illumination's goal was to protect the indelible elements of the story while making a six-decade-old story relevant to our current age. "One of our early challenges was looking at the story through the eyes of a modern world," Meledandri says. "On the one hand, we wanted the storytelling to remain timeless. But Geisel was always aware of his own modern society. It wasn't as if he was stuck in some historic period that he never deviated from. As the culture evolved, so did the visual references in his work. So we've tried to strike this balance between making the themes modern and relevant and touching on aspects of contemporary life without compromising the classic nature of the settings."

Whoville, for starters, got a major upgrade, evolving from a sleepy hamlet into a fully realized, modern, three-dimensional small city, complete with its own Who Foods grocery store, buses and other automated transport (and with Whos running to catch them). Shops and businesses of all types operate amid the magic and mania of the holiday season. Lights blaze and dazzle like never before. Carolers have become aggressive acapella groups. The Whos now have real jobs and sometimes struggle to make ends meet, including single mom Donna Who, who's raising her twin toddlers and her daughter Cindy-Lou, while working long hours, including night shifts.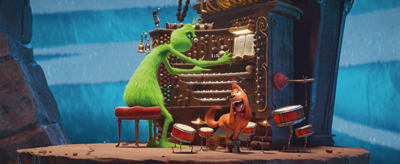 But amid all the bustle, Meledandri and team were determined to keep their ears trained on the story's emotional heartbeat, which, in many ways, is even more relevant today than it was 60 years ago. "I believe we're living in times with more present challenges than at any time in my lifetime, challenges that could easily make you cynical or give you a sense of hopelessness," Meledandri says. "Yet the key to facing these challenges is to somehow remain optimistic, connected, and to seek out and embrace joy. That happens when you really embrace those around you. I am drawn to telling stories that empower you to be hopeful in spite of what your immediate circumstances may be. So, the film will, I hope, connect with audiences and somehow encourage those feelings inside of themselves."

That hope is echoed by his fellow producer, Janet Healy. "I hope that people feel inspired and hopeful when they see this film," she says. "I think it speaks strongly to us all about the importance of our families, of communities, of inclusion, and of embracing the diversity amongst us. With acts of compassion and kindness we can vastly improve the lives of others, and we can change our world for the better. The message that forgiveness has redemptive power and that generosity is transformative resonates not just for the holiday season, but for us all, all year round."

The Directors

For the directing team, Meledandri and Healy chose two directors, Scott Mosier and Yarrow Cheney, who are both making their animated-feature directing debuts. "That's quite usual for us at Illumination, where we've been able to give a lot of directors their first opportunity," Meledandri says.

Cheney had worked with Illumination since the studio was founded, starting as a production designer on the studio's first film, Despicable Me. He then went on to be a co-director on The Secret Life of Pets, and also directed one of the studio's famed short films, Puppy. "He has an incredible visual imagination, which is fully evident throughout the film," Meledandri says. "It's not just his design sense, but his gift for how visual storytelling can work in concert with verbal storytelling."

Mosier, by contrast, comes from the live-action world, having worked with Kevin Smith's View Askew on films such as Clerks and Chasing Amy. "Scott had a brief animation trial-by-fire when they turned Clerks into an animated series at Disney," Meledandri says. "I think that exposure to animation always intrigued him.

As a longtime producer, he's really been a filmmaker. He's an editor in his own right, and a wonderful storyteller, and had some experience producing animation before he came to us. I thought he could be a wonderful match with Yarrow, and they really have complimented one another."

For Mosier and Cheney, The Grinch proved to be a dream job, on multiple levels. "To watch this character of the Grinch find joy and togetherness and family, all these things he rejected, that's a very powerful story," Cheney says. "And then you wrap that in Christmas and snow and all of the joy of Whoville, the design of this whole world, and it comes together in this just magical package. I love Christmas, so spending years making a Christmas movie was, for me, just a pleasure. It has been a joy to work on."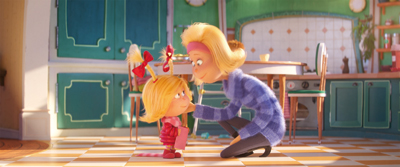 Mosier found that the process gave him a renewed appreciation for Seuss's original creation. "The world is just so amazing " not just the world of The Grinch but the world of Seuss: the rhyming and the strange creatures and the invented words and all of that," Mosier says. "So to have an opportunity to build our world out of all that material, and to be able to immerse myself in that … it was something I couldn't pass up."

It's that collaborative team spirit, Healy says, that makes the years of hard work on a film like The Grinch so deeply satisfying. "It takes a community of so many top creatives and technical wizards to bring these movies to the screen," she says. "Every work day we see the astonishing results of the talents of hundreds of people on the crew who make the performances and the images more than we could ever imagine. Each artist adds something uniquely special and the cumulative effect is a gift to behold, unfolding before our eyes every day throughout the production."

"We also make these films for ourselves, as well as for children and adults in countries all over the world," she says. "We see the images thousands of times, over and over, and even after so many viewings we still laugh at the jokes, we are moved by the performances, and we are astonished by images. It is fabulous to work on these films with so many great artists involved, and is a huge privilege every day to have a job that makes films that make kids smile as they fondly remember the imaginary worlds we all created."

The Characters

The Grinch
Benedict Cumberbatch

"When we set out to choose an actor to voice the Grinch, we felt like the bar was very high," Meledandri says. "We wanted to cast someone who we felt would give the film immediate credibility; someone who, the minute an audience heard who we had cast, would reflect the ambition and substance of the film. We didn't know if Benedict Cumberbatch would be interested in the role, but once we started to listen to his voice while looking at images of the Grinch, we realized he would absolutely give us a distinctive version of the Grinch, a version that had a lot of humanity but could also find the comedic, wicked side."

Cumberbatch's Grinch is more mischievous than cruel, more cranky than merely mean. His motivation in stealing Christmas isn't to punish the Whos, but to simply make all the Christmas madness stop so that he doesn't have to deal with it. And he's struggling with his own issues. He's beleaguered and bothered by all the holiday chaos. Case in point, he's forced to descend into Whoville because he runs out of food. He had stocked up enough to get him through Christmas, but the stress of the holidays have lead to him emotionally eating, so his cupboards are bare. And unlike in the 1966 TV special, his relationship with his dog, Max, is less like a master-servant dynamic and more like a loyal friendship, albeit one with a major power imbalance. (This new Grinch also is far better groomed and has a better dental plan.)

"The character has always been perceived by those around him as somewhat of an outlaw," Meledandri says. "But one of my favorite parts of our telling of this story " and its embodied in the original imagery that Theodor Geisel drew " was the notion that this character is in self-elected exile, living in opposition to those around him, wanting to steal their most joyous time of year, but by the end of the story there's clearly forgiveness, and there's redemption for the character. Those two elements " forgiveness and redemption "are such important parts of our societal cultures, but we sometimes lose touch with them."

Cumberbatch was drawn to the role for two major reasons. The first, he says, was that Illumination was making the movie. "Their stable is filled to the rafters with fantastic films, and the movies are witty, smart, moving, and there's goodness in them," he says. "With this film, they had great reverence for the original book, which I did, too. And they're just great to collaborate with."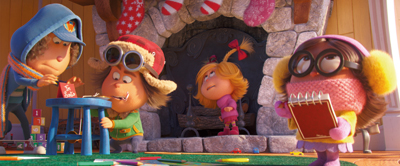 The second reason was the filmmakers' decision to dive into the Grinch's backstory and psychological makeup. "It was important to me that we told the story of someone who had a reason for his behavior, before his conversion," Cumberbatch says. "Once you understand why Christmas is painful for him, you kind of root for him a little." Plus, he says, playing the Grinch was often just great fun. "I think everyone gets a vicarious thrill out of how the Grinch behaves, the curmudgeon-liness of the guy," he says. "He's funny, and hopefully that is what's going to be memorable about this Grinch. He's very witty and he's self-aware. His heart may be two sizes too small, but there's a very strong beating heart to this film."

Meledandri says that he and directors Mosier and Cheney couldn't have been happier with Cumberbatch's performance, or with his collaborative spirit. "He has been just a tremendous creative partner to Scott and Yarrow, and myself," Meledandri says. "We've been thrilled to be the beneficiary of his enormous talent."

Max

The Grinch's loyal canine companion doesn't speak a word, but his devotion to the Grinch allows the audience to see the goodness in the character, too. "The relationship between Grinch and Max is the number one relationship in the movie," Mosier says. "When the Grinch's heart grows three sizes at the end of the film, Max is the one character who has known that was always there inside the Grinch."

And in this new version, he's far more than just a pet. "Max is the Grinch's best friend," Benedict Cumberbatch says. "Max is all things to the Grinch. He is a barista, a manservant, a sleigh puller, friend, consoler, companion, guard dog, kind-of-indifferent drum player. He's a remarkably adept dog. If only there were more Max's in the world I'm sure some of our problems would be solved. But he's an extraordinary character and, like most animals, will probably steal the show. He's very lovable, and his loyalty to the Grinch is sort of heartbreaking. He's so loyal to this miserly, green guy. It pays great dividends by the end, but it's a long road for Max."

Max is also, in some ways, a surrogate for the audience. "Through the course of the film, even though we get the sense that Max might not share all of the Grinch's attitudes, he loves the Grinch so much that he's willing to go along with him at any cost," Meledandri says. "One of the sweetest moments of the movie is when Max discovers, very late in the film, that the Grinch has gotten him a Christmas present. Scott and Yarrow have managed to capture Max as a character" giving him qualities that are wise and slightly anthropomorphized " while never breaking the reality of Max being a dog. As an audience, you're always seeing him as the dog that he is."

Cindy-Lou Who
Cameron Seely

In both the original book and the TV special, Cindy-Lou Who is a tiny toddler, "no more than two," whose interaction with a Santa-Claus-disguised Grinch revolves only around questioning him about why Santa is taking their Christmas tree in the middle of the night. In this new version, she's a little older, and she's on a mission to trap Santa to ask him to help her over-worked, over-tired mother. "We wanted to find a character who was the antitheses of the Grinch," Meledandri says. "Someone who was incredibly helpful and embodied the optimism that childhood allows us to have. She's a very positive character, but there's a certain wisdom to her as well. We talked a lot about why her path was going to cross with Santa's " or the-Grinch-as-Santa " and giving her a sense of mission and intention. Her determination puts these two characters on paths that we know are going to collide."

That collision ultimately becomes the catalyst for the Grinch's change (and growth) of heart. "She starts the whole process of the Grinch's transformation," Cumberbatch says. "She's this very excited girl who kind of represents everything that Christmas should be about: thinking about other people, being generous and kind. And it sorts of melts the Grinch. She's not thinking about what presents she wants for herself, and that really stuns him. It's the first piece in the puzzle that helps him discover the real reasons Christmas is being celebrated."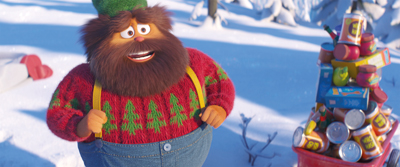 "Cindy-Lou is the light," Mosier says. "She sees the good in everybody, and she wants more than anything to help her mother. She wants nothing for herself. That selflessness, that love, shatters what the Grinch believes to be true about the Whos, Christmas " everything really."

For the role, the directors cast child actor Cameron Seely, who had played PT Barnum's daughter Helen in The Greatest Showman. "When you set out to cast a child you have two choices," Meledandri says. "You either cast a child or you cast somebody much older who's able to give you a voice that sounds like a child. It's generally our preference to see if we can cast a child, but you're dealing with a much greater unknown, and it involves a wide search. So when our team found Cameron, Scott immediately responded to her vocal audition, then spent time working with her. From the minute he started to work with her, he saw her potential, and boy, was he right. She performed like a pro with fifteen years of experience, and she's not even ten years old."

The Narrator
Pharrell Williams

The Narrator serves a crucial role in The Grinch, not only helping establish the tone of the storytelling, but also creating essential context around the story itself. He is the doorway that allows the audience into the hearts and minds of the characters, and into the Grinch's thoughts and feelings, in particular. When the filmmakers began thinking who could best fill that role, one person immediately rose to the top of the list. Pharrell Williams had written the score, themes and songs for the studio's 2010 hit Despicable Me " his first collaboration with the studio " and had gone on to work on every film in the franchise, including writing his Oscar®-nominated smash "Happy" for Despicable Me 2.

"The bond between Pharrell and Illumination began with Despicable Me but has grown into a dynamic partnership," Meledandri says. "His work played a critical role in helping to define Despicable Me's distinctive personality, and our collective goal is to continue to explore creative expression that is new to us both. We have now expanded the collaboration to include the exploration of stories to produce together. This has been an organic process, given our shared sensibilities and mutual respect."

Meledandri asked Williams to perform the narration for The Grinch – a role made famous by Boris Karloff in the TV special" not only because he was the clear right choice, but also because Meledandri suspected it would open a new creative avenue between the artist and Illumination. "Pharrell's narration provides a soulful center for the film," Meledandri says. "While he is using his natural voice for the role, I know there are countless character voices inside his head, waiting to come out for future films. Pharrell is a trusted advisor and a friend to Illumination and we anticipate many more collaborations in our future."

Williams says the idea to have him narrate the film is due entirely to Meledandri's insight and foresight, and to the strength of their partnership. "Chris continues to see things in me that I don't even know are there," Williams says. "It was his idea for me to narrate the film. I never dreamt that I would do anything like that. In fact, I would never look at myself objectively enough to say that I could do that, but I feel like that's what happens with friends, people who really know you; they know your potential. It's awesome to collaborate to work with a respected peer."

Although he had never narrated a film before, Williams says, he felt secure in the process because of the experienced filmmakers guiding him through it. "I was directed to tap into different parts of my emotions without consciously editing myself," he says. "I was just allowing those pure emotions to come out, which is something I never really do because I'm a producer, and I'm always in control. But I find that my best stuff comes from when I'm not in control. It brings out the best versions of me. Chris was smart enough to see that. I'm so grateful for this experience. I grew up watching The Grinch on TV every Christmas. As a kid, growing up on 1021 Atlantis Drive, I never dreamt that one day that would be my voice, as the narrator of this new version."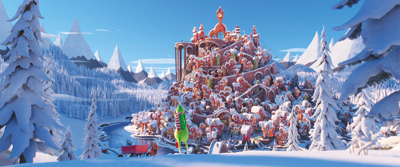 Bricklebaum
Kenan Thompson

Nobody loves Christmas as much as the Grinch's nearest neighbor, Bricklebaum. "He's just so irritating," Cumberbatch jokes. "No, in all honesty, he's indefatigable joy. Bricklebaum is this very ebullient, joyous, and irrepressible sort of personification of the Christmas spirit. He's the polar opposite of the Grinch, and he presents this obstacle to the Grinch's isolation and solitude, which becomes really irksome to the Grinch."

To find an actor who could capture Bricklebaum's buoyant spirit, the filmmakers turned to Saturday Night Live star Kenan Thompson. "I have loved what Kenan Thompson has done on SNL for years, and I think he has an incredibly distinctive and funny voice," Meledandri says. "He is so able to embody comedy vocally. A lot of comedic actors are visually dependent in how they communicate comedy, and Kenan's comedy is so strong in his voice. He's just terrific."

For Thompson, the role allowed him to tap his inner joy buzzer. "They showed me a picture of Bricklebaum and that's all it took," Thompson says. "He's such a big, jolly, bubbly, bouncy, burly mountain guy! One glance at that big fuzzy beard and I knew exactly what he sounded like. Plus, it's not every day you get the chance to become a new Seuss character, so to me it was a no-brainer."

Donna Who
Rashida Jones

Donna Who is the harried but heartfelt working single mother of three children " Cindy-Lou and twins Buster and Bean. Try as she might, she can't seem to get ahead and, although she tries to hide the stress, her daughter can see the toll it all is taking on her. Donna is a new kind of mother in animation –imperfect, anchored in the truth of our modern age, and a character who represents the reality of many of the parents sitting in the audience. Finding an actor who could play her with authenticity and grace was paramount. Donna's dialogue can easily come off as too sappy in the hands of the wrong actor. Fortunately, the filmmakers found the right one. "We were lucky enough to convince Rashida Jones to do the role," Meledandri says. "Rashida just can do no wrong. It's impossible for her to give anything but a good line reading on any line you throw her way. She just makes everything she does better, and it was a joy to have her involved in this movie."

Fred

"Fred is one of the most unexpected new characters we introduce in the film," Meledandri says. And one of the new characters likely to become every kid's favorite plush toy. A rather portly reindeer, he crosses paths with the Grinch early in the planning stage to steal Christmas. The Grinch attempts to capture a reindeer to pull his sleigh on Christmas Eve, but just as a he approaches a large herd, a screaming goat scares them all away. All of them, that is, except Fred, who's found a patch of grass that he's devouring.

Like Max, Fred never speaks, but he quickly becomes a sweet comic foil to all the Grinch's grumpiness. "Fred really takes this little family of two – Grinch and Max – and turns it into a family of three," Meledandri says. "He's so well-meaning and he wins you – and the Grinch – over with humor and emotion. We get this incredible discovery about Fred late in the film, which means he can't help the Grinch out on Christmas Eve, but they've created a bond that is so strong that just when we least expect it, Fred is there to help the Grinch at a critical point." Also, he's a really good snuggler.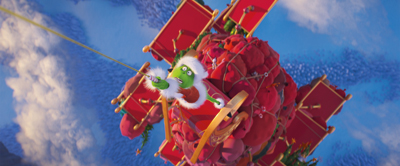 Groopert, Izzy, Ozzy and Axl

Groopert, Izzy, Ozzy and Axl are Cindy-Lou's kid squad, whom she enlists to help her execute her plan to trap Santa. "Cindy-Lou's gang is that group of friends you had when you were a kid that you could always call on when you needed to get something done, no questions asked," Mosier says. Groopert is the ring-leader who helps orchestrate Cindy-Lou's daring mission. "Groopert is Cindy-Lou's very best friend and becomes a co-conspirator in her effort to meet Santa Claus," Meledandri says. He's also got a distinguishing trait that's sure to delight animation fans worldwide. "One of my favorite things about Groopert," Meledandri adds, "is that he's got just the greatest head of red hair I've ever seen in any animated character."

Izzy, the smallest kid, swaddled in earmuffs and a too-big scarf, "is the brains of the group," Mosier says. "She is organized and down to business. She is the one that keeps the group on task to get things done." Goggle-wearing Ozzy, "is the wisecracking kid," Mosier says. "Always with a candy-cane in his mouth even when it isn't Christmas. He is always in trouble so has no fear as far as jumping into one of Cindy-Lou's missions." And Axl, tall and lanky, is laid-back by comparison. "He takes some convincing," Mosier says. "But once convinced he is all in. He is also the tallest by a long shot so has to do all the work that is two feet off the ground."

The Mayor
Angela Lansbury

For the small, but critical role of the mayor of Whoville, the filmmakers needed an actor with an instantly recognizable voice – and a voice that could convey maturity, warmth, and gravitas. "It wasn't a large role," Mosier says, "but in a few key scenes the character needs to speak for the whole town and represent Whoville." It didn't take terribly long before they landed on a certain Tony-winning legend, who had also starred in classic family films for multiple generations, including 1971's Bedknobs and Broomsticks and 1991's Beauty and the Beast. "We were sitting around and somebody brought up Angela Lansbury," Mosier says. "Immediately, we were all said, 'That's amazing. That's perfect.' I mean, who could be better to really bring that character to life?"

The Screaming Goat

It doesn't have a single line, and has less screen time than almost any other character, but a wild goat with a particularly horrific bleat provides one of the film's biggest laughs. As the Grinch is on the hunt for a reindeer to trap and use to pull his sleigh on Christmas Eve, his plan is thwarted when, without warning, a screaming goat alerts the reindeer to the Grinch's presence.

"We already had a version of the scene with Grinch heading out to find a reindeer, and we all felt that it was missing something," Mosier says. "My memory is we were all having lunch and someone played a goat-screaming video off the Internet. It was intercut with a Taylor Swift song, and we all couldn't stop laughing." Suddenly, they hit on an idea, and put the sound into the scene, just to see what would happen. "It played great," he says. "So much that we decided to end the whole movie with it!"

For the finished movie, of course, the filmmakers asked Skywalker Sound to create a unique screaming-goat sound – one that, incredibly, is even more unnerving (and funnier) than one from an actual goat. Just don't ask how they did it. "Well," Mosier says, "that's a Skywalker secret."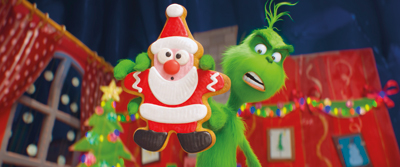 The Design

Philosophy and Overview

After two previous Seuss adaptations, Meledandri and his team have become expert in adapting Geisel's artistic style into three-dimensional, computer-generated animation, but The Grinch is their most ambitious undertaking yet. "The challenges of bringing these books into a dimensional CG world are significant," Meledandri says. "We aim to do that while respecting the underlying artistic style of Ted Geisel. You see that in each of our films by the absence of straight lines. Everywhere we can replace a straight line with a curve, we do, because these are motifs from Geisel's work. On an adaptation like The Grinch, it's invaluable to have somebody like Yarrow as one of our directors. He's a true student of Geisel's work and starts the entire process with studying every image in the book. Those images gave us the starting point for this interpretation, which evolved from there."

Their ambition was big. Whoville houses, which are line-drawings on a flat page in the book, needed to become teetering, swerving immersive spaces, and new characters had to look like they belonged in the same world as the characters audiences already knew. "A great deal of time goes into studying the characters and then finding a translation of those characters so that they feel like they're living and breathing, but also like they are of those designs," Meledandri says. "It's a long process. In many ways more complicated than starting without anything, because you don't have absolute freedom. But Yarrow is brilliant at this form of interpretation. He was a key part of how we made The Lorax, and I couldn't envision how a film like this could be made without his artistic insight."

Whoville

Of all the impressive design achievements in The Grinch, the re-interpretation of Whoville is one of the most spectacular. "In the book, Whoville is about five houses," Mosier says. "We realized we had an opportunity to interpret and expand Whoville, to create a three-dimensional world that the camera can move through, to transport audiences to another place."

Over the course of their design discussions, the filmmakers articulated a precise and vivid vision. "We talked about imagining Whoville as the most idyllic village, a happy holiday mountain community, a place accessible and familiar to us, but one also uniquely special to the Whos, a bit other worldly and different," Healy says. "Everything on the screen has the Dr. Seuss design elements incorporated. We studied all of his books and all of his drawings to make sure we captured his visual language for the characters, props and locations."

They drew inspiration from the natural world for colors and textures – e.g. snow, ice, caves and mountains – and embraced a warm, saturated, bright, happy palette. "The Whos are welcoming and warm," Cheney says. "So their town needed to reflect this in the shapes and textures of their homes, shops, vehicles and holiday sweaters. It was also important that the design of Whoville be in direct contrast to the Grinch's icy cave on the very angular and lonely Mt. Crumpit."

Whoville is now a bustling, twinkling mini-metropolis, packed with vibrant color and visual splendor, and it forms the foundation for a fully realised vision of daily life for its citizens. "The Whos themselves inspired the design of the city," Cheney says. "The Whos love to sing together, eat together and commute together in bobsleds and triple-decker buses. These are neighborly people who gather every year on the town square to put their homemade ornaments on one gigantic Christmas tree. Our hope is that everyone will wish they could spend their Christmas in Whoville, too."

Mosier, Cheney and their animation team created an entire 3D computer model of Whoville to ensure that the design followed the same internal logic of a real-world city-planning effort. "We know every location " where Cindy-Lou's house is compared to the town square, compared to the entrance to the city and the location of Who Foods Market," Cheney says. "If you wanted to, you could actually build a real-life Whoville and it would make sense as a town."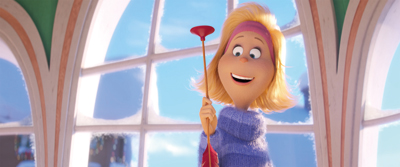 In an early scene, the town wakes to a bright, clear day. Shops open. People greet each other. Watching it, European audiences may notice that all of it feels sweetly familiar. "A huge inspiration for Whoville came from my neighborhood in Paris," Cheney says. "My wife and I lived near the bottom of a road named rue Mouffetard. We spent most mornings grabbing coffee at different cafés on the square or along the hill. We'd watch as the fountain turned on, neighbors walked their dogs, parents dropped their kids at school and shops almost unfolded open onto the cobblestoned street. The air was filled with the smell of fresh bread and music from street musicians. It seemed so magical to us. And it had that sense of depth and community that seemed perfect for Whoville."

"Even though our Whoville is stylized, we wanted it to feel real. We want it to feel like you can almost reach into this world and touch that furry sweater, smell the hot chocolate and waffles, and feel the crunch of the snow beneath your feet."

The impact is nothing short of wondrous. "I think we have made a gorgeous film that celebrates all the special magic and mystery of the holiday season," Healy says. "I loved the idea of making a Christmas film that could capture the pure joy I had lying under the Christmas tree as a child, watching the colored lights twinkle and the ornaments sparkle. We knew we could capture that unique visual richness with our talented team and our well-honed tools."

The Grand Heist
Gadgets, Gizmos and More

The first things Grinch fans will notice is the transformation of the Grinch's lonely, dank cave into a multi-level lair packed with hi-tech gadgets and gizmos. "Caves, by definition, can be dark, close, wet and a bit scary to most of us," Healy says. "So it was a challenge to find a way to incorporate the beauty of caves, with their lovely bands of undulating color and often mysterious lighting. We strove for roomy organic spaces that open into one another, with big inviting rooms, part-earth and part-fabricated, where the Grinch and Max can build an interesting comfortable life together in solitude, homemaking and inventing whimsical contraptions."

Because he's been isolated for so long, the Grinch has come up with ingenious ways to simplify his life. He has a full-body blow dryer, for instance, that turns him into an instant green fuzz-ball, and he's come up with some creative ways to make Max a full-service dog. "Just the way he makes a cup of coffee is the most elaborate coffee maker you've ever seen, with all of these steps and stages and chambers," Meledandri says. "It's something Max does for him every morning " brings the Grinch his breakfast" with the aid of a dumbwaiter and a helmet tray. "It's clearly a contraption that the Grinch has built."

The filmmakers decided to apply that same design aesthetic to the Grinch's scheme to steal Christmas " and crank it up to 11. "When we started to work on the story, we realized that while we knew that the Grinch steals Christmas, we didn't really know how he manages to do it," Meledandri says. "We felt like that was a great opportunity, and we began to approach stealing Christmas like this grand heist."

And to steal Christmas, the Grinch would have to pull out all the stops. He fashions a helicopter-drone contraption for Max, which sends the dog zooming at top speed through the streets of Whoville on a reconnaissance mission. And the heist itself is something to behold. "The film has this almost-magical sequence where it's Christmas Eve and the Grinch is finally ready to embark, and we watch him manage to get through every house in this town in a matter of hours," Meledandri says. As part of his dastardly duties, he deploys towering accordion stilts, and a massive candy cane that serves multiple amazing functions.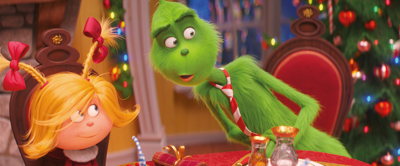 "One of the things we did very deliberately was make Whoville so big that it seemed an impossible place to steal Christmas from in just one night," Cheney says. "The impossible nature of that task demands that the Grinch be creative. How is he going to pull off this impossible heist? With a customized sleigh, Max's multi-purpose antler and a giant Swiss Army Knife candy cane. That candy cane is a net-launcher, a mini helicopter, a flashlight, a grappling hook, and it has tiny peppermint wheels for decelerating down chimneys."

All of which results in a jaw-dropping sequence of ingenuity and mechanical splendor. "There's all of this mechanized activity, and it's done with all sorts of almost Rube Goldberg-esque devices," Meledandri says. "It's thrilling to watch."

The Script

Writing The Grinch required screenwriters Tommy Swerdlow and Michael LeSieur to seamlessly integrate Geisel's original language with new narration and dialogue. Swerdlow had worked, years earlier, with Meledandri on the film Cool Runnings, and Meledandri knew that he was as deft with poetry as he was with prose. "We went to Tommy when we were looking for a new Seussian rhyme, because Tommy is a wonderful poet," Meledandri says. "And he started just helping us with the rhyming narration and then ultimately that transitioned into working side-by-side with all of us on the script over a number of years."

LeSieur had been instrumental in figuring out the structure and direction of the story. "Michael came in early and over about eighteen months helped us do all the initial excavation, really defining the foundation of the movie," Meledandri says. "These films happen over a number of years and the team that joins together over that time to realize the movie is like an evolving, living organism."

Invaluable to that team is Meledandri's long-time producing partner, Healy. "Making one of these movies is such a massive undertaking and I've been blessed with the most incredible partner in Janet Healy," Meledandri says. "She plays such a critical role in virtually every facet of the film making. And we were fortunate to be joined on this film by a new collaborator, Latifa Ouaou, who has become one of our team of executive producers, and who came in and focused on the Grinch and brought a wonderful sense of storytelling and great comedic timing. She has made just a rich, rich contribution to the film and will be going on to work with us on many more movies."

Healy, who is based in Paris, says that she and Meledandri have created an ideal working partnership over their 12 years and eight films together. "We communicate pretty much daily between Los Angeles and Paris, so we now have a great shorthand between us," Healy says. "We also have huge respect for our complimentary talents, and share similar tastes and a deep love of movies: we love making films and we love seeing films." Together, they have approximately 80 years of combined experience, which allows them to quickly identify and be attentive to critical decisions. "We have developed a very precise way of pushing the material on a weekly basis into and through the production pipeline, and we always know where we are in terms of resources so we can gage what parts can continue to iterate for improvement," she says. "We both are quite relentless and we want to make our films the very best they can be, given the always-present constraints of time and money. It is hugely satisfying to bring the Illumination films to global audiences, no matter their ages. I can truthfully say working with Chris is an enormous privilege, a wonderful adventure and a complete joy for me every day."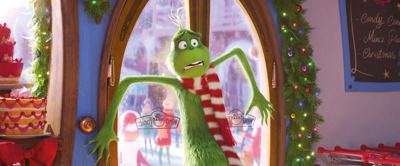 The Music

The Score

Danny Elfman's long and storied career as a composer has covered an impossibly vast range of musical styles and films – from Bettlejuice to Batman, Scrooged to Edward Scissorhands, The Nightmare Before Christmas to Spider-Man, but the stars had never aligned for him to work on an Illumination film until now. "The music is truly the third leg of storytelling, along with the script and the visuals, and for The Grinch we envisioned a really immersive musical landscape," Meledandri says. "Danny is someone I've talked to about collaborating with for probably twenty years, and we just never have had the opportunity to do so. And for The Grinch, I just couldn't think of anybody better whose music could be evocative in a way that could support both the fanciful part of this world, but also touch on the emotion and also support and drive comedy." Plus, much like with the script, the music had to meld perfectly with the style of "Welcome Christmas" from the TV special, plus a new version of "You're A Mean One, Mr. Grinch," and a new original song, "I Am The Grinch," both by Tyler, The Creator.

It was an epic task, in other words, and Elfman was the first and only choice. "He is simply extraordinary as a musician, and we have had a tremendous time working with him," Meledandri says. "My secret hope is that one day we could have a Hollywood Bowl viewing of the film with a live orchestra playing Danny's music. It's that good."

Elfman says that he'd long wanted to work with Illumination, and with The Grinch, it seemed like the ideal time and project. "On so many levels it seemed right that this is the movie we should be doing together," Elfman says. "I met with Chris, and I just had a good feeling about Illumination and their vision for the film. Also, on a personal front, it has been 25 years since I did the score for The Nightmare Before Christmas, which was inspired by the story of the Grinch, and by the rhythms and rhymes of Dr. Seuss, and so that felt kind of perfect to me: like two sides of a circle being joined by the same source."

In fact, Elfman had a close connection to Dr. Seuss. He had met years earlier with Theodor Geisel, before Geisel's death in 1991, to discuss a musical version of the Seuss book Oh, The Places You'll Go. "We never got to do it, sadly, but I do feel a kind of kinship to Dr. Seuss and his work," Elfman says. "I grew up on it; it's what my mother read to me at bedtime, and it was part of my subconscious world."

For the score, Elfman knew that the filmmakers, including directors Mosier and Cheney, with whom he worked closely, wanted the music to connect with both a new version of the song, "You're A Mean One, Mr. Grinch," and the classic song sung by the Whos on Christmas morning, "Welcome Christmas." From that starting point, Elfman says, "I started inventing ways to pull 'Welcome Christmas' into the score, sometimes in a subtle way and sometimes in a more obvious one. I ended up dropping into it maybe half a dozen times, which I really enjoyed."

Elfman's favorite parts of the score to write were for new scenes created for the film, which detail the Grinch's childhood, which wasn't a happy one. "Those scenes with his memories, that's when I felt I got to really open up and write narratively in a way that I really enjoy," Elfman says. "That's the kind of work that really gets my excitement up." He pauses and laughs. "You know, something really sad."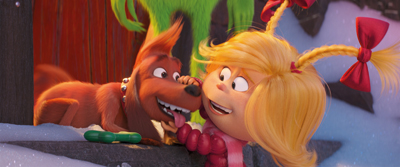 "You're A Mean One"

The filmmakers knew they didn't want to change the iconic Who Christmas song, "Welcome Christmas," but for the other memorable song from the TV special, "You're a Mean One, Mr. Grinch," they wanted to shake things up a bit for a new generation. "We wanted to find an expression of it that was a throwback to the roots of that song, but create a new version that we could really own," Meledandri says. (Fun fact: the original song was performed not by Boris Karloff, as many believe, but by voice actor Thurl Ravenscroft, who is best known as the voice of Tony the Tiger in the Kellogg's Frosted Flakes commercials.) So with their vision to modernize the song, Meledandri and team approached famed musician, artist and record producer Tyler, The Creator. "Tyler, The Creator, is an artist I really love and he's such a perfect collaborator for Illumination," Meledandri says. "He's incredibly visual, and he's really interested in so many of the things that we love here, like character, color. He has the most unbelievable sense of color, shape and silhouette, and melody."

Elfman was impressed. "I thought, 'Wow, that's kind of an interesting choice,'" he says. He would later work with Tyler to coordinate the film's musical themes and pacing with Tyler's song. "I met with Tyler and thought, 'Oh, yeah, this is going to work," Elfman says. "When he presented his song, I thought of all kinds of ways I could do the arrangement that would make it work well with the film."

Directors Mosier and Cheney, and executive producer Ouaou all shared Meledandri and Elfman's enthusiasm, especially because this was new territory for the musician. "He really was going into terrain that he hadn't been in before," Meledandri says. The result, "You're a Mean One," is sure to make the song relevant – and deeply cool – to a whole new generation. "I'm the first new song in the movie," Tyler says. "That's hot."

"I Am the Grinch"

The original plan was that Tyler would write just a new version of "You're a Mean One," for the film, but then he got inspired and wrote an entirely new song, "I Am The Grinch," which plays over the film's end credits. "The plan was one song, but I ended up giving them more and they seemed to like it," Tyler says. "I hope the songs fit into the movie really well."

They do. "He's an incredibly creative guy," says Elfman, who was the first to hear the new track. "I went into his studio to work with him on some other Grinch stuff, and he said, 'Oh, I just wrote this this morning,' and he played me that song. I said, "Jesus, you did this this morning? This is great."


Dr. Seuss' The Grinch
Release Date: November 29th, 2018