The Story of Ruth Bader Ginsburg
Cast: Kathy Bates, Felicity Jones, Jack Reynor, Armie Hammer, Justin Theroux , Stephen Root, Sam Waterston
Director: Mimi Leder
Genre: Biography, Drama
Running Time: 140 minutes

Synopsis: On The Basis Of Sex is inspired by the true story of a young Ruth Bader Ginsburg – then a struggling attorney and new mother – who faces adversity and numerous obstacles in her fight for equal rights throughout her career.

When Ruth takes on a ground-breaking tax case with her husband, attorney Martin Ginsburg, she knows it could change the direction of her career and the way the courts view gender discrimination. The film also chronicles the storybook-like romance between Ruth and Marty, a partnership that succeeded both personally and professionally.

On the Basis of Sex
Release Date: February 7th, 2019


About The Production
Director Mimi Leder says she had a visceral response upon reading the script, inspired by a true story and written by Daniel Stiepleman, who is also Justice Ginsburg's real-life nephew.

"I have to make this movie," Leder recalls. "I have to tell this story. I immediately identified with Justice Ginsburg's journey to who she was meant to be." Leder was compelled to tell the story of a strong woman who, against all odds, was able to realise her dreams, as well as move humanity forward in her fight for equality and the women's rights movement.

Leder also felt a certain connection with Ginsburg. "I wanted to tell her story because I, too, have felt adversity and discrimination and have fought hard for jobs that lesser men have gotten," she says. "I felt a commonality in our journeys, both being mothers, Jewish women, having a very long love affair and equal partnership with our husbands. I've been in a 32- year marriage. Justice Ginsburg had a very long marriage, that was so full of love and equality that really spoke to our film and spoke to the metaphor of the movie."

The fact that the script happened to be penned by Ruth's nephew, with Ruth's input, added an insightful and intimate dimension of authenticity to the story. Stiepleman says he was inspired to write the script during his Uncle Martin's funeral in 2010 while listening to the eulogy.

"There is no marriage that I admired more than Uncle Marty and Aunt Ruth," he explains.

"And that's what I was thinking about when Uncle Martin died in June of 2010. And so we went to the funeral and one of his friends got up and gave the eulogy and within that eulogy was just a little bit of a story of the only case Ruth and Marty ever argued together, and I thought, 'Wow, that is an incredible movie.'"

Stiepleman sat on the idea for a year before approaching Ruth. "So, I called [Ruth], and I said I have this idea for a script. I'd like your permission, if possible, and I'd love your help. And she said, and I quote, 'If that's how you think you'd like to spend your time.' And so then I went down to D.C. and we spent several days together," he recalls.

During this period, Stiepleman combed through Ruth's personal files from the 1960s and '70s as well as at the Library of Congress by day; by night, he would interview her about what he had found.

"We would talk about their marriage and their early relationship and being one of nine women at Harvard Law School in the 1950s… What did that feel like and how did you support each other? As I did this, a larger story began to emerge," he says. "And one of the great joys of this project for me was, in a way, I feel like I got to know my Aunt Ruth for the first time, and she got to know me, too, as a writer."

According to Stiepleman, it was critical to Ruth that the story remain factual. "We would spend hours and hours on the phone combing together. And the things that were really remarkable about Ruth, what was most important to her was that the law was right, that the way the law is practiced was accurate in the script."

Stiepleman notes that Ruth never displayed a sense of ego when it came to telling her story.

"It wasn't about, you know, 'I don't look good here.' It was always, this is how the law is, and let's get the law right, and that was so important to her and I really admire that." But what truly touched him was her passion and dedication to the Constitution. "I think there's something deeper that is crucial to understand about Ruth – how much she really reveres the Constitution and the law and the country," he exclaims. "And what I learned from her is what patriotism looks like."

Stiepleman sent a draft to Karen Loop, his supervisor during the time he taught screenwriting at Columbia College in Chicago, who was so taken with the story, she forwarded it to producer Robert Cort.

Upon receiving the script, Cort saw promise, even in its rawest form. "We spent probably 18 months on that draft before we brought it out to the world. And it was greeted with enormous interest by the whole community," he recalls. "It made what's called The Blacklist, which is a list of Hollywood's top unproduced screenplays. And that was the beginning of the process."

Cort Likens Ruth To Wonder Woman

"ON THE BASIS OF SEX is the origin story of one of the great women of our times. I say 'origin story' with a real specificity of the world of superheroes, because Ruth, in many ways, is our superhero," he explains. "In the movie, the first 15-20 minutes, her time in Harvard, her time in New York, are the moments and the events that really crystallised who she is as a person."

Leder was especially drawn to the human side of the formidable Supreme Court Justice.

"She's someone who we know is absolutely ground-breaking and one of the most influential political figures of our time," she says. "But what's most important to be reminded of is that she's a human being and it was very important for me and the filmmakers to bring out her humanity and show her as a real person," she stresses.

When we first meet her in the film, Ruth is attending Harvard Law School along with her husband, Marty. As she learns to balance life as a mother with her role as a law student, Ruth faces adversity in a male-dominated, often hostile environment, in which she is only one of nine women in her class.

Producer Jonathan King notes that the script came to Participant Media at exactly the right time. "Participant Media's mission is to make movies that are about important social issues of the time in both the United States and around the world, so this movie is focused on equality and civil rights. It's right in line with our mission," he asserts. King loved the fact that Ruth defied all odds in a world that seemed pitted against her. "On a very simple level, ON THE BASIS OF SEX is a movie about a young woman of incredible talent and ambition who is told that she cannot do something, so it's about her fighting for her place in the world… And then when she fights for herself, [she's also fighting] on behalf of everyone who's been told they can't do something because they're a woman or a man, for that matter," he states.

Academy Award®-nominated British actress Felicity Jones – fresh from her critically acclaimed performance in Rogue One: A Star Wars Story – was cast to portray the determined future Supreme Court of the United States Justice.

"I've been looking for a part like this for years," she says. "It's one in which a female character is fiercely devoted to what she does, but at the same time, explores the fuller sense of her life and character."

Regarding her performance, Leder expresses, "Felicity Jones really embodied her in a real honest way. She found her essence. She found her reality. She made [Justice Ginsburg] her own, and she wasn't doing an impersonation."

The first step in Jones' research was meeting with her real-life counterpart. "I was very fortunate to meet Justice Ginsburg at her apartment in Washington, and it was a very moving encounter," she recalls. "There were so many details, and I didn't want to forget anything, so I remember going, um, 'Ruth, do you mind if I just take a few pictures?'

"So, I was sort of taking these pictures of her desk and how everything was laid out," Jones continues. "And one of the strongest things that came through was that this woman has such humanity and takes absolute care over everything. There's nothing done in a glib or arrogant way." Jones says her greatest takeaway from the experience was that Ruth is a true "revolutionary with a fire in her belly."

Armie Hammer, who plays Martin Ginsburg, admits he jumped at the chance to be a part of the production. "When I first got this script, I was really excited," he recalls. "I thought it was great that Ruth Bader Ginsburg was sort of coming to life on the pages. And then after talking to Mimi and meeting everybody involved, I was really excited to see how it would transition to the screen."

According to Leder, Hammer slipped very comfortably into his character. "I think you'll see an Armie Hammer you haven't seen before in this movie," she observes. "He really gave into that fun side of who he is and that really smart side of who he is."

Hammer says he was particularly drawn to the couple's devotion to one another. "They had a really successful and amazing relationship because they were able to sort of always do whatever it takes… I think the reason Ruth credits Martin with a lot of her success is just the level of symbiosis they have. They wouldn't have been able to have two kids and multiple careers and all that stuff if they weren't really interested in helping each other out. And they make a really good team."

Jones agrees with Hammer's observation: "When I watch old footage of them, it's rooted in laughing. They just make each other laugh their heads off. There was just real friendship as well as a romantic relationship there and absolute respect for each other. They really were partners. It was the 1950s and both would clean and cook."

Hammer admires the effort Jones put into developing her character. "She just takes it so seriously and she brings so much respect to this, especially to Justice Ginsburg," he states.

"She brings a resolution and strength to the character but also a gentleness, which is really touching."

Rounding out the onscreen Ginsburg clan is Cailee Spaeny who portrays Jane, Ruth and Marty's headstrong teenage daughter. Spaeny says she relished the opportunity to play a young activist of the '70s. "I did a lot of research on Gloria Steinem. Watched a lot of her speeches. I went to rallies around Montreal just to keep soaking in a lot of political things because Jane was so involved in that," she relates.

"Cailee is gonna burst onto the screen," Leder says of Spaeny's performance. "Just a brilliant young actress."

Both passionate individuals, Ruth and Jane are constantly butting heads, but it is Jane who ultimately inspires Ruth to move forward in her fight for justice.

"I think she makes a point that there's a new generation out there," Spaeny notes. "I think she tries to remind her parents that times have changed and you've been in law since the '50s, but look out your window. We've gotta do things a little bit differently now." At the heart of the story is the case that Martin – then a preeminent tax attorney – brings to Ruth. It involves Charles Moritz, a single man who is denied $296 on his tax deduction for being a male caregiver. "This is sex-based discrimination," Ruth exclaims upon reading the case. "If a federal court ruled that this law is unconstitutional, it would become the precedent others refer to and build on."

"It was a case that overturned a century of gender discrimination," Leder says. "It was a case that declared discrimination on the basis of sex unconstitutional. And so as doors kept closing, she kept opening and opening them. And, you know, these laws, the case that she won, affected so many laws that we, today, take for granted."

Justin Theroux plays Mel Wulf, the legal director of the ACLU, who Ruth approaches for support in her defence of Moritz. Theroux asserts that the film will be anything but a dry courtroom drama with Leder at the helm.

"She's a force, man," says Theroux. "I've worked with Mimi extensively on a television show [The Leftovers], and she brings enormous energy, not just to the set, but she has this very muscular style of directing… You know, she came out of action films, essentially … and she also has a very strong point of view and is a very grounded presence on set. She's everything you want in a director."

Academy Award®-winning actress Kathy Bates portrays attorney Dorothy Kenyon, a renowned feminist and one of the founders of the ACLU. When Ruth meets with Dorothy to support the case, Dorothy dismisses her at first, but after reading Ruth's brief on the case, she has a change of heart.

"I don't know if Dorothy really believes anything is going to come of it until she gets the brief, and then she really feels she can see, as she says to Mel, that this is a woman who is a smart cookie. And she's found a way to weasel her way into the whole jury issue by finding a bachelor who's not getting the tax refund that a woman would get for taking care of his parent," Bates explains.

Initially, there's a battle of wits between Mel and Dorothy. "Mel is very much a misogynist," Bates says of Theroux's character. "So she really goes and pleads with him. And it was interesting to me because she has a line that says, 'In 1776, Abigail Adams...' In other words, it was way back then that this woman, who was married to a president, said, 'You've gotta be with it, kid, be with the ladies.'"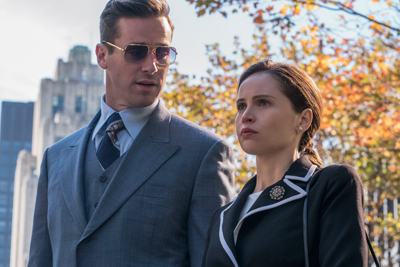 Cort wants moviegoers to pay particular attention to the courtroom drama. "I think people will find the courtroom scene to be, and I say this advisedly, a unique moment in film history," he observes. "There have been a lot of courtroom scenes in a lot of movies, and I have enjoyed a lot of them. But Ruth Bader Ginsburg, played by Felicity Jones, rises to speak at the end of this courtroom scene… and she has not just one of the longest speeches any woman has ever had in American cinema, but far and away the most inspiring and the most brilliant." Cort notes that the speech is actually 5 minutes, 32 seconds.

Production designer Nelson Coates, who admits to being "a notorious RBG fan," says his biggest challenge in recreating Ruth's early years was making it seem authentic.

"We didn't want it to feel like a caricature but really naturalistic to help support and buoy the story in a way that makes someone who is bigger than life in many respects accessible and real for people, so that you're feeling in the moment just like the characters as we meet them are in the moment," he expresses.

Set primarily in New York of the '60s and '70s, the film was shot almost entirely in Montreal. "There's a lot of streets that you can get an old New York feel, like for SoHo in the '70s," he explains. "The environments that I needed are easier to do in Montréal than to have done them period in New York."

Coates and his team were also tasked with creating sets in multiple eras. "Doing multiple periods in the same movie is actually tougher than doing just a period movie, especially because we're not doing it in order," he notes. "So one day you're shooting 1956 Boston and the next minute you're in 1970 Denver… We wanted to feel very germane with lots of layers of different years and also showing their evolution from a young collegiate couple to being a more affluent couple later in their life and how those things actually are managed visually." Coates explains that researching the colours for a period piece can be "a bit skewed," because the colour representation either through printing processes or the photographic processes of the time, present different hues and values. "And so really the fabrics are the closest thing to what those colours really were," he states. "And even the fabrics have shifted over time. So as we were looking through a lot of reference pictures, and we saw a lot of blues and greens. And Mimi just said, 'Oh my gosh, these grey blues and these grey greens are so cool. Let's really push a little bit of that, you know, as a kind of a thematic line for this.'"

Though the film was challenging, Coates says he enjoyed working with the production team. "This is just a serendipitous type of project. I've worked with the DP, Michael Grady, and the costume designer, Isis Mussenden, previous to this and, of course, with Mimi several times. So there's just a comfort level that you can discuss something and you don't feel like that you're walking on eggshells. You can immediately say, 'Hey, you know we've done this before, how about if we do this type of thing?' And one of the very first things that I mentioned to the whole team was that I wanted to feel this movie."

Coates views the story as inspirational for both men and women. "When you see this movie, I hope that the audience is able to see what one person's impact and what two people in this case, the husband and wife, do what you can actually do to affect change and how your life really can impact others in a positive way – or on the flip side, can impact people in a negative way. But in this case, I really hope that people are inspired by what they see, by what occurred back in the '70s that most of us take for granted," he says.

Mussenden says she truly appreciates the collaborative process with Coates. "Nelson and I work very closely," she exclaims. "He consistently sends me pictures of things he's finding, locations, and what's happening, and I'll send him photographs and fittings. On the whole, we're communicating consistently, so that when we land in the space, it's all working." In designing Ruth's personal style, Mussenden says she worked very closely with the hair and makeup department. "The silhouette of a period starts with the hair and continues to the clothes," she notes. "It cannot just be the clothes. It has to be the clothes, the hair, and then to top it off, the makeup when you get into those close-ups."

Jones also had a lot of input into the costuming. "Felicity's quite smart about everything," Mussenden notes. "She's incredibly bright, and she worked really closely with me on what worked for her. My job is to help them feel the part. So it's not really what Felicity Jones wants or Isis Mussenden wants. It's what is right for Justice Ginsburg." For this particular story, Mussenden wanted to illustrate lots of texture. "And I wanted to limit the palette in a way so that your '70s scenes don't feel like Xanadu and that the '50s scenes don't look like a Doris Day movie. You want this to feel like someone really went into their closet and just grabbed something and dressed for that particular day," she expresses. Mussenden says that a lot of research goes into designing costumes for specific time periods, and with that, comes a lot of questions.

"No matter what period you're doing, you have to think about what is this film saying, and how do we want to portray it," she explains. "Mimi wanted a film that was very realistic, and naturalistic, which completely fits our story because, although Justice Ginsburg had a sense of style her entire life, that's not what this story's about. So we want to be true to her and yet be true to the time."

Even the underwear played an important role in the film, according to Mussenden: "From a costumer's point of view, the undergarments that we put our women in, in the '50s were so constraining. It's a girdle. It's stockings. It's like a bra that's built like a brick. Yeah, I mean, it's just so strong and so constraining. And the shoes are tighter, and the clothes were tighter… And then to jump to 1970, '71, where half our girls aren't even wearing bras and things are looser, and they're wearing pants. I mean, even in '71 women couldn't wear pants to work. Like, who thinks of that? For me, that was exciting, the whole sociological story of what happened between then and now has been really fun."

The visual crafts join beautifully with the film's score composed by Academy-Award® winner Mychael Danna, who describes it as, "a score based in two worlds. One world is the indomitable spirit of Ruth and Marty, who were a strong and loving team who always supported each other. The other world is the old world of men, conservative thinking, and the slow-moving wheels of Government."

Echoing the film's exploration of gender stereotypes, Danna said, "Mimi and I decided to turn the clichés of music scoring on their head: instead of the old Institutions of male-run government getting the usual sound of snare drums, horns and noble harmonies, these ideas were applied to Ruth's theme. The old institutions are instead given an overripe "stuck" quality, a sound of ideas mired in the past, of ossified thinking. Mimi was clear in her direction that these men of the past were not "bad guys" who would be musically scored as such, but rather good men who wanted the best for their country and had not yet caught up to an America that had already chosen a new reality. The music I wrote for this new reality is exciting, stirring, full of life, direction and focus. It is an anthem for the great gift of the founding fathers to America: the ability to change."

According to Cort, "I think that one of the things that I love about ON THE BASIS OF SEX is it recalls a time when people with passionate disagreements about the core, moral issues of the country could meet in a courtroom and debate sanely the validity of their arguments. And make a decision, ultimately, that the law must be changed."

King views the story as having universal appeal. "Anyone who's ever had to rely on a parent or a child or a partner to take care of them or been the one taking care of somebody all done that," King says. "That's what this movie is about fundamentally at its heart emotionally, and I think that's incredibly important to international audiences because we've all been there," he adds. "You look around the world and we face incredible challenges, and the only way we're going to get through them together is to realize that we need to rely on everyone to fulfil their potential, to have the ability, the sort of freedom, to say, 'I'm a woman, I'm a man, I have this passion, I have this talent, I can contribute something, so let me.' Those are the challenges we're facing today."

The film also has current social importance, according to Leder. "Justice Ginsburg's story is more relevant than ever," she observes. "Her legacy speaks to the #MeToo movement and the #TimesUp movement and to the cultural conversations of gender equality, gender parity, pay equality, and equal rights. It's not over. It's just beginning, but you can put a direct line to where it began. And it began with her."

From Quiet Warrior Of Justice To Pop Culture Icon

The 85-year-old U.S. Supreme Court Justice has become an unlikely modern-day cultural icon. From her "Notorious RBG" moniker to her impressive weight-lifting session on Late Night with Stephen Colbert to SNL's Kate McKinnon's hilarious impersonation of her, Ruth Bader Ginsburg has made an indelible impression on today's cultural zeitgeist.

The 2018 documentary, RBG, which chronicles her life from feminist attorney to Internet icon, debuted at the Sundance Film Festival to critical and popular acclaim. Young fans now collect t-shirts, coffee mugs and online memes adorned with her stoic visage. Following the landmark Moritz case, Ginsburg co-founded the Women's Rights Project at the ACLU in 1972, and in 1973, she became the ACLU's general counsel. During her time with The Women's Rights Project and the ACLU, she was involved in more than 300 gender discrimination cases including the Reed v. Reed decision, 404 U.S. 71 (1971), which marked the first time in history that the Court applied the Equal Protection Clause of the Fourteenth Amendment to strike down a law that discriminated against women. Ginsburg was the author of the original brief. As director of the ACLU's Women's Rights Project, she argued six gender discrimination cases before the Supreme Court from 1973-1976, winning five.

In 1980, President Carter appointed her to the U.S. Court of Appeals for the District of Columbia. She was appointed to the U.S. Supreme Court in 1993 by President Clinton, becoming just the second female justice (following Sandra Day O'Connor) to be confirmed to the Court, and one of four female justices to ever be confirmed.

In 1996, Ginsburg wrote the Supreme Court's landmark decision, United States v. Virginia, which held that the state-supported Virginia Military Institute could not refuse to admit women. In 1999, she won the American Bar Association's Thurgood Marshall Award for her contributions to gender equality and civil rights.

In 2015, Ginsburg sided with the majority in two ground-breaking Supreme Court rulings. In King v. Burwell, she was one of six Justices to uphold a critical component of the 2010 Affordable Care Act, which allows the federal government to continue providing subsidies to Americans who purchase health care through "exchanges," regardless of whether they are state or federally operated. That same year, she was instrumental in the historic decision to make same-sex marriage legal in all 50 states with Obergefell v. Hodges. Ginsburg's first book, My Own Words, debuted October 4, 2016 on The New York Times Best Seller list for hardcover nonfiction at No. 12.

Among her many accolades, Ginsburg was named one of Forbes' '100 Most Powerful Women' in 2009, one of Glamour Magazine's "Women of the Year 2012," and one of Time Magazine's "100 Most Influential People in 2015." 2018 marks Justice Ginsburg's 25th year on the Supreme Court.

Kesha In Her Own Words & Song (originally published by Refinery29)

I know many people from my generation are cynical about politics – and I don't blame anyone for that cynicism. The current situation in our country, where every day the news brings word of yet another attack on civil rights for marginalized people, and where political polarisation has made it difficult to even have conversations about the issues, is enough to make anyone want to wash their hands of the entire process. But the key thing to remember is this: If we don't participate, if we don't make our voices heard, things will only get worse.

In order to create the lasting change we want, we have to stay involved and above all, we have to vote. This feeling is at the heart of the new song, "Here Comes the Change," that I wrote with Stephen Wrabel and Drew Pearson for ON THE BASIS OF SEX. When I was first approached to write a song for the movie, I thought I was the wrong person for the job. For me, songwriting is such a personal process and it is almost always inspired by things I've experienced in my own life. The idea that I should be writing about someone else's life, and that person would be Ruth Bader Ginsburg, was intimidating. How could my voice matter in this context? I thought to myself.

But after seeing the film, I was inspired. It was amazing to see Ginsburg's story of leading a campaign that successfully changed laws that discriminated against Americans purely on the basis of their sex, as the film title suggests. In watching the film I was struck by how much Ginsburg was able to accomplish in her life, and at the same time, how much more there is to do in the fight for equality for all people. It reminded me of – and strengthened – my belief that any single person can make lasting change, starting with one small action. I wanted to do what I could to pay tribute to Ginsburg, who has spent a lifetime fighting tirelessly for equality, with no signs of slowing down. I wanted to make my voice heard, too. Given my platform as a musician, one of the best ways to do that is through music.

I thought of how my musical idol Bob Dylan was blunt in his songs during the civil rights movement and the Vietnam War with lyrics like "There's a battle outside and it is ragin' / It'll soon shake your windows and rattle your walls / For the times they are a-changin'". And so I wanted to try to write words that would help inspire others to rally against hate and division in a way that Dylan did.

That's why "Here Comes the Change" starts with the line "One day I'll be gone. The world will keep turning… I hope I leave this place better than I found it." Sometimes the troubles of the world are so overwhelming, it is paralysing. And it's true: One person may not be able to fix every problem. But we can certainly leave things better off than we found them. We know this because that's exactly what people like Ginsburg have done. Everyone, from Martin Luther King, Jr. to Harvey Milk, who has ever made change in America started off as one person with a conviction that change was needed. They knew they might not be able to change everything, but that didn't stop them from taking action or from losing hope. I sing in "Here Comes The Change": "We're Coming of Age"... This is Not a Phase... You know it's time," to send the message that this moment is our chance to pick up the baton and realise our destiny is in our hands.

I don't think of this as "political." For me, these words are about promoting love and equality, the belief that everyone should have the same opportunity to live a safe and healthy life full of love and hope regardless of their skin colour or sexual orientation or gender or religion.

In the second verse on the song I address the fact that it feels like we are fighting for the same things now as we were half a century ago, the same concept, basic human equality. But the reality is that progress isn't a straight line and sometimes equality is challenged by people in power to remind us that freedom and progress don't come without effort.

That's why for the lyric video for the song, directed by Brandon Bloch and produced by Magic Seed Productions, I wanted to explore the legacy of political activists in our country throughout the years who have fought for equality and positive change. The message is that the long, proud tradition of American social activism is alive and well. It's being passed on to the next generation. It will continue to evolve one success at a time, and is as important as ever. At the end of the video we brought in volunteers from HeadCount, a non-profit organisation dedicated to helping people to register to vote and we set up a URL to guide people how to register.

I hope the song and the video reminds you that we don't all have to loom as large as these heroes to make a difference. We can all vote and speak up for what we believe in. We can all have a positive impact on our shared future.
– Kesha

On the Basis of Sex
Release Date: February 7th, 2019