Dr Justin Coulson Play Offers Major Health And Social Benefits Interview
2015 was the year of mindfulness went mainstream and now leading home furnishing retailer IKEA is predicting that play will be next big lifestyle trend.

Playing is not only a way of making it easier for people to achieve a better everyday life – playing is a vital part of life itself. We know that play is learning for life. Whether you are seven years old or 97 years old research shows that children and adults thrive when play is a part of their lives. It makes us more creative, stronger and more active. It teaches us how to work together and care about each other. It sparks curiosity.

To launch the new LATTJO play range, IKEA has connected with leading Australian Parenting and Positivity Expert Doctor Justin Coulson, identifying the simple act of play as an activity we can all enjoy and see a positive impact in multiple areas of our lives. Dr Justin Coulson says, 'Play is crucial for wellbeing because it provides positive emotions that we may not experience otherwise. We become curious, creative, and optimistic. We are mindful and in the moment when we play properly. We experience joy, delight, contentment and even love. And all of this is important because these positive emotions build resources that help us when times are tough".

At times when family life is stressful with long working hours and daily chores the idea of playing together may seem far-fetched. Playing shouldn't be another must, but sometimes adding a bit of play to the daily routine can make us less stressed and even a bit happier.

'Research shows that when we feel good we are less likely to get sick, more likely to exercise, and more likely to sleep better. Our children do better at school and we do better at work. We are more productive. We think more clearly. And our relationships - which are one of the most vital drivers of wellbeing - are better. All of these outcomes are increased through play.

'Studies have shown that children who play with their parents receive a boost in their intellectual development and their language abilities. Their motor skills improve. They also learn about boundaries and rules, and tend to be better behaved. Additionally, when parents play with their children, the social competence of the children is greater. 'Play also creates shared memories and meaning that strengthens family and friend relationships. Play drives development in children, and wellbeing in both children and adults. In addition, the positive emotions that come from play broaden our thinking," says Dr Coulson.

The mission of the IKEA LATTJO collection is to encourage people, both young and old, to play more.

'We know that the world wants and needs more play. So for us, it makes sense to see how we can find ways to do more of it. It helps to think of play not as toys and games (although those definitely don't hurt!), but as a state of mind. A way of finding the fun in everything you do – especially those normal, everyday activities that are such a big part of our lives at home" says Tim Prevade, IKEA Play Expert.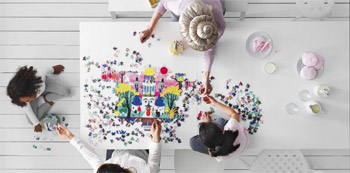 The LATTJO collection has been designed to inspire both young and old to play together more – everyday. The range consists of a wide variety of gender neutral games and toys for indoor and outdoor active play, making music, game nights, dress up and role playing.

'IKEA believes that play is not only good for children, but is just as important for people of all ages. Through play we explore, experiment, dream and discover. It makes it possible to see beyond what's tangible and visible. It is a presumption for the better everyday and we have developed our LATTJO range to enable the many people to embrace play. Whether it's through role playing, music, active play or quiet play alone, LATTJO has something to suit," added Tim Prevade, IKEA Play Expert.

"Family life is busy and finding time to have fun and play can be hard. Being a playful parent requires a degree of proactivity and a playful attitude. Unfortunately play, for many of us, stopped becoming spontaneous and automatic around the time we decided we had to be responsible adults. But play can become a habit – we can get into the pattern of putting down our tools (or spatulas or devices, or whatever) and becoming engrossed in five minutes of play with our children. These micro-moments of positive engagement show that we are involved and available to our children. They teach our children that they are worthy, and they promote a sense of family cohesion and togetherness. They give us moments to be grateful for, to reflect upon and to savour," finished Dr Coulson.



Interview with Dr Justin Coulson
Question: What is mindfulness?

Dr Justin Coulson: Mindfulness has been the buzzword in Western psychology for a couple of years. Research on the topic has exploded. The word is out – mindfulness can change our lives. But a lot of people really struggle with it. Why?

A common misconception is that mindfulness means emptying our minds and getting rid of thoughts and emotions. Most of us would find that impossible and few would be interested in it.

What mindfulness means is that we are fully attentive to what is happening right now. Our thoughts are in the present. We feel our emotions based completely on what is happening here and now. And we are open to the moment. We are even curious about it, noticing how we feel, think and act.

We are flexible, too, able to respond to everything as it happens because of our open acceptance and presence.

At its most basic, mindfulness means being right where your feet are – right here, right now. It means not thinking about the future, or wandering off mentally. We're switched on to right now.


Question: How does mindfulness relate to play?

Dr Justin Coulson: When we play – really play properly – we get caught up in the moment.

We really are where our feet are. We focus on everything that's happening. Time seems to stand still because we aren't thinking about it.

Our focus is on the task at hand, and the people in front of us. And we get caught up in -flow', that feeling where we are immersed in play and stop being concerned about anything like dinner, emails, and -stuff'.


Question: Why should we be encouraging our children to play more regularly?

Dr Justin Coulson: It's not just our children. It's all of us! Play does so much to build our resources.

For example, we (and our children) build social resources by playing with others. Our relationships become stronger, more positive, and more resilient. They become more stable.

We (and our children) also build emotional resources. This is because we experience lots of positive emotions while we play. These are good for our relationships, but also great because a lot of play (particularly for children) involves fantasy or role playing. This promotes perspective taking and emotional intelligence. Children (and adults) with higher emotional intelligence are usually happier, and typically experience greater success and better relationships in life.

We (and our children) improve our cognitive capacity when we play games. Often games require strategy, thinking, and mental acuity or flexibility. Whether it's board games (or puzzles), or more dramatic or sporty games, we use our brain, strengthening and building that cognitive resource.

And lastly, we (and our children) will often improve our physical resources when we play. There are the obvious direct routes to improved physical capacity, such as through the running around we might do. But a more indirect (and vitally important) way we also do this is by feeling good. People who experience lots of positive emotion have been shown to sleep better, exercise more, and have fewer health problems! Play helps us enjoy those benefits.


Question: Why is it important to note that play isn't just for children?

Dr Justin Coulson: Play really is necessary for a happy, healthy life for everyone from 7 to 97 (and more!)… the world needs more play, and adults are the most in need of all!


Question: What advantages does regular play have for children and their families?

Dr Justin Coulson: Firstly, play builds memories. If you think about great times together, you'll rarely say, 'Oh man, remember that day we sat in front of the tv and watched that movie. Or that night we all sat in the lounge room and ignored each other while we surfed our social media!" But we will say, 'How much fun was that afternoon where we played together without any distractions." There's something sublime about playing mindfully together without distractions.

Play creates those memories. It builds those relationships. Attention is the currency of relationships, and play gives us lots of opportunity for attention to be invested. And it doesn't' matter whether the play is indoor, outdoor/active, or role-play/fantasy, or musical. It's all play, and it all has benefits.

Depending on the kind of play, we also keep our physical skills up, and our children can develop gross and fine motor skills. And children will often learn about boundaries and rules better because learning about rules is incidental rather than directive or punitive.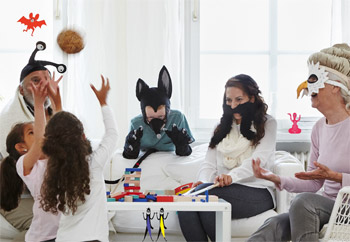 Question: How can we make more time for 'play"?

Dr Justin Coulson: 1. Schedule it. Make it happen. Be committed. Play for 15 minutes when the children get home, or before dinner. Or every Sunday morning for an hour in the park or at the beach. Really, we don't make time for it because we don't value it as much as other things that matter much less. We should never let the things that matter most be at the mercy of those which matter least, but that's precisely what we do with play. Nature abhors a vacuum. If you're not doing something that matters, go play. Otherwise you'll do something unimportant.

2. Turn off devices and other distractions. It is amazing how -free' we feel to play when notifications aren't buzzing every few minutes.

3. Make play an attitude and a part of life, rather than a specific thing we -have' to do.


Question: How can we encourage families to participate in play?

Dr Justin Coulson: The research tells us that the biggest barriers to play are threefold: parents are too busy, kids are over-scheduled, and some parents simply don't want to play or don't know how to play. Try these ideas: 1. Get outside. Throw things (like a ball or a frisbee), run, fly a kite, jump, kick, skip, or ride. Being outside is great for physical, mental, and social wellbeing. It builds those motor skills, improves health and fitness, and strengthens relationships. Studies have shown that fit, healthy children (who spend time playing) do better at school too!

2. Make music. Even if you are not musical, playing some basic percussion, drums (saucepans), or simply dancing together to some loud music gets creative juices flowing. Both physical activity and creativity have been linked with wellbeing.

3. Dress up (or at least encourage it). While some adults don't necessarily like donning wigs or costumes (because we've forgotten how to play!), encourage the children to dress up, host a 'show' or a 'play', and be creative. It teaches perspective and social skills, and develops them creatively.

4. Craft. Cutting, pasting, painting, and creating are terrific fun for children of all ages, especially when there is a purpose to it. These play activities can develop relationships by spending time together or offering opportunities to share with others (through service, or just playing together), and encourage creativity.

5. Play 'old-school' games like dominos, building blocks (like jenga), checkers, darts, chess, or cards. These games teach a variety of skills, potentially strengthen relationships through time together, and enhance cognitive capacity.


Question: Can you tell us about the IKEA Tempe range?

Dr Justin Coulson: I love what IKEA has done with the LATTJO range. It's what I would call -classic' play. It's great for indoors as well as active play and both role play and music. It's gender neutral and designed for just about all ages (over 7). I think it's exactly the kind of stuff that creates memories, facilitates freedom, and cultivates creativity and social and emotional intelligence in children. With a wide range of games and toys, a recipe book for play and an app for playing together even when apart, there's nothing stopping families and friends coming together to enjoy the benefits of play.


Question: What suggestions do you have to get families involved in play, from today?

Dr Justin Coulson: 1. Remove distractions and put other devices away whilst playing
2. Be where your feet are. Let go of deadlines, agendas, and distractions, even if it's only for five minutes. Focus on the here and now.
3. Get involved with your children. Watch, listen, engage.


Interview by Brooke Hunter