Dale's Ultimate Guide to Costume Parties
Do you want to go back to the roaring 20s? Or fight evil in your own super-hero adventure? Maybe your kids are planning a themed birthday party soon? Then we have the guides for you! If there's anyone who knows how to throw a fancy dress party it's Dale Pruser, owner of costume hire shop Creative Costumes. Dale has been to numerous fancy dress parties in her line of work and has developed the ultimate guide to the most popular fancy dress parties. Drinks, costumes, food and decorations – we've got you covered!

1920s Gangster Party

Prohibition began in 1920. A Speakeasy or Jazz club was the only place to get a decent drink so recreate one in your home with black and white decorations and vintage art deco posters. Provide your guests with a password to enter your establishment. No password, no admittance! Have a -bouncer' do a gun check at the door. Fill big metal tubs with ice, drinks & booze. Maybe run an -illegal' casino and set up a gaming table. Project a black and white silent movie in the background. Greet guests with some 1920's slang and everyone will think you're the Cat's Meow!

Food/ Drink Ideas:
• Canapés
• Olives
• Crackers
• Potato chips
• Bread sticks
• Fried chicken
• Baked ham
• Waldorf salad
• Cream cheese sandwiches

For drinks keep the alcohol flowing (it is Prohibition time after all!) with cocktails such as Mint Julep, -Bathtub' gin, whiskey and champagne. For the non-drinkers in the room stick to classics like Coca Cola (ideal if you can get them in glass bottles).

Music: Put on the vintage 20's radio and don't forget the classic jazz tunes: The Charleston, The Black Bottom, The Lindy Hop and musicians like Al Jolson, Duke Ellington, Irving Berlin, Cotton Club, and Ragtime Band.

Games/ fun: Learn 20s dances like The Charleston and Shimmy. Have everyone make up a 20s Gangster name for themselves. Use 20s slang like: -bees knees/cat's pyjamas', -big cheese', -baloney' and -going to see a man about a dog' (buying illegal alcohol). Stage a midnight raid by the gents from prohibition or start a conga line.

Costume Ideas: Flappers, Gangsters, Bonnie and Clyde, Al Capone, Charlie Chaplin, Coco Chanel, Greta Garbo, Harry Houdini, The Great Gatsby, Jean Harlow, Louis Armstrong and Mae West. Chicago, Laurel & Hardy, Marx Brothers, Rudolph Valentino. More Ideas…

1950's Rock n' Roll

Grease back your hair and get ready to Rock n' Roll. The 1950's were a vibrant and wholesome era, characterized by malt shops, sock hops, beatnicks and the hula-hoop. Print out pictures of classic 50's cars to place on your walls. Hang 45 records, posters with 50's music legends such as Buddy Holly, musical notes and fuzzy dice around the walls for a hip 50's vibe. Decorate your home as a 50's diner complete with a jukebox, black and white checkerboard floor and roller skate waitresses. Don't forget to serve up malted milkshakes. Or set up your own drive-in theatre with a popcorn machine and watch Grease or Elvis movies.

Food/ Drinks:
• Cheeseburger and fries
• Bubblegum
• Popcorn
• Milkshakes
• Malted milk
• Soda fountain
• Root beer floats
• Cherry cola
• Meatloaf
• Chow mien

Music: The mashed potato, the bop, the twist, boogie-woogie blues, rock n roll and the hokey pokey. Songs by Elvis, The Everly Brothers, Jerry Lee Lewis, Nat King Cole, Chuck Berry, Little Richard, Buddy Holly and Fats Domino.

Games & Fun: Guess that 1950's celebrity name, print our pictures of famous 50's icons and guess who they are. Guess that price of product in the 50's. Ask guests to price products from the 50's vs todays' prices. Have a hula hop contest.

Costume ideas: Clothing could be: poodle skirts & pony tails, bobbie socks & sand shoes, leather & slicked back hair, white t-shirts & cuffed jeans. Don't forget the GI's khaki uniforms. Dress up as Marilyn Monroe, Audrey Hepburn, Frank Sinatra, Grease (Danny & Sandy), Jackie Kennedy, Elvis and Barbie. More Ideas….

1970's Funky Party

Boogie on down for a 70's Disco Party or funky ABBA night. Make your own disco with a mirror ball twirling from the ceiling and a fog machine. Other 70s-tastic decor could include: Brown, orange and green shades, wood veneer, beanbags, shag rugs and 70s glassware from op shops. Borrow or get out of the cupboard a lava lamp to really set that funky feel. For a cheeky touch set up a large glass bowl with sets of plastic keys in them reminiscent of the 70's -key party's.'

Food/ Drinks:
Fondue was all the rage both cheese and chocolate.
Skewer any of the following on a toothpick: cabannossi, gherkins, cocktail onions, cheese and pineapple, mini frankfurts.
• Jello
• French onion dip
• Hamburger helper
• Tater tots
• Quiche
• Pop tarts
• Rice a roni
• Bundt cake

Drinks: Kool-Aid, fruit wines, Hawaiian punch, daiquiri's, Tom Collins, Zombies and Mai Tai's.

Music: We are family, The Hustle, My Sharona, Benie and the Jets, Dancing Queen, Stayin alive, That's the way I like it, Bustop. Artists like David Bowie, Elvis, Rolling Stones, Elton John, Diana Ross, Eagles, The Doors, ABBA and the Bee Gees.

Games/ Fun: Disco dance off aka John Travolta style. Twister and spin the bottle, disco dancing competition, biggest afro/platforms/bellbottoms competition. 70s Trivia, Play limbo! Don't forget to put our some pet rocks for guests to take home.

Costume ideas: Dress in afros, flared trousers, safari suits, mini skirts and sequins for real disco feel. Dress up as John Travolta, Star Wars, Sesame Street, Twiggy, The Village people, Xanadu, Fame, Roller skates, Charlies Angels and Rocky. More Ideas….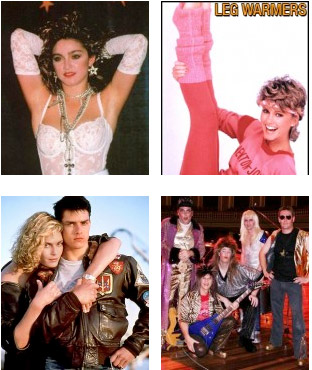 1980s Disco or Countdown Party

The '80s were all about excess, so make your decorations dramatic and colorful. Use neon colors, animal prints or black-and-white geometric patterns. Plaster the walls with posters of quintessential '80s pop stars like Culture Club, Cyndi Lauper, Prince and Madonna. To really get in the spirit, pop in a DVD of an '80s band's video collection or favorite 80's movie and have it playing, on mute, during the event. Or maybe set up an 80's nightclub– dark rooms with blue neon lights, decorate and serve neon colored drinks.

Food / Drinks: Yuppies made sushi big in the '80s, artichoke dip served in a bread bowl. Kid-friendly treats like Rice Krispies, frozen yogurt, Pringles, Twisties, garlic toasts, antipasto, lollies such as Redskins, Red and Green frogs, Milk bottles and Teeth .

Drinks: West Coast Coolers, Daiquiris, Blue Lagoon, Black Russians, Long Island Iced Tea, Sex on the Rocks, Screwdriver, anything with Galliano or Sambuca. Remember to serve with umbrellas!

Music: Kylie Minogue, INXS, Duran Duran, Men At Work, Adam and the Ants, George Michael, Prince, Queen, UB40, ZZtop, 1985 Live Aid Concert, episodes of Countdown on the TV – you get the idea.

Fun & Games: Countdown Karaoke, recreate the dance moves from Thriller, -Who Can It Be Now' – guess the 80's band from their photo. Make yourself and your guests part of the decor! Before the party, ask your guests to lend you a photo of themselves in their wildest '80s outfit. Make enlarged copies of these photos and hang them up around the party area. During the party, your guests can guess who's who and laugh at all the bi-level haircuts and pegged pants.

Costume Ideas: AC/DC, Adam Ant, Beetlejuice, Billy Idol, Bon Jovi, Crocodile Dundee, Cyndi Lauper, Fame, Guns N Roses, Kylie Minogue, Madonna, Miami Vice, Prince, Punk, Tina Turner, Top Gun, Karate Kid, Dynasty, Elton John, Spice girls, Michael Jackson, Wham, Prom Queen

Fairytale Enchanted Evening

Enter the land of make believe fun with jeweled scepters, magic wands, and whimsical wonders " all waiting to be transformed into a fantasy or fairytale party. Decorate your house as a grand castle. Make a scroll and get a herald to announce each guest. Cut out some knights in armour to stand guard around your walls. Use fairy lights to hang around your walls and place tea light candles on the tables to give a castle feel. Places large candelabras in each corner and make sure you have a big magic mirror as the centrepiece. Lots of fairy tales happen in an enchanted forest so bring in all the pot plants you can find and cut out giant flowers and leaves from colored card. Wrap ivy around the furniture and hide forest creatures in every corner. You might like to have a garden arch at the front door so that the guests can walk through a magic entry to the enchanted world.

Food/ Drinks:
Food plays an important role in fairytales. Food can be poisoned, it can be magic, and it can lure children into a trap. Try food such as….
• Gingerbread men
• Tea party sandwiches
• Cut fairy bread into little stars
• Make green punch for a witches brew
• A bowl of Jack's magic jelly beans
• Fill a tub with water and toss in red apples and one green poisoned one
• Cakes and drinks can be labeled Eat Me and Drink Me like in Alice in Wonderland

Music: Disney soundtracks, Cirque du Soleil, New Age music, Gothic music A Dream Is A Wish Your Heart Makes (from Cinderella), Imagine (John Lennon), Dream On (Aerosmith), Once Upon A Dream (Snow White), Ever After, I'm a Believer from Shrek

Games/ fun: Make a miniature storybook and get guests to finish the fairytale. Play party games with a fairytale theme such as kiss the frog (cutout), crown a princess or wand a wizard. Organise a treasure hunt.

Costume ideas: Couples dress as Beauty and the Beast, Red Riding Hood and the Wolf, Goldilocks and a bear, singles can dress as their favorite character, Pinocchio, Cinderella, Prince Charming, Puss in boots, Queen of hearts, Rapunzel, Alice in Wonderland and the Mad Hatter. More Ideas…

Hero's & Villains

Superhero comics and movies are usually eye catching with lots of color. Use food coloring and lollies to make your food just as colorful. Print out superhero posters to hang on the walls. You can also use wanted posters to capture the villains feel. Don't be shy about using handcuffs on any villains who show. When you send out your invitations print them as comic book covers. Use speech bubbles as decorations around the room. Guests can pose next to them during the night. It should make for some great photos from the evening. Lines such as Bam! Pow! And Shazam! are fun possibilities.

Food/ Drinks: For fun label your food such chocolate cake 'for super strength", punch 'for x-ray vision" and cookies 'for super size". Make some hero sandwiches. Drinks could be superman sling, Green Goblin cordial and Powerade punch.

Music: Play Super Hero theme music and let guest dance or practice their best Super Hero moves.

Games/ fun: Play games dividing guests into good and evil teams. Set up a range of fun activities to test guest's super abilities. Blindfold them and get them to guess objects by using another super sense such as touch, feel or smell. You can make a great looking 'bomb" for your event. The villain can hide it and your guests have to dismantle or disarm the bomb by a certain time to save the city.

Costume ideas: Dress in spandex, with cape, gloves and mask and be your own villain or hero. Other ideas include Jesus, Mother Teresa, Superman, Catwoman, Mary Poppins, The Devil, Hannibal Lecter, Darth Vader, Harry Potter, Batman, Buffy, Hulk, Lara Croft, Matrix, Star Wars and Astronauts. More Ideas…

About Dale: Dale is the owner of costume hire shop Creative Costumes in Prahran, Melbourne. www.creativecostumes.com.au