Dr Flavia Fayet-Moore New Data Bowls Over Sugar Spin Interview
A first-ever scientific analysis of different types of breakfast cereals and their impact on the health of Australians has found positive benefits for body weight and nutrition, regardless of the type of cereal and its sugar content.

The new analysis of Australian Bureau of Statistics (ABS) data from the Australian Health Survey (AHS) found that when compared to people who ate other breakfasts, Australians who ate breakfast cereals had:
the same daily energy intake (kilojoules) but significantly higher intakes of iron, calcium, fibre, folate and magnesium;
lower intakes of sodium; and
were more likely to meet nutrient needs.

The research also found that adults who ate breakfast cereals had slimmer waists and were more likely to be a healthy weight than people who ate other breakfasts.

Dr Flavia Fayet-Moore, Director of Nutrition Research Australia led the analysis and said the results will challenge perceptions about breakfast cereals.

'This is the first time we have Australian data on the health impacts of different types of breakfast cereals. It shows consistent positive benefits regardless of whether Australians ate ready-to-eat cereals, muesli or oats and whether the cereals were minimally pre-sweetened (less than 15g sugar/100g) or pre-sweetened breakfast cereal (15g sugar/100g or more)."

'It's a result that even surprised us," said Dr Fayet-Moore.

According to the ABS data, total sugars in breakfast cereals account for less than two per cent of total energy (kilojoules) in the diets of Australians who consume it.

'Our analysis of Australian data adds to the large body of evidence that breakfast cereals make an important contribution to nutrient intakes, particularly for dietary fibre, calcium and iron- nutrients of which Australians are not getting enough."

'While more than 80% of breakfast cereal consumers had milk at breakfast, adding significantly to the nutritional quality of the meal, one of the most interesting findings in these data is the amount of nutrients that come from the breakfast cereal itself," said Dr Fayet-Moore. 'For instance, breakfast cereals were a large contributor of cereal fibre in the diet, which is particularly essential for gut health and preventing chronic diseases."

Unfortunately, there has been a significant drop in consumption of core grain foods among Australians, largely driven by weight loss fads.

'Australians need to be cautious of misinformation to ensure they make smart choices for good health," said Dr Fayet-Moore. 'It is important they choose nutrient-dense breakfast cereals and take advantage of one of the most significant sources of cereal fibre in our diet."

There are also new data on the nutritional quality of breakfast cereals in Australia following a recent audit of the category conducted by the Grains & Legumes Nutrition Council (GLNC).

'The nutrition credentials of the Australian breakfast cereal category are impressive. There are more than 420 breakfast cereals for Australians to choose from. More than half carry the Health Star Rating and the majority (82 per cent) are rated 4-5 stars,' said Chris Cashman, GLNC's Nutrition Program Manager.

'The data also confirms the important role of the breakfast cereal category as a leading source of whole grains and dietary fibre in the Australian diet – with 60% of breakfast cereals classified as high in whole grains and 45% high in fibre."

The GLNC audit revealed that 95% of the category meets the Australian government's benchmark for sodium set at 400mg per 100g or less and the majority of breakfast cereals in Australia (63%) have less than two teaspoons of total sugars in a 40g serve.

'While we do need to be mindful of overall sugars intake, Australians shouldn't let an obsession with sugars turn them away from nutrient-rich core grain foods like breakfast cereals," added Mr Cashman.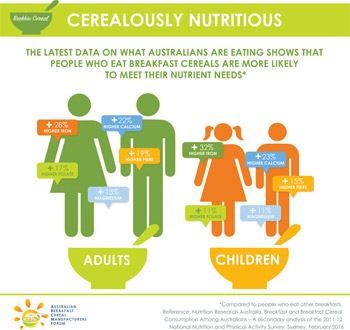 Dietitians Association of Australia spokesperson, Lisa Renn, APD explains that this is one of the most common concerns from clients she sees in her practice.

'People are confused; so often we see Australians limiting nutritious foods because they are concerned about single nutrients like sugar. It's our role as health professionals to guide them through health information (and misinformation) to reassure them that nutrient dense foods such as breakfast cereals are good choices for them and their families," said Ms Renn.

The new data was launched on 19 May 2016 at the Dietitians Association of Australia National Conference. A summary report -Bowled Over At Breakfast: New Australian data on breakfast cereal types and their impact on nutrient intake and body weight' is now available at www.cereal4brekkie.org.au

Nutrition Research Australia's analysis was funded by a research grant from the Australian Breakfast Cereal Manufacturers Forum (ABCMF).



Interview with Dr Flavia Fayet-Moore, Director Nutrition Research Australia
Question: What does the new data show us in regards to sugar at breakfast time?

Dr Flavia Fayet-Moore: These new data paint a broader picture of what Australians are eating for breakfast and how breakfast choice relates to health outcomes. The research showed that breakfast cereal, irrespective of type or sugar content of the cereal, contributed many more nutrients to the diet than having another breakfast.

We found that about half of breakfast consumers had breakfast cereal and the other half didn't. Those who didn't were having primarily bread for breakfast. We looked a what effect breakfast choice had on daily energy (kilojoules), nutrients – including sugar but also micronutrients such as iron, folate and calcium – as well as their likelihood to meet nutrient targets.

Those who chose breakfast cereals had a more nutritious diet, with significantly higher fibre and key micronutrients than those who had a non-cereal breakfast. Those who had breakfast cereal had 2.5 teaspoons more total sugars across the day– not added sugars – than those who ate a non-cereal breakfast, which was mostly bread-based and lower in nutrients.


Question: Were you surprised by this data?

Dr Flavia Fayet-Moore: There were certainly some surprising elements in the data. For example; we found no difference in daily nutrient intakes when looking at the the sugar content of the breakfast cereal – and very small differences in nutrients across the day whether the cereal was ready- to-eat cereal, muesli or porridge. However, most Australians (60%) had a breakfast cereal that was minimally pre-sweetened and its contribution to total sugars was only 4%; the most popular type of cereal was also ready-to-eat.

We knew breakfast cereals made a significant nutrient contribution to Australian diets, so these new data reinforces this and provides statistical comparisons to the most common other breakfast Australians were having. To give a few examples, we found Australian adults that ate breakfast cereal had 19% more fibre, 28% more iron, 17% more folate, 22% more calcium and 13% more magnesium, with 13% less sodium and 7% less saturated fat than those who ate other breakfasts.


Question: Why do you believe those who have a little sugar with their grains at breakfast are actually slimmer and have more nutritious diets than those who don't?

Dr Flavia Fayet-Moore: This isn't just a belief – it's based on our research! Adults who were breakfast cereal consumers not only had lower mean body mass index, they were more likely to be of a normal weight and had on average, a 2cm lower waist size.

This is not to say that if you simply start eating breakfast cereals they will make you slimmer. It is however an association we found in the study and can mean that those who eat breakfast cereals could have a healthier lifestyle. The key take-out from the research is that breakfast cereal is nutrient dense and consumed with milk, much more so than the other most common option for Australians, which was bread with margarine.


Question: How much is a -little sugar'?

Dr Flavia Fayet-Moore: It's all relative to your total diet and individual preferences. The cut-off we used for a -minimally pre-sweetened cereal' in our research was a conservative cut-off of <15% sugars. Most Australians were consuming minimally pre-sweetened cereals, and the average sugar contribution of those cereals was 4%. The research also demonstrated the people who had different types of breakfast cereal all had similar daily sugar intakes. While we do need to be mindful of how much sugar we eat in the day, we also need to understand the sources and type of sugars in our diets and how these add up in the day. Perhaps the banana bread or muffin at morning tea is more of a concern to total sugars and nutrients in the diet than a nutrient-dense breakfast cereal. Ultimately, if you are eating a nutrient dense food with a small amount of sugar in the morning, this is a much better option than a less nutritious breakfast or nothing at all.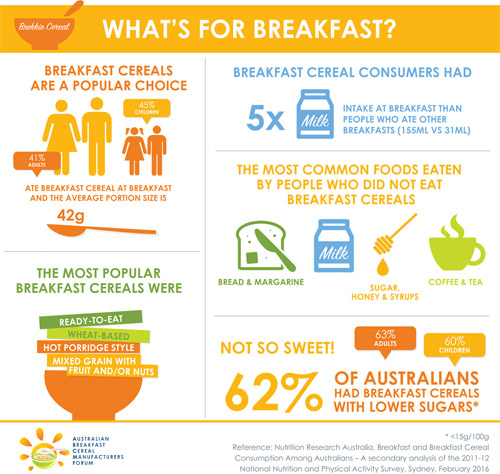 Question: How much sugar should we be looking for in our cereals?

Dr Flavia Fayet-Moore: We need to move the focus away from the sugar content of the cereal since we know the contribution to added sugars in the Australian diet is so small (3%). Focus on choosing a cereal with the best nutritional profile. Breakfast cereal is a great source of cereal fibre, which is very important for gut health. So you want to look for a breakfast cereal that has the highest fibre and nutrients, but the lowest sugar, and still be enjoyable to your taste buds- otherwise there is no point in choosing a cereal that you won't be eating.


Question: What inspired you to begin this research?

Dr Flavia Fayet-Moore: The vast amount of research from around the world that show breakfast cereals can make huge contributions of key nutrients to the diets. I love micronutrient research, and specifically, finding dietary patterns that are associated with the best nutritional profiles. We didn't' have any Australia data to compare to the world research. Having Australian data is important, so we can understand what Australians are actually eating and how it impacts their health.


Question: What should we be eating for breakfast?

Dr Flavia Fayet-Moore: Breakfast is an important meal and what we eat really depends on personal preference. It's important to think about breakfast as an opportunity to maximize your nutritional intake.

Cereal fibre is important for gut health and breakfast is the perfect opportunity to get a good amount of this – which can be harder throughout the day. Cereal fibre is important for chronic disease prevention and is very different to vegetable fibre.

Our research found breakfast cereal eaters also consumed five times more milk with their breakfast, which again helped reach several micronutrient targets.

One of my favourite breakfasts is a bircher muesli with some nuts, berries, soaked in millk overnight, and it's ready to go in the morning and keeps for a couple of days! I do like to mix it up however; if you have the time, having a wholegrain bread with some avocado, mushrooms, tomato, wilted spinach and 2 eggs can also be a very nutrient dense breakfast choice and would help Australians increase their vegetable intakes, with only 2% meeting their veggie targets.


Question: Can you please explain the Health Star Rating?

Dr Flavia Fayet-Moore: The Health Star Rating is an Australian government initiative to help Australians make healthier choices when it comes to packaged goods. Unfortunately, this is not my area of expertise – head to healthstarrating.gov.au for all the info.


Question: What do we need to look for regarding the Health Star Rating?

Dr Flavia Fayet-Moore: The simple answer is the more stars the better, however once again this is not my area. The government Health Star Rating website is the best source of information about this program - healthstarrating.gov.au.


Interview by Brooke Hunter