It's been a busy year for Australia's #1 bestselling cookbook author with the launch of a brand-new cookbook series and house and cookware product line, as well as continued success as a leading magazine publisher and newspaper columnist. In addition, Donna Hay received a special honor at this year's Gourmand World Cookbook Awards in Beijing, China. As a result of her publishing excellence and growing international popularity, the Gourmand World Cookbook Awards recognised Hay as one of "The Magnificent Seven: The Best Cookbook Authors in the World." This incredible achievement sets Hay at the top of the 24,000 food and wine books produced every year.
Cracking the international barrier, Donna Hay has partnered with leading U.K. supermarket chain Sainsbury's, which will exclusively stock her donna hay home range in 113 stores. It will also be selling Donna Hay Simple Essentials titles; Chicken, Chocolate, Salads + Vegetables & Fruits .
After the successful release of the first two cookbooks in her new simple essentials series, chicken and chocolate earlier this year, Australias number one cookbook has released two new must-have titles in the collection: salads + vegetables and fruit. And they make perfect gifts all year round.
As beautiful as they are practical, each title features 60 clever, every day recipes that make special food simple.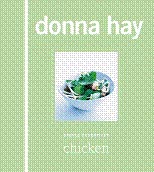 simple essentials chicken
is the only cookbook youll ever need to elevate your everyday food into a flavoursome meal. Each recipe is easy to prepare and designed to bring out a host of flavours to satisfy any taste, including hearty classics and clever twists on old favourites. From roast chicken and hearty chicken pie to crunchy chicken salad with honey mustard dressing, every recipe is a tribute to the versatility of chicken.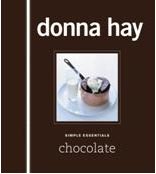 simple essentials chocolate
is full of rich chocolatey goodness and the ultimate guide to creating the perfect treat to satisfy any chocoholics heart. From childhood favourites like caramel slice and chocolate chip cookies to Donnas easy self-saucing puddings and velvety raspberry spiked brownies, every page offers a sweet treat for dessert, afternoon tea or a indulgent midnight snack.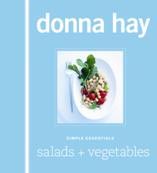 simple essentials salads + vegetables
is the ultimate guide to preparing seasonal vegetable dishes with big flavours. From salad and vegetable starters and sides like Caesar salad to main meals that include vegetable lasagne and chilli, rocket and parmesan pasta every dish is sure to be enjoyed by veggie and meat lovers alike.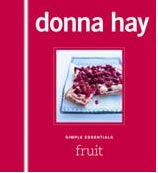 simple essentials fruit
is a beautiful collection of easy-to-prepare breakfasts, desserts, pies and cakes that make the most out of sweet fruit flavours. From blueberry banana pancakes and nectarine French toast to passionfruit soufflé and almond pear tart, every page offers a sweet delight for all occasions whether youre whipping up a quick weeknight dessert or an indulgent weekend treat.
Donna Hay is Australias leading food stylist and bestselling cookbook author. Her food, recipes and styling have set the benchmark for food publishing worldwide and inspired a whole new generation of cooks. Donna is also the editor-in-chief of donna hay magazine and has her own successful homewares brand donna hay home available in David Jones in Australia and Sainsburys supermarkets in the UK.
Donna Hay simple essentials chicken
Donna Hay simple essentials chocolate
Donna Hay simple essentials salads + vegetables
Donna Hay simple essentials fruit
RRP: $24.99 each