Diva Dinners - Prepared by us, homemade by you.

If you are tired of trying to be a supermum...become a Dinner Diva instead!

Visit Dinnerdivas and choose from delicious main meals that each serve four to six people.
You can choose a Diva Dozen or a Diva Half-dozen, then pick a delivery time that suits. Then come in for your session and have fun assembling 12 family meals in about two hours for around $4 per serve. Take your dinners home and put them in the freezer - ready for you to cook and enjoy over the next month.
Dinner Divas is an innovative concept in meal preparation that eliminates menu planning, shopping and prep-work and cleanup by moving the meal asembly process out of your kitchen and into our specially equipped store.
Our goal is to help you create Fast, Fresh, and Fabulous Family Meals. We have found memories of the family sitting down around the dinner table together when we were growing up and we want to help busy Australian families (of every size and shape) spend more time together while eating healthy and delicious meals. We know how hard it is to find the time to cook healthy meals for your family - so we've done the shopping, the chopping and all the prep work so that you can have fun putting together meals that you know your family will enjoy. We have a focus on healthy food, with a few indulgences along the way.
Fast and Efficient
Spend less than 2 hours on our premises and leave with 12 family-sized main meals that you assemble yourself. You don't have to worry about menu planning or factor in the grocery shopping. There's no chopping, slicing or dicing. And there's no cleaning up! You'll have more time to spend with your family.
Healthy and Home-made
Dinner Divas dinners are made with nutritious, delicious 100% real food that's delivered daily by some of Australia's most respected suppliers. It's not laden with perservatives or overly processed like fast food or ready-made convenience foods. Our goal is that the majority of our meals contain less than 30% fat. And because these meals are asembled by you, you can skip an ingredient or add more spice to cater to your family's taste.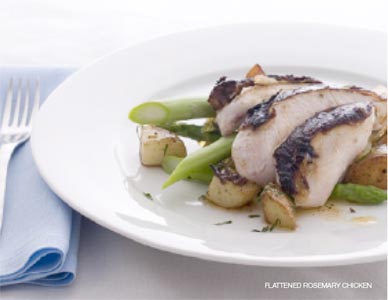 Easy and Affordable
Placing your order online coudn't be easier. Or you can call Dinner Divas on 02 9629 4660. Once you arrive at Diva Central, our step-by-step instructions make putting together 12 dinners a piece of cake (and we'll offer you some of that too). We pass wholesale savings onto you, making Dinner Divas meals a more cost-effective option than takeaway or restaurants!
www.dinnerdivas.com.au
Private Parties
Get a group of 10 or more friends together and you can book a private session at a time that suits you. The party organiser receives $10 off their order for every person who attends or we will donate $10 to the organisation of your choice. What a great way to raise funds for churches, schools, sport teams or other community groups.
New Mothers
For the first two months after your child's birth, we will assemble your meals at no extra charge. Just order you meals and then let us know when you'd like to pick them up.
Where to find Dinner Divas
Located within Norwest Business Park in the suburb of Bella Vista. From Norwest Blvd turn into Lexington Drive. Lexington Corporate is located on the left at the roundabout at Meridain Place, about 500m past Bunnings. Come up the driveway and you'll find plenty of parking right out the front of Dinner Divas. Opposite Fitness First.
Diva Delicious
Here's a sample of some of the delicious and healthy meals Dinner Diva offer. Menus change monthly.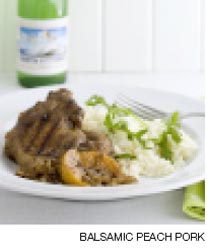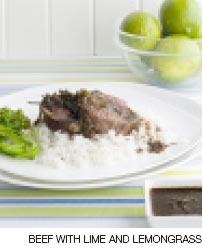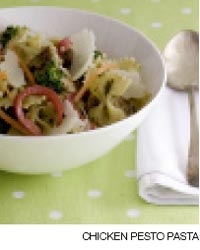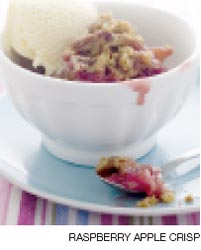 Balsamic Peach Port
You can never go wrong with fruit and pork. Balsamic vinegar, peaches, chilli powder and ginger give this port a unique flavour. Serve with buttered noodles and a crisp salad.
Beef with Lime and Lemongrass
Citrus flavours combine with ginger to create delicious sauce for a whole fillet of beef. Serve with rice (included) and steamed greens.
Flattened Rosemary Chicken
A simple dish with a whole chicken butterflied and marinated with lemon juice, olive oil and fresh aromatic rosemary. Serve with smal roasted potatoes, long beans and a dry chardonnay, this is healthy and simple yet elegant.
Chicken Pesto Pasta
This light pasta dish uses all the freshness of the garden. Bowtie pasta, fresh vegetables, chicken and basil pesto tossed together for this quick, healthy, one-dish meal.
Maple Glazed Salmon
This heart-healthy fish gets a kick from a spice rub which is then tamed by the sweetness of pure maple syrup...just a drizzle. It grills up quickly and is delicious and good for you too.
Raspberry Apple Crisp
Apples, raspberries, butter and cinnamon meld together for this decadent dessert. Topped with a crisp brown sugar and crunchy biscuit crust, serve up with vanilla ice cream - the perfect end to a great meal.
www.dinnerdivas.com.au