Interview with Daria Romanos, Public Relations Manager, TerraCycle Australia & New Zealand
Question: What is TerraCycle?

Daria Romanos: TerraCycle is an innovative waste management company that specializes in recycling 'non-recyclable' waste - things that aren't accepted in normal kerbside collections - and turns them into new products such as garden beds, park benches, playgrounds and outdoor classrooms. We operate in 21 countries around the world, offering free national recycling programs that are manufacturer funded. Participating in these programs is as easy as signing up on our website and collecting from home or dropping items off to any of the locations listen on our public drop off network. Through recycling, collectors also earn a donation to the school or charity of their choice. To date, TerraCycle has diverted 7.7 billion pieces of waste from landfill and incineration and raised $45 million for schools and charities worldwide.


Question: How does TerraCycle turn trash into treasure?

Daria Romanos: TerraCycle turns trash into treasure by collecting 'non-recyclable' items that would normally be sent to landfill and recycling them into new products to be used for many generations. For example, we collect beauty products that we turned into a playground that was won by a Gold Coast school in 2017. We also turn oral care products into community garden sets (garden beds and benches) through the Colgate Community Garden Challenge. Our latest innovation involves designing recycled outdoor classrooms made with recycled materials which 5 schools around the country will win. How we do this is by collecting the waste, sorting it, shredding it, washing it and melting it down into plastic pellets which can be remoulded into the new products or 'treasure'.


Question: Can you tell us about your latest free recycling program?

Daria Romanos: The Dish and Air Care Recycling Program is the latest free recycling program we have launched in Australia. Through this program, Australians can recycle all brands of dishwashing liquid bottles and caps, dishwashing tablet flexible packaging (including snap locks and zip locks), air freshener aerosol cans and spray bottles (including spray and trigger heads), plug-in air fresheners and refills, as well as clip-on car fresheners, refills and outer product packaging. For each piece of waste sent to TerraCycle, collectors earn a $0.02 donation toward their nominated school or non-profit organisation. To learn more and join the program, head to the TerraCycle website (www.terracycle.com.au).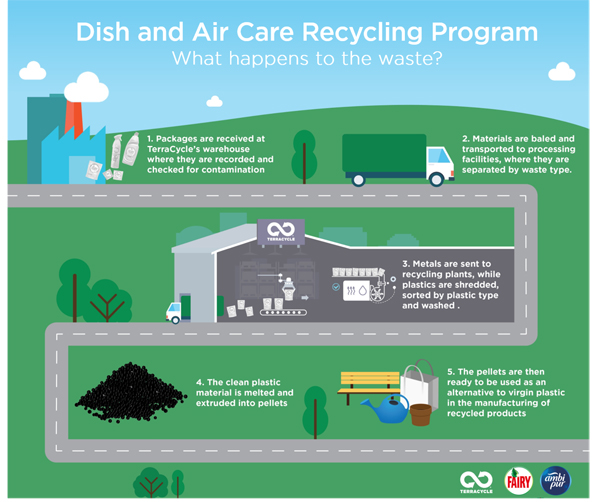 Question: Can you tell us about the TerraCycle competition where five schools can win a recycled outdoor classroom?

Daria Romanos: The outdoor classroom promotion was run during the month of May and the winners are yet to be announced. There will be 5 winners from 5 states all around Australia who can nominate any school they wish to receive the prize. The promotion was run as part of our Dish and Air Care Recycling Program with brands Fairy and Ambi Pur, in order to celebrate the launch and to promote the importance of recycling these items.

For anyone wishing to know if we have other competitions running at the moment, please find information on the Colgate Community garden Challenge on our website.


Question: What materials do you recycle to make an outdoor classroom?

Daria Romanos: The outdoor classrooms are made with recycled plastic from items such as milk bottles, as the Dish and Air Care program is fairly new and we don't have enough items yet to create new products from. Watch this space!


Question: How can Australians support TerraCycle?

Daria Romanos: Australians can help us by signing up to our programs, contacting local media to get the TerraCycle story out there, promoting us on social media, petitioning more brands to come up with a recycling solution for their products, and participating in our programs to divert as much waste from landfill as possible.


Question: What can we do at home, from today, to increase our recycling habits?

Daria Romanos: I would definitely recommend educating yourself on what can and cannot be recycled! Check out our website to see what you can recycle through our programs and have a search for more programs offering similar recycling initiatives. You'd be surprised what is out there!


Interview by Brooke Hunter