Can You Take up the Ration Challenge, 16-23 June?
Schoolchildren, parents and teachers are being invited to eat like a refugee during Refugee Week (16-23 June), get sponsored and raise much-needed funds to help children and families threatened by conflict and disaster around the world.
The Ration Challenge is a powerful and thought-provoking fundraising initiative that empowers Australians to stand in solidarity with those who are living as refugees in other countries. Those who register will receive a ration pack in the mail, containing the same rations, in the same quantities, as those distributed to Syrian refugees in camps in Jordan – just a small amount of rice, beans, chickpeas, lentils, fish, oil and flour.
"By eating what a refugee eats, children are stepping into the shoes of another person in another country, and experiencing just one of the many struggles that refugees face on a daily basis," said Karen McGrath, co-founder of Act for Peace, the humanitarian aid agency that initiated the Challenge.
The Ration Challenge was established in 2014 and since then has captured the hearts and minds of more than 40,000 people who have signed up to take part. 92 Australian schools signed up for the schools program when it piloted for the first time last year, and teachers and students raised more than $315,000.
"We received such a great response from schools last year, which showed that young Australians are prepared to do what it takes to help others in their time of need. This year we are hoping even more schools will come on board to continue to show refugees that we stand with them," said Karen.
The money raised from the Ration Challenge will go towards helping refugees to receive the food, medicine and support they need to re-build their lives, and support other conflict and disaster affected families around the world.
"We encourage all teachers, parents and children to get involved," added Karen McGrath.
Fundraising Good for Kids Mental and Emotional Development
Child psychologist, Lisa Ford from the Resilience Co., said that fundraising initiatives such as these are good for kids;
"Sitting in a classroom and learning about life in other countries is an important part of a child's education, but when a child steps out of their comfort zone and has a subjective experience, they move from being a passive learner to an active participant, which fosters deep understanding on a cognitive and emotional level."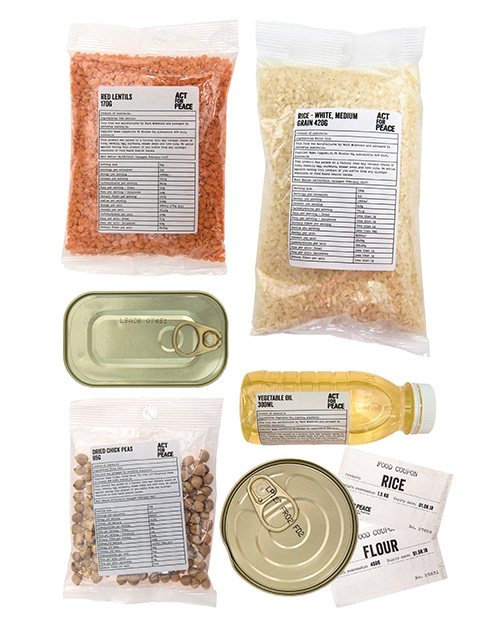 Here, Lisa shares five key benefits of children participating in a fundraising initiative:
Empathy - participating in altruistic activities builds awareness of others and empathy. A lived experience, such as The Ration Challenge, builds true empathy because children don't have to guess how it might feel for someone else. Through experience they can start to relate and understand, and they develop respect for others who experience even greater challenges long term. It can also help children gain perspective and begin to appreciate their own often comfortable way of life.
Happiness - as well as the obvious benefits of creating awareness and raising money, helping someone else can have huge benefits for emotional wellbeing, boosting confidence and sense of purpose. By taking part, children feel they are contributing towards making our world a better place. We know that a dramatic decline in young people's sense of control over their fate is one of the strongest correlating factors with rising anxiety levels. By joining together with other young people, children can feel that collectively, they have some control by making an impact and changing things for the better.
Support - it can help strengthen social networks. Working towards a shared purpose is powerful in bringing people together. The shared experience with other participants can strengthen existing friendships, as well as provide opportunities for developing new ones. It also promotes a sense of community and belonging, which we know is vital for young people's wellbeing.
Resilience - challenges build resilience in children. Parents of children undertaking something such as the Ration Challenge might be thinking; "But they'll be so hungry, and it will be so hard!" Yes, but experiencing some low-level everyday struggles can actually benefit children. Learning to overcome challenges can help build those pathways in the brain they need to negotiate larger stressors in life which stands them in good stead for adulthood. Overcoming low-level struggle, when they have support behind them, can help develop a whole range of problem solving and emotion regulation skills.
Resourcefulness – challenges are an opportunity for children to think differently. We know that scarcity sparks resourcefulness. When they have less, children develop creativity and they have to activate their resources to adapt what they have, or to find a different way.
The Ration Challenge is open to schools, families, organisations and individuals. To register, visit: http://rationchallenge.org.au/schools. The Resilience Co is a child development consulting and education service. For further information, visit: https://www.theresilienceco.com/