Danielle Tres Oticon Interview
It is now possible to program hearing aids to talk directly with doorbells, smoke detectors and baby alarms. Hearing aid manufacturer Oticon introduces the first hearing aid that connects to and interacts with the Internet, Oticon Opn™.

The Oticon Opn gives way to a more innovative phase where devices that people depend on for their health and safety are melded for ease, convenience and safety for those who are hearing impaired. Oticon utilises project ON, a new technology that connects the company's latestgeneration of hearing aids - with the online service IfThisThenThat (ifttt.com).

With a state-of-the-art wireless inbuilt communication system, users can easily connect to a range of IFTTT-enabled devices used in everyday life such as door bells, iPhone, domestic lighting and a variety of home appliances allowing the user better management and assisted safety within their lives through sound.

'People with hearing loss depend on their hearing aid," says James Battersby, Managing Director of Oticon Australia and New Zealand, 'A dead battery is much more than an inconvenience for the hearing impaired. An Internet of Things (IoT) hearing aid can address this issue by sending a text message to you when the battery is running alerting you to plug in and charge up."

'Oticon's revolutionary technology makes life easier and safer for people with hearing aids – a gentle ping in your hearing aid when the doorbell rings, an alert to a mother's hearing aid from the baby alarm when her baby is crying, or having your hearing aid know to automatically turn off the lights and turn down the heat when you leave the house are just some of the ways people with hearing loss can benefit from this type of technology."

Beyond the practical advantages, Oticon sees IoT-enablement as helping to redefine hearing aids as a more broadly functional wearable - a perception that can help chip away at the stigma still attached to hearing aids, especially important given that it is estimated by 2050 a quarter of all Australian's will suffer from hearing loss.

The Oticon Opn™ Hearing Aid will be available to view at Australia's first consumer Technology and Gadget Expo, alongside other leading technologies this June 25th – 26th 2016.

'This is a significant step forward in terms of hearing aid innovation," says Battersby, 'The hope is for people to see limitless possibilities for connection. We have moving beyond communicating within the healthcare space. We are stepping into new territory in the technology and gadget space – and this expo is the perfect fit. This will be the global launch direct to consumers of the world's first internet connected hearing aids, and is not only amazing but also incredibly useful technology."

For further information about the Oticon Opn™ visit the website here. Please see video here.



Interview with Danielle Tres, Audiologist and Oticon Expert
Question: What is Oticon Opn?

Danielle Tres: Oticon OpnTM is the world's first internet connected hearing aid that opens up a world of possibilities. It is now possible to program hearing aids to talk directly with doorbells, smoke detectors and baby alarms, via the online and app service, IfThisThenThat (ifttt.com).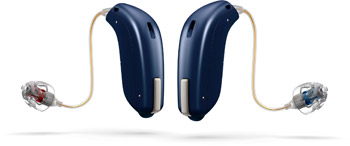 Question: Why is it important that a hearing aid connects to the internet?

Danielle Tres: With a state-of-the-art wireless inbuilt communication system, users can easily connect to a range of IFTTT-enabled devices used in everyday life such as door bells, iPhone, domestic lighting and a variety of home appliances allowing the user better management and assisted safety within their lives through sound.

People with hearing loss depend on their hearing aid. A dead battery is much more than an inconvenience for the hearing impaired. An Internet of Things (IoT) hearing aid can address this issue by sending a text message to you when the battery is running alerting you to plug in and charge up.

Oticon's revolutionary technology makes life easier and safer for people with hearing aids - a gentle ping in your hearing aid when the doorbell rings, an alert to a mother's hearing aid from the baby alarm when her baby is crying, or having your hearing aid know to automatically turn off the lights and turn down the heat when you leave the house are just some of the ways people with hearing loss can benefit from this type of technology.

Beyond the practical advantages, Oticon sees IoT-enablement as helping to redefine hearing aids as a more broadly functional wearable - a perception that can help chip away at the stigma still attached to hearing aids, especially important given that it is estimated by 2050 a quarter of all Australian's will suffer from hearing loss.


Question: What is Oticon Opn capable of, that other hearing aids, aren't?

Danielle Tres: Oticon now introduces a new paradigm within hearing care. Directionality as we know it is now a thing of the past and Oticon Opn is the very first hearing aid that effectively helps users cope with complex listening environments (and handle multiple speakers simultaneously).

For people with a hearing loss, speech understanding in complex environments, like restaurants and meetings, is very challenging because the sound sources are more difficult to hear, to locate and to separate from each other. Clients get exhausted from trying to understand what is going on in the environment and the result can be withdrawal. The consequence is that people with untreated hearing loss experience faster cognitive decline.

With Oticon Opn, we take a fundamental step forward in improving speech understanding in complex environments while, at the same time preserving mental energy.

We could handle speech in noise effectively and that the hearing aid could support the brain it it's natural process of making sense of sound. To the hearing aid user, this could mean significantly better speech understanding in complex and noisy environments. Listening would be much more natural and effortless and it would free up resources to respond and remember.

Also Oticon Opn is the world's first internet connected hearing aid, making it possible for the to talk directly with doorbells, smoke detectors and baby alarms, via the online and app service, IfThisThenThat.


Question: How is Oticon Opn fitted?

Danielle Tres: Oticon Opn must be fitted by a trained Hearing Care Professional, as the fitting process is personalized to the client's needs. Even though two people may have the same level of hearing loss, they may prefer different settings in their hearing instruments. It is very important that individual preferences are taken into account when fitting a hearing aid as sound is very personal.


Question: How is the Oticon Opn charged?

Danielle Tres: Oticon Opn operates on size 312 batteries.


Question: What symptoms should we look out for regarding hearing loss?

Danielle Tres: Hearing loss can be gradual or sudden, and its incidence increases as we get older. There are social signs that can indicate hearing loss, such as asking for people to repeat themselves, having difficulty following group conversations in noisy environments, responding inappropriately in conversations and having the TV or radio up too loud. There are also emotional signs such as feeling tired or stressed from straining to listen, feeling embarrassed or self-conscious when meeting new people and withdrawal from social situations that were once enjoyed.


Question: Where is the Oticon Opn available?

Danielle Tres: The Oticon Opn™ Hearing Aid will be available to view first at Australia's first consumer Technology and Gadget Expo, this June 25th – 26th 2016.


Interview by Brooke Hunter