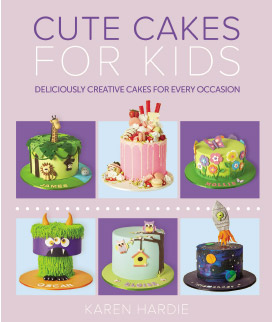 Cute Cakes for Kids
Deliciously Creative Cakes for Every Occasion
By Karen Hardie

This collectible cake cookbook is a show-stopping collection of birthday cake inspiration for children's birthday parties – that will be utilised year after year.

Professional cake decorator Karen Hardie draws on her experience and know-how as a cake decorating master and instructor to guide the reader through the basic skills required to create simple birthday cake masterpieces as well as challenging the more experienced cake creators with beautiful and inspirational works of art.

Making a birthday cake shouldn't be stressful. This book takes the stress away, with easy to follow, step-by-step instructions on how to create great looking cakes to be proud of.

All of the cakes in this book have been designed with the mum, the dad, and the grandma in mind. The ones who can bake cakes, but now want to decorate them like professionals.
This book should inspire its readers to get creative and have fun!
Cute Cakes for Kids
New Holland Publishers
RRP $24.99
www.newhollandpublishers.com