Australians Eggs is sharing a delicious NEW pancake recipe that will see Aussies everywhere serve the best pancakes on the day.

Pancakes are a classic home-made dish that Aussies have been enjoying for years, but they are also a recipe that many find tricky to get quite right. Thankfully for home cooks all over the country, these classic recipes have been crafted to be as simple as they are delicious, light and fluffy, and, with both sweet and savoury toppings, they can be served for a wide range of meals and occasions (not just Pancake Day).

Preparation time: 10 mins
Cooking time: 20 mins
Makes 12

Ingredients
1 ½ cups plain flour
1 tablespoon baking powder
1 tablespoon caster sugar
3 eggs
1 cup milk
50g unsalted butter, melted
1 teaspoon vanilla extract (optional)
Maple syrup, to serve
Blueberries, to serve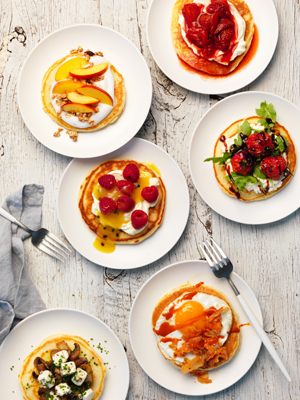 Method
In a large bowl, whisk the flour baking powder, sugar and a pinch of salt together. In a large jug whisk eggs, milk, butter and vanilla, if using. Make a well in the centre of the dry ingredients and whisk in milk mixture to make a smooth batter.
Heat a large, lightly greased non-stick frying pan over medium heat. Working in batches of 3, pour ¼ cups of batter into the pan. Cook pancakes for 1-2 minutes, until bubbles break on the surface and underside is golden brown. Flip over and cook for 1 minute.
Stack and serve the pancakes with maple syrup and blueberries. Or choose from one of our sweet and savoury topping ideas.

Pimp your pancakes with these 6 Sweet & Savoury Pancake Toppings

• Coconut yoghurt, granola and nectarine
• Mascarpone, passionfruit curd and raspberries
• Cream cheese and strawberry compote
• Roast cherry tomatoes, ricotta, baby rocket and balsamic glaze
• Garlic mushrooms, Persian fetta and chives
• Kimchi, fried egg and chilli sauce

Watch the online recipe and instructional video available on the Australian Eggs website.