Chang Beer
Thailand's award-winning premium beer has gained a loyal following from discerning beer drinkers since arriving on Australian shores, and is now finding its way to the foodie's kitchen - both as a complement and key ingredient in Thai and Asian-inspired dishes- and we wanted to bring a bit of the Chang Beer experience to you!
Produced in a state-of-the-art brewery located in Wang, Noi, Thailand, Chang Beer is brewed using pure water drawn from deep wells. This brewing process creates a full-bodied beer and gives Chang its distinctive citrus notes, perfectly complementing the exotic flavours and textures of Thai cuisine- traditionally as an accompaniment and now as a key ingredient in recipes.
Chang Beer is a 100% malt beer, Chang is the Thai word for elephant, an animal that has cultural and historical significance to Thailand, which is why the logo for Chang Beer features two elephants facing one another.
The distinctive rich, golden honey and colour and complex aromas- a smokey peaty blend of sweet, green apples and full-bodied vanilla- are precursors to the well-balanced and mild maltiness which combines with a hoppy character to create a full-boded beer with unique citrus notes.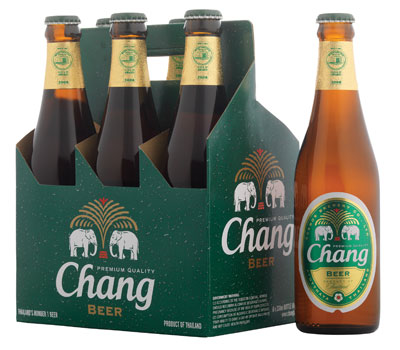 Woolworths Liquor Group National Marketing Manager, Matt Cole, says Chang Beer has already established a solid foothold among premium beer drinkers in Australia and he encourages foodies to experiment with it as a recipe ingredient or complement to Thai food.
"Chang Beer is a natural pairing for Thai cuisine- its full-bodied characteristics complement the vibrancy of the different flavours used in Thai dishes. Chang is also great when used in recipes. In fact, we've created a number of Thai recipes featuring Chang Beer as a key ingredient, including Chang steamed mussels with lemongrass and chilli and Chang tempura of scampi and squid."
Renowned Sydney Thai chef and author Kham Signavong, has created his own Thai recipes featuring Chang Beer and encourages food lovers to follow his lead and get cooking with Chang.
"I love experimenting with ingredients and developing new Thai dishes for my friends and family to enjoy. Chang Beer is easy to cook with and its flavour marries well with the fresh herbs and chillies found in Thai cuisine. Amateur chefs can use one of the Chang Beer recipes, or do like me and create their very own dishes," says Kham.
A testament to its high quality, Chang Beer has received a number of high profile accolades from the international beverage community, including Australian International Beer Award medals in 2007 and 2009, a gold medal award in 2008 by the widely acclaimed Beverage Tasting Institute (BTI), and gold medals in 2008 and 2009 from the prestigious Monde Selection Burxelles (World Selection of Brussels).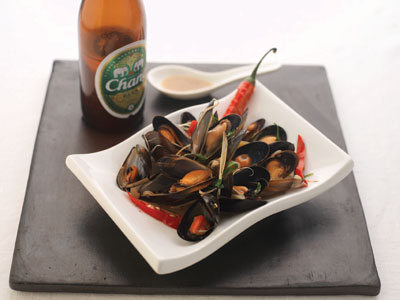 Chang Steamed Mussels with Lemongrass and ChilliIngredients
200g mussels (cleaned and bearded)
1 shallot (finely chopped)
1 stalk lemongrass (bruised and chopped)
1 garlic clove (crushed and chopped)
100mL Chang Beer
50mL Chicken stock
4 chillies (seeded and finely sliced)
1 handful coriander leaf (torn and chopped)
a little oil for frying
Method
1.Fry shallot, garlic and chillies in heavy saucepan in a low heat for 2-3 minutes.
2.Add lemongrass, beer and stock, bring to the boil for a couple of minutes.
3.Throw in the mussels, cover and steam until all the shells have fully opened.
4.Discard any that remain shut and garnish with plenty of fresh coriand.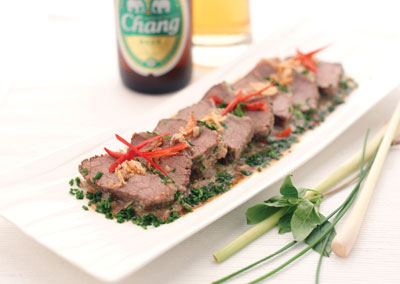 Spicy Coconut BeefIngredients
200g beef (topside or skirt cut into 2.5cm chunks)
2 shallots (sliced)
2 tbsp ginger (chopped fine)
2 garlic cloves (chopped fine)
2 lemongrass stalks
2 chillies (chopped)
½ cup thick coconut milk
3 limeleaves
2 tbsp dessicated coconut
1 tbsp palm sugar
1 tbsp fish sauce
2 tsp tamarind water
groundnut oil for frying
Method
1.Brown off beef in heavy saucepan.
2.Add shallots, ginger, lemongrass, chillis and garlic, fry for a few minutes before adding spices, coconut milk, fish sauce and tamarind water.
3.Cook uncovered on a medium heat for ½ an hour before adding remaining ingredients and simmering on a low heat for a further 1 and a ½ hours stirring often until the beef is tender and sauce has reduced to a dry consistency.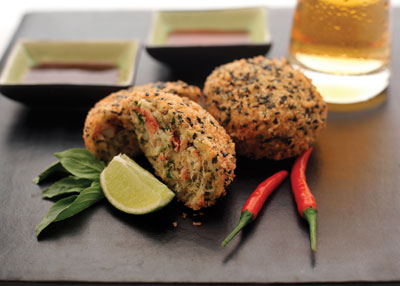 Sesame Crisp Thai CrabcakesIngredients
300g fresh cooked crab meat (white)
3 tbsp fish sauce
5 kaffir lime leaves (shredded)
5 tbsp chopped coriander
1 diced shallot
1 clove crushed garlic
1 lime juiced
1 egg whisked
Coating:
2 eggs whisked
100g breadcrumbs
100g sesame seeds
flour to dust
Method
1.Combine all ingredients
2.Form into 5cm balls. Roll in flour then egg wash.
3.Finally roll in breadcrumb sesame mix.
4.Shape into cakes and deeply fry for 2 minutes and remove when crisp and hot.
Review
: Chang is a fullbodied beer with a honey, wheat flavour and a sweet characteristic which makes it fabulous to cook with. The sophisticated amber coloured drink has no bitter after taste and is extremely refreshing and should be matched with red meat as it isn't fizzy or overly fermented. Overall Chang is a very good Asian beer with a robust taste.
Kham Signavong
is the executive chef at Arun Thia in Potts Point, Sydney, and the author of two cookbooks: Lemongrass and Sweet Basil: Traditional Thai Cuisine and Kham's sai mae nam. In his latest exploration of Thai cuisine, Kham pays homage to Chang Beer by highlighting how it complements the exotic tastes and textures of Thai cusine.
Chang Beer has 5% alcohol by volume (ABV).
Chang Beer can be purchased at over 1,200 liquor stores nationwide including BWS, Woolworths Liquor and Dan Murphy's outlets. To find out more about Chang Beer, go to
www.changbeer.com
. For recipe ideas featuring Chang Beer, visit
www.changbeer.com/goodfood
. The Chang Beer Thai Good Guide showcases modern and uncomplicated recipes that are firmly rooted in the Thai culinary tradition, and that are an excellent complement to Chang Beer's refreshing, authentic taste or that feature Chang as a key ingredient. Dishes include Chang steamed mussels with lemongrass and chilli and Chang tempura of scampi and squid.