Wiping Tears Helps WIRES Volunteer To Rebuild Their Home
Once more Jean and Nissy Nassif, Founders of Wiping Tears Charitable Foundation recently went on another challenging charitable journey through bushfire ravaged Yowrie.

Jean and Nissy took the 7-hour drive from Sydney to Yowrie on the 5th of February 2020, where they met Cathy and John Owen who lost their home and everything they owned in the recent bushfires. Through the kindness of Wiping Tears in conjunction with Toplace Construction, they are now able to rebuild their home and their lives.

John is a truck driver at a local quarry and Cathy is a volunteer worker at wildlife rescue charity WIRES. She volunteers as a coordinator for the macro pods of South East NSW, where she helps raise orphan joeys and takes care of injured wildlife before they are released back into the wild. Almost half a billion animals were killed in this summer's bushfires so rehabilitating the injured was incredibly important.

The couple both suffer from a number of health problems including high blood pressure, thyroid problems, asthma and rheumatoid arthritis.

As a means of temporary accommodation and more long-term accommodation for the animals, Toplace Construction will be building a shed converted into a one-bedroom apartment on the Owen's property. This is where the couple will get to have a bedroom, kitchen and a bathroom, while waiting for their destroyed home to be rebuilt, saving them from being homeless. Wiping Tears is helping the Owen's out of homelessness with a donation of $50,000 worth of materials towards, as well as hiring local businesses to build the new apartment.

When Nissy asked Cathy to tell her their tragic story on the day of the Yowrie firestorm on the 2nd of January, when they were evacuated, she burst into tears, recalling how she rescued three kangaroos. Sadly there was one that couldn't fit into the car and it still breaks her heart not knowing what happened to him.

Nissy Nassif, CEO/Director of Wiping Tears Charitable Foundation said: "So many of Australia's heroes have lost their own homes amidst this summer's tragic bushfires. When people like Cathy dedicate their lives to helping defenseless animals, it makes it even more heartbreaking to see what they have lost, so we wanted to help them to rebuild."

Cathy Owen commented: "We are so grateful to Wiping Tears and Toplace for everything they are doing for us. It's this sort of community spirit that Australia is so renowned for and we feel very blessed."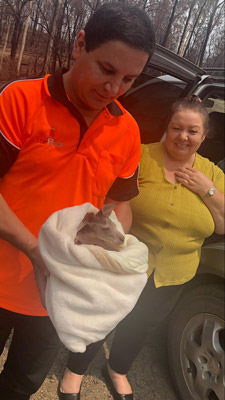 Interview with Cathy Owen
Question: Can you tell us about how the bushfires affected you and your family in January, this year? And, you were housing injured kangaroos at this time?

Cathy Owen: At the time of the fires on New Year's Eve we were housing eight orphan Eastern Grey Kangaroos. I had a friend come from Pambula to take four of them as they were too big to fit in the car for any length of time along with my chickens. My husband and I worked hard around the property trying to make it safe but when the fires came they were too big, too furious and too fast. We had no chance, so we left and headed for Cobargo. We left with just our little dog, a parrot and four little Eastern Greys kangaroo orphans and our goldfish.

We lost literally everything in the fires. It was frightening not knowing what we were going to do or where we were going to go or anything that comes after. Our lives were turned upside down. All of our memories of our home and the children growing up there, 20 years of our life just gone up in smoke. It's hard to imagine what had happened to us and so many others. The hardest part I think of losing our home is not having somewhere for our children to return to if something were to happen and they need to come home, because there's no home here for them anymore.


Question: How did the Wiping Tears Charitable Foundation help you in the process of rebuilding after the damage?

Cathy Owen: Wiping Tears contacted us not long after the fires and told us that they wanted to help us to get back on our feet and back into our home again. Nissy and her foundation are wonderful caring people. We are in the process of putting a shed and solar system back on the property of which Nissy and her foundation have generously offered to help with the cost of, so we can get out there and start building our home. I cry with happiness when I think of these beautiful people giving us such gift of hope and love.


Question: Can you tell us about your work with WIRES?

Cathy Owen: I have been a wildlife volunteer for about 19 years now. I have taken care of many different types of wildlife in my time but I would have to say that the macropods are definitely my favourite. Caring for these animals is such an honour for me. To raise them from tiny pinkies until they are ready to be released is a wonderful feeling that puts meaning to my life. I have rescued, raised and released hundreds of macropods and the feeling never gets old.


Question: How has the bushfires affected your volunteer work with WIRES?

Cathy Owen: Since the fires there hasn't been very many kangaroos or wallabies brought into care. There has been a few but most of them had to be euthanised due to the severity of their injuries and the suffering they were going through.

I had to pass on three of the four joeys that I had in care as I had nowhere to release them so I passed them to other carers who could. I am lucky to still have the smallest of my joeys little Lola who because of Nissy and her foundation, I will be able to raise her completely and release her from our property.

Sadly though, the fires have affected the wildlife severely and a lot of the animals perished in the fires. We have been out at our property every day and we have five wombats returning each night for food we leave our for them along with three red neck wallabies and three swamp wallabies. Other than that it's extremely quite out there. It's hard to imagine how it was full of bird life and noises to nothing.


Question: What's next for you and your husband?

Cathy Owen: My husband and I are working very hard to get things organised for our new home. It's going to be an adventure for us as we have never built a house before we have just bought them. We were looking forward to John retiring in a few years and travelling on adventures. But we feel this is going to be an early adventure for us. With Nissy's support and encouragement I'm sure we are going to be just fine.

Thank you to Nissy and the Wiping Tears Charitable Foundation!



Interview with Nissy Nassif
Question: Obviously there were so many people affected by the Bushfires, how did you hear about Cathy and John's situation?

Nissy Nassif: After seeing the devastation of this Summer's bushfires we wanted to be able to help a family affected. As with all the families we help through Wiping Tears we wanted to help someone on a really individualised basis, offering them the support they really need rather than just general supplies. So I decided to put a call out on social media and one of my followers connected us to Cathy and John.


Question: Walk us through how you felt seeing the aftermath of the bushfire both at Cathy and John's property but also in the surrounding area?

Nissy Nassif: The drive from Sydney to Yowrie was like nothing I'd ever seen before. Devastation lay in the wake of the bushfires and almost everything was burnt. All of the bush had been burnt, there wasn't an ounce of greenery in sight. You could see road signs that had melted, collapsed trees, cars and homes that had been caught in the fires. It was heartbreaking.

When we arrived at Cathy and John's place we saw they had lost everything. The house was completely demolished with only some burnt frameworks of the house remaining.

Cathy volunteers for WIRES so they had been nursing injured kangaroos back to health at the time of the fire. Unfortunately one of the kangaroos was unable to fit in the car when they evacuated the property. When people like Cathy dedicate their lives to helping defenseless animals, it makes it even more heartbreaking to see what they have lost, so we wanted to help them to rebuild.

As a means of temporary accommodation and more long-term accommodation for the animals, we will be building a shed converted into a one-bedroom apartment on the Owen's property. This is where Cathy and John will have a bedroom, kitchen and a bathroom, while waiting for their destroyed home to be rebuilt, saving them from being homeless. Wiping Tears is helping the Owen's out of homelessness with a donation of $50,000 worth of materials towards, as well as hiring local businesses to build the new apartment.


Question: What's next for The Wiping Tears Charitable Foundation?

Nissy Nassif: Our goal is to take the work we do internationally and continue to support families both at home and abroad. We started to build our international footprint with some work in the Philippines, Lebanon - particularly assisting people during the revolution that is taking place in Lebanon - and Ethiopia in 2019 and are looking to increase this in 2020. One example is 8 year old Robal who needed a $30,000 heart surgery which we have paid for to assist him and his family. With such expensive surgery needed and his mother's wage not able to cover it, Wiping Tears stepped in and he was able to have the emergency surgery within 3 days. Not only was his surgery covered but also his after care and home facilities.

We've also recently collaborated with Compassion Australia to sponsor 20 kids from around the world all with their own unique stories. This is only the beginning of our international work for Wiping Tears.


Interview by Brooke Hunter