Serves 4
Prep time 15 minutes
Cooking time 10 minutes
Ingredients


30cm think baguette, cut into 1 cm slices
1 ½ tablespoons olive oil
2 tablespoon crushed garlic
1 tablespoon butter
2 tablespoons brown sugar
2 pears, cut into wedges
100g baby rocket
200g camembert, cut into think wedges
1/3 cup JL Kraft Provincial French Vinaigrette
Method


Place the bread onto a lined baking tray and brush with half the combined oil and garlic. Cook under a grill for 2-3 minutes until golden. Turn and brush with remaining oil mixture and grill until golden
Heat butter and sugar in a small non stick frying pan over medium heat. Add pears and sauté for 2-3 minutes until light golden
Arrange rocket, camembert, toasts and pears onto a serving platter. Drizzle with dressing an serve immediately
More Recipes:
Asparagus, Tomatoes and Haloumi Salad
www.girl.com.au/asparagus-tomatoes-and-haloumi-salad.htm
---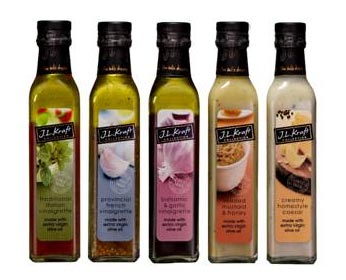 The J. L. Kraft Collection
Provincial French Vinaigrette


This is simple, yet classic dressing which makes the most of the flavours of garlic, mustard seed and herbs. Its perfect with fresh leafy greens or simply drizzled across steamed beans, artichokes or asparagus. It also makes a great marinade for chicken or seafood.
Balsamic and Garlic Vinaigrette


Combining the complex yet sweet taste of balsamic vinegar with a hint of garlic, this is a dressing with real zest. The perfect accompaniment to char grilled vegetables, leafy greens, pasta, and rice, it also doubles as a marinade for beef, lamb, chicken and even baby octopus. Or, do as they do in the Mediterranean and use it as a dip for your crusty bread.
Traditional Italian Vinaigrette


Bring the fresh, tangy taste of Italy to your table with this versatile dressing. Combining smooth extra virgin olive oil with the tang of red pepper and fresh herbs, its perfect for leafy greens, grilled vegetables, pasta or to just simply dip your bread into. And for something a little more special use it as a marinade for red meat or poultry.
Seeded Mustard and Honey


Weve combined the sweet taste of honey with the tang of seeded mustard to create this rich, creamy dressing. While simply delicious with leafy greens and roasted vegetables (in particular carrots, beets and parsnips), its also the perfect alternative to mayonnaise to finish a beautiful potato salad. Also, why not try it at your next barbeque as a sauce to the meat.
Creamy Homestyle Caesar


For the ultimate Caesar salad, go no further than this delicious dressing that will bring the rich, sharp taste of Parmesan cheese to every last leaf. But theres a lot more to it than that, it also makes a superb alternative to mayonnaise in potato or pasta salads, and its perfect as a dipping sauce for potato wedges or even simply drizzled over roast vegetables, crumbed chicken or fish.
The J. L. Kraft Collection is available through all major retail outlets and will be priced at $3.99 each. Discover the true story at
www.jlkraft.com.au