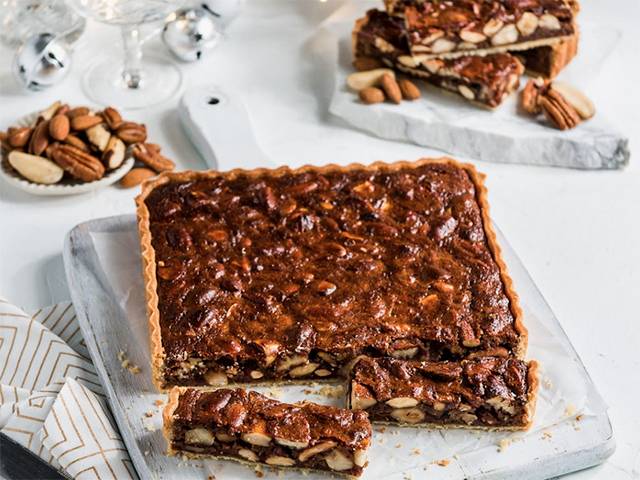 20 MINS PREP TIME | 40 MINS COOK TIME | SERVES 18 PEOPLE
Ingredients
1 cup pecans (125g)
1 cup almonds (150g)
1 cup Brazil nuts, roughly chopped (150g)
10 – 12 medjool dates, pitted (200 g)
1 cup maple syrup or honey (250 ml)
¼ cup light olive oil (60 ml)
½ tsp flaky sea salt
1 tsp vanilla paste or extract
3 large eggs
Un-baked shortcrust pastry
Method
Preheat oven to 180°C (350°F). Carefully press pie dough into a 30 x 20 loose-based tart tin and trim any overhang. Refrigerate while you prepare the filling.
Spread nuts on an oven tray and bake 8 minutes until just toasted. Tip into a large bowl and set aside to cool.
In a blender or food processor pulse the pitted dates, syrup, oil, salt and vanilla until smooth. Add the eggs and blend again to incorporate. Pour the caramel into the bowl with the toasted nuts and stir well.
Tip filling into the unbaked pie shell and place on a tray to catch any drips. Bake 30 minutes, then cover loosely with foil to prevent over-browning, and bake a further 10-15 minutes until firm on top and puffed in the centre.
Cool completely, overnight if possible, to allow filling to set. Cut into small slices to serve.
Caramel nut tart recipe by Nutsforlife.com.au