Bondi Chai is a seriously delicious, creamy-smooth blend of milk, black tea, honey, vanilla and exotic 'comfort' spices which tastes superb and is 'almost addictive'.
It's usually served latte-style, but we never cease to be amazed by the great recipe ideas that people come up with for Bondi Chai - everything from super-fruity smoothies to cheesecake-to-die-for and unbelievably dreamy ice cream.
Because it's a powder, Bondi Chai keeps for at least 2 years and is very versatile and easy to use.
'Chai' is the generic word for tea in many Asian and middle-east countries. In India it is a brewed, spiced, milky tea that was created for the Kings of India and has since become 'India's gift to the world'! It has been enjoyed around the world for centuries and the aroma and taste is reputed to create a wonderful sense of well-being.
Bondi Chai is Australia's very own powdered chai tea. It was created and is blended in Australia and is rapidly carving a place in our café culture.
The main thing to know about Bondi Chai is that it's a great, uplifting drink to enjoy with friends - anywhere, anytime.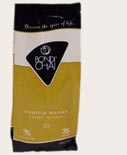 Vanilla Honey

A blend of comfort spices with the added richness of vanilla and the natural warmth and sweetness of honey.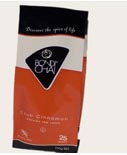 Club Cinnamon

Bondi Chai turns up the spice in this delicious blend with the exotic flavours of Star Anise and Cinnamon beautifully complemented by the clean, fresh after-taste of Ginger. If you like cinnamon, you'll love Club Cinnamon!
Review: With limited hot drink options on the market like tea, coffe, hot chocolate & soup, it's refreshing to add a new option to the list, Bondi Chai is a smooth delicate taste unlike any other, very addictive.
For stockists visit:
www.bondichai.com.au