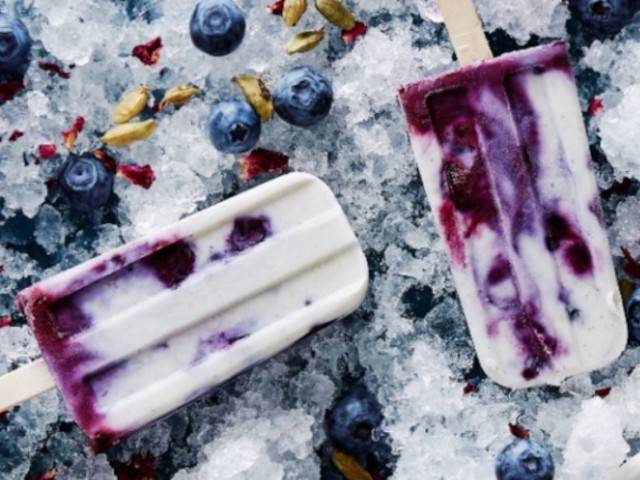 Blueberry, Cardamom & Rose Popsicles
Ingredients
2 x 125g punnets fresh blueberries
2 teaspoons freshly squeezed lemon juice
600ml coconut cream
2 tablespoons honey, warmed slightly
2 teaspoons rosewater
2 teaspoons ground cardamom

Method
1 Place the blueberries and lemon juice in a small saucepan and set over low heat. Cook for 5 minutes, or until beginning to soften and collapse. Using a fork, slightly mash the blueberries. Set aside to cool.
2 Whisk the coconut cream, honey, rosewater and cardamom together in a medium bowl. Transfer into a jug.
3 Pour the mixture into ten 1/3 cup (80ml) popsicle moulds, to fill 1 1/2 cm from the top. Freeze for 1/2 hour, or until beginning to set.
4 Drop 1 heaped tablespoon of cooked blueberries into each popsicle moulds. Insert a knife and lift up and drag the blueberries, to create a marble effect. Insert popsicle sticks.
5 Freeze for 4 hours or overnight, until completely frozen.
6 Run moulds under warm water to help release the popsicles.

Note: Popsicles can be stored in the freezer for up to 3 months. Vegans can substitute maple syrup or rice malt syrup for the honey.