About 'All Mine (Sometimes)'
Characteristically Blue Stragglers in the way it melds visceral, scuzzy rock to ridiculously infectious riffage, 'All Mine (Sometimes)' will, in the words of lead Straggler Lee Martin, "refuse to leave your brain". The song establishes its tuneful groove from the get-go, cresting and plunging dramatically as it works its way towards a blistering climax. "It's about time we had a proper festival anthem," says Lee. "Not a half-baked alternative but the real deal. And this is a genuine earworm."

About Blue Stragglers
Not many bands can claim to have built and then run their own non-profit rehearsal studio but then Blue Stragglers are not like many bands. Having grown up in the town of Horsham – nestled between London and Brighton – Lee Martin (vocals, guitar), Ali Waite (bass) and Andy Head (drums) bonded via a love of bands such as The Raconteurs, PJ Harvey, Supergrass, Demob Happy, Beck, Grandaddy and Jane's Addiction. Skilled players themselves, the trio originally formed the backbone of the much-loved Sussex act Tied to the Mast. But when they struck out on their own to form Blue Stragglers, they were lacking somewhere to hone their craft. And so began the tough but ultimately fruitful challenge of converting an empty space next to a South Downs chalk pit into somewhere they – and other Sussex bands – could practice 24/7.

This DIY dedication to their art is evidenced by the intuition that each member has for the others' playing, as seen and heard in the supremely powerful live showcases that have secured Blue Stragglers a cult following across England's southeast, from Brighton via Tunbridge Wells to Horsham and Hastings, alongside some intimate London gigs that first drew the attention of Lost In The Manor records.

Exuding that impenetrable, gang-like identity that's the preserve of only the best trios, Blue Stragglers been picked up by BBC radio, stolen the show at a number of grassroots festivals and now, thanks to their debut EP release on Lost In The Manor, will be spreading that buzz much, much further afield. A programme of showcase gigs will be announced after the lockdown but in the meantime, you won't find a better means of banishing the lockdown blues than a healthy blast of Blue Stragglers.


Interview with Blue Stragglers (Lee)
Question: How would you describe your music?

Blue Stragglers : Fuzzed up Grooved out earworm filled alt rock-say no more.


Question: Can you tell us about All Mine (Sometimes)?

Blue Stragglers : Like many of our songs, ideas thrown around the room turn into things we sit in for a while and dip in and out of, I had the verse riff ready which we were playing a lot and felt it needed a tag line, the vocals came to me flash writing in the car to the studio to lay it down and it came together pretty easily from there, it's a celebration of living in the moment.


Question: Is there a particular message you hope listeners take from your music?

Blue Stragglers : The aim is for someone to forget where they are for a night, lose themselves and feel a collective sense of urgency then and there to feel as good as possible.


Question: Do you prefer performing live or recording?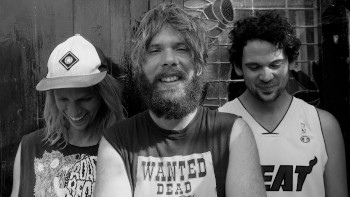 Blue Stragglers : Over the years I've learned to love recording, our aim is to nail down the definitive version of something in the studio and corrupt it as much as possible live.


Question: Can we expect an upcoming tour?

Blue Stragglers : Watch this space, got some exciting things lined up, for now we are focusing on the release of this EP.


Question: If you could have anyone, in the world, attend a show, who would it be?

Blue Stragglers : Anyone that loves music and the feeling it gives them to watch and for us to play is welcome.


Question: What is the story behind the band name?

Blue Stragglers : Me and Ali came up with it in college, a Blue Straggler is the remnants of a dying star.


Question: How did the band come together?

Blue Stragglers : Music lovers watching each other's bands over the years, probably from about 2003/4 we made friends pretty early on due to a small but potent music scene in Horsham, it was a matter of time before we eventually got in a room and started jamming, we've been doing that ever since.


Question: What's a typical day like?

Blue Stragglers : Me and Andy were laughing at this question as we sat on the beach near our studio.
Sea swimming, surfing, frisbee, jamming, a can here and there are the more important issues at hand.


Question: What has been your favourite part of becoming a music artist?

Blue Stragglers : To get the same feeling we get listening to the bands that we love so much.


Question: What's next, for you?

Blue Stragglers : Late at a festival and share the next two releases, then the EP drops.


Question: Can you share your socials? (links please)

Blue Stragglers : Instagram
Facebook
Twitter


Interview by Gwen van Montfort