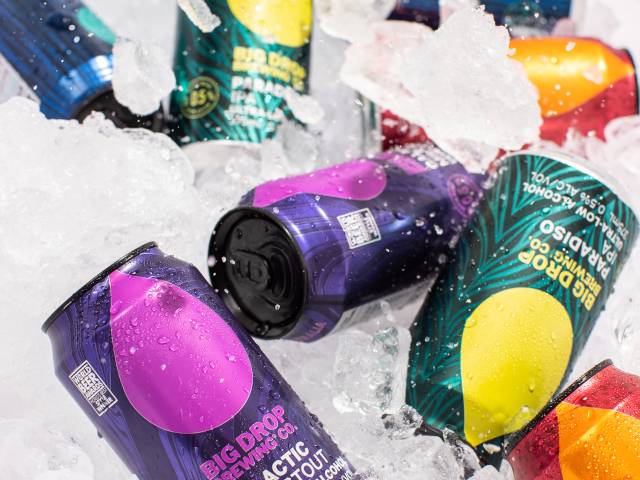 Multi award-winning, low-alcohol Big Drop Brewing Co. launches two new, out of this world brews
Introducing Galactic Milk Stout and Paradiso IPA

After a successful launch into the Australian market last year, Big Drop Brewing Co. has been tirelessly working behind the scenes to introduce two new brews, Galactic Milk Stout and Paradiso IPA, set to hit shelves this April nationwide.

Embracing Big Drop's ethos to ultra-low alcohol brewing, these two new beers deliver 100% on flavour, but less than 0.5% on alcohol, creating a tasty, craft option for people wanting to enjoy beer without the repercussions.

With a positive reception on a global scale, the two signature beers have already amassed an impressive list of accolades from the 2020 World Beer Awards, with Paradiso IPA claiming top spot for the United Kingdom in the Speciality IPA category even versus its full-strength counterparts, and Galactic Milk Stout being judged 'World's Best' in the Flavoured Low Alcohol category.

Galactic Milk Stout: With notes of coffee, cocoa nibs and a lingering hint of sweet vanilla, this beer is rich, dark, and indulgent. Forget the notion that this is a beer style that has had its day, instead, think of it as honeycomb covered in chocolate, because that's exactly what it tastes like: rich, unctuous and an absolutely decadent treat. Food matching suggestions include desserts like a chocolate brownie or rich slow cooked savoury dishes.

Paradiso IPA: An absolute delight if you are a fan of a fruity, crisp beer. Pale in colour but robust in flavour and very refreshing. This IPA radiates citrus fruit from the moment you pour it to the second you finish that last sip with a satisfied sigh. The bright, sharp twist of bitterness on the end makes you want to dive back in for one more. Food matching suggestions include grilled or BBQ'd meats and burgers.

Brewed locally in Victoria, both beers join the previous two popular beers launched by Big Drop, the Pine Trail Pale Ale and Uptown Lager, to cater for everyone's unique palate and needs.

Available to purchase in 4-packs (RRP: AUD$16), these are the perfect alternative for Dry July or beer drinkers searching for a full flavoured craft beer without the alcohol.