Belbel Violets Interview
Melbourne singer / songwriter Belbel has released her much anticipated first single and music video, Violets, on iTunes.

Having lived in Melbourne her entire life, Belbel's debut single captures the essence of her young life, voicing the recognisable struggle of someone who has gone against the grain and forged her own path.

Violets takes the audience on a journey, experiencing a sense of separation, loss and disconnection through a dark depiction of isolation, then moves towards a sense of identity, acceptance and belonging, a feeling that artist Belbel is all too familiar with.

Having struggled to accept herself throughout her teens, Belbel admits she often felt isolated a lot of the time and struggled to relate to those around her.

'I wrote Violets to give myself strength when I was in a very dark and sad place. Writing Violets lyrics was process that felt so natural and intuitive, and enabled me to work through a lot of my feelings at the time," said Belbel.

The music video for her debut single was filmed in Australia on location in Geelong and Williamstown with New York based Director Blake Farber, Producer Emma Haarburger and Cinematographer Matt Wood.

View the video here.

'At the core of the video is the dilemma of where and how do I fit in, and whether I, and others, really want to. It's a dislocated and weakened state that changes throughout the song to unveil an inner strength and stature that comes with acceptance and pride."

Admitting that she never thought her first song would be the so raw and personal, Belbel said it felt right to release something that is so significant and close to her heart.

'The video is contextually substantial, and is told through two parallel journeys, my own and the journey of who I like to call the 'No Name People", a metaphorical being symbolising loneliness and pain."

Their struggle is one that is relatable; the inner battle between who you are and who you believe you should be, and subsequently the elation of accepting your true identity.

With a true passion for the music and the artistry that is singing and songwriting, Belbel made the decision to forge her own path, despite the pressure and expectations of those around her, for a career in the arts was a foreign concept for her family and friends.

Belbel plans to release her debut EP later this year. For more information please visit www.facebook.com/Belbelmusic.

To download Belbel's debut single from iTunes.


Interview with Belbel
Question: How would you describe your music?

Belbel: This is a really tough one. I'm still very much developing my craft, and exploring many different sonic landscapes. Music is so diverse, and I don't believe artists have to be pinned down to a particular genre. However, I would say that I definitely have a pop sensitivity, but mainly a strong alternative flair


Question: What was the main inspiration behind Violets?

Belbel: I wrote this song two years ago when I was 16 in the space of about 15 minutes. It was one of the most intuitive pieces of writing I had ever done as it came pouring out of me like water from a jug. I have always felt like I was looking in at my life from a bird's eye view – present but detached. The inspiration for Violets came from a place of true honesty and acceptance regarding my experiences; a melancholic yet content depiction of my thoughts.


Question: Can you tell us about the filming of the video clip for Violets?

Belbel: -Violets' was filmed in a variety of locations around Victoria. Thanks to Emma Haarburger, the producer of the clip, we had access to The Batesford Quarry in Geelong – the most serene landscape I had ever set my eyes on. We also filmed at Steamrail Victoria in Williamstown, where all of my scenes were shot. The juxtaposition of these two locations is stark, and creates an interesting visual. I was thrilled to have them available to me.


Question: What do you hope viewers take from the video clip?

Belbel: I hope that viewers will take whatever they need too from it. Every person that watches it will have substantially different emotions, experiences and thoughts that influence their opinions on the clip. However, I hope that listeners find comfort in my lyrics.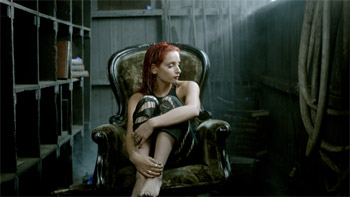 Question: How does it feel to be compared to Lana Del Rey and Florence And The Machine?

Belbel: Firstly, Lana and Florence are both unbelievable artists – grand inspirations of mine. However, comparisons are entirely subjective, so I try not to take anything like that too seriously. I hope that one day I can forge my own path with my music.


Question: Did you have any pre-conceived ideas about the music industry?

Belbel: At the age of 16 when I started to focus on music as a career, I didn't know anything about the music industry besides the typical, 'don't trust anyone" and 'it's such a hard industry." I try to be as open minded as possible, but I really wanted to see for myself how this industry operated. I've learned a lot in the past two years, and the truth is, I have been overwhelmed by the generosity and kindness of people in the industry towards me as a young female. I've definitely seen good and bad so far, but you'll get in ANY industry.


Question: Do you write your own songs? What's your inspiration?

Belbel: I prefer to write all my own music. I have nothing against artists singing songs that are written for them, but to me, unless I wrote at least the lyrics, I would feel very confused and like I was telling a lie. When it comes to writing I like to be very honest. I don't want to write about things I haven't experienced or fantastical situations that haven't occurred. My songs are usually a reflection of my own experiences and thoughts written in a metaphorical way. This alone could keep me busy for years.


Question: What music/artists do you listen to when you are not playing your own?

Belbel: Again, this is such a tough question. I am so inspired by so many artists that cover all the musical spectrums. It heavily depends on my mood. If I am feeling like I need to escape to a different time, I will listen to Simon and Garfunkel or the Beatles. However, if I want to explore different sounds or listen to music that is in my world, I opt for alternative/electronic artists such as Oliver Tank, Broods, Lykke Li, BANKS and other artists as such.


Question: What's next? Tour/Album/Single?

Belbel: I'm still sorting everything out, but I hope to release another single soon, then a debut EP that I have just started to conceptually map out.


Question: Was there a moment you contemplated throwing in the towel?

Belbel: Many moments in fact. This industry is unpredictable, and I am definitely the kind of person that likes to know what is going on. Most of my life I have heavily doubted my ability as an artist, and this feeling still lurks. There have been times where I have looked at other artists and their incredible music and contemplated whether I was enough. However, these feelings are usually temporary.


Question: Do you prefer performing live or recording?

Belbel: Recording and performing are two worlds about, so it's hard to compare. There is something about being in the studio, and having the freedom to create without any sort of judgment that is liberating. There is absolutely nothing to lose. However, performing on stage is the most freeing experience. The ability to move your body, and dive into your music in a different setting is invigorating. I couldn't possibly choose.


Question: What/who was your inspiration to go into the music industry?

Belbel: There wasn't a particular person that inspired me to have a career as an artist. When I went on the Hollywood Immersive program a few years back, I realised myself that I needed to pursue music. I haven't looked back since then.


Question: What is the biggest challenge you have faced along the way to your musical success?

Belbel: I come from a world where the music industry and music careers are mostly misunderstood. It's a path rarely taken. Undoubtedly, my biggest challenge has been gaining understanding from those around me. I have experienced a lot of alienation for my decisions, but in my opinion, nothing is more important then trusting your own intuition.


Question: What's a typical day like?

Belbel: They vary. A Part of my day is always devoted to music whether it's writing lyrics and melodies, playing keys, playing around with making tracks electronically on logic, or responding to an interview like this! I go to gym most days, and also have a few day jobs, as a typical 18-year-old would. I do try to have a work/life balance, but I am known to be a bit of a workaholic. Sometimes I have to depend on others to reinstate the balance part to me.


Question: What has been your favourite part of becoming a music artist?

Belbel: There have been many things that have been incredible thus far. However, I would say my favorite thing has been developing my craft to the point where I can be proud of it. When I started out at 16, it was all intuitive, and very private. I worked incredibly hard to develop many skills in a short time frame. It's been very rewarding. I suppose I can hold my head high now.


Question: If you could collaborate with another artist, who would it be?

Belbel: So many artists come to mind. I would love to get into the studio with Lorde as I think she has an interesting way of writing music that a lot of artists can learn a lot from. I also like the hidden messages and sub-contexts that lie within her music are important. Another person is James Vincent McMorrow, his melodies are breathtaking and without boundary; no limits to where that man goes.


Question: What message would you like your music to say to your fans?

Belbel: Overall, I hope I can encourage both deep and critical thinking from listeners about important issues in society that range across the spectrum. If I can get people really thinking, and really reflecting on their own lives and the world around them, then I have achieved one of my many goals.


Interview by Brooke Hunter