Jenson Button and Fernando Alonso Chandon Australian Grand Prix Interview
The press conference at Domaine Chandon Yarra Valley saw Jenson Button and Fernando Alonso share a lot of exciting things with Australia's media on the official partnership with Chandon and how they're feeling ahead of the 2016 Rolex Formula 1™ Australian Grand Prix. MC'd by McLaren Honda's Mark Norris, the drivers had a few interesting things to share.
Interview with Jenson Button and Fernando Alonso
Question: First of all, Jenson what have you been doing this morning here at Domaine Chandon?

Jenson Button: We've been filming this morning. So a lot of filming is being done for this film with Chandon. A lot of it has been done before so they just needed snippets from us, our faces, and reactions. It's going to be really fun, and it will be out for Saturday. It's great to be working with Chandon, they seem to be making our events a lot more fun than probably we're used to. I love sparkling wine so what better brand to work with.


Question: Fernando, you only got to Australia last night, what do you make of the Domaine Chandon vineyard and the scenery around here?

Fernando Alonso: Yeah it has been a fantastic day. Normally at the race weekend we are at the hotel, the circuit and the airport, then we go home. So it's nice to have the possibility to enjoy this morning filming at Domaine Chandon – a fantastic place with these fantastic people. As Jenson said, Chandon has come on board this year, and we are all very excited about this collaboration.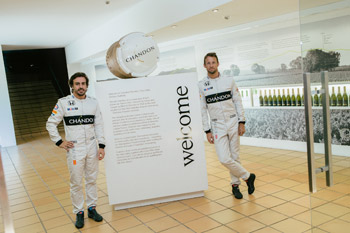 Question: Australian season open,Jenson, you've won this open before. What does Australia mean to you?

Jenson Button: It's the start of the season you know it's such a big race for us, and what a beautiful city have the start to the season. It's the race where we all arrive and we really don't know how competitive we are until we get out on the circuit... It's a circuit I really enjoy... It's quite bumpy but it does feel like a true street race but with beautiful surrounds.


Question: What do you think of Daniel Ricciardo?

Jenson Button: He likes to enjoy life, but I think the most important thing about Daniel is he's unbelievably focussed, he's very talented, and he doesn't let anything from the outside world get in the way... I think last year was a very difficult year and a very important year in his career, we've seen him improve and I'm sure he learnt a lot from the difficult situation he found himself in. We all go through it in our career, and you need that to fight for the world championship in the future. I think he's very talented, and he's got his head screwed on and he's very determined.


Question: It's been a long winter and a pretty short testing period, what's been encouraging out of the testing period so far?

Fernando Alonso: I think the power unit improvement and the engine change has been quite positive for us. We had a few problems last year on the performance side, and I think will have addressed the issues with the engine, in terms of performance.


Question: Fernando, tell us something people don't know about you?

Fernando Alonso: I can cook. I like to cook Spanish food.


Question: What would you pair with Chandon?

Fernando Alonso: Paella.