Maria Starr Disney On Ice presents Magical Ice Festival Interview
This year's Disney On Ice is a brand-new ice show packed full of action, adventure and unforgettable characters. Weaving together four worlds of Disney royalty with Anna & Elsa, Ariel, Belle and Rapunzel, audiences will be whisked away as they embark on their own epic journey.

Produced by Feld Entertainment, Disney On Ice presents Magical Ice Festival opens in Perth on 2 June and travels to Adelaide, Wollongong, Brisbane, Melbourne, Newcastle and Sydney, closing 17 July.

Disney On Ice presents Magical Ice Festival showcases moments from beloved Disney stories, The Little Mermaid, Tangled and Beauty and the Beast to the newest feature film sensation Frozen and combines them with elements of comedy, music, colour and lights. Producers Nicole Feld and Juliette Feld lead a creative team of experts across choreography, set, costume and lighting design to develop a truly unique way to take audiences into each fairytale.

Producer Juliette Feld says Magical Ice Festival takes a fresh new spin on how the Disney stories are presented, also marking the first time the Academy Award winning animated film Frozen comes to life on ice in Australia.

'In our more than 30 years of producing Disney On Ice shows, Feld Entertainment has been waiting for a film like Frozen. The most exciting part of bringing characters like Anna and Elsa to the ice for the first time is knowing that they have a powerful and inspiring message that resonates with audiences as the sisters discover the true meaning of love," says Producer Nicole Feld.

A distinctive design element Magical Ice Festival is the various fairytales coming together to make one cohesive show, a vision conceived of by Director Patty Vincent. 'In -Under the Sea', during The Little Mermaid, we wanted to place the audience in that sea world. In order to do that, we used these pieces of seaweed emerging from 35 feet up and great colourful coral pieces on the ice. We also have a scene in The Little Mermaid segment where there's a storm, and we have fabric representing the waves that is 35 feet across the ice – our performers have never carried fabric that big! Where as in the world of Beauty and the Beast, much of it takes place in the interior of the castle where a gorgeous chandelier lowers in. Audiences will really feel the richness of the castle," says Patty.

As for the show's costume designer, Feld enlisted Cynthia Nordstrom as she has a wealth of experience working across multiple Disney On Ice productions, in addition to designing costumes for more than 15 original dance shows in downtown Walt Disney World.

'As this show has four major compotents, it was most important for me to have the audiences feel the journey in and out of these different worlds and have each be different in feeling, colour and characters.

In Ariel's world under the sea, neon brights were used. Then we morph into the world of Tangled and that's very much a sorbet palette. We move into full-soaked, jewel tone colour in Beauty in the Beast. Mickey, Minnie, Donald and Goofy host the show, and they're in classic shimmery white, pink and aqua, bringing all of the scenes together piece by piece," says Cynthia.

With so much talent and storytelling jam-packed into one show, Australian audiences will be left exhilarated from Disney On Ice presents Magical Ice Festival.

For tour dates and further information on Disney On Ice presents Magical Ice Festival, visit www.disneyonice.com.au.

Purchase Wollongong tickets through Ticketmaster: 136 100 or www.ticketmaster.com.au/disneyonice. Tickets for all other cities purchase through Ticketek: 132 849 or www.ticketek.com.au/disneyonice.

Tickets start from just $34.50. Additional discounts apply on select performances. Credit card and transaction fees may also apply. For more information and to view a clip from the show visit www.DisneyOnIce.com.au.



Interview with Maria Starr
Question: What can you tell us about Disney On Ice presents Magical Ice Festival?

Maria Starr: Disney On Ice presents Magical Ice Festival is a modern, high-energy show for people of all ages! We bring the audience through four different Disney stories, some classic, and some new, with the help of Mickey Mouse, Minnie Mouse, Donald Duck, and Goofy!


Question: What are you enjoying most about taking on the role of beautiful Belle?

Maria Starr: I love how classic Belle is, and I think my style of skating suits her. She is mature, graceful, powerful, and sure of herself, all traits that I definitely try to portray through my skating.


Question: What was involved in your audition for the role of Belle?

Maria Starr: I had been skating for Disney On Ice as an ensemble skater for two years. I then got the opportunity to portray the role of Belle In a Show called Disney On Ice presents Let's Celebrate! In Australia! Things went well, and I then got the chance to portray the role of Belle in Disney On Ice presents Magical Ice Festival.


Question: Do you share any of Belle' characterises or personality traits?

Maria Starr: I definitely think I do. I always knew that I would leave my hometown to see what the rest of the world had to offer, and Belle dreams of doing this! She escapes through reading books. She even sings a line saying, "I want adventure in the great wide somewhere, I want it more than I can tell." I would say that I want adventure too. So we have that in common!


Question: What are you looking forward to most about performing in Australia?

Maria Starr: I loved my time in Australia in 2012, and I am so excited to come back to perform in and to see your beautiful country.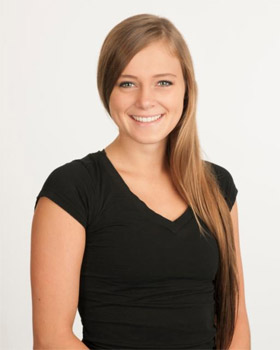 Question: What do you find most difficult about touring with Disney On Ice presents Magical Ice Festival?

Maria Starr: I absolutely love my job, but I would say the hardest part (other than living out of 2 suitcases!) is missing home and missing my family. It is all worth it though! I get to skate everyday, and see the world so I really can't complain!


Question: What do you enjoy most about being on stage for Disney On Ice presents Magical Ice Festival?

Maria Starr: I really enjoy the energy. When I am out on the ice, I can really see people's faces in the audience. I can see how excited they are. That energy brings my performance to another level. It is so rewarding to see that what we are doing on the ice can make someone's day.


Question: Can you talk about any pre-show rituals you may have?

Maria Starr: Before each show we all warm up and stretch as a group. The show is very physically demanding, so we do this to prevent any injuries. After that, I just make sure I put on my left skate first. That is simply how I have always done it!


Question: What advice would you give young Australians who are looking at beginning ice skating?

Maria Starr: Be persistent and patient. Being a figure skater means spending a lot of hours on the ice. It also means falling down and getting up - a lot! It is just part of the learning process, and it is all worth it.


Question: Is there a specific character or part you'd like to perform for Disney On Ice, next?

Maria Starr: Right now I really love portraying the role of Belle. I am always ready for a new challenge or a new role, so only time will tell!


Question: What has been your proudest Disney On Ice moment, so far?

Maria Starr: One moment I can think of is when my skating coach came to see me perform in this show. She literally taught me everything I know and helped me audition to become a part of ice shows. I wouldn't have such an amazing and rewarding job if it weren't for her. Seeing and hearing how proud she was of me after I had skated was the best feeling in the world.


Interview by Brooke Hunter