Video Directed by Sunny Leunig ft. Jack Charles
When I Am Old, this captivating song with raw and honest lyrics from lead singer Glenn Richards, is the second single from Augie March's forthcoming album Bootikins released next Friday, February 23 through Caroline Australia/UMA.
The new clip stars Jack Charles, an Australian actor, musician, potter, and Aboriginal elder, and features footage at its conclusion of producer Tony Cohen monitoring the band during one of the live takes in the studio. Watch here.

Glenn Richards says about the new video "After teasing with a lyric clip for the last week we finally have the official version for When I Am Old, a suitably aching and beautiful vision courtesy of Sunny Leunig, his two man crew, and the always magnetic Jack Charles."
Bootikins the album is available for pre-order NOW via Caroline Australia.
Augie March have already sold out their return show at The Velvet Room in Melbourne on February 23, and will appear at the inaugural Good Saturday Festival on March 31. Stand by for more tour details!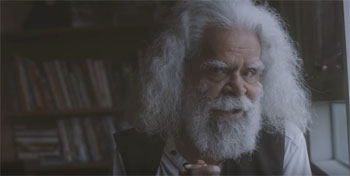 When I Am Old
Lyrics: Glenn Richards
When I am old, Not if, but when,
ailments will derail not end,
laments will fail not to upend
my later years which I will spend,
alone, when I am old, alone -
what is the male kind of crone?
old lonely men dress for court on their own,
nothing suggests I will not be alone when I'm old.

When I am old,
There will be no more lions
Only in prisons
Product of aeons of
bestial poems never told
Fire that does not rage is cold
Cold flames are the tongues that sing dying
There's no point in lying about being
old men dress for the mall in the morning
nothing suggests I will not be forlorn when I'm old

Not if, ifs and buts, but whens,
I'll take a wood load at roughly ten,
measure the hours by some Bushells blend,
read the papers from start to end
alone, when I am old, alone -
what is the male kind of crone?
I'll give the obituary special attention
Which of my neighbours has earned a mention

When I am old
There will be no more whaling
Oh you cannot go whaling
When there are no more whales
in the tepid sea
my instincts have always been dull
Not that I ever listened at all
If I lay in a burning bed
I waited for the rain to fall
Old men see what they're leaving behind
and thank small mercies for going blind

When I am old
I will have no companion
No mouser no spaniel when
all I could do is
to leave them behind
No spark to depend on my dithering lick
Sputtering sickly at candle's end
No love to address
No missives to pen
When I am old
I'll take heroin.