Australia's biggest bike ride, United Energy Around the Bay is back for the first time since 2019.

Over 10,000 riders are expected to enjoy the simple pleasure of riding a bike on Sunday 9 October.

Since its inception in 1993, Around the Bay has been run by Bicycle Network and become a rite of passage for seasoned cyclists, colleagues, families and friends.

Caitlin Borchers, Bicycle Network General Manager of Events, said: "With closed roads, full on-route support and six ride options from a family friendly 20kms to a challenging 300km loop there is a ride for everyone".

"Grab your mates, set a goal and be a part of an iconic bike ride," Ms Borchers added. The available rides are 20km, 50km, 100km, 200km, the classic 210km loop and 300km ride distances, with free entry for children under 15 years old available for the 20km and 50km rides.

All rides start and finish at Albert Park Lake where an event village will provide a range of entertainment to help celebrate everyone's achievement.

"The spike in bike riding during the pandemic, a desire to be fit and healthy and the social side of bike riding has made the ride one of the hottest tickets in town".

"Once you've conquered the bay with family and friends you can relax at the village with a bite to eat and a drink and relive all the thrills with other riders," added Ms Borchers. Since 1993 The Smith Family has been the official charity partner of the event. Riders have raised more than $12 million to help change the lives of more than 20,000 disadvantaged children through education. Funds raised by Around the Bay riders will help to provide these children with practical essentials like school books, shoes, bags, uniforms and the
support they need to keep up at school and realise their full potential.
Early bird ends on 24 July. Early bird entrants receive an event cycling jersey (excl. free kids tickets). Enter at aroundthebay.com.au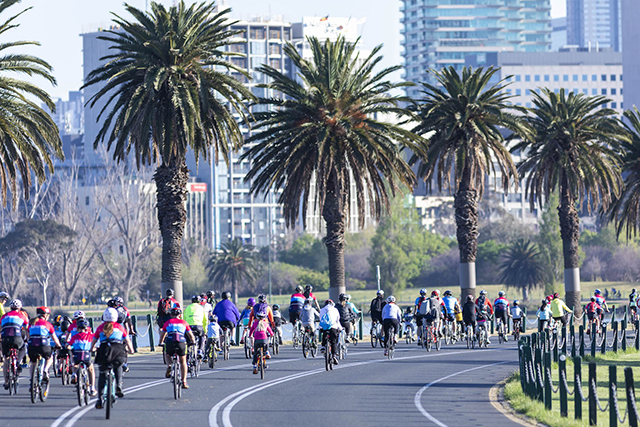 United Energy Around the Bay – fact sheet
• Around the Bay was first held in 1993 with 1,700 riders taking part
• The event has grown to attract more than 10,000 riders every year
• All ride distances from 50 to 300 kms cycle over Melbourne's Westgate Bridge
• Full on-route support – incl. medical, mechanical and rest stops with nutrition and hydration
• More than 250,000 riders have taken part since 1993
• 10 riders have ridden every single year and will saddle up again for the 28th time
• All riders receive a finisher's medal
• Dedicated training plans to help riders prepare, no matter their riding goals
• Around the Bay is thirsty work – more than 20,000 litres of water are drunk by riders on the event
• It's a serious workout – the average female rider will burn about five Tim Tams per each hour of riding and males six and a half