Toronto pop artist Allegra Jordyn has released her glowing new single, "Numb." Despite the seemingly melancholy title, Jordyn's new track delivers lively brilliance with her strong, cogent vocals, coupled with an opulent backtrack. With a nostalgic drum beat reminiscent of hit 80s pop tracks, this single will appeal to those looking for an incredibly danceable song that holds deep emotional value. "Numb" is available now for streaming and download on all digital platforms, while a music video for the track may be viewed on YouTube.

Produced by Chris Grey, "Numb" pulls in listeners with an engaging piano progression leading to an upbeat drum and guitar chorus, complete with reverb that makes listeners feel like the song's main character. In the chorus, Allegra Jordyn belts out her struggles of entertaining herself with nightlife to prevent the voices in her head from taking over, muting them "with the sound of the drums." "'Numb' is what I like to call my anti-party anthem, and I think the video actively shows this," she explains when elaborating on her single. "I wrote it at a time where I was suffering mentally but refused to let myself become numb to deal with my problems like people around me would do."

Due to the strict COVID restrictions in Canada, Allegra Jordyn opted for a two-person crew during the shoot. The music video was shot, produced, and edited by Jordyn and Grey. It is illuminated by scenes of blue and pink tones, creating an ambient backcast to the video. The video shows her at an empty party surrounded by balloons and empty cups, showcasing her lyrics perfectly; "I spend every lonely weekend in private to stop myself from going numb." Jordyn is also seen staring into an old TV as if looking for an answer from something that will only deliver blank static.

After growing up listening to classic rock artists, Allegra Jordyn acquired a profound respect for this legacy. Before writing lyrics and melodies, poems and short stories were her creative outlets. As a songwriter, her narrative arc is precise. She imagines, polishes, and revises her words until she has accurately crafted a story from start to finish. "I probably write my lyrics out 100 times before I record them," she jokes. Having made music from her early teens on, she says the suite of songs reflects a new chapter in her creativity. Her music utilizes deep sonic layers – spectral keyboards, inventive drum samples, and a chorus of voices.

"Numb" marks the first single from Allegra Jordyn's upcoming EP, Take It From Me, I Know. This beat-heavy track brings swooping build-ups and robustly alluring vocals, drawing in those who long for a nostalgic and emotional listening experience. "Numb" is now available for streaming and download on all platforms. Watch the video on her YouTube channel. Fans can visit her online at AllegraJordyn.com or follow her on socials @AllegraJordyn.


Interview with Allegra Jordyn
Question: How would you describe your music?

Allegra Jordyn: My music is primarily in the electropop genre, and it ranges from fun, dance-pop tracks with heavy synths to dark tracks with maximalist production like industrial drums, pads, vocoders and a million harmonies and powerful and emotional ballads. But one thing that remains consistent are my lyrics- creating detailed stories has always been really important to me in my music.


Question: Can you tell us about Numb?

Allegra Jordyn: "Numb" is what I like to call my anti-party anthem. I wrote it when I was 16 and it's about being feeling out of place at a party or in a crowd of people who are distracting themselves from their problem and numbing their pain. I think as an artist and songwriter the best thing you can do is face your struggles and use it for inspiration, which is what I did for Numb and what inspired the song.


Question: What inspired the music video?

Allegra Jordyn: The music video was inspired by the story of the song and a Pinterest board that I have been adding to since I first wrote the song in 2018. My producer Chris Grey and I directed, shot, and edited the entire video together. I just wanted it to convey this energy of feeling alone at a party, and then searching for answers in other places than at this party where all I would really be able to do is distract myself from them.


Question: Is there a particular message you hope listeners take from your music?

Allegra Jordyn: One of the best parts about writing music is the self-awareness that comes from it. I really want people to connect with my experiences and take what I've been through and let it help them learn and grow with me. I think the message varies from song to song, but with "Numb," I hope listeners take away that everything they go through isn't happening to them, it's happening for them, and facing their problems will make them a better person.


Question: Has Covid19 influenced your music?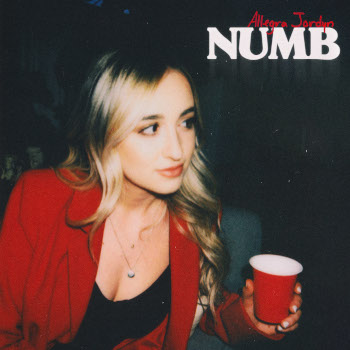 Allegra Jordyn: So much! Before the pandemic I was living and attending school in Boston, and I was struggling to create. I had an EP out that is no longer available, because it truly just wasn't me. It was a completely different genre and energy from what I am making now. During the last year I was able to develop my sound and who I want to be as an artist and what I want to represent, which has really influenced the music I'm making right now.


Question: Do you prefer performing live or recording?

Allegra Jordyn: It's hard to choose! I think now, I prefer recording because I feel like there are no limitations to what you can create. Most of the live performances I've done thus far have been acoustic, just me with a piano or guitar. While I do enjoy the intimacy of it, I really want to be able to make live performance an art and really create an experience for an audience. I think once I have that opportunity I'll prefer performing more because I can do what I do in the studio but live, in front of an audience of people.


Question: What motivates you most when writing music?

Allegra Jordyn: I'm motivated by wanting to understand myself and my thoughts and emotions. Whether or not I am writing from my own perspective or from somebody I know or I'm creating a character, writing helps me become more self-aware and be able to analyze what I'm thinking and how I'm feeling.


Question: Which music/artists are you currently listening to?

Allegra Jordyn: Lately I've had BANKS' new single "The Devil" on repeat and Lorde's new single, "Solar Power" on repeat!


Question: Did you always want to pursue a career in the music industry?

Allegra Jordyn: Yes! I couldn't imagine doing anything else.


Question: What moment in your career stands out the most, so far?

Allegra Jordyn: I honestly think making this EP has been the highlight so far. I didn't resonate with the sound of the music I was previously making, and it didn't accurately convey my personality or demonstrate my full potential as an artist. Making this EP has reinspired me to create and realigned me with my goals and dreams and has been a very freeing feeling.


Question: If you could collaborate with another artist, who would it be?

Allegra Jordyn: Probably either BANKS or Lorde! They are both so epic and it would be a dream to work with either of them.


Question: What has been your favourite part of becoming a music artist?

Allegra Jordyn: Inspiring others! I so badly want my music to resonate with people and help them through their life. Music is my therapy, and it is my favourite thing ever when people tell me how my music inspired them or comforted them or helped them in any way.


Question: What's a typical day like?

Allegra Jordyn: I'm in online school at the moment, so my day usually consists of that in addition to working on my music every day, usually in the form of songwriting or promotion. I'm at the studio for probably about 3 days out of the week with my producer Chris and on those days we will either write, record a track, work on music videos whether it's storyboarding them, scheduling them, or editing them, or do some sort of promotion.


Question: What's next, for you?

Allegra Jordyn: My main focus this year has been my upcoming EP. "Numb" is the first single from it, and I will be releasing more singles soon and the whole project in the Fall. I can't wait to put out more music throughout this year and hopefully begin writing and recording for my next project this summer! I also write music for some other artists' and their projects so I will be doing that too. I just can't wait to get inspired again and have more time to write and create!


Question: Can you share your socials? (links please)

Allegra Jordyn: Instagram
TikTok
Facebook
Twitter
Website


Interview by Gwen van Montfort