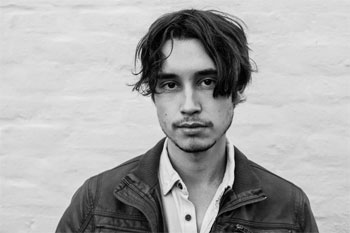 Alexander William Truth
Alexander William is a true musical storyteller. His debut single -Truth', produced by Byron based Canadian producer Garrett Kato (released June 2017), embodies clear melodies, transient beats and distinguishable lyrics that draw you in, offering a uniquely intimate experience.

The stars aligned for William, having always wanted to work with Garrett Kato, and two days before he jetted off to live in London for 6 months, he bumped into Kato at the Gold Coast Airport. The very next day, they were in the studio working together on his debut single, -Truth'.

'The song was written already, and we recorded it all in one afternoon… it just felt so right", tells William.

William sees song writing as a platform to relive experiences and when the song is done, it's not his anymore, it belongs to the audience. A way for him to let it go.

William's music is extremely emotive; he reads and writes a lot of poetry, so words and expression come naturally to him. When he songwrites, the lyrics and melody work simultaneously together; the process is incredibly organic. He writes about his experiences of this world and what he's passionate about at the time, from love, to fear, to depression, to protest, to refugees, to travel; he delivers his own philosophies on life.

He wrote -Truth' about a young female journalist in the making, who he travelled through Africa with. While travelling, they both realised very blatantly, just how impoverished so many parts of the world were. The experience was a huge eye opener for both of them and the song is about the young journalist's struggle to want to tell the world the truth.

'Such a large population of the world is living like that", tells William, 'and living in a first world country, you just don't see it… the whole psychology of it is really intense".

At the age of 20, William is fully embracing the power and beauty of the folk music genre. The mood and content of his music is inspired and influenced by Tallest Man on Earth, Leonard Cohen and Damien Rice.

Travelling throughout Australia, Africa and the United Kingdom, William has constantly been in pursuit of unique experiences to push the boundaries of his song-writing ability. See the streets of Amsterdam first hand in the music video for -Truth', shot by Julien Culverhouse (link to YouTube) while William was travelling.

While William is a well-travelled individual for someone so young, he finds it hard to write anywhere that is not the Gold Coast. He is extremely proud to be a Gold Coaster and is connected its beauty; it is his comfort and his happiness, with all his friends and family close by.

With the release of -Truth', William gives his audience insight into the musician and person he is, and all he has to offer. 2017 is sure to be a huge year for Alexander William, with lots more song writing on the horizon, and plans to build a band to write, record and perform live with.

William's performance ability and stage presence is far beyond his years. He has built a reputation for leaving the crowd yearning for more and leaving himself with an ever-increasing passion for creating musical journeys for others.

'Knowing that people genuinely enjoy what you are playing for them is the greatest feeling I know, and is why I pursue music; it makes me feel alive" – Alexander William.

Alexander William releases his debut single -Truth' Friday 7 July. Join him to celebrate the launch of -Truth' at the Burleigh Masonic Lodge Hall on Friday 25 August. Follow Alexander on Facebook for more details on the event.