Alexa Towersey Top Tips On How To Get Fit For 2016 Interview
Even the most dedicated of people will have days when they just can't find the energy or motivation to cook a healthy meal or complete a lengthy workout. When you can't seem to muster up the motivation to work on your fitness, it's important to flip the scenario on its head and see the positive side.

We've called on some of the fittest Aussies in town for their tips and tricks to help fight your fitness and health barriers!

1. You don't think you have time
At the end of a long day it's often hard to convince yourself to go to the gym or set that extra early alarm. Although rest is important, there's a big difference between resting and being lazy. Former elite gymnast, PT and IsoWhey Sports Ambassador Lauren Hannaford recommends weight interval style training because of its simplicity and accessibility. Her favourite thing about this style of training is that there are no restrictions and it can be done anywhere, anytime. The convenience of weight interval style training means that it's the perfect option when you really want to squeeze in a workout but you're struggling to find the time because it allows you to complete an effective workout without it taking up too much of your day.

2. You don't enjoy cooking
It's one thing to see all the amazingly healthy meals on Instagram but when you've just woken up and are running late for work, it's so easy to grab the box of cereal rather than the carton of eggs, fresh veggies and a frypan. Save the gourmet meals for the weekend and prep a healthy breakfast the night before so that in the morning you can just grab it and go. There are enough overnight oats or chia bowl recipes floating around online that you're bound to find one you enjoy. The slow release of energy that low GI foods means that you won't experience the energy peak and plummet that is often associated with a sugary meal or snack. Supercharge your breakfast with a scoop of IsoWhey Sports Ultra Lean Protein Powder to keep you feeling full all morning and help you avoid snacking between meals.

3. You find exercise boring
If you hit one of those days where all you want to do is lie on the couch, try to flip your attitude around and focus on the parts of exercise you enjoy. Often getting started is the hardest part but once you're dressed and out the door you're halfway there. Try putting on your exercise gear then going for a brisk walk. Once you're outside and your blood is flowing you will most likely find yourself feeling much more motivated to increase your speed and turn your leisurely walk into a proper work out. If that still doesn't cut it for you, try making your workouts more fun. PT, Nutrition & Lifestyle Coach, and IsoWhey Athlete Alexa Towersey recommends -self-limiting' exercises that involve movements more often associated with children's games such as crawls, monkey bars, rope climbing, and carrying objects. She emphasises that although these aren't traditional workouts, they're functional ways to build strength, stamina, and mobility while making training feel less like work and more like play.

4. You focusing too much on the end goal
The people who stay motivated and dedicated to their fitness goals are the ones who are less focused on the end goals, and more focused on their healthy lifestyle. You need to enjoy the small steps you're making towards your overall wellbeing along the way and celebrate the progress you're making. No one makes perfect decisions all the time but every time you choose the healthy meal or finish a workout is a step in the right direction. Let your progress motivate you because there's no better feeling than taking the stairs without needing to catch your breath or looking in the mirror and seeing your clothes starting to fit you better. Once you realise the improvements your lifestyle changes have made to your body, it's much easier to stay motivated and keep on track to achieve your end goal without being overwhelmed by how difficult the process may be or how long it may take.



Interview with Alexa Towersey, Personal Trainer and IsoWhey Sports Expert
Personal Trainer and Nutrition & Health Coach, Alexa Towersey, has trained some of Australia's most beautiful women, including Miss Universe Australia's Tegan Martin, Laura Dundovic and Renae Ayris.

Now speaking as an IsoWhey Sports ambassador she lets us know her tips for setting and sticking to fitness resolutions in 2016.


Question: How can we get fit for 2016?

Alexa Towersey: Sit down and start to think about what your goal really is. Do you want to lose weight, get muscle tone or perhaps train for a specific sporting event? You need to know your goals in order to be able to reach them.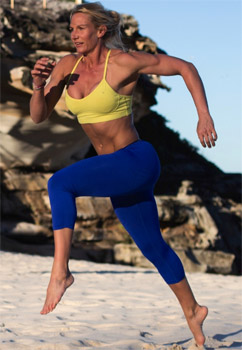 Question: What should our exercise new year's resolutions be?

Alexa Towersey: More women are coming to me and asking how they can build a booty or get muscle tone, rather than how to get skinny, which is music to my ears! Aiming to have a healthy, fit and strong physique is the best resolution as the results will be long-lasting.

If I was to encourage one goal for women to set in 2016 it would be to start weight training. Weight training has the ability to transform the shape of your body in a way that straight cardio training can't. The benefits of weight training are not limited to the aesthetic either, whether your goal is getting stronger, leaner, fitter or faster, weight training can get you there.


Question: How can we ensure we achieve our new year's resolutions?

Alexa Towersey: It's best to make your new year's resolutions now, so that you can be prepared to really kick start your health in 2016. My motto is always -fail to prepare, prepare to fail'.


Question: What's the best advice you have for someone who has never stepped foot in a gym, before?

Alexa Towersey: Often getting started is the hardest part but once you're dressed and out the door you're halfway there. Walk to the gym to get your blood flowing and by the time you get there you'll feel raring to go.

After a few weeks, if you don't enjoy your workouts, chances are you won't do them regularly enough to see the results you want. Summer weather means you can train outside, so make use of all nature has to offer. Think outside the gym and try different activities that can be just as taxing as gym-based workouts. We're spoilt for choice these days with all the classes and types of sport on offer.


Question: How many days exercise should we commit to, initially?

Alexa Towersey: Commitment and consistency are the 2 most important words when it comes to getting the results you want. When it comes to weight training, my programs require a commitment of at least 3 times per week to ensure that you are able to master each exercise and make ongoing progress. Outside of that, I suggest making a commitment to do something active each and every day so that it becomes part of your regular routine. Initially it may help to join a group class or train with a buddy so you can be accountable to someone other than yourself, and pick something fun that you actually enjoy - this can make building the habit less of a stressor.


Question: What are the most common fitness barriers?

Alexa Towersey: Even the most dedicated of people will have days when they just can't find the energy or motivation to cook a healthy meal or complete a lengthy workout. When you can't seem to muster up the motivation to work on your fitness, it's important to flip the scenario on its head and see the positive side.

A lot of people make excuses such as; -I don't have time' or -I don't enjoy cooking so I never make time to make healthy meals' but it's important to get around these hurdles. If you think you don't have time to exercise then you need to think of smarter ways to work out. Do high impact interval weight training that only takes around 20 minutes. If you don't like to cook in the week, try and prep in advance and make your meals for the week on a Sunday.

People also often think too much about the end goal and get disheartened when you don't get there as fast and you'd like to. You need to set smaller goals along the way so that you have moments to stop and celebrate along the way.


Question: Which of the IsoWhey products are your favourite and why?

Alexa Towersey: IsoWhey Sports products are great for helping with fitness results, and also for giving you energy and fuel to enhance your time in the gym.

My favourite product to supercharge your breakfast is with a scoop of IsoWhey Sports Ultra Lean Protein Powder to keep you feeling full all morning and help you avoid snacking between meals. The slow release of energy means that you won't experience the energy peak and plummet that is often associated with a sugary meals or snacks. It also provides you with extra protein that will give you fuel in the gym and help you build muscle.


Question: What's a typical weeks training for you?

Alexa Towersey: For me, training every day is a necessity, not so much physically, but because psychologically it makes me feel good. However, not all my training sessions are hard core. I try and balance my "yang" sessions i.e. weight training, plyometrics, boxing, sprints with my "yin" sessions i.e. hot yoga, pilates or barre. I believe that recovery is just as important as training and i never do more than 3 hard days in a row. My typical schedule may look like this:

Monday: Weight Training
Tuesday: Interval Run + Pilates
Wednesday: Power Walk + hot yoga
Thursday: Weight Training
Friday: Interval Run + Pilates
Saturday: Power walk + hot yoga
Sunday: "Active rest" - something fun and active outside with friends and/or family


Question: Can you talk us through your common meals?

Alexa Towersey: I try to have eggs and veggies in the morning rather than opting for an easy bowl of cereal with limited nutrients. A scoop of protein also helps me to get enough fuel for the day and stop me from wanting to snack.

Good nutrition is not rocket science – when in doubt, I stick to lean protein options and plenty of fresh, leafy green vegetables with every meal. Eating 'real" food allows you to regulate your appetite naturally so there is no need to calorie count, which I often find makes food a stressor.

As a guideline for females, aim for a palm sized portion of protein, a thumb size portion of good fats, and as many green veggies as your heart desires!


Question: Do you believe in cheat meals?

Alexa Towersey: I definitely believe cheat meals are important, however I prefer to think of them as "treat" meals. Sometimes the word cheat can have a negative connotation and a certain level of guilt attached to it. The word treat reinforces that you have earnt a reward for all your hard work.

However, not all cheat meals are made equal, and there are certainly some general rules of thumb that can make them work for you rather than against you. Firstly, a treat meal is exactly that - ONE meal, not a whole day, not a whole weekend. A whole weekend of bingeing can and will undo a whole week of hard work. Secondly, try and eat protein first. This will ensure that you're "satisfied" sooner and you won't overeat too much. Lastly, try and schedule your treat meals around your work/life balance - book them in for work events, family affairs and nights out with friends.


Interview by Brooke Hunter