Lauren Hannaford Summer Body Interview
Former Elite gymnast, IsoWhey Wholefoods ambassador and personal trainer, Lauren Hannaford has given us her top tips to achieve our best bikini body yet in the lead up to summer.

IsoWhey, Australia's leading lifestyle brand, have taken their premium Wholefoods range to a new level, launching several new nutrient-packed ingredients that cater to those who want to enhance their cooking, shakes and snacks.

With several of the key products Australian Certified Organic, the IsoWhey Wholefoods range features nutritious ingredients for optimal health, with the new range complimenting the brand's existing products and offering even more options for those who want to get creative with their eating.

IsoWhey New Products

Organic Hemp Protein: Made from cold pressed, whole, raw, organic hemp. Hemp Protein Powder contains 50% protein, naturally occurring fibre, polyunsaturated fatty acids, B Vitamins and Minerals

Organic Cold Pressed Virgin Coconut Oil: Made from 100% organically grown coconuts sourced from the South Pacific. Contains medium chain fatty acids with 50% lauric acid

Organic Cacao Powder: Sourced from organic cacao beans from the Dominican Republic which practises sustainable farming and fair trade. Cacao is a natural source of iron and magnesium which are important for energy production.

Organic Mixed Greens with Matcha: A blend of whole leafy green vegetables which are a natural source of vitamins, minerals and antioxidants. This product is a great way to boost your daily phytonutrient intake. Matcha is also known for its high antioxidant content.

Organic Superfood Sprinkle: Contains activated buckwheat, coconut flakes, berries and seeds and can be used to sprinkle on smoothies, yoghurts, protein balls or baked goods.

Organic Sacha Inchi Seeds with Sea Salt: Sacha Inchi is a nutrient dense seed that contains omega-3 fatty acids and protein.

New Brown Rice Protein Balls featuring Dark Chocolate, Banana & Baobab.

For more information about IsoWhey
www.isowhey.com.au
1300 476 943



Interview with Lauren Hannaford
Question: What are your top exercise tips leading into summer?

Lauren Hannaford: Always find a reason to train instead of an excuse not to. You never hear of anybody who regrets doing a workout. I think that right there speaks for itself.

Aim to train in the morning. Morning exercise will wake you up and release those beloved endorphins so you feel fit focused and energised throughout the whole day.

Change your mindset. Rather than being strict on yourself by thinking, 'I must workout". Change your perspective to remember how good you felt after the workout you did and make that feeling your motivation to exercise.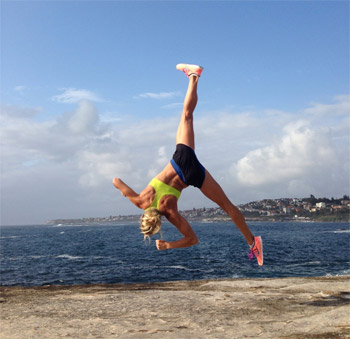 Question: Can you share your five steps to achieving our best bikini body?

Lauren Hannaford: Mix up your workout choices. My advice is to try as many different work outs as you can – think yoga to joining a running group to hip hop dancing - there's definitely a workout style to suit everyone.

Always pack a healthy snack in your bag. I've always got a couple of Wholefood Brown Rice Protein Balls stashed in my bag – perfect to give me energy before a training session. I also pack them when traveling on a plane as a healthy substitute.

Splurge on some new fitness accessories. When you look good you feel good, right? Investing in some stylish new fitness gear or cool runners is sure to boost your motivation.

Set small goals and celebrate them. I go by the moto, 'Olympic athletes weren't built in a day." Don't be too hard on yourself. Many people fall off the fitness bandwagon because they are only focusing on their end goal rather than the journey, and in doing so not noticing the small wins they've achieved along the way.

Plan your social catch-ups around fitness – Ditch your coffee catch up and go for a long walk with a friend instead. Exercising with a buddy will make you more accountable and less likely to make excuses or change your mind on the day.



Question: Why do you use IsoWhey?

Lauren Hannaford: IsoWhey products definitely make my tastes buds happy but it's the quality of their supplements and wholefoods with their high-nutritional value that makes them stand out from the crowd.


Question: What IsoWhey product from the new range is a personal favourite, of yours?

Lauren Hannaford: Oh dear that is a hard one to pin point but I think I would have to go with the new Superfood Sprinkle. It's so easy to add on top of yoghurt and smoothies and is filled with so much superfood goodness!!


Question: Why do you recommend IsoWhey products?

Lauren Hannaford: The IsoWhey Wholefoods range tastes so good whilst giving your body the vitamins and minerals needed for active people. All the products in the range are all gluten free, dairy free, vegan friendly and contain no artificial colours, flavours or sweeteners – what's not to love about that!


Question: What advice do you give your new Personal Training clients in regards to exercise routine?

Lauren Hannaford: You have answered it right there in the question….. ROUTINE!! I try to teach my clients how important it is to make exercise apart of their day to day lifestyle. Exercise isn't an added extra to life that comes and goes as it pleases, exercise should just be second nature. A permanent fixture in your life. You need food and water to live right?! Well we also need to be continually moving our bodies to keep everything functioning and staying healthy.


Question: How often and what types of exercise do you usually participate in?

Lauren Hannaford: I would exercise 5/6 times a week which would vary between a run and interval body weight training. Being a gymnast all my life, everything I have always done has been through lifting my own bodyweight, so therefore I have transferred that into my day to day exercise routine. The beauty of this type of training is you can make it as hard or as easy as possible and you can train anywhere, anytime without needing any equipment. No excuses!


Question: What's a typical day's diet like, for you?

Lauren Hannaford: To be honest I don't have a crazy strict diet or anything like that. I'm def not living off kale and cutting out carbs! I just have a well-rounded balance type of meat and veg. If I feel like carbs I will eat them, if I feel like something sweet I will eat it. When you constantly fight against what you should or shouldn't have or ignore what your body is saying it wants, then you will never find the balance and enjoyment of food and exercise. For me personally, my exercise output is huge so it allows me to enjoy that little bit extra.


Question: What's the most common exercise mistake you find women are making?

Lauren Hannaford: I think the most common mistake is not a physical action it's a psychological mistake. You hear and see so many women feeling discouraged from exercise because they workout once and then can't understand why they don't look like a Victoria Secrets model when they leave the gym. Don't worry about it, I totally understand because I too have those days myself. Sometimes I'm having an ughhhh blaahhh i feel yuck day……. I go and do a workout and feel no physical difference. BUT I feel other benefits such as a feeling positive, energized, my brain is more active so I feel more creative and focused. That right there is the motivation you need to exercise. If you train for those feelings and those endorphins post workout, then the physical results will just happen on their own. In a few weeks' time you will be walking out of the gym saying to your -Yeah take that Victoria Secrets models, I feel and look amazing'


Question: How do you motivate yourself to work out even when you're not 'in the mood"?

Lauren Hannaford: I remember how I feel after the workout which is what gets me into my training gear when I'm have an ugghhhh day.

You are always upset with yourself for the workout you DIDN'T do but never upset with yourself for the one you DID do.

I have this thing I say over and over to myself if I'm starting to feel slow and unmotivated during my workout, which is. -FIT, FAST and FIERCE.' I tell myself you are fit fast and fierce you are fit fast and fierce. - This always kicks my butt back into gear.

I always try to encourage people to have 3 affirmations or motivational quotes that they use. The 1st one to get you moving and doing the workout, the 2nd one to say during your workout and the 3rd one that you say post workout to remind yourself of how happy you are and how good you feel from getting it done.


Interview by Brooke Hunter