A Film By Adewale Akinnuoye Agbaje
Cast: Kate Beckinsale, Gugu Mbatha-Raw, Adewale Akinnuoye-Agbaje
Director: Adewale Akinnuoye Agbaje
Genre: Drama
Running Time: 107 minutes

Synopsis: Based on his own incredible autobiographical story, writer director Adewale Akinnuoye Agbaje's Farming follows a young Nigerian boy as he is drawn into the warper world of a racist skinhead gang in 1980's England. Enitan is a young boy "farmed out" by his parents to a white British family in the hope of giving him a better future. Caught between two worlds and belonging to neither, Enitan's need for love and acceptance is exploited by the adults in his life, transforming a sweet boy into a teenage menace.

Farming
Release Date: November 21st, 2019


About The Production
Farming

A term used by British social workers to describe a phenomenon that occurred throughout the 1960s, '70s and '80s, whereby Nigerian immigrants coming to Britain would foster their children out to poor white working-class families so that they could work, study and save. Once they had accomplished what they set out to do, they would collect their children and return to Africa to rebuild their lives.

Director's Statement

In 1967, when I was six weeks old, my Nigerian parents left me in the care of an impoverished gypsy family in the south east of England in the slum docking town of Tilbury in Essex. My Nigerian father was studying law less than an hour away, but I wasn't to see my parents again until I was eight years old.

It was important for me to share my experience as a black child growing up in Britain through this extraordinary phenomenon known as "farming" – the practice that Nigerian Immigrants would carry out in order to survive and build their lives, by having their newly-borns fostered out to white workingclass families. We were in effect the first black British generation of immigrant children to be born on British soil.

Farming the movie began with me not being able to sleep at night. I would write ten to twenty pages per night in order to sleep. In a couple weeks, I had a five-hundred-page manuscript that I wanted to adapt into a screenplay. I believe that I am alive today to not only tell my story, but that of a generation of children that experienced this phenomenon.

On a personal level it was so important to not only flesh my feelings in regard to my past, but also put them to rest. While I've had a tremendous amount of success in my career and life in general, there was always something that still plagued me, until I addressed it. It was my past, and the impact that it had on my life.

There's an image of Great Britain that the world is familiar with – whether it's the monarchy, James Bond or the Beatles – but there is an absolute neglect of understanding what actually makes Britain great. The experiences of the black and immigrant or migrant population are a very real part of what Britain is today. I felt that, on a personal level, I needed my own experiences to be seen and heard and this would illuminate the mass experience of what a lot of black immigrants had gone through.

The story touches on so many relevant and contemporary issues. Growing up as a black person in the 1970s and 80s Britain, was at times extremely hard, brutal and racist. England in the 70s was a rough and rapidly changing landscape, where anti-immigrant violence, and white supremacist rhetoric and general intolerance were prevalent. The rise of Tilbury's Skinhead chapter had everyone terrified – even the police. After years of systematic torment from Skinheads and with nowhere left to run. After being forced to constantly stand my ground I earnt a reputation and eventually joined my oppressors. I became a black Skinhead.

As my gang involvement escalated, my foster mother in fear of losing her other foster children called the Nigerian Parents. My biological father, now a successful barrister in Nigeria, stepped in, and took me out of Tilbury's harsh realities, and paid for me to attend a private school in Surrey. Against the odds I thrived and overcame the obstacles of my youth, going on to study law at Kings College London where I gained a Bachelor's and Master's degree in Laws.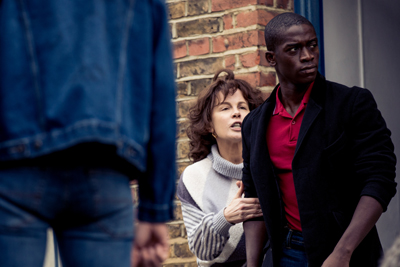 The issues raised in Farming have never been fully addressed by British society. They are surreptitiously swept under the carpet, and that's why the phenomenon of farming has been largely unknown despite the fact it has existed for decades and that these are things that still impact an entire African generation today. Blacks are simply tolerated in Britain, as opposed to accepted, we simply have to look at the recent Windrush scandal as an example of this. If you want change or harmony, you are going to have to look at these issues honestly and not sweep them under the carpet as if they are a dirty secret that will disappear.

It's about embracing and accepting that the African population, and other immigrant cultures, have been an integral part of British culture and community. This isn't about implementing laws, it's about affecting people's mindsets, perspectives and attitudes. It is my hope that Farming will do exactly that.

Being British isn't a colour – it's a culture. Until we get that in our country's marrow, we will never fulfil on a promise that is "Great Britain". It's my hope that Farming gives us an opportunity as a nation to honestly re-evaluate issues with regards to immigration and the black population that lives in the UK. It's about embracing the black population as a real part of the British fabric, and not the cursory tolerance that currently exists. I would hope that Farming is the start of a dialogue that can foster change surrounding current attitudes.
- Adewale Akinnuoye-Agbaje

Production Story

Back in the early 2000s, Adewale Akinnuoye-Agbaje began work on the screenplay for Farming. At the time he was working on the TV series OZ, created by the producer Tony Fontana. Akinnuoye-Agbaje showed the script to Fontana who was impressed by the raw emotional power of the story and suggested that, with Akinnuoye-Agbaje's permission, he send it to the Sundance Institute.

The script was read by the then Director of the Sundance Institute, Michelle Satter, who was moved by Akinnuoye-Agbaje's story. "I entered the Sundance Labs in 2006, and that year I was awarded the Annenberg Film Fellowship Grant, which was a $25k fund to develop the project," explains AkinnuoyeAgbaje. He adds, "This was a huge boost of encouragement because I was a first-time screenwriter."

He stripped back the script and began honing the project with the guidance of figures such as ThirteeN director Catherine Hardwicke, Legends Of The Fall screenwriter Susan Shilliday, and City Of God writer, Bráulio Mantovani. Speaking of the experience, Akinnuoye-Agbaje says, "They took my screenplay apart and gave me their impressions of how it could be best tweaked and put into its best form. I went away, reformed, re-honed and reworked it with some of their comments in mind and turned out the screenplay that was more or less shot."

Following the Sundance Screenwriters Labs, Akinnuoye-Agbaje entered the Producers and Directors Lab. "It allowed me to really challenge myself and turn out some scenes where I could test out and experiment with a directorial style and certain camera lenses I wanted to use. It was an essential and helpful experience."

It was during his time at Sundance that Akinnuoye-Agbaje met Michael London, who agreed to produce Farming. Akinnuoye-Agbaje would not only write and direct the film but also produce, write original music and star in the project. This meant fulfilling several roles, sometimes all at once during the production of the film.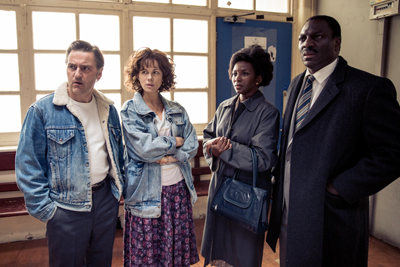 In the movie, Akinnuoye-Agbaje plays Femi, Enitan's father, a role the director-writer found surreal. "It was quite a surreal experience as it enabled me to literally put myself within my own father's shoes and see myself, as a teenager, from his perspective. The process though cathartic could be quite painful, as if opening a wound and having to squeeze out every ounce of puss, it was excruciating at times," he recalls. However, he added, "Being the head of the production, and having to rally everyone around, kept me on track. There wasn't time during the production to become too wrapped up in those feelings, to honour them. It is only now that the film is complete that I can take a moment and address how I feel."

For the production, Akinnuoye-Agbaje returned to Tilbury and to his former home on Kipling Avenue, which he admits, was a challenging experience. "There is a blanket of darkness that pervades Tilbury, and the moment that I step back into Tilbury, it invokes all those memories and feelings, none more so than the Skinhead era."

While it was difficult returning to the place of so many hard experiences, Akinnuoye-Agbaje wanted to use it as an opportunity to impress on the cast (especially the film's lead, Damson Idris who plays the teenage Enitan) the hostile, racist atmosphere of Britain in this era. "It was tough because his experience of growing up as a young black man in Britain couldn't have been more different to mine," explains Akinnuoye-Agbaje. "He grew up in Peckham, where he was surrounded by a healthy black community. Idris hadn't even heard of the racist terms I was subject to." He adds, "I really had to impress it on him and take him to the youth club, and pubs where we would hang out. It was challenging because I remember those days of being gripped with fear and terror."

Discussing how Akinnuoye-Agbaje helped him get into the role of Enitan, Idris says, "Adewale was very thorough at recalling what he went through as a child. He told me a story about how a police officer once called him over to his car and spat in his face and told him to go away – stories like this remind you of what it was like growing up as a black child in Britain in the 1970s and 80s".

While it was a challenging role, Idris explains why he was so attracted to starring as the lead of Farming. "I yearn to play challenging characters where I will learn something. Hearing Adewale's story, I would be jealous if I heard another actor was playing this role."

Taking on the role of Enitan's mother, Ingrid, is British actress Kate Beckinsale. Like many British people, Beckinsale hadn't heard of 'farming' and was amazed by Akinnuoye-Agbaje's life story. Discussing her character, Beckinsale says, "She is a very complicated character. There is a reading of Ingrid as an absolute villain. She isn't to him." She adds, "She is a woman in extraordinary circumstances but perhaps not equipped for that, and I found that fascinating. I love a character where one minute you hate her, and the next minute you sympathise with her, and then you hate her again."

Akinnuoye-Agbaje cast Essex-born actor, John Dagleish as Levi, the leader of the Tilbury Skins. Discussing what it was like working with the first-time director, Dagleish says, "Adewale is great to work with because he comes at it from an acting perspective having been an actor for so many years."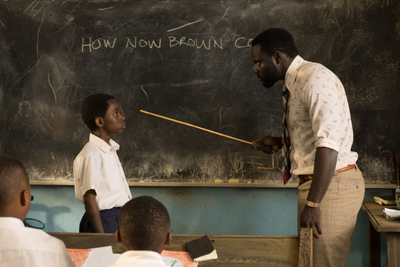 He adds, "Directors often don't know what they want until they see it in front of them. He has a clear picture of what he wants from each character and each scene from moment to moment."

Gugu Mbatha-Raw, who had her breakout performance with Belle, stars as Ms Dapo, the sympathetic teacher who offers Enitan a shot at redemption. When she read the script, she spoke with her friends of Nigerian heritage and was shocked to learn they too had been fostered by white families as children. "I realised this wasn't an isolated thing, and while Enitan's journey is very extreme, I realise this is perhaps something that a whole generation of black Nigeran children experienced."

Nigerian-born actress, Genevieve Nnaji, plays Enitan's mother, Tolu. For Nnaji, Farming offered an opportunity to tell this part of Nigerian history and explain how Nigerians came to be living in the UK. "This is a film that highlights that which is never spoken about." She adds, "I think people working on this film felt a sense of duty to do their bit, and do it the best they could, and work to make sure it doesn't happen again. People are hungry for stories like this, true stories, and I am all about telling our truth."

Now the film is complete, Akinnuoye-Agbaje reflected on what he believes the project could achieve. "At its heart Farming is a love story, it speaks to the importance of maternal love, the effects of the lack of it, the subsequent search for it, and ultimately the finding of it within oneself. On a broader level I hope Farming will provide us with an opportunity as a nation to truly re-evaluate our relationship with its resident black immigrant population and turn what exists as a state of tolerance into a state of acceptance." He concludes, "Being British isn't a colour – it's a culture. Until we get that in our country's marrow, we are never going to fulfil the promise that is "Great Britain."

Skinhead Britain

Emerging out of 1960s London as a splinter group from the Mods, Skinheads were recognisable by their dress – most notably penny loafers, thin braces, Fred Perry shirts, and Crombie coats, as well as their closely shaved heads. The first Skinheads were proud of their blue-collar roots and were opposed to the dominant hippy subculture of the decade.

Skinheads first emerged in the working-class neighbourhoods of London. Despite the fact that Skinheads would later be linked to neo-Nazi groups and fascists, their origins were more inclusive. Much like the newly established immigrant communities, Skinheads belonged to a disenfranchised section of society, often living alongside Afro-Caribbean communities, which exposed them to reggae and ska music. This led to a cultural exchange that is still in the DNA of Skinhead culture, even though most modern far-right Skinheads in the US and UK would reject this notion.

By the 1970s things changed as Skinheads became synonymous with extreme nationalist, racist, and anti-immigration attitudes.

Akinnuoye-Agbaje recalls: "Living in Tilbury at that time, as a young African boy, was a harrowing experience and one which rendered me the permanent target of racist attacks."

Discussing the culture then and now he says, "Dragging up Skinhead culture and showing the world what would have made these boys behave in such a manner, was a tough process. It invoked the minute to minute fear and terror that coursed through my veins as they terrorised me on daily basis."

Akinnuoye-Agbaje's relationship with the skinhead gang always hung in the balance. "In a single moment it could switch like a green and red light. That was my life – that on-off switch – where I could come back a victor from a battle and then they would see some white dockers across the street and immediately repudiate any connection with me to the point they would want to beat me up. There was a constant jockeying for an identity, a belonging, never a moments respite – it was relentlessly nerve wracking."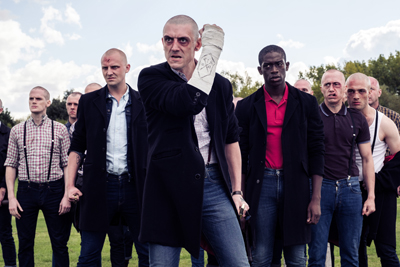 Race Relations In Post-War Britain 1948 – 2000

� 22 June 1948 " The Empire Windrush docks at the port of Tilbury bringing 490 Caribbean men and two Caribbean women
� 30 July 1948 – 'British Nationality Act' – in essence an act of parliament that gave Commonwealth citizens the same rights as British citizens.
� 30 August 1948 – The Race Riots – encouraged by right-wing, pro-white groups starting in Liverpool, spreading to Birmingham, Nottingham and West London throughout the next decade
� 20 August 1958 – Notting Hill Riots – A gang of 'Teddy Boys' assault five black men in west London. This is the start of the riots that lasted for over a fortnight.
� 8 November 1965 – The Race Relations Act – This act focused on racial discrimination in public places, forbidding discrimination on grounds of "colour, race, or ethnic or national origins". It was a civil rather than criminal act, much to the disappointment of the shadow Labour government.
� 1968 – Race Relations Act strengthened to improve on the weaknesses of the '65 Act. It now outlawed the denial of housing, employment or public services on the grounds of race.
� 20 April 1968 – Enoch Powell makes his infamous "Rivers of Blood" Speech.
� 1 January 1972 – Commonwealth immigration is restricted, even for those with British passports. Those coming to live in the UK from the commonwealth could only do so if they had a parent or grandparent born in the UK and have a work permit.
� 1972 – Idi Amin expels 80,000 African-Asians, Israelis and Britons from Uganda, seizing their assets. UK admits 28,000 people fleeing the country.
� 22 November 1976 – Commission for Racial Equality – The CRE is established by the government to tackle racial equality. This act has more power than those of 1965 and 1968, and this time includes discrimination on grounds of religious belief.
� 1980 " Newham Monitoring Project formed as a response to the murder of Akhtar Ali Baig by white Skinheads. It increased its scope from monitoring racist attacks to looking at cases of police harassment and misconduct within the local black community.
� 1980-1982 " Unemployment for black and Asian men rose 20% compared with 2% for white men.
� 11 April 1981 – Brixton Riots – Police abuse their stop and search rights, stopping 1000 people in Brixton in 6 days. Tensions build and erupt with massive civil unrest, 300 people are injured, in part due to police brutality. Other riots erupted across the UK in Leeds, Liverpool, Manchester and Handsworth.
� 11 June 1987 – Four non-white MPs are elected in the general election - Keith Vaz, Bernie Grant, Dianne Abbot and Paul Boateng – as members of Parliament for the Labour Party.
� 25 February 2000 " Victoria Adjo Climbié case – a young girl dies in the care of her foster parents. This case led to the Laming Report looking into both social services and the guardians of Climbié, MarieThérèse Kouao and Carl Manning and the practices of farming. The case led to the formation of the Every Child Matters programme and the Children Act 2004.

Farming
Release Date: November 21st, 2019