Knives Out, A Fresh and Modern Take On The Classic "Whodunnit" Mystery Genre
Cast: Daniel Craig, Chris Evans, Ana de Armas, Jamie Lee Curtis, Don Johnson, Michael Shannon, Don Johnson, Toni Collette, LaKeith Stanfield, Katherine Langford, Jaeden Martell, Noah Segan, Edi Patterson, Riki Lindhome, and Christopher Plumme
Director: Rian Johnson
Rated: M
Running Time: 130 minutes

Synopsis: Acclaimed writer and director Rian Johnson (Brick, Looper, Star Wars: The Last Jedi) pays tribute to mystery mastermind Agatha Christie in Knives Out, a fun, modern-day murder mystery where everyone is a suspect. When renowned crime novelist Harlan Thrombey (Christopher Plummer) is found dead at his estate just after his 85th birthday, the inquisitive and debonair Detective Benoit Blanc (Daniel Craig) is mysteriously enlisted to investigate. From Harlan's dysfunctional family to his devoted staff, Blanc sifts through a web of red herrings and self-serving lies to uncover the truth behind Harlan's untimely death.

With an all-star ensemble including Chris Evans, Ana de Armas, Jamie Lee Curtis, Michael Shannon, Don Johnson, Toni Collette, LaKeith Stanfield, Katherine Langford and Jaeden Martell, Knives Out is a witty and stylish whodunnit guaranteed to keep audiences guessing until the very end.

Knives Out
Release Date: November 28th, 2019


About The Production
"We just want to ask a few questions …"

The recipe is a classic. Take one group of entitled eccentrics, mix with a handful of their faithful staff, add one dead body, and set to boil in an over-polished yet mystifying mansion (under the watchful eye of a master sleuth) until a murderer appears, ready to serve a lifetime of incarceration.

In Rian Johnson's hip whodunnit, Knives Out, this delicious scenario gets a thoroughly modern makeover, pierced through by a lacerating wit and a razor-sharp take on 21st Century social mores and family bonds. It's also one that will keep you guessing till its final frames.

Channeling the spirit of Hercule Poirot by way of Colonel Sanders, Knives Out features Daniel Craig as Benoit Blanc, a Southern-fried private investigator who finds himself at the center of a modernday murder mystery worthy of Agatha Christie. Following the death of world famous writer and family patriarch Harlan Thrombey (Christopher Plummer), Blanc, partnering with Lieutenant Elliott (LaKeith Stanfield) and Trooper Wagner (Noah Segan), proceeds to interview the Thrombey clan, an all-star ensemble of grieving misfits – played by Chris Evans, Jamie Lee Curtis, Michael Shannon, Don Johnson, and Toni Collette – united by their solemn love of the old man's now readily available fortune.

With a wound to Harlan's neck and a knife still in his cold hand, the case, for Lieutenant Elliott and Trooper Wagner at least, looks like a suicide. Of course, nothing could be further from the truth. The world famous Benoit Blanc, "the last of the gentleman sleuths," rightly suspects "foul play." And as Blanc and the local lawmen begin questioning the Thrombey family and their staff, it quickly becomes clear that not one suspect has a story that even begins to clear their name.

Fortunately, Blanc has a secret weapon in Marta (Ana de Armas), the late patriarch's Latina caregiver (and possibly the last person to see him alive), a doe-eyed innocent, beloved by all. A young woman, incapable of telling a lie without losing her lunch, she proves a useful, if conflicted, ally for Blanc, as he chips away at each Thrombey's potential motive, dubious alibi, and even more rickety sense of self. Filing their greed, personal grievances and motives to a fine point, Blanc watches as the family proceeds to slowly devour one another, right up until the final shocking reveal - when all of their assumptions about themselves and each other are finally upended.

"I wanted this to be a really fun, modern movie full of clues and complications and family dynamics," says writer-director Rian Johnson, with a laugh, of his overall approach to the film.

But at the same time, Johnson also wanted something more, pointing to the long tradition of commenting on social norms from within the maze of a murder mystery. "Agatha Christie's stories weren't message-y, but if you look at her characters, they were very much about British society at the time. I think that tends to get lost today when you see all those butlers and colonels. You forget that at the time those were very fresh references to the different strata of the society. So, for me, the chance to use this genre to look at contemporary America and the types of people we're familiar with right now was exciting."

"This is what Rian does on every movie: he subverts familiar genres and makes them fresh," says Johnson's longtime producing partner, Ram Bergman. "You start watching this movie and you think, 'Oh, I've seen this movie before; I know how they work…' But then you're taken aback because you're so invested in these characters, and the movie becomes a much deeper, wilder ride than you were anticipating."

"What I love is that you can sense Rian tipping his hat to the entire history of murder mystery films while bringing a brand-new energy to the form," says Toni Collette of her initial attraction to Johnson's script. "Knives Out feels incredibly contemporary because it's so fast-moving, complex and tightly woven," explains the actress. "Rian puts all the characters on firm ground"and then he pulls that ground away from them, so you never know where the story is going."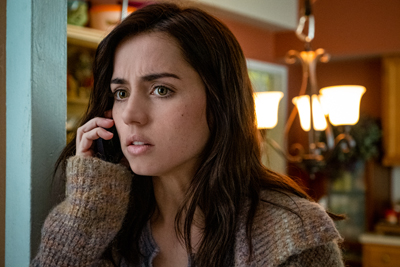 Pens Out: From Script To Screen

Best known as the writer-director of Star Wars: The Last Jedi (and the upcoming new Star Wars trilogy), Rian Johnson got his start in 2005 with the small-scale murder mystery, Brick. The film, which starred a young Joseph Gordon-Levitt in a Dashiell Hammett style story set in a California high school, set the template for the films which followed – The Brothers Bloom (2008), Looper (2012) " along with Johnson's TV work on Breaking Bad, taking innovative approaches to familiar genres. With Knives Out, Johnson, employs a similar approach, here taking the tropes of an Agatha Christie mystery to tell a thoroughly contemporary story.

One of his favorite genres as a child, Johnson brought his love of whodunnits, with their quirky cast of eccentrics and table-turning scenes, to his Knives Out script. But he started with a cast of modern day characters who were startlingly real; characters who could reflect the sprawling, mess of family life today, while navigating the social, political and class divides of the times. Of course, they also had to be fun to watch.

That became Johnson's inspiration for Knives Out. His biggest challenge, as he'd soon find out, would be the meticulous plotting demanded by the genre itself, giving modern audiences the chance to play armchair detective, while always keeping them on the edge of their seats.

"When you have a labyrinth of so many different characters, and so many different motives and all these twists and turns, even if you have the basic structure of it down, there's a lot of math that you still have to do," says Johnson of the work that went into the screenplay (one he first thought of some ten years ago, and executed after completing duties on Last Jedi). "The key is making all those mechanics invisible to the audience, so they're just on this fun ride."

At the same, Johnson also wanted to layer in an oblique commentary on the Thrombey family themselves. "I wanted to have my cake and eat it too," he explains. "I wanted the pleasures of the questioning at the beginning, the eccentric detective, the big scene at the end where the whole thing gets laid out"all the stuff I love about mysteries"but also to use the mechanics of a thriller to pull you into all that's really going on in this family." And as he got deeper into the characters and their relationships, Johnson says he couldn't help but draw from his own experience. "I'm very close to my family and they're not terrible like this family at all," he laughs. "But having grown up in such a big family, I'm very familiar with all the complicated dynamics and dysfunctions"and of course that can become really fertile ground for both humor and drama."

When Johnson's producing partner, Ram Bergman, read the script, not only could he immediately see it on the screen, he also could sense Johnson's intimate connection with the characters. "Even though Rian makes movies in a lot of different genres, there's always something personal to him in each one," explains Bergman. "This film may be his most personal, even though it's a whodunnit. I think you see that in how deeply layered and complex the family is."

With a completed script in hand, Johnson's screenplay quickly caught the attention of Daniel Craig and, one by one, the rest of Knives Out's all-star cast. "Scripts like this just don't come along that often; more like once in a blue moon," says Don Johnson, who plays the 'desperate son-in-law,' Richard Drysdale, of the project's appeal amongst the cast. "Everything ties up. Everything is connected. The characters are funny and real. You read it and you think, 'I want to play that character.'"

To ensure the Thrombey clan would feel like a real family, Johnson invited the ensemble to spend weeks together in a real gothic home, located just outside of Boston, that became the film's main set. "It genuinely felt like a party on set all the time… Well, a very productive, focused party," says Johnson of the highly collaborative atmosphere and genuine camaraderie – with a playful touch of oneupmanship – which ensued. "We had a little rec room in the basement of the house and often the actors would sit in a big circle telling stories. Every time I went down there to get something, I'd be really bummed I had to come back upstairs. It felt like a campfire. Everyone was really enjoying being on this ride together."

According to producer, Ram Bergman, the fun nature of Johnson's sets are not only at the core of his filmmaking philosophy. It's what makes them work. "For us, it answers the question of 'How can we make the best movie in the best way?' It's all about creating a relaxed atmosphere and trust. Rian's sets are always full of people having the grandest time."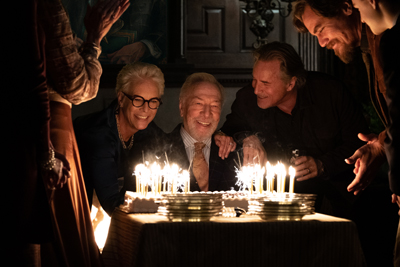 Playing The Victim

When you gotta go, you gotta go.

Harlan Thrombey/Christopher Plummer

At the center of the Knives Out storm is its victim, Harlan Thrombey – a fabulously successful writer of mystery novels who has amassed a fortune, a loyal following of readers (and a coterie of deadbeat relatives), by the strength of his creativity and hard work. But so too is Thrombey a man who, in his later years, has come to regret the consequences that his exorbitant wealth has had on his loved ones. For Rian Johnson and Ram Bergman, Oscar®, Emmy® and Tony Award® winner Christopher Plummer was the perfect actor to play the film's pivotal role of Harlan Thrombey.

Indeed, Johnson confesses that he was beside himself to be able to cast the 89-year-old actor, whose one-of-a-kind career began in the 1950s and includes such classic films as The Sound of Music and The Man Who Would Be King. "One of my favorite movies of all time is The Man Who Would Be King, so to be able to work with Christopher Plummer was an incredible treat," says Johnson of working with the living legend. "We needed someone of his enormous stature to play this patriarch, but Christopher brings more."

"He brings real complexity to Harlan; Harlan's final night is among my favorite scenes in the movie," says Johnson. "It covers so many different tones. It goes from funny, to scary, to sad, all in a few moments. Christopher creates enormous empathy in that scene, and that becomes the keystone to the entire movie… If that performance didn't work, the movie wouldn't really play."

Laying Down The Law

With heroes like these, how long could it possibly take to find out whodunnit?

Benoit Blanc / Daniel Craig:

Best known for his work on the Bond series (Casino Royale, Quantum of Solace, Skyfall, Spectre) Daniel Craig, plays a different kind of lawman in Knives Out, the decidedly offbeat, world famous private detective, Benoit Blanc. Here, the British star, long admired for his gritty intensity, emerges as a genteel Southern gumshoe who sets each member of the Thrombey family just off-balance enough so that the pieces of the complex puzzle surrounding Harlan Thrombey's death fall into place.

Johnson notes that the key to creating the character, indeed something common to all great movieland detectives, is that they have major imperfections – "the better to compel doubt from the audience," he explains. "Whether it's Poirot, Columbo, Mrs. Marple or whoever, one of the big unifying elements among movie detectives is that there's always something about them that makes you not quite take them seriously. With Benoit Blanc, I just wrote a fun, flawed character that I genuinely loved and then it was really Daniel who brought all the wonderful warmth to him."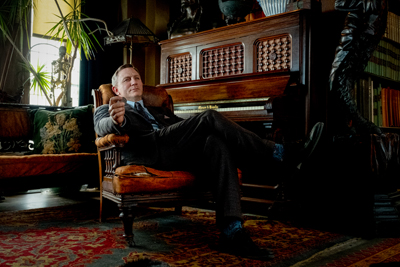 Craig, the first actor to join the Knives Out cast, was instantly charmed by the character. Looking for a way into Blanc's Southern-fried background and prying personality, he started with his accent. "I came across the Civil War historian and writer, Shelby Foote, who has this beautiful, lyrical accent and that was the inspiration I started with," Craig explains. "Eventually, I worked up the nerve to put something on tape for Rian and he said, 'let's go for it.'"

Which is exactly what Craig did. Smoothing and deepening his Tennessee drawl, he also submersed himself in the history of movie detectives to prepare for the role. Mostly, though, the actor went with what Johnson had written on the page. "I grew up on Agatha Christie movies. I also love Deathtrap with Michael Caine and Christopher Reeve, these sorts of chamber pieces where everything unfolds all in one location," says Craig. "But Rian also brings a fresh take and an edge that feels very modern to me and is a lot of fun."

Once on set and in costume, Craig says the character of Benoit Blanc quickly sprung to life; the added bonus being that he had so many talented actors to work with in each scene. "Every single actor in this was just brilliant," says Craig. "It was such a joy. They all brought their A games and when that happens there is a healthy kind of competitiveness, which is the way it should be on a set. Everyone was taking a great pleasure in their roles, but we also all took it seriously."

The credit for that mix goes to Johnson, says Craig. "Rian is really good at managing the energy on the set. He's incredibly well prepared and as the writer he knows exactly what he wants from each person. But he also isn't an intrusive director. He understood that there had to be a playfulness at work. And I think the delight that he encouraged in the performances comes across to the audience."

LaKeith Stanfield / Lieutenant Elliott:

To find Harlan Thrombey's killer, Benoit Blanc joins forces with two local lawmen, Lieutenant Elliott - a man all but ready to rule Thrombey's death a suicide until "the last of the gentleman sleuths" gives him pause to reconsider - and his partner, Trooper Wagner (Noah Segan).

A straightforward foil to Blanc and his investigative pirouettes, Elliot is played by LaKeith Stanfield, the rising young star who has appeared in some of the most critically acclaimed films of the last two years, including Jordan Peele's Get Out and Boots Riley's Sorry to Bother You.

Drawn to bold and inventive films, Stanfield says: "What interested me in Knives Out is that the script was so well executed. It presents all these wild characters and different possibilities for the crime, and then it keeps throwing you for a loop. I thought it was a great canvas to work with, and on top of that, the dialogue was so dark and funny. With each character, there is a reason to be invested in them and equally, a reason to distrust them. A big part of the fun in a story like this is questioning your own judgement and moral barometer as things get complicated."

As for his own character, Lieutenant Elliott, Stanfield describes him as a consummate "by-thebook professional" who is none too convinced by Blanc's unconventional investigations but "just wants to see if Blanc's suspicions could have some kind of truth to them."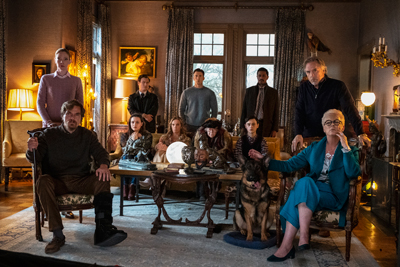 Though Stanfield, a relative newcomer, jumped at the chance to work opposite an actor of Craig's stature, he was nevertheless surprised by the star's genuine warmth and openness on set. "I expected Daniel to be super cool, which he is, but he can also be so goofy and hilarious," says Stanfield. "It's always exciting when you get to see actors make choices that you're not expecting, and I think people will be quite surprised by Daniel in a great way."

"The dynamic between LaKeith and Daniel was really cool to watch emerge," says Johnson, who admired the rapport the two actors developed over the course of filming. "LaKeith can be very funny but he's always got this genuineness to him that make him a great foil for Benoit Blanc."

"Rian was able to put everyone at ease on the set because he is himself a very balanced human being," says Stanfield of his director. "A set can be a high stress environment, but Rian finds a way to glide through it all like an Olympic swimmer."

Trooper Wagner / Noah Segan:

As Blanc and Elliott sift through clues, their assistant, Trooper Wagner, struggles to keep up with the case's never-ending twists and turns. Taking on the role of the hapless officer is Noah Segan, a Rian Johnson regular, who's appeared in Brick, Looper and The Brothers Bloom, and even enjoyed a cameo in The Last Jedi.

"I think there is a reason why my character hasn't passed the detective test," laughs Segan, when asked about Trooper Wagner. "But since he's one of the few characters in the film who is clearly not a suspect, I wanted to keep him really light and fun."

"The magic of the story is that we quickly learn that absolutely everyone in the family had a reason to see Harlan Thrombey die and absolutely everybody has a skeleton in their closet," Segan continues. "It works so well because this cast creates characters who are so detailed and so full of surprises."

Alan Stevens/ Frank Oz:

As the mystery (and mutual suspicion) surrounding Harlan Thrombey's death deepens, his salivating family awaits the arrival of one man and one man only: Alan, the family lawyer, who will reveal the contents of Harlan's final will. Arguably, a minor role in any other filmmaker's movie. But not for Rian Johnson. To play the film's voice of authority, Johnson cast none other than Frank Oz" the multitalented actor, puppeteer (his characters include Muppet mainstays, Miss Piggy and Fozzie Bear along with Cookie Monster, Bert, and Grover from Sesame Street) and acclaimed film director (Little Shop of Horrors, Dirty Rotten Scoundrels, Bowfinger, Death at a Funeral).

As any Star Wars fan will tell you, Oz is also known as the voice of Yoda.

Indeed it was on the set of The Last Jedi, where Oz became friends with Johnson. And Johnson simply couldn't resist the idea of casting the quirky Oz amidst his quirky cast of characters. For Oz, not surprisingly, joining the cast of Knives Out was simply a no-brainer: "Rian just called me up one day about this and I said 'sure, I want to play.'"


The [Un]Usual Suspects

So many suspects. So little time. Why it's enough to make poor Trooper Wagner's head spin. In an effort to facilitate further investigations into the unfortunate demise of Harlan Thrombey, please consider the notes below regarding the primary suspects in this most tragic matter.

Surely, it can't be that hard to pick the real killer out of this bunch?

Linda Drysdale / Jamie Lee Curtis:

Linda Drysdale, née Thrombey, Harlan's eldest daughter, is a chip off the old block. A driven, self-made businesswoman, she shares much in common with her deceased father. And she immediately, (and perhaps suspiciously?), resists Blanc's sudden intrusion into their family's affairs.

Taking on the role of Linda, is Jamie Lee Curtis, iconic star of the long-running Halloween franchise, and such critically acclaimed hits as Trading Places, True Lies (for which she won a Golden Globe®), Freaky Friday, and the audacious late-'80s ensemble comedy, A Fish Called Wanda. "What drew me to Knives Out was simply that it felt smart, clever and fun," says Curtis of her initial reaction to the script. "It's a perfect dysfunctional family comedy because there are characters from every generation. I think it's one of those movies that will be really fun to see with your own dysfunctional family."

"Jamie is a force of nature," says Johnson of his decision to cast Curtis in the role. "Since Linda is the eldest daughter, we were really lucky to have Jamie bring that kind of leadership quality. At the same time, she's funny, warm and deeply intelligent – all the ingredients needed for this character, and I think you feel it all on the screen."

Curtis's overall approach to the character was to create a strong woman who is reeling with grief and wrestling with a sense of duty to her father's legacy. "I felt you could play Linda a thousand different ways," explains Curtis. "You could definitely play her very arch. But what Rian and I talked about was instead keeping it more real and emotional. He wanted these characters to be very relatable, even if they're in these crazy and macabre circumstances… Linda has just lost her father so there is a lot of sadness there. But she's also the eldest sibling, so she feels the pressure to step up and become the new family elder."

For Curtis, the icing on the Knives Out cake was pairing up for the first time with Don Johnson, here playing her trophy husband, Richard. "I've known Don Johnson for such a long time, and I think we make for a great married couple," she says. "We fell naturally into a very married back-and-forth."


Richard Drysdale / Don Johnson:

Richard, Linda's dashing husband, second-in-command at her successful real estate business (and second class citizen in their marriage), has enjoyed the privileges that wealth brings. But while having married into the Thrombeys once seemed full of advantages, Richard now faces some of the downsides – including being a suspect in his father-in-law's murder.

Portraying Richard is another Hollywood screen veteran, Don Johnson. Best known for his work on Miami Vice and Nash Bridges, Johnson has gone on to star in such recent hits as Quentin Tarantino's Django Unchained, the 2018 comedy Book Club (opposite Jane Fonda), and currently headlines the new HBO series, Watchmen.

For Johnson, the key draws in signing on to Knives Out were twofold - the caliber of the ensemble itself and getting the chance to play a character he'd never played before, a 'kept man.' "I [also] found it truly well-crafted and unlike any whodunnit I've ever seen in my life," says Johnson. "The other thing that intrigued me is that all the characters have to walk such a delicate edge in this story. It's exhilarating territory for actors."

"The attention to detail on this production was so precise that we all felt like we were actually living inside this unfolding story," says Johnson of the shoot itself. "It was just a blast to see all these great actors being a little larger-than-life than what you normally see them doing. And Rian was masterful at finding just the right line and holding us all there." Says Johnson: "A lot of us have this distinct vision of him as Sonny Crockett or Nash Bridges, so it was a highly entertaining surprise to see him leaning into this very smarmy dude and having such a blast with it."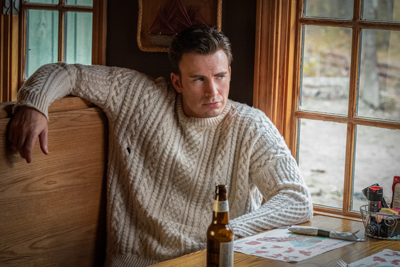 Ransom Drysdale / Chris Evans:

The only son of Linda and Richard Drysdale, Ransom is an aimless, spoiled, trust fund kid; the defiant black sheep of the family who loves nothing more than calling the clan out on their self-serving hypocrisy.

For Chris Evans, best known as the heroic Captain America, getting the chance to play the film's sneering bad boy was an offer he couldn't refuse. "It's one of those scripts that you burn through - the type of movie that I like a lot and that I don't think gets made often enough," says Evans of Johnson's screenplay. "I typically play magnanimous good guys and leaders, so this was a fun opportunity to play someone who is just out for himself," says Evans. "It was great to have that chance to stretch."

"It was fun in the wake of his fantastic Marvel arc to play with how the audience perceives Chris," says Johnson of Evans' casting. "You get to see more of his range and how great his acting chops are."

Evans sees Ransom as a man who's been born with everything – except a moral compass. "He's cynical, arrogant and he's got one of the most dangerous qualities a person can have: He thinks nothing is ever his fault and he always believes he's the victim. I think it comes from the fact that he feels so much pressure and heavy expectation from his family," Evans observes. "Ransom handles it by aiming to disappoint people before they can even ask anything of him. And when he arrives at the Thrombey mansion, it's kind of like a big, dark rain cloud coming in."

Of course, for Evans, the atmosphere on set was another story altogether. "It turned into one of those film sets where everyone became friends and hung out with each other having a great time. No one retreated at the end of a scene into their quarters. We were all in it together the whole way. And that meant that whenever it came time to roll the dice a bit with your performance, you felt comfortable to go for it."

Marta Cabrera / Ana de Armas:

Harlan Thrombey's trusted caregiver, Marta, the hardworking daughter of undocumented immigrants, may be closer to Harlan than anyone in his family – a bond she hopes will keep her own lengthy list of secrets, safe.

"Marta always felt she had to be discreet about who she really is," says de Armas of the character, an outsider whose status as "one of the family" soon shifts to that of potential suspect in the wake of the old man's death. "The Thrombey family can be casually racist and classist and other than Harlan, Marta suspects that they don't really care about her," de Armas explains. "But what I love is that nothing Marta does in the story comes out of hate or vengeance. She is someone trying to survive and to navigate her way out of a crazy situation the best possible way she can."

Born and raised in Cuba, de Armas, following a stint in Spanish television, moved to Hollywood in 2014 and scored her breakout role three years later playing Joi, the android of Ryan Gosling's dreams, in Blade Runner 2049. The rising star will soon be seen again with Daniel Craig in Bond 25; playing Marilyn Monroe in the upcoming Netflix biopic, Blonde (based on the novel by Joyce Carol Oates); and starring opposite Ben Affleck in the upcoming thriller, Deep Water, from Adrian Lyne.

For de Armas, the highlight of marking her first major Hollywood screen role with Knives Out was working with Christopher Plummer. "Christopher is such a legend," she says. "We had one of the most difficult scenes in the whole movie, a scene full of details and dialogue that is all absolutely essential to the mystery. But it also has a huge dramatic weight to it. So, there was a lot of nervousness and emotional energy for me surrounding this scene. But when it happened, it was incredible. Christopher was so fully present, giving his all, and it was really a beautiful experience."

"Ana had to be able to hold her own against this very recognizable cast, and she also had to balance a large number of layers within her character," says Johnson of de Armas' performance. "You have empathy for Marta, but you're suspicious of her at times and that's all because Ana is such an incredible actor. I thanked my stars every day that we had her." Says producer, Ram Bergman: "Ana is the discovery of this movie. I think people are going to be blown away by her..."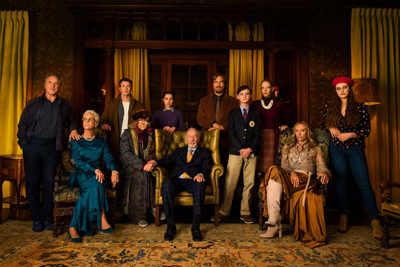 Joni Thrombey / Toni Collette:

The widow of Harlan's deceased son, Joni Thrombey lives in California where she struggles to keep her New Age lifestyle-biz, Flam, afloat. Indeed, due to her dire financial circumstances, Joni and her (unwitting) daughter Meg (Katherine Langford) have grown a little too accustomed to living off of big daddy Harlan's largesse… Yup, say what you will about the purity of this woman's chakras, she's as big a suspect as anyone else.

Playing Joni is one of the most versatile actors in film today, Toni Collette. Currently starring in the Netflix series, Unbelievable, Collette's films have run the gambit - from Muriel's Wedding to The Sixth Sense; from Little Miss Sunshine to Hereditary, to her award winning series, The United States of Tara. Indeed, it should come as no surprise that connecting to Joni's New Age vibe was far from a herculean task for the Aussie actress. "Having lived in LA for a few years, I had plenty to base the character on," laughs Collette. "But I do think Joni sincerely believes in her business, even if it's all a ruse. She truly wants to be all about bringing positivity and good energy and trying to help people live their best lives. But much as she wants to believe in all that, when Harlan withdraws his material support her world falls apart."

Being part of the Knives Out ensemble was also a thrill for Collette. "We were such a diverse, multi-generational group, it was completely fascinating," she says. "Every person had so much fun with their characters. And I think that was possible because Rian was very trusting and open to improvisation. He allowed the dynamic to really build so we'd all be in a groove together. It was exciting to have a director be so specific, but also loosen the reins enough to let each of us really go for it."

For Johnson, the sense of appreciation is mutual. "No matter how many times I watched the footage, each time I watched Toni I still caught little things that she did that I didn't see earlier," says the director. "She gives that kind of performance always. But to see her lean into comedy like this and portray this hippy-dippy lifestyle guru with a slightly darker side left me in awe."

Walt Thrombey / Michael Shannon:

Harlan's youngest son, Walt, who suffers from an ever so slight inferiority complex, had hoped to prove himself to his father (and the world at large), by running the family publishing business. But when his plans for a major expansion are shot down by Harlan's refusal to cooperate, could it possibly have left him contemplating a new career – in murder?

"I have wanted to work with Michael, forever," says Rian Johnson of Shannon, a two-time Oscar® nominee (Revolutionary Road; Nocturnal Animals), who recently starred as the menacing Richard Strickland in Guillermo del Toro's The Shape of Water. "Every time I see him in anything, he pulls your eye to him like he's a magnet and you are iron shavings; you can't not watch him," says Johnson. "Of course, he usually plays very strong, so the lightness of this role was a fresh challenge… I was excited to see what he would do with a part like Walt, a guy who is the youngest brother in the family and not at all strong."

For Johnson, Shannon once again delivered the goods, adding unexpected layers to the character. "Michael dove in and he was incredibly funny," says Johnson. "I did not expect him to be as hilarious as he was – I'm incredibly fortunate to have been able to work with him… It was really inspiring just watching Michael have the time of his life."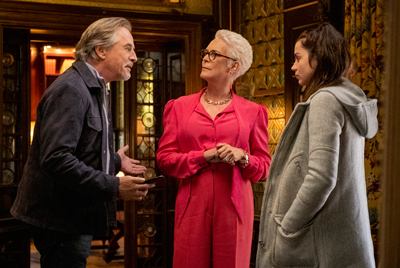 Donna Thrombey/ Riki Lindhome:

Could simply being married to Walt Thrombey drive a woman to murder? Best to ask rising star Riki Lindhome (Garfunkel and Oates, Gilmore Girls, The Big Bang Theory and The United States of Tara) who plays Walt's uptight wife, Donna.

"Well, Donna is someone who just under the surface seems like she's about to snap at any moment," says Lindhome of the character. "I think Donna is someone who thought her life was going to be perfect when she married Walt Thrombey. She now realizes that perfection isn't coming, yet she's holding on as hard as she can."

For Lindhome, the chance to join the star-studded cast was project's biggest draw. "One day I looked around the set, and there were Jamie Lee Curtis, Toni Collette, Michael Shannon and Don Johnson and I thought, I cannot believe I'm here," she says. "I especially loved working with Michael as Walt. He's not only an incredible actor, he was really generous and inspirational to improvise with."

Jacob Thrombey / Jaeden Martell:

Walt and Donna's rebellious son, Jacob, is an outlier among the Thrombeys – a prep school bad boy, alt-right internet troll, and youngest member of the family clan. But what exactly does this teenager get up to when he isn't online? Jaeden Martell, for one, isn't saying.

"Jacob is different from anyone I've played before, so I enjoyed going way outside my comfort zone," says Martell, who recently starred as the young Losers' Club leader, Bill Denbrough, in It (and its recently released sequel, It Chapter Two). Born and raised in Philadelphia, Martell got his start in 2014, playing opposite Bill Murray in St. Vincent. Notably, Martell played a young Chris Evans in one of his first films, Playing it Cool (the two never met) and will be seen opposite his Knives Out costar again in Defending Jacob (Apple TV; 2020). Knives Out also marks the second time the young actor has played Michael Shannon's son, having previously starred together in the drama, Midnight Special.

"Michael is usually so dark and brooding, so it amazed me to see him be so outgoing and funny in this film," says Martell of working with Shannon again. Still, the greatest joy for Martell, was the acting masterclass he received on the set of Knives Out, watching the entire ensemble at work.

"It was amazing – it's such a complex and intricate chemistry that all the characters have," says Martell of the cast. And his take on the Thrombey family itself? "I think they do love each other," says the young actor. "But then, at the same time, everyone just wants to kill each other," he laughs.

Meg Thrombey/ Katherine Langford:

The only daughter of Toni Collette's Joni, Meg is a progressive, perpetual college student who is scandalized and embarrassed by her mother. Cast in the role is Katherine Langford, who garnered a Golden Globe® nomination for the role of Hannah Baker in the Netflix series 13 Reasons Why.

For Langford, Meg represents a new generation of Thrombeys, more clued-in to the world around her. "What really intrigued me about Meg is that she's the one who tries to be a bridge between the Thrombey family and Marta," says Langford. "Meg has a different perspective from the other characters as a 20-something with views that I think are relatable to a lot of young people today."

For Langford, getting the chance to work with fellow Aussie, Toni Collette, was perhaps her greatest takeaway from the experience. "Although I'm from Australia, I've never had the opportunity to work back home so to be able to work with Toni was amazing," says Langford. "And then when you add in Daniel Craig, Michael Shannon, Jamie Lee Curtis, Don Johnson – the list goes on – there was an incredible amount you could learn."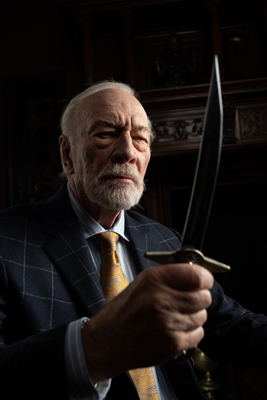 Greatnana Wanetta Thrombey / K Callan:

Rounding out the Thrombey clan is the family's eldest member, dear old Nana Thrombey. Indeed, she's so old that no one even knows her age. Nana is a woman of few words. But has she been quietly witnessing everything? Taking the role is author and actress K Callan, seen in such films as The Onion Field, American Gigolo and A Change of Seasons, and known to television audiences as the mother of Clark Kent in the hit 90s series, Lois & Clark: The New Adventures of Superman.

Home Is Where The Corpse Is

For Knives Out, Rian Johnson had always envisioned dropping his eccentric cast of characters into an especially dazzling and peculiar home stuffed to the gills with macabre wonders - the kind of place a murder-mystery writer like Harlan Thrombey would create for himself. And, true to the film's title, a house also filled with deadly sharp objects.

In order to create Harlan Thrombey's personal playground, Johnson brought on board production designer David Crank, known for his work with Paul Thomas Anderson on such films as The Master and Inherent Vice, as well as his art direction on There Will Be Blood and Terrence Malick's Tree of Life. "The first thing that Rian and I talked about is that the house should be an outward mirror of the kind of world Harlan liked to create in his books," explains Crank. "So it's all a little bit twisted."

After watching hours of classic whodunnit footage, Crank went in search of a one-of-a-kind house that could be a character in the film in its own right - a house that would pay homage to the genre, yet be unique to Johnson's contemporary vision. He found it just outside of Boston. Built in the 1890s, the lavish gothic revival home seen on screen is a true family home that has never changed hands.

"Fifty percent of the work of setting the tone was done for us by that house," says Crank. But then came the more exciting half of the work - designing the menacingly madcap interiors. Because the house had private owners, great care had to be taken in its transformation. "The house remains a family home and it's also a historical site, so of course we couldn't just go in and cut a wall out or anything like that," Crank explains. "There were a lot of issues we had to solve, but nothing was insurmountable, and the challenge of it was inspiring."

"Because Harlan's house plays such an important role in the film, the question was always how we could keep it visually interesting at every turn and give it real scope," says Johnson of his collaboration with his production designer. "So much of the credit for that goes to David and his team."

Crank tackled his design floor by floor, building to a crescendo in Harlan Thrombey's upstairs retreat. "The idea was that with each level you go up, things get stranger and stranger, each room getting more eccentric and more colorful than the last until you reach Harlan's domain," the designer explains. "The 3rd floor is comprised of Harlan's hallway, bedroom and study, and all three of those were built on a stage to give us maximum flexibility for the key sequences on the night of Harlan's death."

Another period mansion provided one of the film's most memorable interiors: Harlan's library.

For that set, the filmmakers moved the production to the Ames Mansion in Easton, Massachusetts. Designed by the famed suffragette (and grandmother of George Plimpton) Blanche Ames, the home was originally built in 1910 to be the family's country retreat. Here, Crank set about working with a balconied space featuring two-story bookshelves and wrought iron railings, going so far as to design his own comictinged book titles and covers. As a finishing touch, he suspended from the ceiling an eye-popping sculpture made from glistening, crossed knives that became the centerpiece of the film.

Everyone on Crank's team contributed ideas for the design with the shared idea that nothing could be too over the top for Harlan's aesthetic. While the rooms features plush furnishings, rich brocades, ornately carved wood, imposing portraits, marble fireplaces and stunning antiques, the sophisticated, museum-like ambiance is constantly undercut by a slew of shocking knickknacks. From medieval armor and bizarre theater props to bloody portraits, many of these unconventional items were sourced from around the globe, while others were custom-created. "Our set decorator, David Schlesinger, came up with so many incredible finds, and both he and our art director, Jeremy Woodward, were constantly adding detail after detail to the character of the house," Crank says.

The final result proved transporting for the cast who essentially moved into the house en masse for the two months of shooting. "David created something truly beautiful out of all these macabre tones and colors," says Jamie Lee Curtis. "Everything was so unique, it felt like a work of art."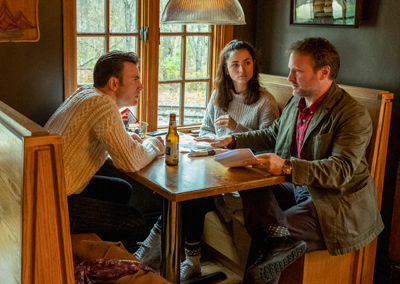 "One of the most fun things about working on Knives Out is that every time you walked into a new room, there were wild treasures everywhere," says Riki Lindhome. "I remember the first time I sat down in the chair in the library when I realized the chair had two owls for arm rests… The closer you would get to any object, the more you'd realize something was just a little bit off. I love that. It reflects the whole tone of the movie, where you think you are in this beautiful estate with a family that has everything, but then you realize there is something amiss with them."

"I don't think that there was a day I showed up for work that I didn't see something new in the house, something I didn't notice the day before," says Don Johnson. "It was not only a fun place to explore. It had a remarkable ability to snap you right into the time, place, and the spirit of the material." Capturing the action on Crank's set was Johnson's go-to director of photography, Steve Yedlin.

Close friends since attending film school together at USC, Yedlin has worked on all of Johnson's films. "We have this kind of mind meld from working together for so long," says Johnson of his DP. "But I think Steve really outdid himself with this film. He came off a Star Wars movie where you have the massive scope of fantasy, and this was such a different challenge. Steve relished dialing it up to the nth degree and homing in on all the vital details. He struck a balance between realism and bringing just a little bit of a theatrical element… Of all the films I've done, this may be my favorite, visually."

Dressed To Kill

To give each cast member a look as distinctive as the Thrombey mansion, Johnson turned to costume designer, Jenny Eagan, whose recent films include Cary Joji Fukunaga's Beasts of No Nation and Steve McQueen's Widows. "Jenny created something very modern, yet each character is completely distinct," says Johnson of Eagan's work. "In in one glance you get who they are."

The sheer size of the cast, not to mention their eccentric characters, proved an inspiring challenge for Eagan as she worked with each individual cast member. "With a cast like this, where every person is so talented and brings so much to the table, each actor helped to really inform me with their take on the script and their understanding of who their characters are and how they live," she explains. Starting with Christopher Plummer's Harlan Thrombey, Eagan crafted a trademark look starting with the loud, rebellious combo of plaid jacket and pink shirt. The trick, for Eagan, was figuring out just where to draw the line. "I knew Christopher Plummer was going to give an incredible performance, so I didn't want to take any attention away from any word he says," explains the costume designer. "So it's a look that speaks to Harlan's wealth and occupation, but also to his more human side. I think it really inspired Christopher."

Benoit Blanc's elegant look involved more of a process. Initially, Eagan envisioned him in a dapper white linen suit. But after conversations with Johnson and Daniel Craig that look changed, modeled initially after the sartorial style of director John Ford in a 1950s photo. "The look became more understated, but with subtle nods to Blanc's Southern heritage," Eagan explains. "He's a bit eccentric and flowery"he has floral ties and a matching handkerchief and floral touches on his socks"but it's never over the top."

For Jamie Lee Curtis and Don Johnson (as Linda and Richard Drysdale), Eagan honed in on how key their upper-class status is to their identities. For both, Eagan chose luxurious fabrics and boldly confident, yet classic looks. While Curtis in real life eschews bright colors, the actress and the designer were in immediate agreement that Linda would wear the most blaring hues along with ostentatiously expensive jewelry possible (provided for Curtis by Verdura). "We used a lot of bright pink and turquoise for Linda; those are colors which in a film you'd usually think are too loud, but it was perfect for this character," says Eagan. "Jamie was so much fun to work with. She was constantly sending me ideas." Meanwhile, for Don Johnson, "it's all about the cashmere," explains Eagan. "His character isn't flashy, but he definitely likes expensive things and he's very, very pulled together."

Linda's brother Walt, played by Michael Shannon, is the antithesis of a fashionista. "Walt's character is the son who hasn't really succeeded, so his look is more disheveled and everything's a little awkward and off," says Eagan. "Michael is different in every role does, and this was no exception. It was really fun to create a look for him that tries, but just misses the mark."

Toni Collette, as Joni, brings a woozy gust of California into the mansion. "Her look follows the tone of her lifestyle brand: light, airy and flowy," says Eagan. "We put Toni in all this diaphanous clothing"billowing silks and soft pastels"and every fitting was incredible because it all worked on her."

For Chris Evans' Ransom, Eagan broke out the kind of in-crowd couture pieces a trust funder would wear with casual disdain, including a luxurious, long cashmere coat. "It was so fun to dress Chris," says Eagan. "Ransom is rich, eccentric and he doesn't care about anything. He's the kind of person who throws his very elegant, very expensive coat on the floor, so we kind of roughed all his clothing up. That really plays to a character who disrespects the money, the house, and everyone in it."

Ana de Armas' Marta was one of the most challenging looks for Eagan - a working class outsider who stands apart from the Thrombey family, while also attempting to fit in. "We wanted her to look like an ordinary person who is trying to support her family," says Eagan. "She's not the type who wears a nurse uniform or scrubs. She wears casual, functional clothes that show she has become comfortable as part of Harlan Thrombey's world, but there's also a hint of someone who hasn't been able to have much of a life outside of work."

In the end, Rian Johnson was thrilled that his cast and crew were as obsessed with honing the film's finer details as he was himself. For Johnson, it was an attention to detail that began with working out the requisite minutiae required by a whodunnit script, and extended to every detail in the final film, down to the final edit. "Even while we were editing, I was still picking out little things that the team hid in the film," laughs Johnson. "I think it will all be a lot of fun for the audience." "We hope the film is an original and enjoyable ride," says producer, Ram Bergman. "That it will make you laugh, that it will surprise you, but that it might also make you think. Rian brings in so many things that we're dealing with in our lives today. But he does it in a way where you never stop feeling entertained."

Knives Out
Release Date: November 28th, 2019