Some Bands Can't Be Managed
Cast: David Hayman, Dave Johns, Tuppence Middleton, Daniel Mays, James Purefoy, Noel Clarke
Director: Chris Foggin
Genre: Comedy, Drama
Rated: M
Running Time: 111 minutes

Synopsis: A fast-living, cynical London music executive (Danny Mays) heads to a remote Cornish village on a stag weekend where he's pranked by his boss (Noel Clarke) into trying to sign a group of shanty singing fishermen (led by James Purefoy). He becomes the ultimate 'fish out of water' as he struggles to gain the respect or enthusiasm of the unlikely boy band and their families (including Tuppence Middleton) who value friendship and community over fame and fortune. As he's drawn deeper into the traditional way of life he's forced to re-evaluate his own integrity and ultimately question what success really means.

Fisherman's Friends
Release Date: November 21st, 2019


About The Production
New Beginnings

The birth of Fisherman's Friends started, appropriately enough, with a birth. Producer/writer Meg Leonard was in hospital the day after the birth of her son watching daytime TV when Cornish singing group the Fisherman's Friends made their first appearance on national television. "I was instantly captivated by the sense of community, humour and tradition that the ten men personified," she says. "They stood for a simpler, more connected way of life that many of us have lost and are craving"

Hailing from Port Isaac in Cornwall, the Fisherman's Friends began performing sea shanties locally in 1995, frequently raising money for charity. In 2010, they signed a reported £1 million record deal with Island Records, and saw their album Port Isaac's Fisherman's Friends become a gold disc, becoming the first traditional folk act to land a UK top ten album. Since then this band of lifelong friends has been celebrated wherever they've played – even the Pyramid Stage at Glastonbury.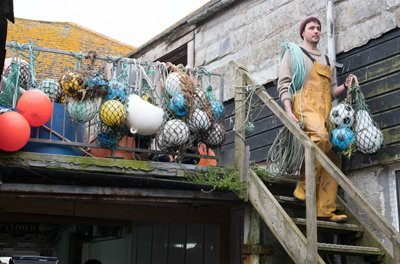 "Their unlikely rags-to-riches story was crying out to be told," says Leonard's partner Nick Moorcroft. "These stories don't come along very often." He swiftly set up a meeting with Ian Brown, the Fisherman's Friends manager, whose discovery of the band would form the core of the story. "I met Nick Moorcroft in a pub in Soho," remembers Brown, "we discussed it and, frankly, I was thrilled to be with Nick in a pub in Soho! In truth I just thought it was a great PR story and it would never actually turn into a film."

Yet Brown hadn't counted on the determination of Leonard and Moorcroft, who wrote the script together with Piers Ashworth, a screenwriter with whom Moorcroft has worked several times on projects such as St. Trinian's (2007) and Burke and Hare (2010). "It's an uplifting, true story that fits a great British tradition of filmmaking," opines Leonard, "where everyone can identify with the underdogs and root for them to succeed against the big man"

Joining forces with producer James Spring at Fred Films, it was something of a reunion for the team behind the 2017 acclaimed British comedy, Finding Your Feet, which Leonard and Moorcroft also scripted. Of course, having the real band's blessing was vital as the screenwriters began to put the script together. "We couldn't have made without their involvement and support" says Leonard. "We drew on their banter, mannerisms, experiences, dialogue and channelled them into the four main characters within the band."

Scripting the story, Leonard and Moorcroft invariably took a little poetic licence with the band's evolution. "It is based on a true story," smiles Brown.

Internal use only "Obviously there's some of it that has been exaggerated. But much of it is absolutely true, you know." As the film shows, the Fisherman's Friends really did land a major record deal with Island Records, make appearances on national television and see their album chart at Number 9.

At the heart of the film is the character of Danny – somewhat loosely based on Brown. A music manager who is on a stag weekend with his colleagues, he sets out to sign the Fisherman's Friends after seeing them perform on the Platt in Port Isaac. "I didn't actually think he was me," laughs Brown, "because he is a) far too good looking and b) a lot younger. I've never driven a Range Rover – I drive a Mini – and I've been married to the same woman for 30 years, happily. And I've never worked for anybody because I'm unemployable!"

Nevertheless, the fictionalised version of Danny allowed the writers to craft a story that sees him encouraged to sign the band by his boss Troy, which Danny is unaware is a wind up. "In the process of trying to get the reluctant men to agree to take him seriously – and then the record labels to take their music seriously – he embarks on his own journey of self discovery," says Moorcroft. "Along the way he falls in love with the village, the Cornish way of life and the daughter of one of the lead fishermen."

The next stage was attaching a director. Enter Chris Foggin, whose sparkling directorial debut Kids In Love (2016) starred Will Poulter and Cara Delevingne. "I just remember as soon as I read it I thought, 'This is absolutely wonderful,'" he recalls. "It's a story that just immediately gripped me. I found it so heart-warming." Particularly reacting to the "underdog" character of Danny, Foggin felt 'This seems like something that has to be told.'"

Reading the script, Foggin was really taken with the feeling the story gave him. "It's full of hope," he says. "I think that's why these are stories that people can relate to…it's just all about never giving up and if you get given this opportunity you take it." In his eyes, the range of characters – from the fisherman father Jim to the single mum Alwyn and the ever-hopeful Danny – are all recognisable. "In this project there is a character that someone somewhere will relate to."

Casting Fisherman's Friends

Casting director Alex Johnson came on board, having worked with the Producers previously on several projects. Naturally, a crucial element was casting Danny, the music manager. The team went to Daniel Mays, the versatile British actor who has starred in everything from Mike Leigh's Vera Drake (2004) to the remake of Dad's Army (2016). Admittedly, Mays was a little confused when he got the script titled 'Fisherman's Friends'. "I was like, 'Do you mean the lozenges? The throat sweets?'"

Unaware of the folk singing Fisherman's Friends, Mays reasons it was no bad thing. "It's a really a healthy place to start with any new project," he says. "It is always a great added element, endeavouring to discover what the story is Internal use only about." Once he learned about the band's amazing true journey, he was hooked. "Tied up in it all was this amazing script. It had all of those elements that a charming British film should have. It was unashamedly feel-good and populist and all of those sort of things…it had a great energy to it."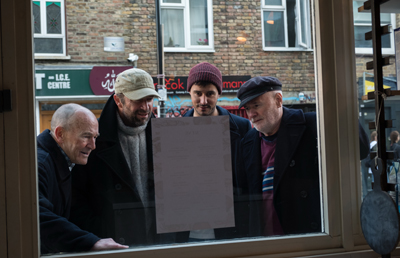 He was particularly taken with his character, Danny. "He has come to a crossroads in his life. All of a sudden he sort of finds this girl and not only the girl but the community and the environment and the music and the songs and the shanties. Something just shifts in him and he basically does a u-turn on his life…I guess it represents something that he has totally and utterly been lacking. It's very much a light bulb moment."

When it came to finding an actress to playing Alwyn, the young, principled single mother that Danny begins to fall for, the production went to Tuppence Middleton, the Bristol-born talent whose credits include The Imitation Game (2014) and Jupiter Ascending (2015). "I was sent it to read over a weekend and I really fell in love with it," she remembers. "I just thought it was such a perfect story. I couldn't quite believe that it is based – or loosely based – on a true story. I just thought it had everything."

She particularly responded to the film's "romantic storyline", as Danny discovers the beauty of the band's sea shanties. "He really falls in love with the culture and he falls in love with how much it means to them and where these shanties came from and then he meets my character Alwyn and I think she just brings him into this world and shows him a different way of life that, I guess, is so seductive for a lot of people."

When it came to finding the performers needed to play the four main band members – Jim, Jago, Leadville and the younger Rowan – the team cast the (fishing) net wide. For Jim – fisherman, grandfather, father and Fisherman's Friend lead singer – They approached Rome star James Purefoy. "On page three of the script," grins Purefoy, "it says 'Jim, listening to the shipping forecast, in his kitchen making coffee, standing in oil skins'…they had me at oil skins!"

He was particularly taken with the sense of community and rural life that the script conveys. "The film opens with a shot coming in to the village and the movie end with a shot leaving the village," he explains. "It's like we've got this lovely kind of bracketed story where we come in, we meet all of these people, we tell their story and then we come out again and it's very charming."

Playing fishermen Leadville and Jago, two older members of the band, are – respectively – Dave Johns and David Hayman. A stand-up comedian who bowled over audiences with his award-winning performance as the unemployed carpenter in Ken Loach's I, Daniel Blake, Johns was taken with the camaraderie at the heart of the story. "What comes over is the friendship of the guys. There is a real friendship and a bond there…I loved that bond that they had."

Internal use only A native of Newcastle, Johns freely admits he "wasn't into sea shanties" when he first read the script. Upon receiving it, a strange coincidence happened: the Fisherman's Friends were playing at the Sage Gateshead, a venue close to where Johns lives. "It came sort of out of the blue," he says. "So I went to see the guys and I was blown away. They really smashed it."

Giving thought to why the band is so successful, he adds: "The songs were made for work on ships and getting the rhythm going. They are simple words but they are very heartfelt and you can't help but get caught up with the enthusiasm of how the guys perform and just the tunes and the songs…I can see why it is so popular with audiences."

As for Hayman, he was aware of the Fisherman's Friends story before he was sent the script. He then spoke to Moorcroft and Leonard over the phone. "They told me the story and I fell in love with it instantly," he confesses. "It's a feel-good, heart-warming movie about an extraordinary bunch of men, who transformed their lives through singing, and transformed millions of other people's lives through singing sea shanties. It's about the power of community, the strength of family that so much of the country has lost."

Hayman was already experienced in the world the film depicts, from working on documentaries set around seafaring to starring in a production of Eugene O'Neill's play Anna Christie, "which was set in a sea-going community in North America". It meant singing sea shanties on stage every night. "For our warm-up exercise before we went on we would all stand around and sing these wonderful sea shanties just to get the energy up and to get the essence there."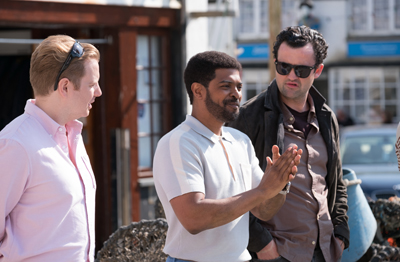 To play Rowan, the youngest member of the Fisherman's Friends crew and arguably the one with the sweetest voice, the team hired Sam Swainsbury, who has begun to make a name for himself in TV shows Mum and Fearless. As Swainsbury points out, the real Fisherman's Friends group is ten-strong, a number that's rather difficult to represent in the framework of a feature film where there is only limited screen time.

It meant that their roles – including Rowan – are composite characters. "It's really nice in a way because in portraying an exact person there is a different responsibility that comes with that rather than interpreting different facets of different people in the band. So I guess there is more freedom for us as actors to interpret and then portray those characters on screen."

Swainsbury's singing experience was mainly from his time as a student. "We did a lot of singing at drama school," he says. "I was always the one who was like, 'Oh god singing!', but then I would come out feeling so good. It is very cathartic and I think it is one of the things which is great about the Fisherman's Friends because it's just singing in a group of people. It just feels so good, it's really good for your soul."

For the role of Maggie, who runs the Golden Lion pub where the Fisherman's Friends can regularly be found propping up the bar, the production went to Internal use only Maggie Steed (Paddington 2, A Cure For Wellness). Born in Plymouth, just across the River Tamar that forms the border between Devon and Cornwall, "I felt it was completely down my street," she says. "It was like nothing else I'd ever come across really because I come from this part of the world."

She continues: "A lot of my mother's family were Cornish and her grandfather was a boat builder in St. Ives and we used to come to Cornwall on holiday, I know the area really well. Also, in Plymouth, I used to go folk singing a lot so I know a lot of these songs by heart from a long time ago." It made her determined to win the role when she first read the script. "I thought, 'No one else is going to have this part, mate!'"

Rounding out the ensemble, the hugely talented actor-director Noel Clarke (Star Trek Into Darkness, Adulthood) stars as Danny's mean boss, Troy.

Playing Danny's colleagues, Christian Brassington (Poldark) was cast as Henry, whose stag weekend it is when the boys head down to Cornwall, and Vahid Gold (Emerald City) signed on as Driss. For the London sequences, rising star Jade Anouka was brought in to play Leah, the no-nonsense record exec who signs the band.

Heading to Port Isaac

Fisherman's Friends was always going to be a location shoot, rather than trying to re-create Port Isaac in a studio set-up. Leonard calls it "vital" that the production went to Cornwall to take advantage of not only the stunning scenery but the atmosphere. "We couldn't have done this story justice without being immersed in the authenticity of the real world," she adds. "Being welcomed into the community helped make it a very good humoured and passionate shoot. Hopefully that goodwill comes across on screen."

Locations included the real Golden Lion pub. The watering hole for all the local fishermen, it's a key part of the story, as this hub in the community, owned by Rowan's family, is facing financial issues. The Platt, the local harbour, was another place used on screen. But more than that, the real Fisherman's Friends and their families opened up their own homes. "They said, 'Where do you want to film?'" says Foggin. "People were so welcoming and opened up so much."

Having the Fisherman's Friends, who live locally, on set during the shoot was hugely beneficial. "We really lucky to have the real band at hand to help," says Moorcroft. Aside from aiding with access to locations, this oldest 'buoy band' in the world were also able to assist with fishing knowledge, help out with singing rehearsals with the actors and even advise on Cornish dialect. "All the real band actually has cameos in the film too," adds the writer/producer.

Observing the men that inspired the characters and their families was crucial, adds Middleton. "My character is an invented one but it was important for me to meet these people and their sons and daughters and I'm playing obviously the daughter of Jim who is one of the Fisherman's Friends. Just being there Internal use only and immersing yourself in the culture and the community is very important. I think we wouldn't have been able to do it without their guidance."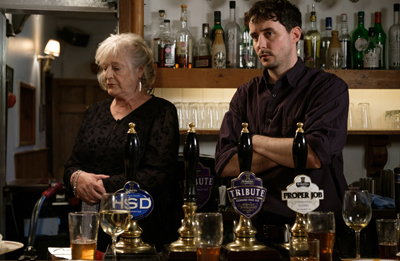 Swainsbury concurs. "Meeting them…there is no other way really to experience that – hanging out with them, being in the pub, listening to the band, the constant teasing that comes with it. I don't think there could have been any other way of doing this film than being with these guys, spending some time with them, singing with them." He recalls his first night rehearsing songs and drinking beer. "It just encapsulates what they're about."

With several scenes set on the water, the cast and crew also had to find their sea legs. Receiving help from several of the Fisherman's Friends, teaching them how to fish and handle lobster pots, the actors spent a couple of days on the boats to get used to life on the ocean waves. "I worked on Creel boats before, lobster and crab boats, making documentaries, so I am au fait with how they work and the nature of the job involved," remarks Hayman, "and it is just great fun."

The actors largely took to being at sea. "I absolutely loved it, being out there on the ocean and just being there at one with nature pulling in these pots, just getting in and getting your hands dirty," says Swainsbury. "It made me think maybe as an alternative career, maybe I might take up fishing! But I think actually doing that for a week, it is a lot harder [than it first seems]...so I'm a fair-weather fisherman at heart!"

Johns agrees. "The first day we filmed on the boat we were pulling in lobster pots. I mean we were doing a day's graft, throwing them back in and then starting again, and bringing them back out so we all felt as if we had done a day's fishing. I don't know how anyone does that as a job, day after day after day. The boat is lifting all over the place and those pots are really heavy. I can imagine after a few weeks of that, you'll know that you've been out doing work."

Shooting the at-sea scenes was "madness", says Hayman, with twenty-or-so people, camera equipment and sound booms aboard a little boat – the Maverick, which belonged to one of the band members. Not all the crew coped. "Three of them got seriously seasick…you could see people slowly turning white and then green and then going a funny kind of blue/green colour," Hayman recalls. "Next minute the vomit was flying all over the place, so we were ducking and diving on the boat to miss it."

Despite various crew members being forced back to shore, as Leonard recalls: "Luckily all the actors were fine and we got all the scenes shot. We really loved being out on the boat but it also gave us such respect for the work the real fishermen do day in day out." Another blessing came from Mother Nature, with the elements remaining calm. "We were pretty nervous about weather conditions preventing us from filming but we were incredibly lucky throughout the shoot," notes Moorcroft.

Shanty Town

Internal use only Naturally, the beating heart of the film is the songs. "The shanties sung by the band in the film are all part of the real band's repertoire," says Leonard. "When you hear them for the first time you realise many of the songs are familiar, they are part of our shared musical heritage. They are songs that everyone can join in and sing. As we say in the film, these were the rock and roll of 1752!"

The way Moorcroft sees it, the sea shanties set the musical identity of the film, inspiring the score and providing a counterpoint to the film's story beats. "We open the film with 'Nelson's Blood' and close with 'No Hopers, Jokers & Rogues'. The narrative is punctuated by our fictional band performing songs which reflect key emotional moments in the narrative and help tell the story."

As Foggin puts it, once you've seen the Fisherman's Friends sing live, you'll be transfixed. "Listen, you just can't not like it, it's just so raucous, it's powerful. Everyone is having a good time whether the songs are being performed or whether they are being watched, and it allows everybody in…I can't speak highly enough about that music."

While Fisherman's Friends might be dubbed the world's first sea shanty musical, Purefoy estimates that the songs are organically interwoven into the story. Moreover, they're tunes that audiences, particularly in Britain, will have in their DNA. "Everybody knows the tune to 'Drunken Sailor'. How do they know the tune to 'Drunken Sailor'? It's just one of those weird things. I think we are just born with it."

For the actors, there were different levels of experience coming in to the singing. Johns remembers early rehearsals. "I was thinking that I would just be in the chorus," he admits. "I think my enthusiasm for the songs…I think I sort of dropped myself in it. They started saying, 'Oh well you can sing the lead in the songs.' I think I shot myself in the foot there, but it was great fun!"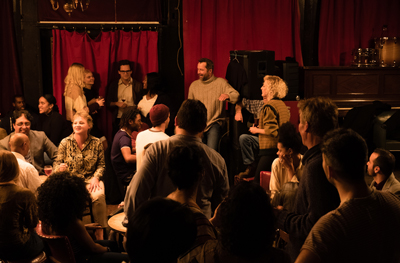 Purefoy confesses he is no singer, but it didn't put him off. "I know good singing and I know good singers and I don't have a big a very pure voice…my voice is gonna be a bit rough around the edges, a bit raspy and that's kind of what they do. But that's what gives it the flavour, the taste of this place, the sea and who these men are. They're no choirboys!"

Hayman describes his experience as "almost zilch", with a drama school teacher once telling him he couldn't sing. "I guess that put me off singing for the rest of my life apart from playing in pantomime! So I was really surprised when I was cast in this. I just got offered it and I thought, 'They don't know I can't sing!' But what has been so extraordinary about it, being around the Fisherman's Friends and singing in a group, it brings the best out in you and you build your confidence."

Whether it was in rehearsals or singing with the real band in the pub of an evening after the day's shooting, it was eye-opening. "There is a real kind of collective sense of unity as soon as they start singing," says Mays. "You can't help but be drawn into that sort of revelry and positivity and collectiveness that Internal use only those shanties evoke in people. That I guess is the biggest difference, that element of singing and the musical side of things is unlike anything I've ever been involved in before."

On the very last night of the shoot, the real Fishermen's Friends put on a concert. "It was a magical night," recalls the band's manager Ian Brown, "because everybody saw why this film was being made, why I went to Port Isaac, why Island records signed them and why so many people come out to see them around the country." With a couple of thousand watching, "I think all of the actors were amazed at that because they hadn't actually seen that before they filmed. They had seen bits of it but they hadn't seen the full horror of the Fisherman's Friends!"

For Leonard and Moorcroft in particular, it was a hugely satisfying moment in what's been an incredible journey. "This had been a passion project for both of us for over eight years before we started filming, we've been to Port Isaac many times and also to Glastonbury with the band," says Leonard. "We are incredibly proud that we've finally been able to tell their inspiring story, as well as giving sea shanties a new platform." Now cinemagoers will have a chance to see, hear and sing-a-long with the world's greatest folk act: the Fisherman's Friends…

Fisherman's Friends
Release Date: November 21st, 2019