Amateur Cooks Revealed as the Stars behind Adam D'sylva's One-Night-Only Pop Up Restaurant: Dux Kitchen
Guests were speechless last night when it was revealed that Adam D'Sylva's one-night pop-up restaurant, Dux Kitchen with Adam D'Sylva, had been staffed entirely by untrained cooks, with no previous experience with duck or in a commercial kitchen.

The amateur cooks, who attended Dux Kitchen masterclasses with Adam D'Sylva at the Luv-a-Duck Headquarters in Melbourne, were first presented as Adam's kitchen staff before their true identities were revealed, just after the forty guests had enjoyed their final course.

Diners were treated to eight exquisite dishes at Rokeby Studios in Collingwood, including signature recipes such as red duck curry, duck Bolognese, Peking duck soba noodles and crispy skin duck breast. Guests were shocked to discover that each one of Adam's mouth-watering dishes had been prepped, cooked and plated by seven members of the public with no formal cooking experience.

By incorporating duck into each dish, Adam and his team of amateur cooks were able to showcase the versatility of the meat, substituting more common proteins for the distinctly delicious flavours of duck.

Duck is often inaccurately associated with expensive and difficult to cook recipes. Adam's team of amateurs produced eight delicious dishes, each incorporating Luv-a-Duck products available from supermarkets and leading butchers & grocers around the country; demonstrating that duck is an easy and quick way of making gourmet cooking possible for the everyday home-cook.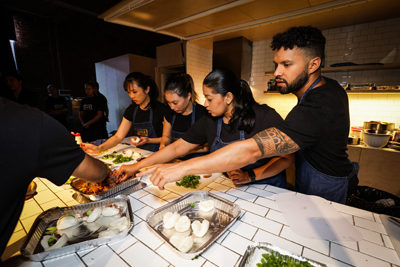 "Absolutely none of tonight's amateur chefs have any experience cooking whatsoever. In fact, they're working with Luv-a-Duck packs you can find in any supermarket, proving that a restaurant quality meal with duck is a lot easier than it looks." said Adam D'Sylva.

"We wanted to show Australians that, affordable, restaurant quality meals can be easily achieved at home, with Luv-a-Duck's range making duck incredibly simple to prepare." said Eva Iliadis, Brand Manager at Luv-a-Duck.

"I thought duck was something luxurious and exclusive, for special occasions, but now I could cook with it every day" said Iswarya Nagaraj, DUX Kitchen amateur cook and MBA student.

"I've never really had the confidence to cook duck, especially for a large group of people, but after realising how easy it is to create amazing dishes, I'll definitely be adding it to my repertoire" said Yves Meza, DUX Kitchen amateur cook and toy designer.

For more information, please visit: https://www.facebook.com/luvaduck


Interview with Adam D'Sylva
Question: Can you tell us about DUX Kitchen with Adam D'Sylva?

Adam D'Sylva: DUX Kitchen is a concept pop-up restaurant that aimed to showcase the versatility of duck by hosting an eight-course dinner with each course incorporating duck – including dessert. Guests were taken on a journey of flavours inspired by Thai, Indian, Italian and Australian cooking tied together by one principal ingredient – duck. After the meal, it was revealed to guests that the entire eight courses had been prepped, cooked and plated by amateur home-cooks.


Question: What was the main motivation behind DUX Kitchen?

Adam D'Sylva: The main motivation behind DUX Kitchen was to demonstrate that even untrained home cooks can use duck products to create delicious and affordable restaurant quality meals at home. I want to alter the perception that duck is too difficult or laborious to cook in the home.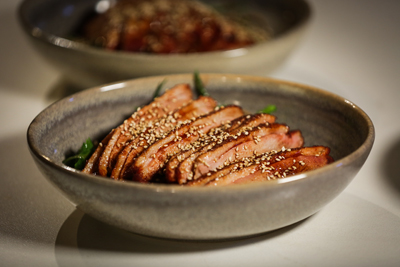 Question: Why was it important to you, to run a pop-up restaurant, staffed entirely by untrained home-cooks?

Adam D'Sylva: It was important for me to show that even the most inexperienced home cooks can create outstanding, restaurant quality food when armed with a little knowledge and some great produce.


Question: How did you go about creating eight dishes for DUX Kitchen?

Adam D'Sylva: In creating the eight dishes for DUX Kitchen, I took inspiration from my mixed Italian and Indian heritage, from my restaurants, Coda and Tonka, and from the versatility of duck as a source of rich and complex flavours. I then combined this inspiration with products from the Luv-a-Duck range, which are fresh, delicious and easy to transform into restaurant quality meals at home.


Question: How can we successfully cook duck at home?

Adam D'Sylva: As I always say when cooking with something for the first time, "keep it simple" – start by using one of Luv-a-Duck's Peking duck pancake or steamed bao kits, these are easy, quick and make an excellent introduction to cooking with duck at home.

Another great way to introduce duck to your cooking is to begin with an unpretentious dish - roast a few duck breasts in a pan or in the oven to be served crispy with your favourite vegetables. From here you can gradually increase the difficulty of your recipe with fancier condiments.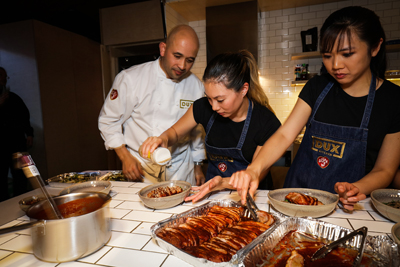 Question: What will be at your dinner table, this Christmas?

Adam D'Sylva: Traditionally, I always cook a delicious lasagne to share with my family on Christmas day. This year, I'll be using my duck Bolognese sauce to take the flavours of this lasagne to a new level. Before that, I'll be whipping up some succulent Korean style duck bao to start. Buon appetito!


Question: What's next, for you?

Adam D'Sylva: I have something really special planned for 2019 - I'll be launching Boca – my take on modern Italian cuisine. Having showcased my Asian influences in Tonka and Coda, I can't wait to share this side of my heritage with Melbourne, Boca will be the perfect spot to unwind and tuck into a bowl of my duck Bolognese.


Interview by Brooke Hunter