ABSOLUT welcomes a new family member with the launch of ABSOLUT APEACH, the new peach flavoured premium vodka which is sure to be the hot drink choice of the summer season.
ABSOLUT APEACH has a smooth and mellow taste with a sophisticated and fruity character of peach. As with all members of the ABSOLUT vodka family, ABSOLUT APEACH is made from all natural ingredients.
"It's extremely exciting that ABSOLUT have developed a vodka with such a distinct, smooth and sensual character", said Clare Madden, Senior Brand Manager for ABSOLUT Australia. "It's flirty zest counteracts the perception of peach flavoured drinks in general. We are confident that the launch will ensure the continuous success ABSOLUT has seen within the premium flavoured vodka category dating back to the launch of ABSOLUT CITRON 1988".
"The flavoured vodka segment continues to grow - particularly in the US which leads this global trend. The Australian market's response to recent flavour launches including RASPBERRI and VANILIA continues to be incredibly exciting" said Madden.
In keeping with the ABSOLUT family tradition, the name and packaging of the product is as unique as the spirit it contains. The ABSOLUT APEACH bottle is dressed in shades of pink-yellow-orange hues inspired by the skin of a succulent peach. The multiple shades of peach on the bottle suggest the kind of experience that ABSOLUT APEACH offers -complex and sophisticated, exciting the senses in unexpected ways!
Enjoy ABSOLUT APEACH neat, over ice, or as the perfect base for mixed drinks and cocktails. The ABSOLUT Flavour Family - A snapshot:
ABSOLUT APEACH will be available in Australia in the 700ml bottle size for the RRP for $38.00

The other members of the ABSOLUT flavour family include: ABSOLUT RASPBERRI (introduced in 2005), ABSOLUT VANILIA (2003), ABSOLUT MANDRIN (1999), ABSOLUT KURANT (1992), ABSOLUT CITRON (1988) and ABSOLUT PEPPAR (1986)

ABSOLUT VODKA was first launched in Sweden in 1879 by Lars Olsson Smith, the man whose portrait is featured on the medallion of every ABSOLUT VODKA bottle

The launch of ABSOLUT CITRON in 1988 opened the segment of flavoured vodkas in the US, and later, to the world. ABSOLUT CITRON is still the number 1 brand in the flavoured vodka category!

All ABSOLUT VODKA, including its flavoured versions, are produced at one source: Åhus in Southern Sweden

www.absolut.com


---
Drink Recipes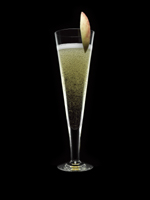 ABSOLUT APEACH ROYAL

1 part ABSOLUT APEACH
Champagne

Build into a well chilled champagne flute glass. Garnish with a peach slice.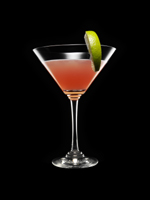 ABSOLUT APEACHPOLITAN

4 parts ABSOLUT APEACH
2 parts Cointreau
1 part cranberry juice
Dash lime juice

Shake with ice and strain into a well chilled cocktail glass. Garnish with a lime wedge.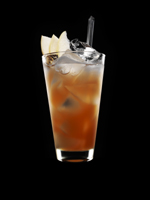 ABSOLUT APEACH ON THE BEACH

2 parts ABSOLUT APEACH
1 part peach liqueur
2 parts orange juice
2 parts cranberry juice

Shake all ingredients with ice and strain into a long drink glass. Garnish with peach slices.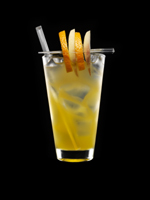 ABSOLUT APEACH DREAM

2 parts ABSOLUT APEACH
1 part pineapple liqueur
Fanta

Build over ice in a long drink glass. Garnish with orange and peach slices.


*The legal age for alcohol in Australia is 18*