YOUANDI-RIDE
Barloworld Mercedes-Benz and YOUANDI-RIDE are setting the wheels in motion as they team up to promote an active lifestyle program that will battle childhood obesity in the Bayside area. The initiative is being promoted through an after school program focused on health and education for a more harmonious existence between cyclists and motorists.
Recent research into the obesity epidemic consuming Australia has turned up alarming results that indicate our once proud sporting nation is now regarded as the fattest on earth, a somewhat dubious honor that we have snatched from the chubby-fingered grasp of America.
In light of the rise in obesity levels and our poor track record in road-safety, Barloworld identified that education is essential to preventing us making one hell of a big mess of the current road user situation and our children's waist lines. Leading this initiative to shift the weight and the poor attitude between motorists and cyclists, is YOUANDI-RIDE Chief Ambassador and Sydney 2000 Olympic gold medalist, Scott McGrory.
Speaking on the recent alliance shortly before he departed to commentate the Tour de France for Fox Sports he said "We are very excited to be working together with industry leaders such as Barloworld Mercedes-Benz, to lead the way in educating and supporting not only the current group of road-users (cyclists and motorists) but the next generation through our physically active After School Care Program."
Interview with Barloworld Mercedes-Benz Dealer Principal Andrew Harlock and YOUANDI-RIDEs Managing Director Vaughan McVilly.
What is the main aim of the Barloworld Mercedes-Benz YOUANDI-RIDE program?
Andrew Harlock:
Barloworld Mercedes-Benz is committed to creating a safer and healthier Bayside community, this was the driving force that led us to approach YOUANDI-RIDE and create this alliance that will see road user safety information imparted on Bayside classrooms.
It is so important to have an active lifestyle will this also be taught to be in conjunction with healthy eating?
Andrew Harlock:
This initiative will encourage many aspects that will help lead to a safe and healthy lifestyle. Along with road-user safety, the program will teach young community members how to eat well too.
Vaughan McVilly:
The program is actively encouraging Australians to fuel themselves correctly! Nutritional advice and habit-forming activities throughout the initiative aim to distill life-long healthy eating habits.
How will this benefit the Bayside area?
Andrew Harlock:
Barloworld Mercedes-Benz ultimate goal is to prevent all road casualties. For passengers, our vehicles are some of the safest on the road, but to achieve our goal we need to educate the wider community and work together with all road users to achieve harmonious roads. Additionally, by implementing physical activity in the program we are tackling childhood obesity, which means healthier children but also increased concentration levels in the classroom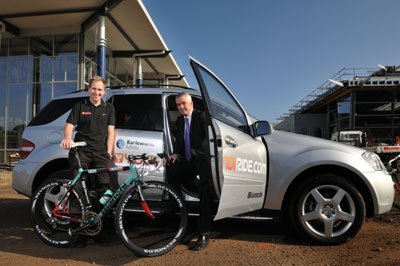 What parts of the community are you aiming this program at?
Andrew Harlock:
This program will be implemented in a number of Bayside classrooms, the exact numbers and specific schools are yet to be confirmed. Ultimately we want to expose our road-user safety message to as many of children in the community as possible.
Vaughan McVilly:
Also worth noting is that we aim to teach the children to become more aware of road safety. Sessions will cover things like mobile phone use and pedestrian/cyclist safety, so we just might hear our children telling us to get off the phone while driving or to watch out for that cyclist on the road.
Has any community groups caught on yet? If so Who?
Andrew Harlock:
Awareness will grow as the ball gets rolling but, to date our customers here at Barloworld Mercedes-Benz have been very enthusiastic about getting involved in Bayside community and the next generation of drivers.
Which schools are interested?
Vaughan McVilly:
Currently over 30 primary schools participate in active after school care programs that offer everything from Soccer to Gymnastics. Our program will be another choice for parents to enroll their kids in as a part of the other after school care programs that are already available.
Is this aimed at primary and high school?
Vaughan McVilly:
Initially at primary schools as an after school care activity but there are plans to roll the program out across high schools as well.
Have you began with the youngest generation as they are the easiest to persuade, compared with those close to becoming licence holders?
Andrew Harlock:
Barloworld Mercedes-Benz has future plans to sponsor similar road safety programs in secondary colleges. In this case, we had complete faith that the YOUANDI-RIDE team would provide the best possible education for Bayside primary schools and it was an opportunity that we couldn't pass up.
Do the children have to pay to learn through YOUANDI-RIDE?
Andrew Harlock:
Current after school care programs are at a fee, however we are looking at a range of different opportunities to run this particular program as a free of charge offer.
Do they have to stay after school or when will the initiative be during school hours?
Vaughan McVilly:
This particular program is conducted in after school care hours, however we are happy to look at other options during school times.br>
How will the program educate through the classroom?
Andrew Harlock:
Our sessions are informative and then active, with an "Explain, Show, then Do, then Do Again" process. We aim to give the children the understanding of why it is important to act/perform in certain manner then pass on the skills and knowledge to do so.
Will this education explain the dangers of riding on the same road that vehicles use?
Andrew Harlock:
Yes, definitely! We're really excited because this program has so many benefits, it will educate kids to become aware of their surroundings by giving them a motorists perspective.
Will this education also explain the problems motor-vehicles have on the environment?
Andrew Harlock:
The program encourages car-pooling as a way to help environmental issues. The children will be educated to find different ways to share lifts with their peers on their way to school or social activities. Also, they will be taught the benefits of cycling and walking to locations close-by.
How will you create a more harmonious existence between the cyclists and motorists?
Vaughan McVilly:
The harmonious road is one of our ultimate endeavors! This program is the first pedal stroke forward in a long Tour De Road Safety of activities and programs aimed at making our roads safer, our community more active and the planet earth a little healthier.
When will this initiative begin?
Vaughan McVilly:
We're hoping to start in the 4th term (October 2008).
The active lifestyle and road-user initiative will coincide with the grand opening of the new Barloworld site scheduled for October 2008.
For more information visit:
www.barloworldbayside.com.au