Sunshine Coast writer and businesswomen's journey with dyslexia inspires others this Queensland Mental Health Week
Yogita Ridgley, from Buderim on the Sunshine Coast, thought her childhood challenges of reading and writing were because she was multi-lingual, raised by Indian parents in New Zealand. She didn't find out until she was in her second year of university in the early 1990s that she had Dyslexia. Today, Yogita runs a successful personal development business, and recently did what many people living with Dyslexia would find daunting, she wrote a book, "Finding Me, Myself and I".

But, it has taken a great deal of self-discovery to get to where she is today following the trauma she experienced as a child, instigated by unknowing teachers of her condition. "Society is supposed to nurture you and enhance your abilities, and this was not what happened. Having a lack of reading skills and spelling skills, I developed very low self-esteem," Yogita said.

The late diagnosis came when Yogita was studying a Bachelor of Commerce. She loved telling stories and wanted to switch to journalism, but her dreams were quashed when a teacher pointed out she may have Dyslexia. This setback added to Yogita's feeling of worthlessness, which later erupted into depression and negative emotions even when she was a successful businesswoman.

Around 10 years ago, amidst a challenging relationship, Yogita realised she needed to turn her life around to become a good role model for her children. "The biggest waking moment for me was my children knowing that I had low self-esteem and I was not able to love myself or embrace that I'm Dyslexic," she said. "I thought to myself, this has to change. If I don't take responsibility now, I will never be able to help them."

Yogita's book follows her journey to become her "authentic self" beginning when she left her family for a solo trip to London. There she delved deeply into the root cause of her issues, before embarking on a journey of self-discovery to finally embrace herself, including her Indian and Western culture, and the "gift of being Dyslexic".

"Traveling solo allows you to step out from your life, like stepping out of a picture to take an outside view. That's what happened when I went on the first trip. It opened a lot of ideas and helped me move quite a lot of the trauma," Yogita said. "It took me some time but I realised I didn't have to be ashamed. I could say, I'm Dyslexic and I'm ok with it. No one's judgement defines me."

Yogita's solo travel experience inspired the launch of her business, Traveling with me, myself and I, which was recently named a finalist in the People's Choice Category for Making a Difference (Health & Wellbeing) of the QLD & NT 2020 AusMumpreneur Awards. She has now traveled solo to 59 countries worldwide and supports other women to realise positive mental, physical and emotional health, by taking charge and making change.

With a conservative estimate of the number of Australians living with Dyslexia at 10% , Yogita believes her story can help others who may have experienced the same low self-esteem as she did, especially during World Dyslexia Awareness Week (5 - 11 October) and Queensland Mental Health Week (10 – 18 October).

"Dyslexia is something you're born with and for a very long time I thought of it as my weakness, but it is actually a gift giving me the ability to do things that normal people can't do," Yogita said. "We have amazing insights and ideas which I've used for my business and have helped others with their plans and ideas. What's more, we are problem solvers," Yogita said.


Interview with Yogita Ridgley
Question: What originally inspired the idea of Finding Me, Myself And I?

Yogita Ridgley: This book has been a 10 year journey beginning from when I did my first solo trip to London. I'd come to the realisation that I needed to make a change in my life to embrace who I was; I had to shift a lot of trauma from the torment and low self-esteem that came with having dyslexia, which was only diagnosed when I was an adult. I also experienced identity confusion growing up in a Western culture raised by Indian parents.

I documented my journey to finding my 'authentic self' through blogs, and hearing that my experience was helping others, I decided to write the book with the goal to continue helping people make positive change in their lives. This was alongside beginning my business, Traveling with Me, Myself and I.

Above all, the inspiration for this book, and for me to take that first solo trip, was for my daughters. I didn't want to have low self-esteem or depression anymore. I needed to embrace who I was, and say, "I'm dyslexic and I'm okay with it. No one's judgement defines me".


Question: Who do you hope reads Finding Me, Myself And I?

Yogita Ridgley: I believe many people can take inspiration from my book and I'm already hearing that it's appealing to many – both people my age and younger women. All I want to achieve with this book is to help inspire people to realise positive mental, physical and emotional health, by taking charge and making change. I think my book is also a great inspiration for people who were like me, who had dyslexia and felt they'd never be able to pursue their dreams as storytellers. I hope this book helps them realise that dyslexia is a gift – we think differently to others and we can be great storytellers and achieve many things in life.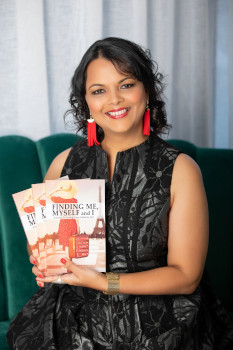 Question: What did you learn, about yourself, whilst writing Finding Me, Myself And I?

Yogita Ridgley: I started writing Finding Me, Myself and I while on my self discovery journey. As I was learning and growing I was able to find and love the authentic me. Authentic Yogita is made by dyslexia. She is an introvert, she wears her heart on her sleeve, she is creative, innovative and a born leader. To own my strengths after believing for over 30 years that I was an embarrassment to society was a long journey. I am grateful for the likes of Albert Einstein, Richard Branson, Steve Jobs and Steven Spielberg - yes these are the names of dyslexic people who have overcome challenges like me.


Question: Was it difficult reliving certain aspects/times of your life, whilst writing Finding Me, Myself And I?

Yogita Ridgley: Yes, it was very challenging at times. When you have a certain belief system that you have been operating from for over 30 years it is hard to break this system and associated patterns.

Reliving the emotions of an eight-year-old being told that she is stupid, she is useless and she is an embarrassment to society was heartbreaking all over again.

My driving force was to be the person my two beautiful daughters would be proud of and to help other mothers do the same. I did not want my daughters to have a mother who was broken and traumatised and still playing the role of a victim of her past.

I now have that fire in my belly that keeps me moving forward when things get hard.


Question: What's the main message you hope readers take from (book title)?

Yogita Ridgley: Finding Me, Myself and I is a book about loving your authentic self. But to be able to love your authentic self you must know your authentic self.

The reason why I went on a self-discovery journey was the fact that I had spent 30 years of my life feeling I was not good enough, feeling I was not loved, I didn't belong.

That limiting belief came from my school days. As an eight-year-old sitting there full of fear in the classroom, the teacher constantly told me that I was not good enough, I would not amount to anything, that I was an embarrassment to the school, to the class, to society, and to my family.

The key message for readers is that change is possible. Solo travel helped me shift the trauma that had built up as a child; it didn't make me feel happy overnight, but my first solo trip helped me step away from my life and take a different perspective. And that began my healing journey.


Question: Can you share some tips with us featured in the book?

Yogita Ridgley: I share many insights into how to find your 'authentic self' within my book, and how solo travel plays a major part. Some of the reasons why travel is so beneficial is that it helps you achieve so many things like self-acceptance, self-confidence, self-reflection, self-honesty and responsibility, self-awareness and self-love. But before you even start planning your trip, you need to consider why you're doing it:

1. Why are you travelling alone?
2. What do you want to achieve from this journey?
3. What does it look, sound or feel like when you have achieved it?
4. What have you done to prepare yourself for this solo travel adventure?
5. What do you know about the country or countries you are travelling to?

In my experiences of solo travel I met many who were travelling solo for two reasons – they were running away from something, but they didn't know what they were running away from; they were trying to look for something or find something and yet they did not know what they were looking for. At least trying to answer the above questions prior to travel is all part of the journey of self-discovery – even if you don't have the answers before you set foot on a plane or get ready for that road trip – the answers might come when you least expect it!


Question: What advice do you have for aspiring writers or artists?

Yogita Ridgley: Never give up on your dreams of writing a book and keep up your practice! Although it took me around 10 years to write Finding, Me, Myself and I, I was constantly writing and sharing my stories. But there's never been a better feeling than seeing my book come into fruition when I received the hard copy and saw it being sold online! And recently, my book was listed #1 best seller on Amazon for a few categories which really makes me feel happy that people are interested in my journey, and even better, are interested in making changes in their own lives. As storytellers we have a lot to give to the world, so for anyone considering becoming a writer, then go for it – the world needs positive insights.


Question: What or who inspired your love of reading/writing?

Yogita Ridgley: I always found myself telling stories as a young child. I used to cut photos from newspapers and magazines and paste them in my scrap book and create stories that were my way of reading and writing as a dyslexic person. My grandfather, on my mother's side, was my biggest inspiration to keep pursuing my love for storytelling which meant continuing to learn how to read and write with my dyslexic mind. I remember the very first book I finished reading; it took me 42 days. I had to put my little finger under each word to keep focused.


Question: What's next, for you?

Yogita Ridgley: For 2020, I had been booked for conferences and tours to Egypt, USA, UK, Europe and New Zealand, but unfortunately due to COVID, this is now on hold.

The big plan for me is to inspire and empower as many people as possible with my book, my words, my voice, my work and my story.

My passion is Solo Travel to Self Discovery. My vision is helping women to unleash the power of their 'authentic self' through personal development.


Interview by Gwen van Montfort