Plan a special day with Mum this Mother's Day
Mother's Day is the day of the year when mums around the world should be spoiled, doted upon, celebrated and pampered with treats. However it is often difficult to properly show your appreciation once you have graduated past the age of hand made cards and breakfast in bed!
The great thing about celebrating with wine is that it is so versatile - whether it be some bubbles for a party; a crisp white for a Sunday picnic; or a warming glass of red over a home cooked meal with loved ones - different varietals seem to suit different occasions.
Have a look at these ways you can spoil your Mum this Mother's Day. Why not surprise her with a bottle of something you can enjoy together? Because often, receiving a gift is only half of what makes the day special, the rest is sharing it with loved ones.
[yellow tail] have a wine varietal for any Mother's Day activity you have planned. A bonus? The whole range is incredibly affordable, priced at $9.99 a bottle; meaning that pampering your mum won't send you broke.

Bubbles Rose
One of life's best indulgences is a glass (or two) of pink bubbles. It is the perfect way to say thank you, congratulations, or "Let's celebrate!" [yellow tail] Bubbles Rose is a delightfully fresh, fruity and soft version of this popular varietal, with aromas of fresh strawberries and spice, and a sweet cherry flavour.
Perfect with: A girly day of manicure and pedicures while watching Audrey Hepburn DVDs

Sauvignon Blanc
For people who are planning on taking their Mother's Day lunches to the great outdoors, a nicely chilled glass of white wine goes perfectly with picnic treats like fresh prawns, a warm chicken salad, or frittata. [yellow tail] Sauvignon Blanc is the newest varietal in the [yellow tail] range. It is light and refreshing, with vibrant citrus and passion fruit flavours, and fresh grassy aromas.
Perfect for: Picnicking in the autumn sunshine with the whole family

Pinot Noir
As the weather cools, what better way to celebrate Mother's Day than with a hearty home cooked dinner? One of the family favourites like a lamb roast prepared by someone other than your Mum of course! Pinot Noir is lovely and light alternative to some of the heavier reds. The [yellow tail] Pinot Noir is soft on the palate, with delicious flavours of chocolate and cherries.
Perfect with: Roast dinner eaten on your laps in front of an open fireplace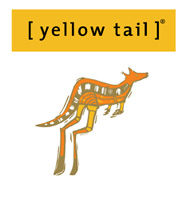 To see more of the [yellow tail] range go to
www.yellowtailwines.com