From small and humble beginnings, [yellow tail] has grown into one of Australia's biggest success stories, with over two million glasses enjoyed in forty countries around the world every day.
However, despite being a global sensation they have managed to remain a family run business that has never lost sight of where they began, in fact the tiny original family cottage is still at the heart of the huge state-of-the-art winery in Yenda, just outside Griffith in rural NSW.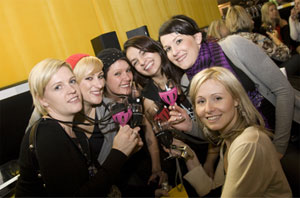 [yellow tail], is the most successful launch of any Australian wine brand in the history of the Australian wine industry, yet the brand was created with a simple philosophy in mind - to produce a great wine that everybody can enjoy. It had to be approachable, fresh and flavoursome, with a personality all of its own.
So, if you think great wine should be enjoyed with raucous laughter, delicious food and loved ones, and agree that it should be poured generously, rather than being swirled and sniffed, then [yellow tail] is your next wine of choice. It is seriously good wine, without getting too serious about it.
www.yellowtailwine.com
Our Pick of the Bunch...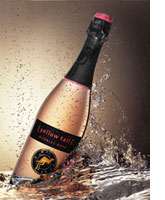 BUBBLES Rosé
[yellow tail] Bubbles Rosé is delightfully fresh, fruity and soft with great palate length. Lifted aromas of fresh strawberries and spice are united with flavors of sweet cherries and tropical fruits. The perfect start to a girls night out on the town.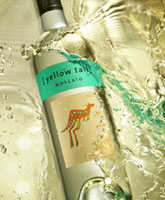 Moscato
With a lower alcohol of 7.5%, aromas of melon and freshly crushed grapes, and a frizzanté finish, Moscato makes a great aperitif for a dinner party and is best accompanied with warm salads, stone fruits and deliciously rich desserts.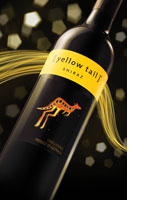 Shiraz
A perfect way to rug up from the cooler winter weather outside, [yellow tail] Shiraz bounds forward from the glass with berry and vanilla aromas, but is subdued by earthy tones and a soft ripe sweetness. Big, bold and hearty - just add fireplace.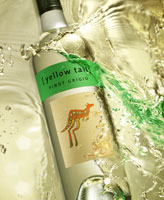 Pinot Grigio
It may be hard to see now, but winter will end and when it does, [yellow tail]'s Pinot Grigio will be there waiting. Delightfully fresh and zesty with aromas of citrus fruits, green apples and pears, it will be your Springtime picnic basket staple.
[yellow tail] is available from all leading liquor outlets, from $9.99.
Check out
www.yellowtailwine.com
for more information, and details on the full range.