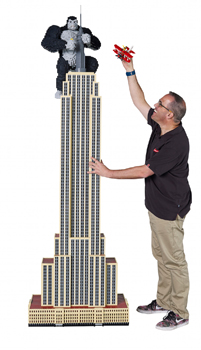 Wonders of the World LEGO Exhibition
Ever dreamed of visiting the Empire State Building, Arc De Triopmhe, the Great Wall of China and other world-famous landmarks?

Thanks to Ryan -The Brickman" McNaught you can explore a world of epic LEGO® masterpieces, where some of mankind's most amazing achievements from all over the globe come together in a world first, fully interactive experience.

The global exhibition continues its Australian tour, following a successful unveiling in Brisbane and will head to Sydney next month. The exhibition will open on Tuesday 20th December and run until Sunday 5th February at the all-new ICC Sydney in Darling Harbour. The exhibition will then continue around Australia stopping in Melbourne & Perth.

More than 50 awe-inspring and never-seen-before models will be on display, taking visitors on a hands-on journey through history. Some of the models that will be showcased include a giant LEGO® Arc de Triomphe, LEGO® Empire State Building with King Kong, LEGO® Big Ben, a LEGO® Leaning Tower of Pisa and even a LEGO® version of Michelangelo's Statue of David! This world-class exhibition has been exclusively curated by Ryan McNaught and his expert team – Ryan is the only LEGO® Certified Professional in the Southern Hemisphere and one of only 14 in the world. Incredibly, -Wonders of the World' took a jaw-dropping 4,944 hours to build!

'I am super excited to continue the Australian tour of my brand new exhibition, -Wonders of the World', and share my models with the people of Sydney. This exhibition is like nothing that has ever been seen before, every model is brand new and infinitely more detailed than anything I've ever created," said Ryan McNaught.

Visitors will be taken on a historical journey through time, with the opportunity to discover more about each attraction – real life and LEGO® life! Ryan will even be enlisting the building skills of the public to help with some of the model making, lending to a truly interactive and imaginative experience.

'The exhibition is super interactive with lots of activities for LEGO® fanatics to get involved in. Brickies will have the chance to build a statue of themselves next to the mighty Statue of David and they can also help me build some LEGO® cars for the traffic jam around the Arc de Triomphe. There's so many hands-on things to get involved with – hopefully all the budding builders in Sydney are up for the challenge!" added Ryan.

Brickman Wonders of the World will be in Brisbane from 23rd November until 14th December at the Brisbane Convention & Exhibition Centre, before heading to Sydney.

Brickman Wonders Of The World
Brisbane: Brisbane Convention & Exhibition Centre
23 November – 14 December 2016

ICC Sydney, International Exhibition Centre, Exhibition Hall 1
20 December 2016 – 5 February 2017

Open daily. Booking is advisable.
Tickets on sale now at www.ticketek.com.au

www.brickmanwonders.com.au
facebook.com/brickmanexperience
twitter.com/brickmanexp
instagram.com/brickmanexperience
#brickmanwonders