In a very sweet deal, three pounds of Queensland's finest sugar will take a first-class trip to the US to be included in the world's most exclusive drink: The Woodford Reserve $1,000 Mint Julep.
In a follow-up to the 2006 Woodford Reserve $1,000 Mint Julep which consisted of one-of-a-kind ingredients, including a personal selection of Woodford Reserve Kentucky Bourbon, mint from Morocco, sugar from the South Pacific and ice from the Arctic Circle, Australia has been honoured with the inclusion of freshly harvested organic Queensland sugar courtesy of Eco-Farms. Grown in pristine cane fields in the highlands of Australia's 'sunshine' state, Eco-Farms certified organic sugar is some of the purest, cleanest sugar on the planet and as such, is an obvious choice for such a prestigious drink.
Matthew Fensom, General Manager of Eco-Farms Australia says, "We are honoured to supply sugar for the Woodford Reserve $1000 Mint Julep. Our sugar is 100% certified organic and is grown under pristine conditions in the cane fields of Southern Queensland. Our sugar stands amongst the best in the world and we are very proud to be offering our support to such a great cause at the Kentucky Derby.""The key to making a delicious mint julep is selecting a full-bodied bourbon, the finest mint and sugar and, of course, lots of crushed ice," said Woodford Reserve Kentucky Bourbon Master Distiller Chris Morris, who will be a guest bartender on the day of the race.
"When we created the Woodford Reserve $1000 Mint Julep, we wanted to capture the smooth, flavor of Woodford Reserve Kentucky Bourbon, but still add a unique twist to the bourbon that could not be replicated," said Morris. "The bourbon we produced is robust and extra-rich, warming yet light on the palate and very elegant. It is the perfect complement for aromatic mint and fine sugar.
"The Kentucky Derby is synonymous with fine horses and mint juleps. This spectacular beverage is the perfect accompaniment to the most exciting two minutes in sports and all to benefit a great cause." "A world-class event, like the Derby, deserves a world-class cocktail. That is why we include the finest ingredients available. It's the most expensive mint julep ever to be sold," said Wayne Rose, Global brand director of Woodford Reserve Kentucky Bourbon.
An increase from last year's program, 133 Woodford Reserve $1000 Mint Juleps will be served at the Kentucky Derby Day on May 5th, with all the proceeds going to the Thoroughbred Charities of America, a non-profit organisation which benefits retired thoroughbreds and jockeys.
In addition to the exclusive cocktail, punters also get to keep the cup! Woodford Reserve $1000 Mint Juleps are served in limited-edition 24 carat gold-plated julep cups complete with designer Woodford Reserve Kentucky Bourbon sterling silver sipping straws and a certificate of authenticity signed by Chris Morris, Woodford Reserve Kentucky Bourbon's Master Distiller. The cup, stirrer and certificate will be encased in a custom made oak box for safe keeping after the cocktail is consumed.
To purchase a Woodford Reserve $1,000 Mint Julep visit
www.woodfordreservemintjulep.com
. You or your proxy must claim your cup at historic Churchill Downs in Louisville, Kentucky, on Kentucky Derby Day. Thirteen special cups, encrusted with precious rubies and diamonds, will be sold in an on-line auction by Christie's. The auction cups include: the 13 Triple Crown winners and the first and last Derby winners (Aristides and Barbaro).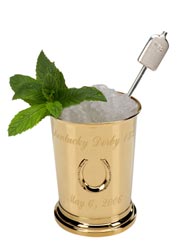 Woodford Reserve Mint Julep
Ingredients

60ml of Woodford Reserve Kentucky Bourbon
4 sprigs fresh mint
1 tsp white sugar
Method

Muddle 3 sprigs mint, sugar and a splash of Woodford Reserve in bottom of Julep cup or highball glass.1. Fill glass with crushed ice.
2. Fill to the brim with Woodford Reserve Kentucky Bourbon, stir.
3. Dust 4th mint sprig with powdered sugar for garnish.
4. Garnish -serve with two straws cut short enough to extend about two inches above the cup, giving the aroma as well as the flavour of the mint when drinking.
About Woodford Reserve
Woodford Reserve, 45.2% ABV, is the 'Official Bourbon of the Kentucky Derby' made at the historic Woodford Reserve Distillery in Versailles, Kentucky - the heart of thoroughbred country. Woodford Reserve Kentucky Bourbon is one of the fine spirits produced and marketed by Brown-Forman Corporation, a diversified company responsible for other quality consumer products including: Jack Daniel's Tennessee Whiskey, Southern Comfort, Fetzer and Bolla Wines, Korbel California Champagnes and Hartmann Luggage. Woodford Reserve reminds you to drink responsibly. For more information on Woodford Reserve visit
www.woodfordreserve.com
About The Kentucky Derby
The Kentucky Derby is a Grade I stakes race for three-year-old thoroughbred horses, staged annually in Louisville, Kentucky on the first Saturday in May, capping the two-week-long Kentucky Derby Festival. The race is over one and a quarter miles (2 km) at Churchill Downs. Colts and geldings carry 126 pounds (57.2 kg) and fillies 121 pounds (54.9 kg). The race is known in the United States as "The Most Exciting Two Minutes in Sports" for its approximate duration, and is also called "The Run for the Roses" for the blanket of roses draped over the winner. It is the first leg of the Triple Crown of Thoroughbred Racing in the US and typically draws around 155,000 fans.
*The legal age for alcohol in Australia is 18*