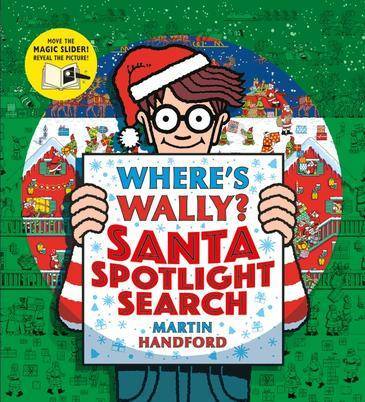 The spotlight search is back with a fabulous festive edition! Use the paper spotlight-searcher as a magic torch to illuminate six scenes buzzing with busy Santas. With bonus games on every page!
Ho-ho-ho! Wally, his friends and hundreds of busy Santas are getting ready for the festive countdown. There's so much to do from shopping in the department store, to helping in the toy factory, baking holiday treats and loading the sleigh – but they still find time to party! For extra sparkle as the excitement builds there are bonus searching games to complete on every page. It's jingle bells all the way! Includes a spotlight-searcher wand to light up the scenes. No batteries required. All light-up magic is designed from paper and extra spotlight-searcher wands are available to print online.
Six scenes buzzing with busy Santas!
A companion book to the successful Where's Wally? The Spectacular Spotlight Search and Where's Wally? Spooky Spotlight Search.
Includes a spotlight-searcher wand to light up the scenes. No batteries required.
Martin Handford gathers his inspiration from a huge variety of sources: films, visiting museums and art galleries, reading comics and books, and collecting ephemera and trivia. He is fascinated by crowds, and is attracted to their vibes, patterns and details especially humour. He is constantly on the look-out for puns and wordplay that can be used in his pictures. Each picture takes Martin months to draw. "As I work my way through a picture, I add Wally when I come to what I feel is a good place to hide him," he explains.
Where's Wally? Santa Spotlight Search
By Martin Handford
Illustrated by Martin Handford
Walker Books
RRP: $24.99
Review: Finding Wally has always been fun, but it's now gone to the new level wiht Santa Spotlight Search, the best and most fun yet.