Linen hire has become very popular especially in businesses such as hotels, restaurants, and events management to name a few. It has gained popularity because of its efficiency and convenience. Small or large businesses can certainly take advantage of it, or perhaps if you have a large event coming up, it would still be the perfect option.

But what exactly is a linen hire and how can you make use of it?

What Is A Linen Hire?
A linen hire company is a service that provides you with all types of linen. This includes table linen, bath linen, and bed linen. Most of the time, this company also provides towels as well as laundry services.

If you're in hospitality, it would be to your great advantage of investing in these types of excellent linen services.

Why Should You Take Advantage of Linen Hire?
Managing a hotel, restaurant, events, a bed and breakfast, or a sports club is no small feat. There is a multitude of things that need to be done. Primarily, you have to make sure your customers are happy since customer complaints can affect your sales. They can easily go on social media and spread the word. To make your customers happy, you need to provide them with their every single whim.

For example, when customers order food in their room, the kitchen staff needs to be quick about it or they're never going to hear the end of it should the food take too long, not to mention that, of course, the food needs to taste good. When they spill food on the bed, housekeeping has to make sure the stain comes off or the next guests are not going to be happy with it. These are just a few things that go on behind the scenes.

Restaurants are also always busy. Quality control of the food they serve should always be maintained and that's not an easy task. Waiters and waitresses need to be trained on how to serve properly, especially in high-end restaurants. The restaurant itself needs to be cleaned until it's spotless. On top of that, table linens and napkins are quite dirty after every customer. Some food stains are hard to remove, so they need to be washed again if the staff did not do it right the first time.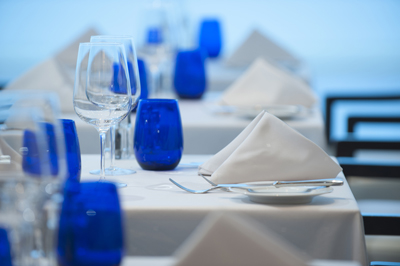 With all of these going on in all types of hospitality businesses, it's logical that you take advantage of linen hire services. Here's why:

1. Cost-effective solution. Believe it or not, you'll be able to save a lot of money when you do linen hire. Imagine all the bed linen, bath linen, and table linen you have to purchase when you start your business. You simply can't buy one set for each bedroom. You have to buy at least three sets for each. That'll cost you a lot especially if you choose very good quality linens.

After that, calculate the cost for laundry. If you do in-house laundry, that means you also need to invest in machines and people. With linen hire, the cost is significantly lower and you don't have to worry about customer complaints because your staff didn't do a good job of cleaning the linens.

On top of all that, you also need to change all linens after a few months. These linens are used too often and put in the laundry just as often that you can't expect them to be in the same state as it was when it was bought after a year. You need to change them in less than a year.

2. It Allows You To Give More Focus on Staff Training and Business Management. Linens can take up some of your time that's better spent elsewhere. When you don't have to worry about the hotel restaurant having clean tablecloths and napkins, or the hotel beds to have spotless bedsheets, you can actually just shift to managing the business and train staff properly.

Conclusion:
If you're not sure if linen hire is for you, you need to start paying attention to the amount of money spent on linens and laundry. If your hospitality business is seasonal and you think you can manage it in-house, that's well and good. However, if you're in operation all year long and you have a considerable number of guests daily, or weekly, you might want to look into linen hire. You may realize that you're spending way too much on linens and its maintenance.