Wendy Mak and Rachel Worden Not About Size Interview
Leading Australian stylists Wendy Mak and Rachel Worden have teamed together to launch the second round of their practical personal styling course Not About Size. The course aims to give women of all ages, sizes and shapes a guide to help them avoid wasting money on pricey fashion faux pas.

While the topic may be familiar to some, Mak and Worden are one of the first to capture their expertise in styling thousands of everyday women across Australia into a self-guided online tutorial. The program is based on the philosophy that armed with the right knowledge anyone can be their own professional stylist and dress their best – no matter their size.

The self-paced course, which is only open for registrations three times a year, includes six video modules covering easy-to-implement lessons on finding your personal style, choosing the most complementary colour palette, body shape, creating and editing a cohesive wardrobe, shopping like a stylist and how to accessorise.

Program participation includes 12 months of access to the tutorial videos, learning worksheets and bonus lessons to help boost styling knowledge.

Women also receive members-only access to the Not About Size Facebook community where they can share experiences, get additional style feedback and post style triumphs with Rachel, Wendy and other members.

Ladies can register on www.NotAboutSize.com to access four free mini tutorials to get a feel for the course. These taster lessons include the 2-minute method to determine your body shape, 4 ways to look slimmer instantly, 5 essentials for every wardrobe and the biggest issue with personal style.

Wendy Mak, Not About Style co-founder, says the course is perfect for women looking to step up their styling game from the comfort of their own home.

'We created this course for ladies who are struggling to work out their personal style for a variety of reasons and who, like most of us, don't have lots of time or the budget to hire a personal stylist. We're here to show how easy it is to shop and style themselves better with simple, timeless tips."

'Not About Size proves that with a little knowledge and support, you can be a woman of any size with any budget, and still successfully navigate the often intimidating world of fashion," said Mak.

The current round of Not About Size closes for registrations on Sunday 19 June 2016. To register visit www.NotAboutSize.com.



Interview with Wendy Mak and Rachel Worden
Question: What is Not About Size?

Wendy Mak: Not About Size is a 6-week online style program to show women of all ages, budgets and lifestyles, that everyone CAN look amazing - no matter what their size.


Question: What inspired the creation of Not About Size?

Wendy Mak: Together, Rachel and I have styled thousands of real, everyday women. This has shown us some of the most common concerns that women have when it comes to the daily 'chore" of dressing. We took the best style tips, tricks and insider knowledge that we have and packaged this in an easy-to-learn, home study course that teaches women how to look and dress their best every day.


Question: How does the Not About Size program work?

Wendy Mak: Covering 6 key style topics, Not About Size teaches the key essentials women need to know about their finding their style, dressing their body shape, knowing their best colours, accessorising, as well as how to conduct their own wardrobe reviews and shopping trips as if they are their own professional stylist!


Question: What is involved in the online personal styling course?

Wendy Mak: The course includes a series of self-guided videos from Rachel and Wendy, dispensing their best style advice, plus style worksheets to consolidate your learnings and best of all, a supportive community and Facebook group where Rachel and Wendy join in to answer questions and provide helpful feedback to photos and outfits that you post.


Question: How is the course specialised to each participants body shape?

Wendy Mak: This course has a whole topic dedicated to the different body shapes and how to style each shape. More importantly, it covers the often forgotten aspects of style, not just body shape, that are so critical such as choosing your complimentary colours, learning to avoid fashion mistakes when you shop and how to accessorise.


Question: Can you tell us about the four free mini tutorials?

Wendy Mak: The four free style videos offer a quick 'taste" of the full Not About Size program. It's complimentary for anyone to enjoy and gives viewers an insight into Rachel and Wendy's personalities and humour. You can view the videos at www.NotAboutSize.com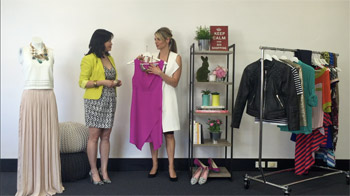 Question: Are you able to share with us what is hot in fashion, this Winter?

Rachel Worden: We love a new season and a chance to give some different looks and styles a go! This season, as expected for winter, there is lots of leather. But it is teamed with a more feminine vibe...lace and sheer blouses, shirts and dresses. Heels are out and flats are in...brogues and sneakers are all the rage!


Question: What colour coat should we invest in for the cooler months?

Rachel Worden: Go for grey, it is super versatile and goes with all the blues in your wardrobe as well as black.


Question: If we're looking to purchase a big-ticket item, what would you suggest we spend our money on?

Rachel Worden: A great leather jacket will last you a lifetime, and you've got any money left over, go for a pair of ankle boots.


Interview by Brooke Hunter