Wanderlust
Cast: Jennifer Aniston, Paul Rudd, Alan Alda, Malin Akerman, Justin Theroux, Ray Liotta, Lauren Ambriose
Director: David Wain
Genre: Comedy

Synopsis: Paul Rudd and Jennifer Aniston star in Wanderlust, a comedy from director David Wain (Role Models) and producer Judd Apatow (Knocked Up) about a couple who leaves the pressures of the big city and joins a freewheeling community where the only rule is to be yourself. George (Rudd) and Linda (Aniston) are an overextended, stressed out Manhattan couple. After George is downsized out of his job, they find themselves with only one option: to move in with George's awful brother in Atlanta. On the way there, George and Linda stumble upon Elysium, an idyllic community populated by colourful characters who embrace a different way of looking at things. Money? It can't buy happiness. Careers? Who needs them? Clothes? Only if you want them. Is Elysium the fresh start George and Linda need? Or will the change of perspective cause more problems than it solves?

Buy Now




About the Production
Nude Awakening: Wanderlust Begins
David Wain and Ken Marino have collaborated consistently for the past 23 years. From television projects to feature films, the writing partners have created some of the most memorable (and bizarre) characters of the past two decades. The latest entry into their world of signature humor, Wanderlust, was born out of a six-day marathon writing session behind closed doors.

According to David Wain: "Several years ago, we decided, 'Let's just go into a room and not leave until we've written the first draft of a screenplay,' and we gave ourselves seven days, from 8 a.m. to 8 p.m. We did that, and out of it came The Ten, which was released in 2007. When we tried it again, the result was a very early version of Wanderlust."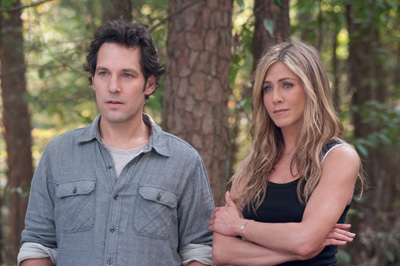 Ken Marino adds his thoughts about the process. He says: "We thought it would be interesting to create a comedy where a couple has temptations in a world where you could argue that it's okay to break all of the rules of civilised society. We figured this notion would make for an interesting comedy that hasn't necessarily been done before."

David Wain acknowledges that he's long been fascinated by the reality of human nature versus how we like to imagine ourselves…and our attempt to escape our inherent jealousy and selfishness. "The core of this movie explores the idea of a commune functioning in today's world," he states. "It's about people trying to rise above human nature, but who ultimately can't."

Though George is hesitant to indulge in too many of the commune's temptations of drugs, free love and no boundaries, his wife grows to love it. As Linda becomes fully immersed, George realises how much she means to him and that he doesn't want to share her within the communal setting. "We wrote this so that viewers get that there are two sides," says David Wain. "Linda goes off the deep end, but it's at her husband's urging. Little does either of them know at the beginning just how deep of an impact Elysium will have on their future together."

When considering the comedy's cast, the filmmakers requested the talents of many actors with whom they had previously worked. Paul Rudd, who co-wrote the screenplay for Role Models along with David Wain and Ken Marino, was a natural choice for the lead role. "George is basically a combination of Ken, Paul Rudd and myself," notes David Wain. "Plus Paul Rudd has had leading roles in the last three films I've made, so obviously, he came to mind. But we didn't know if he wanted to do it."

It was a welcome opportunity for Paul Rudd to perform and help produce David Wain and Ken Marino's latest comedy. He says, "I remember David Wain and Ken Marino worked on Wanderlust for a while. It went through a couple of drafts, but when they finally got it to the place they wanted, I read it, thought it was hilarious and wanted to do it. It all came together fairly quickly."

After Paul Rudd came on board, the filmmakers took the project to actress Jennifer Aniston, who offers that she instantly realised a kinship with Linda. "I felt parallel to her and what she was going through," Jennifer Aniston offers. "It was like coming out of your shell and letting your guard down."

David Wain admits to being a big fan of Jennifer Aniston's since the time that the performer was on the iconic television series Friends. "There aren't many actresses in the world with whom we can identify so fully and are so funny and engaging," the director notes. "She dove head first into our ensemble cast and is just terrific."

Paul Rudd and Jennifer Aniston have a working relationship that dates back 13 years to the groundbreaking independent film in which they co-starred, The Object of My Affection. "Working with Jennifer Aniston is great," says Paul Rudd. "She's a talented actress, very funny, and just plain cool. We've also been friends for many years. Because of that I hope people inherently feel as if there's some history with the characters, because there is with is us in real life. I think it comes across."

Jennifer Aniston shares in the sentiment. She commends: "I just love Paul Rudd early. We've known each other for such a long time, and I have to say he's a darn good actor."

With Paul Rudd and Jennifer Aniston in place, David Wain and Ken Marino approached Judd Apatow to join them in production duties. The filmmaker has worked with Paul Rudd on several comedies including The 40-Year-Old Virgin and Knocked Up to Forgetting Sarah Marshall, as well as Judd Apatow's upcoming This Is 40. "Judd Apatow was the natural person to seek out for this project," says David Wain. "I've known him loosely over the years because we've worked with a lot of the same people, particularly Paul Rudd. Our sensibilities overlap, and he brings an unmatched depth of experience in laying bare the emotional spine of a comedic story. I'd always hoped to work with him at some point, and this project seemed like the perfect fit."

Judd Apatow explains his interest in Wanderlust: "I read the script at my house one night, and I was laughing my ass off. It's so rare that anyone hands you a script that's very close to being produced, one that is so good and riotously funny. I thought, 'Oh, good! Less work for me.'" Joking aside, he appreciates David Wain and Ken Marino's message amid the humor. He adds: "The commune is meant to be this ridiculous place, but it also represents something that everybody strives for: to let go and to see what's actually important in life."

The producer enjoyed watching Jennifer Aniston tackle this type of role with Paul Rudd. He says: "Jennifer Aniston was excited about doing something more extreme in comedy, and she's certainly got her opportunity here. She's one of the most gifted comedy actresses of all time, and it was fun to combine her with Paul Rudd because they're such good friends. When people have that chemistry to start, then it's a lot more enjoyable to put them through this nightmare situation together."

Paul Rudd appreciated the complementary styles of his fellow comic producers. He shares: "It's interesting to work in both the David Wain camp and the Judd Apatow camp. Judd Apatow stresses improvisation and getting all of these alternate versions of a take, while David Wain often remains true to the script. I was a kind of liaison between the two. We all worked together to figure out each other's methods."

David Wain feels that this teamwork helped to create a comedy that doesn't take itself too seriously. "Some people may take issue with the sexual politics or the credibility of George and Linda's desire to move into the commune," the director says, "but I hope the majority just go along with the story as it is intended. We've got funny characters in funny situations, but ultimately it's a story with heart and soul…oh yeah, and genitalia."

An Intentional Community: Casting the Commune
With Paul Rudd and Jennifer Aniston committed to the project, it was time to find the players to serve as the supporting cast of Wanderlust. Judd Apatow sums the approach to casting: "This film is a combination of some new friends and a lot of people that David Wain and Ken Marino have worked with before. There's nothing more fun than knowing you have seven or eight fantastic parts that you can get your favorite people to perform. It's exciting to be a part of a movie with all of these amazing actors."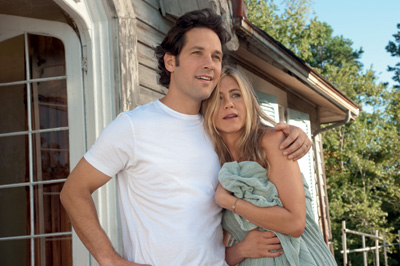 To portray Elysium's founding father, Carvin, David Wain and Ken Marino approached legendary performer Alan Alda. Recalls David Wain: "Alan Alda was our shoot-the-moon choice. We would say things like 'Obviously, he won't do it, but let's put him on the list.'"

Though initially unavailable, Alan Alda ended up meeting with Wain to discuss the role. Remembers the filmmaker: "We were both at coincidentally in Chautauqua, New York one weekend, so we had a chance to sit and talk for over an hour, after which he agreed to do the film. It was a big 'pinch me' moment."

His production partner was just as surprised. "The fact that Alan Alda agreed to do this movie blew David Wain and me away," shares Ken Marino. "He's an icon. Then you meet him, and he's a hundred times better than that. He is the most gracious, kind, loving, talented man I've ever met."

Though he appreciates the accolades, Alda says he made sure to do his research before setting foot on set. "I looked up communes and found out that they actually still exist, except now they call them 'intentional communities,'" the actor shares. "But some are polyamorous, meaning they're amorous all over the place. I thought these places were just a thing of the '60s and '70s, but apparently they are still common."

Carvin, referred to as "The Lion" by the rest of Elysium, is wheelchair-bound, is a bit touched by senility and has a memory that ends in the 1970s. Alan Alda extrapolates upon his character: "Carvin started this commune with nine friends, and he doesn't know what happened to them. Still, he can't get them out of his head and what they all meant to each other. He likes to recite each of their names, first and last, whenever he gets the chance."

Jennifer Aniston reveals that she was thrilled to share the screen once again with the performer, with whom both she and Paul Rudd had screen time in The Object of My Affection. "Alan Alda is phenomenal. I'm just so deeply in love with that man," the actress says. "He's so smart and so wise, and I've learned so much from just sitting with him."

With the exception of George and Elysium's charismatic leader and lothario, Seth, David Wain and Ken Marino admit that they didn't write the script with specific actors in mind. Justin Theroux previously worked with Paul Rudd, David Wain and Ken Marino on The Ten, and they were quite eager to ask the multitalented performer to come back to their team.

Of their decision, David Wain laughs: "The first day we wrote 'commune,' there was a 'Justin Theroux-with-long-hair-type guy' in that draft. We weren't even planning on casting him, but it was one of those things where we kept looking for that guy. Then we thought, 'Let's just cast Justin Theroux!'"

Justin Theroux shares his interest in tackling the role: "In this incubation they've created, David Wain and Ken Marino have a very strange, wonderful sense of humor that has been allowed to marinate. These guys have a completely unique voice in comedy, and I love watching the way they work."

Swedish-native Malin Akerman was cast to portray Eva, the enchanting beauty in Elysium who proves to be most distracting to George when he and Linda agree to open their relationship. The Swedish native previously worked with David Wain and Ken Marino on Cartoon Network's Adult Swim series Childrens Hospital. According to David Wain: "Malin Akerman was a natural choice for Eva. She knocked it out of the park."

Malin Akerman felt comfortable with her team and easily slipped into character. She shares: "It has been such a pleasure working with everyone. To be surrounded by these amazing actors, whom I cherish, well, I couldn't have asked for a better situation."

As David Wain and Ken Marino are known for a specific type of comedy, they wanted to ensure that Wanderlust stayed very much an ensemble cast, one featuring many of the performers with whom they've previously worked. Shares David Wain: "There's this core group of actors who we like to work with, so when it came time for casting, we looked to the people we knew best." He adds: "In my opinion, they also happen to be the funniest people in the world."

Kerri Kenney-Silver, who plays Kathy, the seemingly omnipresent hippy with the ability to show up at the least opportune time, felt right at home on set. "David Wain, Ken Marino, Joe Lo Truglio and I have a comedy group called The State, on which we've worked together since we were 18," she explains. (The State's mid-'90s MTV series was a big inspiration for many current comedy stars.) "So it's been 23 years, and we've had these characters under our belts for a long time."

Joe Lo Truglio recounts that he wasn't remotely fazed when asked to portray a character who remains naked throughout most of the film. Recalls the actor: "I had read an early draft and loved the character of Wayne. At the time, I had no idea I would be playing him, but I found Wayne to be both a funny and sad character. His very first scene made me laugh."

In order to allow Joe Lo Truglio to retain a modicum of modesty, the makeup team fit the performer with a prosthetic penis to cover up his actual business. He offers: "It's a monster in terms of size, and I'm not kidding. It took a lot of work to put it on, too." Always willing to take one for the team, Joe Lo Truglio laughs, "But I have to say that for being nude for six weeks in the woods, I came away with only a small case of poison ivy on the ankle."

Kathryn Hahn, who plays Karen, an adult-film star turned moon goddess, describes her character as a "damaged soul." The comedienne shares: "She's just in a lot of pain. Her husband ran out on her after he convinced her to tie her tubes, and he left her with a son, Grisham [Ian Patrick]. Karen is always ranting about something and threatening to go back to her life as a porn actress. She has issues."

Karen's younger sister is Almond, a pregnant free spirit who is much more suited to the commune lifestyle than her wild-card sibling. Almond is portrayed by Lauren Ambrose, best known for her role in the critically acclaimed television drama Six Feet Under. Explains Kathryn Hahn: "Karen, who's harboring a lot of anger and hostility, is also dealing with a ton of sibling rivalry."

Lauren Ambrose, who previously worked with David Wain and Ken Marino on the film Diggers, relates that this experience was an educational one: "It was a very different way of working for me, just rolling with it. It was also a great pleasure to be in a comedy world with these folks and in the beautiful red-clay countryside of Georgia."

David Wain offers that Lauren Ambrose's addition to the team was as much for her dramatic choices as it was for her more humorous ones. He says: "Lauren Ambrose is more known for her dramatic roles, but we love to try to find actors who aren't known for being in silly comedies and put them in our movies."

Rounding out the cast is Jordan Peele, who plays Rodney, the father of Almond's baby. He embodies the spirit of Elysium and believes what's mine is yours and what's yours is mine. David Wain says Jordan Peele was chosen for his impeccable comedic timing: "Jordan Peele is a consummate improviser and comedian, and he brought a whole level of gravitas to this role, which wasn't easy, since he had some of the weirder material to execute."

Discussing his character, Jordan Peele laughs: "Rodney likes his weed, and he likes his 'breastesses.' The first time I speak in the film, something about breasts came out and David Wain and Ken Marino committed to that throughout." Jordan Peele deadpans: "That just goes to show you how much they were willing to rewrite this entire script around my personality."

Making a cameo in Wanderlust is beloved television and film actress Linda Lavin, who plays George and Linda's Manhattan real-estate agent, Shari.

Off the Cuff: Improv and Nudity Begin
Principal photography began in the rural North Georgia Mountains, where cast and crew filmed for six weeks at a 200-acre compound near the town of Clarkesville. The remoteness of the locale drew cast and crew closer together. "There were no other cast members except for this tight ensemble…and that's it," notes David Wain. "It was a real bonding experience."

Judd Apatow is known for the careful way in which he orchestrates improv in his movies. He appreciates that his fellow filmmakers work just as arduously. He says, "David Wain is hilarious, as is Ken Marino, and they work well together-watching the scene and deciding ways that they can build on what they have in the moment. In addition to a great script, they created space for the actors to do something else, and that made them think of a lot of new jokes."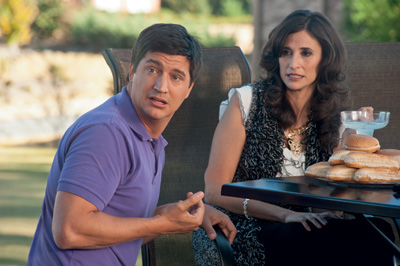 Paul Rudd observes that the sequestration and familiarity among the actors only added to the tones of the film. "Because we shot the majority of Wanderlust on a farm, we actually were living communally," he says. "We became a closer-knit cast. We would eat dinner together and hang out after shooting and on the weekends."

Jennifer Aniston notes that she hasn't had this level of professional camaraderie since her days as Rachel Green on Friends. "There was this ensemble of people that I felt so connected to," she notes. "We shot for three months, but I wanted this to go on for 10 years. We had an incredible amount of fun, and it just kept getting better."

On set, familiarity bred improvisation to the point where the cast created an "alt" version of the script. David Wain explains: "Improvising on set has its pros and cons. On one hand, there's great value to crafting the words. That is the way traditional film and theater have been done for years. But then there's a level of reality, spontaneity and creativity that only comes on the day of filming. So, ultimately, we did a mix."

Jordan Theroux commends David Wain for creating a space that allowed for this freedom of creative expression. He says: "We always shot the scripted version, which is probably the funniest, but David Wain knew that there were certain funny things that you can only discover once you start to shoot. Certain lines would just pop out of the hopper, and some were unbelievably funny."

The improvisation came naturally for Kenney-Silver, who has worked with many of the cast members and filmmakers before. "This comes from 23 years of being in each other's faces," she states. "But then admin@gutsychallenge.com have this innate ability to bring in other talented people who are able to hop right on board this crazy train, like Alan Alda. He just fit right in."

Alan Alda admits to being a big fan of this style of filmmaking. "I love improv. I improvised early on at Compass and Second City," he says. "When you're improvising, you have to pay attention to one another. That often leads to more intimate performances. Sometimes after I see a movie I think, 'How did they get those magnificent performances?'" And then I find the movie had been largely improvised."

Some cast members became much more familiar than others, as nudity was quite prevalent on set. It is a commune, after all. As Clarkesville is coincidentally home to a large nudist colony from which the filmmakers drew the comedy's extras, the omnipresent nakedness took some getting used to for cast and crew.

"When nude people are on set, you kind of can't stop looking at them," says Justin Theroux. "I don't think they cared. They were after all, nudists, so I think their mind-set was 'Just deal with it. Yeah, my junk's out, so handle it.'"

Paul Rudd also found the constant nudity to be a bit distracting. He notes, "It was weird to work with real naked people around. I felt bad for them because most people weren't naked, and more importantly, it was freezing. But when you throw a bunch of nudists into a scene, there's a paradigm shift. Everyone was professional and no one wanted to stare, but I think we all kind of caught each other at different points staring at them. Not in a pervy way, more like a it's-super-weird-that-all-those-people-are-naked kind of way."

No one related more to the nudity issues better than Joe Lo Truglio, who spent most of his six weeks in the buff…save for a prosthetic member and a never-ending collection of shoes. "The first time I came out wearing 'the thing,' there was a big laugh from everyone," he recalls. "From then on, everyone just got used to seeing it."

Of his naked co-star, Paul Rudd says: "With Joe Lo Turglio, it's so weird how quickly I adapted. All of us did. When I initially saw him wearing the prosthesis, I laughed. The next thing you know, it just didn't faze me anymore."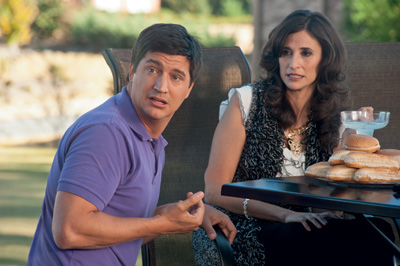 Jennifer Aniston adds: "Joe Lo Turglio is just so funny that I could barely get out of a scene without bursting into laughter."

Bird's Nest and Wayne's World: Green Design
Finding a location that would inspire the right communal vibe proved to be a daunting task for the production team. In addition, the filmmakers wanted a shooting locale that was within 30 miles of Atlanta. What they ended up with was the perfect setting. The only hitch? It was located 83 miles from the city.

Recalls the director: "When we got to this particular house, I was blown away. Every other place we had seen would have been an 80 percent compromise to what we saw in our mind's eye. We got here, and it was like it was built for our story…including the ponds on the property. In fact, the location inspired several new scenes and jokes."

The place upon which locations manager Robin Citrin had stumbled was an 1850s 10-bedroom house with high ceilings, which made the place instantly filmable. "If we re-created it on a stage," Robin Citrin offers, "we would have added a lot of the same attributes that the house had on its own." Although the house offered a set of logistical challenges, production designer Aaron Osborne explains that the place was the ideal setting for a modern-day commune. "Everything about it called out to us, so we worked with the producers for many days to make it happen," he says. "We ended up there and worked it out, and I think some of the crew members actually slept in trees. It was Elysium."

Aaron Osborne and his crew did their research by staying at and interacting within an actual 30-year-old commune in the North Georgia Mountains. "We had a great experience at this place called Earthsong," he tells. "We did sweat lodges and swam in the lake and had an incredible time." In addition, he used artisans from Earthsong to create many of the props and artwork seen on the set. "From the tie-dyed shirts to the cow pen, they were all created by someone down the street."

The production designer's team imagined each character's room by devising each of their hidden backstories. For example, he shares that Carvin's room is the most eclectic. "We started at 1968 and went nuts from there, filling up the room with everything we could find, including Life magazines from 1969 and on. We hit every thrift store in Georgia. If you opened a box in that room, you would find Grateful Dead ticket stubs from 1968."

For the bed-and-breakfast room in which George and Linda spend their first magical night at Elysium, Aaron Osborne designed a space that projected elegance. This ambiance was juxtaposed against the communal "open space" they share with the other residents. The designer laughs: "Of course, George and Linda get sucker punched and find themselves living in a room with no set dressing topped off by a high arch."

Another stand-out site at the commune was "Wayne's World," as the art department described Joe Lo Truglio's hangout. "For Wayne's story, we figured he first drove up to this place in his old 1948 Apache pickup truck, parked it and never left," Aaron Osborne says. "From there, he just started building around it, and then integrated it into a barn. There's also a horse corral tied to it, and his grape-stomping rig tied to that. The vineyards we planted in front of the house all became part of 'Wayne's World.'"

Meanwhile, Seth's large "Bird Nest" is woven just like an actual bird nest, an idea brought about by costume designer Debra McGuire. Aaron Osborne explains: "Debra McGuire told us she had seen these giant bird nests during the time she had spent in Big Sur. At first we brushed off the idea, but it turned out that there was this fantastic artist out there who has been building these things throughout the country. We commissioned him, brought him in and tied it all together. It was perfect."

It's not often said that a film crew follows the Boy Scout motto and leaves a location in better condition than when it arrived, but that was truly the case with the Wanderlust shoot. It was paramount to David Wain and the producers that the entire film was shot entirely "green." This eco-friendly notion all began with electronic communication (such as Osborne showing Wain designs on an iPad) rather than leaving paper trails.

Moreover, almost everything on set was recyclable. In fact, when the materials were no longer needed on set, many items were sent over to area communes such as Earthsong. "We used recycled elements in and on the sets, and then recycled them again once we finished filming," Aaron Osborne explains. "At the property, we would take trees that had fallen and turn those into a post, so we were getting lumber off of the location as well."

The crew created actual gardens and vineyards for the shoot. Instead of putting up silk plants, often done to match frames, the team planted flora. In fact, all of the flowerbeds stayed at the location after photography was finished. The green theme was also extended to crew snack time. Craft service would bring the cast and crew water drawn from a well that had been placed in cups designed by the locals.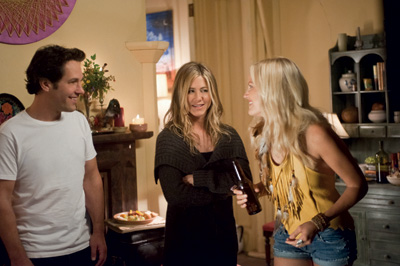 Though quite different from the commune style, George and Linda's micro-loft, created on a soundstage in Atlanta, was Aaron Osborne's favorite set. Interestingly enough, the loft's real-life counterpart in Manhattan could currently sell for $2.5 million. He says, "It is the smallest set I've ever designed, yet it had to hold a lot of people for filming. Everything was designed to break away and roll away. It was a little tricky, but we wanted to give the audience a sense that the characters gave everything up to be in this teeny, tiny space. It had to look good enough yet small enough so they would say, 'Why are we here?'"

Spending time with George's brother, Rick, and his family drives George and Linda back to Elysium. Rick is a well-off businessman who made his fortune selling portable toilets and lives in a showy McMansion-style house that is distasteful to the young couple. It was location manager Robin Citrin's job to scour the endless Atlanta suburbs to find a house that made the right statement. "It had to say opulence, arrogance, excess," he says. "We needed a house that matched Rick's dick-of-a-personality."

Ultimately, he found that perfect house. "It has that look about it, a bit different than the other houses on the block," Robin Citrin explains. "Even the landscaping is a little peculiar. We re-dressed the inside, but it had this big openness about it. We put in a lot of media and a lot of flat-screen televisions to accentuate Rick's over-the-top, successful big-brother attitude."

Dressing Hippies… and an Unexpected Cast Member
Debra McGuire was the perfect choice for costume designer, not only because she was a self-proclaimed New York hippy for a decade, but because she worked with Jennifer Aniston on Friends for 10 seasons. "I had all of these communal experiences in my youth, so these worlds were very familiar, and it was exciting for me to be able to re-create them," she says. "Obviously, when George and Linda go from New York to Atlanta to Elysium, there's a physical as well as emotional evolution that takes place."

As the characters begin their journey in New York, Debra McGuire clad them in a sophisticated Manhattan style. She notes: "Linda wears Yves Saint Laurent and everything current. They're very much into whether or not they can afford the great shoes and accessories that are characteristic of New Yorkers. I played all of that up."

After the couple moves to Atlanta, their look changes again. "I did a film in Atlanta last year in the McMansion suburbs, so I got a big dose of what that world is like and how people dress," the designer explains. "It's almost like a uniform, especially for the guys, with the khaki pants, polo shirts, sports jackets and Top-Siders."

Debra McGuire describes the Elysium style as "contemporary hippy," a look with which she can relate. "I was that hippy, so I love that role," she says. "I used the materials in a way that are a little more sophisticated. For example, Almond wears a few dresses that are made by an artist that I met when I was doing a film in Michigan. There's one dress in particular that's a patchwork, but done in a very sophisticated way. It uses a lot of knitwear combined with beautiful silk fabrics that are hand-dyed."

The designer shares that Linda's character undergoes the most dramatic transformation in the comedy: "Linda starts out as the New York sophisticate, yet when she arrives at the commune, she is blown away by all of the freedom of expression."

The audience may correctly assume that the women in the commune have contributed to each other's wardrobe. Debra McGuire shares: "When Linda is having an acid trip, she wears a black tank top and cut-off shorts. Later on, she ends up wearing this fabulous sweater of many colors, which we assume was handed to her by somebody in the commune. This becomes the key piece that takes her into this other world. The other characters hand her items that become her essence."

Debra McGuire describes Linda's palette as that of earth tones, taking in the immediate environment's "beautiful greens and browns and essences of the Earth." She explains that in contrast to Linda, the character of George does not change too dramatically, and "stays George throughout."

For Seth, Debra McGuire created the antithesis of Justin Theroux's personae. "Once Justin Theroux put on the wig, he became this completely other person," she shares. "From the start, it was obvious to me that Seth had to be shirtless most of the time, and he had to have the perfect jewelry. Even though he's not supposed to have any possessions, he's got to be the hot guy on the commune, the one every girl lusts after."

Robin Carvin represents a man who experiences no evolution and is stuck in the '70s. The costumer used a number of Pendleton pieces for Alan Alda that are actually contemporary. To counteract that effect, she intensely aged these clothes down.

Ironically, the most challenging character to clothe was Wayne, the nudist. Costume-wise, two things stand out about this character: his leather pouch and his multitude of shoes. "We wanted to make sure that his pouch was comfortable for him to wear, so we used soft leather and a cotton rope with that Pendleton-blanket look," Debra McGuire says. "As for the shoes, that was something that developed. Joe was the one who said, 'Maybe I'd have all of these shoes.' I thought it would be interesting if the only thing he wears is shoes, and we gave Wayne about 30 different pairs."

In addition, an actor who remains nude throughout shooting requires a certain amount of special attention. Laughs the costumer: "My assistant, Donna Chance, deserves a medal of honor because the nudist ended up being the most hands-on person. He has to feel comfortable, so Donna Chance had to take care of him…like taping things onto his privates on a daily basis. We were fortunate that Joe Lo Truglio felt really comfortable with her."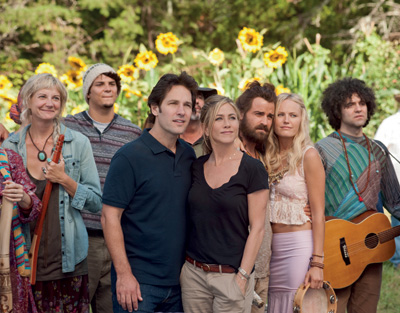 It was up to special effects makeup artist Toby Sells, best known for his work on Zombieland and The Walking Dead, to oversee all things involving Joe Lo Truglio's foam-latex prosthesis. "It was fabricated by Mathew Mungle at WM Creations in Los Angeles," Toby Sells says. "It was then shipped to me, and I did the on-set application."

Toby Sells says that when he first received the device, it wasn't quite right. "Unfortunately, it wasn't custom made, and it didn't fit Joe Lo Truglio's lower abdomen. The only thing we could do at that point was add more hair," he explains. "So I added the hair, and it wasn't enough, so I kept adding more hair until it got to the level of 'whoa!' David Wain and Ken Marino got a look at it and told me, 'It's really hairy, but it's also funny.' We got to see Joe Lo Truglio flopping around set with this big '70s porn bush."

According to the makeup artist, the application was fairly simple and took about 30 minutes to apply. He recalls introducing the actor to the newest member of the company: "Joe Lo Truglio and I had gotten along great on the phone, so when he got to Atlanta, we met for lunch. I figured maybe I should bring along the penis. It seemed to be the professional thing to do. So we had lunch together, and the three of us got along great."

For Joe Lo Truglio, the most difficult aspect of wearing the prosthesis was when he had to use the bathroom. "We would have to unglue one of the pieces," the makeup artist concludes. "We would then return to the trailer to do a little re-gluing. Otherwise, it was actually one of the easier on-set makeup touches I've done in quite a while."