VS Sassoon Curl Magic
VS Sassoon launches the premiere collection 'Curl Magic'. Yes, with a wave of this wand, you can conjure up supernatural, super shiny, super on-trend curls in the blink of an eye! See we told you it was magic!
VS Sassoon adds to it Premiere Collection with the launch of the new 'Curl Magic'. And the secret behind the magic? This is a true professional styling wand so NO clamp! Simply wrap your hair and curl. The result is miraculous! No kinks, no bends, no mess. Just shiny, shiny, salon-perfect curls.
Spring has sprung and no surprises girls, its curls, curls, curls! While it's been an ongoing trend for a while now, it really revved up a whole new notch in the northern hemisphere spring. And now thanks to our own hot hairdressing talent, we are seeing curls everywhere here too - interpreted in exciting new ways with several marked new directions for the humble curl from 'shiny but edgy' to 'Mohawk madness'. Perhaps that's why the VS Sassoon Premiere Collection Curl Magic is part of the tool bag of some of Australia's biggest names in hair already and is just the thing to help you put your own magic stamp on these hot new styles.
Unique Features
No clamp to fiddle with, simply wrap your hair around the barrel (leaving it straight at the roots for an up-to-date feel) for just a few seconds, curl and go!
Unique conical barrel creates curls with shape, depth and (must-have) movement; and
It's 25mm barrel tapers to 13mm to create defined, unstructured curls that are soft and free flowing. This also gives a very contemporary look to the finished style and allows for texture to be built into the hair.
Professional styling results in seconds.
Smoother results with more shine and sexier curls thanks to the new SolTEC Ceramic coating on the wand. SolTEC™ Ceramic is up to 50% smoother and 20% harder than standard ceramic, so it smoothes, shines and seals to perfection. Its glossy results are breathtaking!
Set to be the new must-have Curler, it also makes a great gift for Christmas and is available through leading electrical retailers.
VS Sassoon Curl Magic
Model VSP2285A.
RRP: $69.95

VS Sassoon The MiniPro™ Goddess
VS Sassoon launches The Minipro™ 'Goddess', a handbag-sized version of the iconic VS Sassooon 'Goddess' straightener. Now everyone can be a goodess on the go!
Like it's big sister the VS Sassoon 'Goddess' Ionic Conditioning Steam Straightener, the new turns ordinary hair into miraculous hair by extinguishing summer frizz, straightening, conditioning and adding shine. All at the same time! Better still, it fits neatly into your handbag, travel bag, gym bag and suitcase so you're good to go every time you want to go!
So how does it work so well?
A water reservoir infuses your hair with conditioning steam and healthy moisture, for straight, shiny results. Results are more long lasting with the conditioning steam mist relaxing the hair cuticle before high heat plates (the plates heat up to 200°C) go to work for quick and enduring salon professional styling with maximum shine.
This one-of a kind mini steam straightener also features:
Ceramic coated plates for even heat distribution
Removable detangling comb for complete 3D straightening performance
Dual voltage for worldwide use - this is the prefect travel straightener!
On/off switch with indicator light
Thumb rest for comfortable styling
Heat resistant storage pouch
Professional length cord
VS Sassoon The MiniPro™ Goddess
Model: VS18A.
RRP: $42.95
Warranty: 2 years.
Stockist number: 1800 650 263.

VS Sassoon The MiniPro™ You Curl
VS Sassoon launches The MiniPro™ You Curl, a mini handbag-sized, travel version of the award winning You Curl that creates easy curls in one movement.
In only a very short time, VS Sassoon's 'You Curl' has become a modern beauty icon. It's innovative and truly ground-breaking design and technology means no more struggles with a straightener to create curls. Instead the 'You Curl' and its new 'mini me' version, the miniPRO™ 'You Curl' works like a dream, creating easy modern, tousled curls in one movement and making curling as easy as straightening. It's as simple as pulling scissors through ribbon. And now with the miniPRO™ version, it's literally 'glam to go', the perfect styler for touch ups at work and at play!
How does it work?
It works with a revolutionary technology that combines curved styling plates with ceramic hotplates to create curls in a single movement.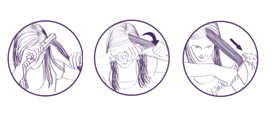 All you have to do is follow three easy steps:
1. Slide
Slide the miniPRO™ 'You Curl' into the hair at the roots with the curved plates facing your head.
2. Twist
Turn 180 degrees upwards so the curved plates are now facing downwards.
3. Curl
Then glide slowly along the hair length to the ends and release the curl.
The miniPRO™ 'You Curl' comes with: high heat - for fast curls; ceramic-coated plates for shine; dual voltage for worldwide use; an on/off switch with indicator light; a thumb rest for comfortable styling; and a heat resistant storage pouch.
VS Sassoon The MiniPro™ You Curl
Model number: VSCS69A.
RRP $32.95
Stockist number: 1800 650 263.
The MiniPRO™ 'You Curl' joins the MiniPRO™ Collection, a great range that comprises a mini-sized dryer, curling tong, two straighteners (including a mini 'Goddess' Straightener and now the miniPRO™ 'You Curl'). The VS Sassoon miniPRO™ collection takes your favourite styling essentials and turns them into compact, travel size styling tools on the go. They include the same great quality and features you have grown to love. Just the thing for Christmas getaways or stocking fillers for yourself (drop a mini hint) or for your girlfriends.
For more information on the VS Sassoon miniPRO™ Goddess and the other miniPRO™ tools:
www.vssassoon.com.au